Samsung Galaxy Z Flip 5G appears on Geekbench with Snapdragon 865
Rumors are that Samsung is ready to launch a 5G version of the Galaxy Z Flip alongside the Note20 series and Fold2 at an August 5 event. Now the second-gen Z Flip was spotted in a Geekbench listing which details its key specs, namely the Snapdragon 865 chipset and 8GB of RAM.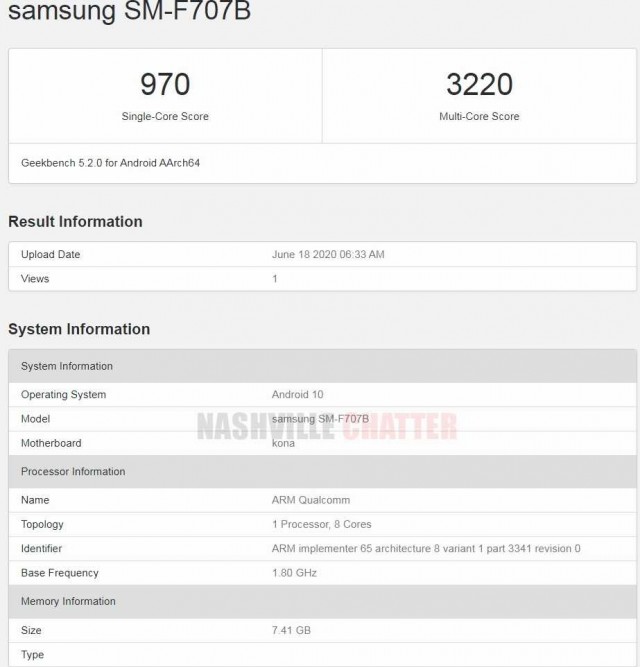 The phone bears the SM-F707B model number, in line with previous findings and manged to score 970 points in the single-core test and 3,220 in the multi-core department. The phone boots Android 10 and will likely debut with Samsung's upcoming OneUI 2.5 on top.
According to speculation, Samsung will bring a new brown colorway for the Z Flip 5G. According to a 3C certification, the phone will ship with the same 15W charger as its predecessor.
Source: https://www.gsmarena.com/samsung_galaxy_z_flip_5g_appears_on_geekbench_with_snapdragon_865-news-43833.php
Samsung launched its 'Made in India' Galaxy Watch Active 2 4G
Samsung has just launched its Galaxy Watch Active 2 4G in India. The wearables arrive from the company's Made in India initiative which had it make a significant investment within the country.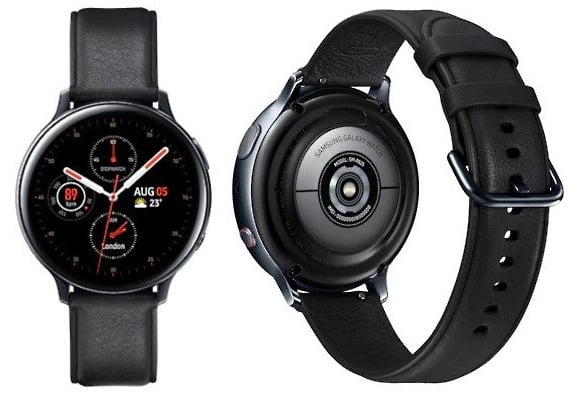 Earlier today (9th July 2020), Samsung launched its aluminum Galaxy Watch Active 2 4G in India. It is the first smartwatch that the company has manufactured in its facility in the region. So, we can expect smartwatches to be sold in India from this facility for the foreseeable future. Notably, the smartwatch had already been launched about 7 months ago.
Under the hood, it has an eSIM that supports local telecom operators like Airtel and Ji. The LTE variant is only available in 44mm and will be sold in Cloud Silver, Aqua Black, and Pink Gold color variants. For those interested, you can pick up the smartwatch in its aluminum finish from 11th July 2020. It will be available through Samsung's retail network, Samsung Opera House, Samsung.com, and other online retailers for 28,490 INR (roughly 380 US Dollars).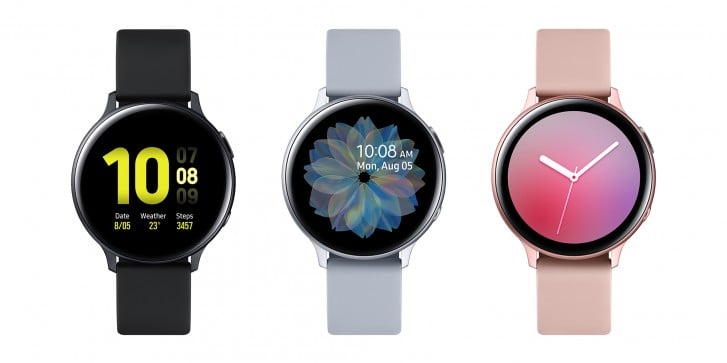 Although, it remains to be seen just how well the smartwatch performs in the market, especially during this time of crisis. Furthermore, with Samsung gearing up for the Galaxy Watch 3's launch arriving next month, that might also cut into its own product's customer base.
Source: https://www.gizmochina.com/2020/07/09/samsung-launched-made-in-india-galaxy-watch-active-2/
Feast your eyes on the Samsung Galaxy Z Flip 5G in a gorgeous new hue
Samsung's 5G-enabled Galaxy Z Flip variant has never been much of a question mark, following in the footsteps of a 4G LTE-only model released back in February with an identical design and very similar specifications in tow. For a fairly long time, we assumed the spec sheet would prove to be virtually unchanged aside from the connectivity section, but a pre-launch benchmark revealed a significant processor upgrade a couple of weeks ago.
Just in case that made you hopeful of a change in appearance as well, yesterday's Tenaa certification and today's 360-degree "evleak" should eliminate all doubt. On the outside, the Galaxy Z Flip 5G is essentially indistinguishable from its forerunner, with the same exact centered hole punch in tow, razor-thin screen bezels, dual rear-facing cameras, and tiny cover display.
As rumored a little while ago, the color options will be different this time around, including an absolutely gorgeous Mystic Bronze hue rendered from all angles by Evan Blass. This matches the first Galaxy Note 20 Ultra paint job leaked yesterday and one of several Galaxy Watch 3 colors pictured of late, which is certainly a nice and somewhat unexpected touch.
The original Galaxy Z Flip, mind you, was made available in Mirror Black, Mirror Purple, and Mirror Gold flavors, none of which matched a Galaxy S20 series or Galaxy Watch Active 2 shade perfectly. This basically proves Samsung is taking its foldable smartphones more seriously rather than treating them as quirky experiments unlikely to break into the mainstream anytime soon.
Of course, that's not to say the Galaxy Z Flip 5G will be very accessible to the masses. After all, the first edition is still priced at a rather prohibitive $1,380 unlocked, and with the addition of 5G support (for three of America's big four carriers) and an overclocked Snapdragon 865 processor replacing the Snapdragon 855+ SoC, the upgraded device is pretty much guaranteed to cost at least $1,500 or so.
Unlike the Galaxy Watch 3, the Z Flip 5G is widely expected to break cover alongside the Galaxy Note 20, Note 20 Ultra, and Galaxy Fold 2 at a virtual Unpacked event on August 5, although actual sales may not kick off very soon thereafter or keep up with demand for long.
Source: https://www.phonearena.com/news/samsung-galaxy-z-flip-5g-mystic-bronze-leak_id125694
Apple Watch 6 could get redesign as watchOS 7 kills Force Touch
Apple is scrapping Force Touch support from watchOS 7, meaning a feature that's been on Apple Watch from the beginning won't come to the Apple Watch 6.
Where once a "firm and long press" in the older versions of watchOS would trigger additional options on the display of an Apple Watch, this feature will no longer work on watchOS 7. It's unclear what will replace Force Touch, but Apple seems to be suggesting watchOS app developers figure out a new way to replace Force Touch interactions with their apps.
"In watchOS 7 and later, system apps make previously hidden menu items accessible in a related screen or a settings screen," Apple said in its updated Human Interface Guidelines. "If you formerly supported a long-press gesture to open a hidden menu, consider relocating the menu items elsewhere." 
For those of you who don't know, Force Touch is Apple's way of enabling longer presses on everything from its MacBook Pro trackpads to iPhone displays to trigger other interface options. The idea is that such interactions can prevent the need for multiple clicks and taps to get to particular menus and app functions.
Force Touch was a feature in the first Apple Watch and has continued to be present up to and including the Apple Watch Series 5. Given the limited screen space an Apple Watch has, the use of Force Touch to bring up additional functions helped make the Apple Watch and watchOS feel more intuitive.
But with no Force Touch in watchOS 7, it would be safe to assume that the Apple Watch 6, which is predicted to be released this year alongside the iPhone 12, won't have Force Touch. Instead, it could have a whole new way of delivering controls, perhaps via a Digital Crown with a lot more functions integrated into it, or maybe enhanced gesture controls.
While the leaks and rumors we've seen so far around the Apple Watch 6 have indicated that it won't be a dramatic departure from the current Apple Watch, there's an outside chance that a completely redesigned Apple Watch could be on its way.
A recent Apple patent suggested that an Apple Watch could be equipped with an optical sensor rather than the Digital Crown, which could open up new ways to control the smartwatch without Apple having to dramatically change its overall design. However, we'll have to wait until September before we get a clear picture of what the Apple Watch 6 will look like and how Apple will evolve its stellar smartwatch.