Samsung Wireless Powerbank hands-on
Today we're looking at the Samsung Wireless Powerbank, a product that does exactly what it's called. While powerbanks are common, as are wireless chargers, there are very few wireless powerbanks on the market and even fewer from reputed manufacturers.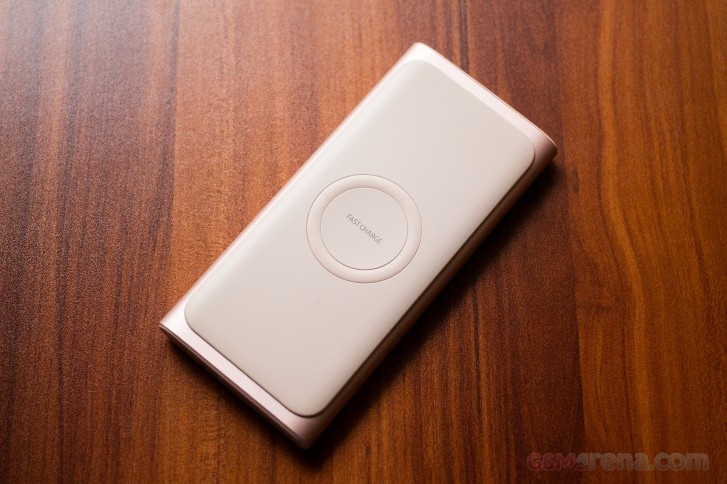 The Samsung Wireless Powerbank goes a step beyond most and also includes fast charging, not just for the wired mode but also for the wireless mode for Samsung's own smartphones.
For wireless charging, the powerbank supports standard Qi charging, Samsung's own Fast Charge protocol as well as all the different Samsung smartwatches.
For wired charging, the powerbank can output at 5V/2A, 9V/1.67A and 12V/1.25A. The powerbank supports Qualcomm Quick Charge 2.0 and Samsung Fast Charge protocols. The battery has a capacity of 10000mAh.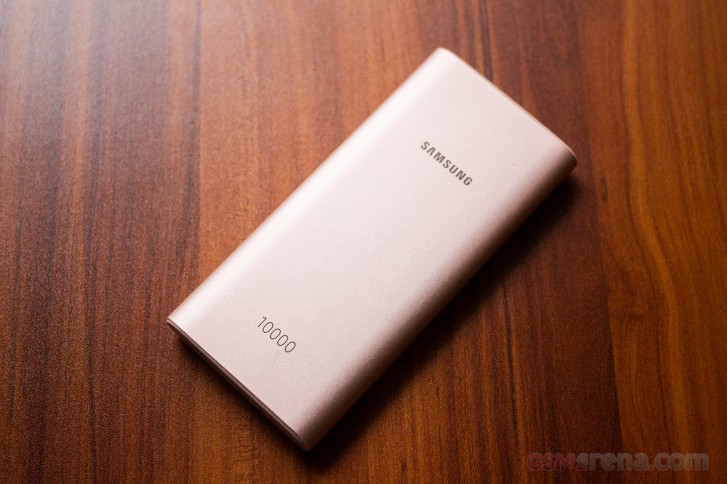 We did some quick tests first with the wired charging. The Redmi K20 Pro, which has a 4000mAh battery and supports Qualcomm Quick Charge 4.0 up to 27W managed to charge in just under 100 minutes, which is very close to what the phone can do with its supplied 18W charger.
We also tried it with a Samsung Galaxy Tab S5e, which supports the Samsung Fast Charging standard, and managed to charge its massive 7040mAh battery in just over two hours.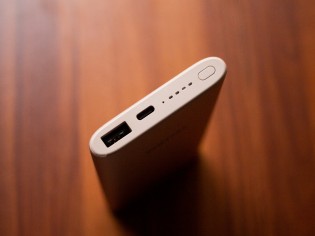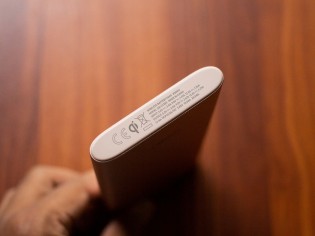 Top • Bottom
For wireless charging tests, we unfortunately did not have any of the Samsung smartphones which support Samsung's Wireless Fast Charge standard, so we just tried it with our iPhone XR, which took a painfully long four hours to charge completely. If we ever get a compatible device that supports the full speed this powerbank is capable of we will update this article with the results.
As for the rest of the powerbank, it's made out of an aluminum shell but the front has a rubberized plastic cover for the wireless charging feature to work. This panel feels a bit flimsy and makes a crunching sound when pressed, which doesn't sound very reassuring. Hopefully, it won't get damaged over time.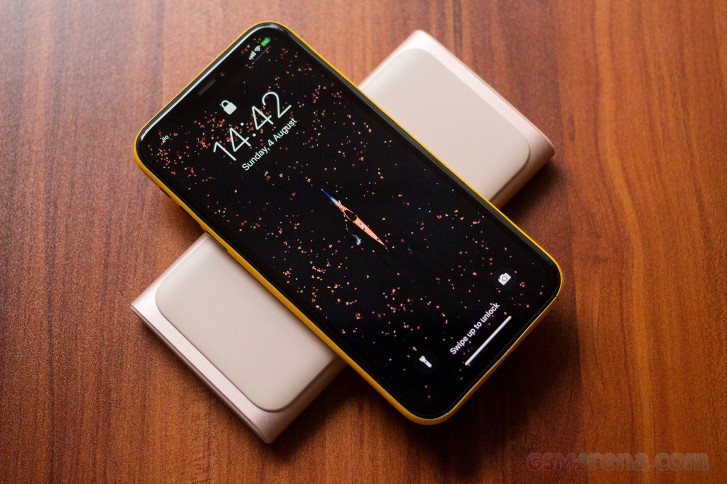 The powerbank has a USB-A port for outputting power and a USB-C to charge the internal battery. A button shows you remaining power by blinking the four white LED and another to denote if the powerbank is on or off. The button also switches on the wireless charging mode and if no device is kept on the powerbank for a while the wireless charging mode is automatically switched off.
A short 8-inch (20cm) cable is provided for charging other devices. The powerbank is capable of charging two devices simultaneously, one wired and one wirelessly. This will reduce the rate of charging for both modes but if you have, say, a Galaxy S10 and a Galaxy Watch then you can charge both together if for some reason you find them both out of charge at the same time.
The Samsung Wireless Powerbank is priced at $59.99 / INR 3699, which is expensive for a 10000mAh powerbank with 15W wired charging. However, the wireless charging adds an extra dimension of practicality to the device, which is lacking on most other powerbanks.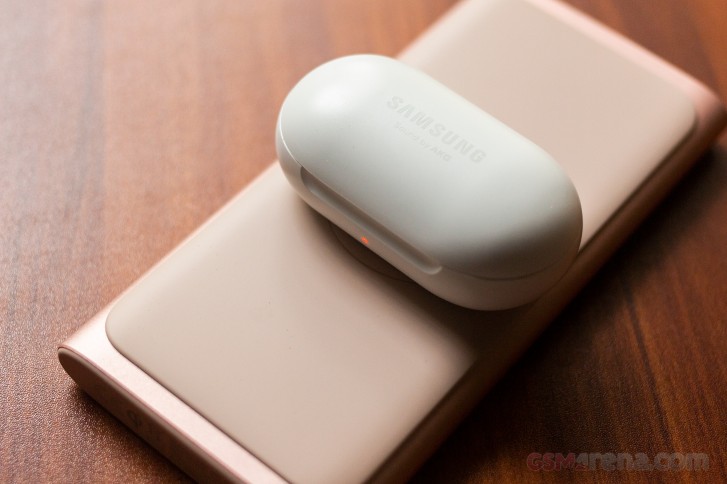 However, the wireless charging is too slow to be used with non-Samsung products but if you have a recent Samsung Galaxy S-series or Note-series smartphone or any one of their smartwatches then you can expect to get good charging speeds even in wireless mode. In that case, the Samsung Wireless Powerbank is worth the extra premium.
Source: https://www.gsmarena.com/samsung_wireless_powerbank_handson-news-38498.php
Editing HTML Like A Boss In VS Code
Here's a seven minute video from Caleb Porzio that focuses on some of Emmet's HTML editing features. You might think of Emmet as that thing that expands abbreviations like table.stats>tr*3>td*3 into glorious, expanded, and perfect HTML. But Emmet has other HTML editing trickery up its sleeve. My favorite is "wrap with abbreviation" (which happens to be Cmd/Ctrl + Shift + A on CodePen), but there are more, like expanding your selection inward and outward and tag changing.
If you haven't seen it, the Emmet 2 preview on CodePen is pretty neeeeat. It shows you what you're about to expand into before you do it:
Source: https://css-tricks.com/editing-html-like-a-boss-in-vs-code/
PS5 Game Install Sizes Revealed, And They're Enormous
There was hope that the efficiency of the PlayStation 5's super-fast SSD hard drive would reduce game file sizes, as titles wouldn't need to duplicate data to ease read speeds. That, apparently, is not quite the case, as the minimum install requirements for a couple of PS5 launch games have been revealed – and they're enormous.
Demon's Souls, for example, will eat up 66GB of the next-gen system's storage space; Marvel's Spider-Man: Miles Morales will gobble up 50GB, and if you plump up for the Ultimate Edition – which includes Marvel's Spider-Man: Remastered as well – you'll lose an eye-watering 105GB. That's already an eighth of the device's available 825GB.
It's worth noting that textures will be more detailed on the PS5, so developers may well be saving space compared to PS4 titles, but using it up with higher quality assets. In the case of Marvel's Spider-Man: Remastered, for example, the original game with all of its DLC installed takes up approximately 75GB on the PS4, compared to roughly 55GB in its revamped form.
Still, it looks like you're definitely going to have to juggle which games you've got installed – although eventually you will be able to expand the system's storage space. You can find out more about that through the following link: Which SSD Drives Will Be Compatible with PS5?
Source: https://www.pushsquare.com/news/2020/09/ps5_game_install_sizes_revealed_and_theyre_enormous
Best of everything in tech and gadgets we've seen recently
At Gadget Flow, we're constantly scouring the online world for the best new and interesting gadgets for our readers. And we've come across quite a treasure trove as of late. Check out today's roundup of the best in tech and gadgets we've seen recently. We have so many new favorites to tell you about.
With IFA 2020 just ending and Apple rumors around the corner, there have been a lot of exciting new tech updates recently. We are surprised to see some really cool designs in everyday tech that will surely surprise you. From beautiful smart photo frames to robot vacuums, the designs are getting sleeker while the technology is getting even smarter.
Having said that, let's take a look at the 15 best tech and gadgets that will make you appreciate innovation in a whole new way. It seems like we're gearing up for a more design-inspired tech world.
Autel 
EVO II Pro
6K Folding Drone
First on our best of everything in tech roundup is the Autel EVO II Pro 6K Folding Drone. This impressive gadget gives you 360º obstacle avoidance and can record up to one billion colors.
Neato 
D Series
Robotic Vacuums
Remove up to 99.97% of the allergens on your floor with the Neato D Series Robotic Vacuums. Available in three models, one will definitely have the capabilities that fit your needs, including one with LIDAR-based technology.
Meural WiFi Photo Frame Digital Picture Display
You'll love the Meural WiFi Photo Frame Digital Picture Display. This home gadget uploads albums right from your smartphone so you can keep your memories throughout your home or office.
Amazon Halo

 Health and Wellness Band

Another great item on our best of everything in tech list is the Amazon Halo Health and Wellness Band. This useful device monitors your health data and even makes a digital 3D model of your body.
MSI 
Summit E Series
Business Laptops
Increase your productivity with the MSI Summit E Series Business Laptops. Excellent for remote work, these laptops use the 11th Gen Intel processor and have an infrared camera that's compatible with Windows Hello facial recognition.
Gigabyte Aorus 15P
Portable Laptop
Professional gamers will get everything they need with the Gigabyte Aorus 15P Portable Laptop, another great item on our best of everything in tech guide. This gaming laptop gives you a 144 Hz refresh rate and boasts the Intel Core i7-10750H processor.
LIFX Clean
Antibacterial Smart Bulb
Sanitize surfaces and kill bacteria with the LIFX Clean Antibacterial Smart Bulb. This smart home gadget emits high-energy violet light to kill bacteria like E.coli. It also works with voice assistants and connects to Wi-Fi for easy scheduling.
Weekend-Works 
Circle Watch
Aesthetic Smartwatch
Enjoy a smartwatch with an edge-to-edge screen with the Weekend-Works Circle WatchAesthetic Smartwatch. The extra-large display makes everything easy to see, and its 15º tilt makes sure you always get a good view.
DJI Osmo Mobile 4

 Foldable Phone Gimbal

You'll love the magnetic design of the DJI Osmo Mobile 4 Foldable Phone Gimbal. This video stabilizer is easy to use and offers gesture control.
Panasonic 
Cubie Steam Convection Oven
Versatile Microwave
Cook a range of meals with the Panasonic Cubie Steam Convection Oven Versatile Microwave. This useful microwave helps you steam healthfully and is large enough to accommodate a sizeable amount of food.
Vue Lite
Everyday Smart Glasses
You'll be amazed at how thin and stylish the Vue Lite Everyday Smart Glasses are. Great for all-day wear, these glasses let you listen to your favorite songs, make calls, and access the internet via voice assistants.
LG PuriCare Wearable Air Purifier
Battery-Powered Face Mask
Another great device on our best of everything in tech roundup is the LG PuriCare Wearable Air Purifier Battery-Powered Face Mask. This mask features two H13 HEPA filters to provide you with fresh air indoors or outdoors.
8Bitdo TG16

 2.4 

Wireless Gamepad

Game completely free of lag with the 8Bitdo TG16 2.4 Wireless Gamepad. This new gadget looks a little retro, but it has all the modern capabilities you need, including 18 hours of battery life.
Blink Indoor Security Camera
The Blink Indoor Security Camera is one of our best of everything in tech items because you won't have to change its battery for two years. It's also wireless, which means you can keep it wherever you like.
CLMBER Pure 
Workout Machine
The CLMBER Pure Workout Machine boasts a cutting-edge companion app. Developed for commercial use, this workout machine gives you all the stats you need and keeps your body in the proper position throughout your workout.
Well, there you have it. These are the best of everything in tech and gadgets that we've seen recently. And we're pretty sure you'll agree with us that there are a ton of exciting new things out there. Let us know your thoughts about these items in the comments.
Source: https://thegadgetflow.com/blog/best-of-everything-in-tech/