TECNO launches The Ground Breaking Five Camera-Equipped SPARK 5
TECNO Nigeria, a global premier mobile phone brand, has announced the launch of the groundbreaking Spark 5 smartphone. Equipped with five cameras and a powerful 5,000 mAh battery, the Spark 5 will bring photos and videos to life on its 6.6-inch dot-in-display.
The SPARK 5 brings unmatched quality in image and video creation powered by its 13 megapixel AI Quad camera on the back, and an 8 megapixel front camera. Each of the four rear AI cameras are equipped with specific capabilities – depth, primary camera, macro lens, and AI lens – delivering an extraordinary visual experience to users and showcasing TECNO's innovative use of artificial intelligence technologies.
Speaking on the launch of the phone, Attai Oguche, Marketing Manager TECNO said; "We continue to see demand for our innovative smartphones in Nigeria and we are excited to be launching the Spark 5 to that effect. As a brand founded on the principle of innovation and the value of AI technologies, the new Spark 5's five cameras will appeal to users looking for a power-packed smartphone at an accessible price. Users can enjoy a better-connected life by sparking their creativity with the state-of-the-art camera technology at your fingertips, and share content easily with their friends and families through social media channels."
Photography enthusiasts can take professional-grade photographs in all modes and with various effects, including the bokeh effect, AI HDR, macro mode and AI portrait mode, making full use of the Spark 5's powerful cameras. The cutting-edge "immersive screen" will provide users with a one-of-a-kind true full screen viewing experience.
With its upgraded AI Camera 3.0 algorithm and AI Scene Detection, users will transform their photography experience: elevating the quality of photos they take, and making full use of the phone's six flashes– including four which are situated around the rear camera with dual front camera flash. With the macro mode, users will be able to take extreme close-ups up to four cm away from the subject, allowing them to focus on the details that matter.
The SPARK 5 also features AI HDR technology which increases dynamic range beyond what is captured by the camera's sensors, allowing users to take photos with less noise and sharper details.
The Spark 5 comes in 2 variants; KD6-Spark 5 air and KD7H-Spark 5. Both variants feature TECNO's HIOS 6.0 built on Android Q, and will be available at leading retailers across the country at a sweet price range of 47000 and 49000 respectively.
About TECNO Nigeria
TECNO is the premium mobile phone brand of TRANSSION Holdings with a comprehensive mobile device portfolio that cuts across feature phones, smartphones and tablets. As a brand, TECNO is dedicated to transforming state-of-the-art technologies into localized products under the guideline of "Think Globally, Act Locally". Established in 2006, TECNO has presence in more than 50 countries across the globe. It is now one of the top three mobile phone brands in Africa and a major player worldwide. TECNO is also the Official Tablet and Handset Partner of Manchester City Football Club. For more information, please visit: www.tecno-mobile.com
Source: https://techcabal.com/2020/05/12/tecno-launches-the-ground-breaking-five-camera-equipped-spark-5/
Classic Hangouts to Google Chat migration starts in earnest for G Suite
Last August, Google delayed the classic Hangouts transition for G Suite customers into this year. Starting today, admins can migrate their users to Google Chat in earnest and get access to Gmail integration.
For the past year, Google has been testing the transition within an Accelerated Transition Program. Anyone can now use Chat in Gmail if their G Suite admins select the "Chat preferred" preference.
The Chat preferred setting allows you to migrate all of your users at once for the most effective and seamless transition. If some people use classic Hangouts and others use Chat, it can lead to missed messages and become burdensome for admins. And if you have a remote or distributed workforce, unifying your users onto a single chat network can help everyone communicate successfully.
As the setting implies, Google Chat will "become the default chat application for your organization." This will disable the classic Hangouts applications for Android and iOS, though hangouts.google.com will remain available. Users are advised to use the Chat mobile apps and chat.google.com, which is now a PWA. Google will also offer a classic Hangouts bot to notify users of unread group messages.
Meanwhile, classic Hangouts in the bottom-left corner of Gmail on the web will also be replaced. Google Chat 1:1 and group direct messages will appear instead, along with full-screen rooms. Other features include bot integrations, forward to inbox, emoji reactions, and message edit/delete.
This "Chat preferred" is rolling out now to Admin console and available for all G Suite users. For Google, this marks Phase 3 of the classic Hangouts deprecation timeline. The final step — where classic Hangouts is disabled entirely — will see all enterprise users "upgraded" in "late 2020."
Source: https://9to5google.com/2020/06/02/classic-hangouts-google-chat/
Motorola Razr 2 to come with bigger displays
The second-gen Motorola Razr is expected to arrive in September and while Motorola hasn't revealed any details about the Razr 2 (unofficial name) yet, new information coming our way reveals the foldable smartphone will sport displays bigger than its predecessor's.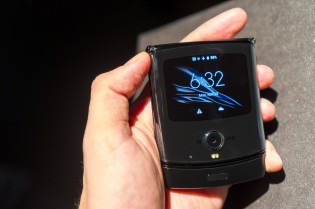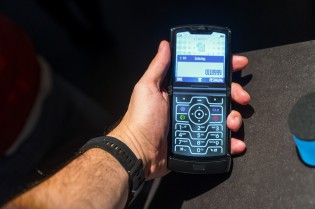 Motorola Razr 2019
According to Display Supply Chain Consultants' (DSCC) CEO Ross Young, the Razr 2 will come with a 6.7″ main display, which is 0.5″ larger than the current Razr. Young claims that the secondary external screen on the Razr 2 will also have a larger diagonal, but doesn't reveal the exact size.
The current Razr comes with a 2.7″ secondary display, and Motorola will be looking to maximize the available area on the cover better this time around.
The Motorola Razr 2 screen size will increase to the same size as the Galaxy Z Flip, 6.7". The front display will also increase in size.— Ross Young (@DSCCRoss) June 3, 2020
The Motorola Razr doesn't support 5G, but rumors have it that Razr 2 will support the next-gen networks – thanks to the Snapdragon 765 SoC at the helm.
Other rumored specs include 8GB RAM, 256GB storage, Android 10, 48MP main camera, and 20MP selfie camera.
Source: https://www.gsmarena.com/motorola_razr_2_bigger_displays-news-43575.php
Remember plus codes? Google's now making them easier to use
Google Maps is now making it a lot easier to use a feature it gained nearly half a decade ago.
Instead of explaining to friends and couriers where your house is located, you can use a plus code.
The plus code replaces confusing long form addresses by marking an exact spot on a map. It consists of a few letters, possibly numbers too, and, well, a plus symbol.
Google Maps users could find plus codes for places or interests, restaurants and other landmarks in their descriptions within the app. Now users can find the plus code for this own address by finding their place of residence, dropping a pin, tapping on the blue dot, and viewing the code in the respective pop-up.
This options is also available when sharing addresses across apps in Android.
For those who can't access Google Maps, the plus code is also searchable in Google, making it a nifty and compact alternative to full addresses.