The foldable phone screen is the tech trend of 2019 — here's how it works
Flexible phone screens have been in development for the past six years, but only recently have some screens become foldable.
Foldable phones are based on flexible display technology, which is built around OLED screens. We're seeing flexible display technology emerging from Samsung and Huawei .
Watch the video above to learn how foldable screens work.
Following is a transcript of the video.
Troy Wolverton: There has been this development of flexible screens. They've been in the works for a while now, and in fact, the first phones that were based on flexible screens actually appeared about six years ago. But there wasn't anything super remarkable about them. They only way you'd know that they had a flexible screen within them is that they had curved edges on their displays.
What's happening now is that not only do these phones have curved edges, but they're able to actually be folded. Foldable phones are based on flexible display technology, which is built around OLED screens. So most of the screens that we see in our lives are LCD screens. They're liquid crystal displays, and they are typically built around a glass base. You have a glass screen or a glass backing for the LCD display.
One of the things that happens with an OLED screen is that the pixels, the light portion of the screen that emits light or that displays an image, is actually built into the screen itself. So the LEDs are on the actual screen technology instead of being behind it and projecting through a glass pane. What's happening with flexible displays is that they have this OLED screen technology that's being printed on a thin layer of plastic. When you've got that thin layer of plastic, you can do all kinds of things with it. You can bend it, or you can shape it in different ways.
The way it's been used in the past in phones such as the iPhone X is that it is bent around the edges so the iPhone X has actually a flexible display in it. You can't really tell, but if you were to open up the iPhone X, you would see that at the edge of the display, it's actually bent. The big property that you can do with these screens though is that you can actually fold the screen in half, the display part of the screen. That's what's happening with the Galaxy Fold. You've got a large screen, OLED screen, that's built on a plastic base, and if you want to, you can unfold the display, and you can see a larger screen, or you can fold it up, and you can see a smaller one. Getting to larger OLED screens though is an expensive proposition, and so for instance the Galaxy Fold phone, which has this larger OLED screen, is going to cost $2,000. And in part that's almost certainly a function at least in part of the OLED screen technology that they're using.
One of the interesting things about an OLED screen, about these flexible displays that are being used in these foldable phones, is that there isn't a glass pane on top of it. Maybe that sounds obvious, but it isn't necessarily an obvious thing. So what that means is that when you touch and interact with that screen, that Samsung Fold screen, you're not touching a pane of glass when you're interacting with that screen. You're touching the actual screen itself, which is a thin plastic display.
Some concerns that that screen might be damaged more easily or might be scratched. We're going to have to see, like, how that works out in long-term testing. Another potential problem that you can have is that the screen could be damaged from multiple folds. If you keep folding it over and over and over again, that might wear down. OLED screens, these flexible screen technologies, in some ways are superior to the kind of LCD screen that you get in other phones or other displays.
The designs right now are fairly clunky. They don't necessarily appeal to all consumers. But I think, yeah, over time I think that you're going to see an improvement in designs, you're going to see the prices come down, and you're going to see this become a much more mass-marketed device. And so I think eventually you could see these becoming the mainstream smartphone.
iPhone 12 leak just confirmed key specs — this is insulting
The first iPhone 12 handsets are almost ready to ship, and we know how much storage space they'll have.
Leaker Jon Prosser's latest tweet claims that the iPhone 12 and iPhone 12 Mini are going to be available in 64GB, 128GB and 256GB variants. We see in a follow-up tweet that the two Pro models start at the more common baseline of 128GB, but they will likely have a later release date.
Apple is one of a small number of companies that still sells premium phones with 64GB of storage, a shamefully small amount for most users' needs.
For example, the new $699 Samsung Galaxy S20 FE comes with 128GB of storage standard. Plus, that handset offers a microSD card slot for expansion, allowing you to add up to another 1TB of storage.
The upcoming OnePlus 8T is also rumored to be shipping with 128GB of storage for the starting configuration, though the handset will apparently not have a microSD card slot.
Prosser also confirms the name of the smallest 5.4-inch iPhone 12 as the iPhone 12 Mini, with the larger 6.1-inch model being classed as the iPhone 12. The iPhone 12 mini is said to be even smaller than the iPhone SE 2020 despite the former having a larger display, so it should live up to its name.
The fact that the 6.1-inch iPhone 12 Pro and 6.7-inch iPhone 12 Pro Max aren't mentioned in the leak points to a delayed release, which Prosser mentions in another tweet. We've heard several rumors about Apple potentially staggering the iPhone 12 launch, with one or two models being held back until November.
The first shipment of units will be sent to distributors on October 5. This seems to line up with the expected October 13 reveal event, giving businesses just over a week to get the phones in stock for pre-orders to begin.
While it remains only a rumor for now, we already know what to expect from these new iPhones. Other than the new sizes, all four models will use OLED displays and new A14 Bionic chipsets, as well as 5G connectivity.
For cameras, the iPhone 12 and iPhone 12 Mini will come with two rear sensors: a main camera and an ultrawide camera. The iPhone 12 Pro and iPhone 12 Pro Max will have those plus a telephoto camera, with a new LiDAR depth sensor also present on at least the Pro Max.
Source: https://www.tomsguide.com/news/iphone-12-leak-just-revealed-key-specs-and-theres-bad-news
Apple's Stunning MacBook Design Looks Like Microsoft's Surface Book
Its move from Intel-based processors to ARM-based processors is one that Apple has telegraphed officially since the announcement at WWDC 2020, with the first macOS on ARM machines for the public expected to be a MacBook and a MacBook Pro. The insides are changing, but what about the outside.
For now, your new Mac is going to look remarkably like your old Mac (possibly with slightly smaller bezels around a slightly larger screen). But Apple's latest documents have confirmed that the company is working on a radical redesign of the laptop hinge.
Although it looks like Microsoft got there first with the Surface Book's fulcrum hinge.
The details on the new hinge come from a recently published patent. Titled "Hinges For Electronic Devices And Accessory Devices", it details a hinge that is made up from a mix of rolling elements with fixed elements between them. This allows for a hinge that looks remarkably close to the hinge on the aforementioned Surface Book. Jack Purcher reports for Patently Apple:
"The new hinge system is also shown in conjunction with a possible future MacBook-like portable device. Microsoft was first to move to a flexible hinge system for their Surface book and Apple's next-gen flexible hinge presents a similar style of hinge though technically different using multi-roller and spacer elements.
"Apple's possible next-gen iPad keyboard accessories are shown to include multiple sections and a new hinge system assembly that provides additional flexibility and range of motion of the section holding the iPad, thereby allowing a user to position the iPad at multiple different angles relative to the section carrying the input mechanism."
As can be seen, the patent is not restricted to a traditional laptop-styled device. It also features in a concept image of a keyboard and stand for a tablet device, and a 'reverse opening' hinge to lift up a screen from a laptop chassis.
It's also worth noting that, although the line drawings in the patent echo the Surface Book, the mechanisms inside will differed and of course any finalised form may take on other characteristics.
And as with every patent, the act of filing a patent and having it published does not mean that the design will reach any retail devices. To balance that out, Apple has already pushed the design mix of tablet accessories with the iPad Pro's Magic Keyboard, so its makes sense that imultiple hinge technologies have been both tested and patented.
Once Apple has redefined what it means to be a MacBook on the inside, it certainly has the tools to do the same to the outside. First up though, it needs to successfully launch the ARM-based laptops by the end of 2020.
Source: https://www.forbes.com/sites/ewanspence/2020/09/26/apple-macbook-pro-ipad-pro-patent-fulcrum-hinge/#746bb7c016d6
Apple iPhone 12 Pro Max's AnTuTu result shows minor performance gains
Even though Apple didn't announce any new iPhones during its September event, the company detailed the heart of the future phones – the Apple A14 chipset. Based on Apple's claims at the announcement we estimated it to have a 17% faster CPU and 8% better GPU than its predecessor and a newly surfaced benchmark shows these numbers are close enough.
An AnTuTu benchmark run on the iPhone 12 Pro Max, reveals 16% higher CPU score and 4% better GPU result. There's however a more pronounced boost in memory speeds – 22%, but overall the performance gains are clearly minor.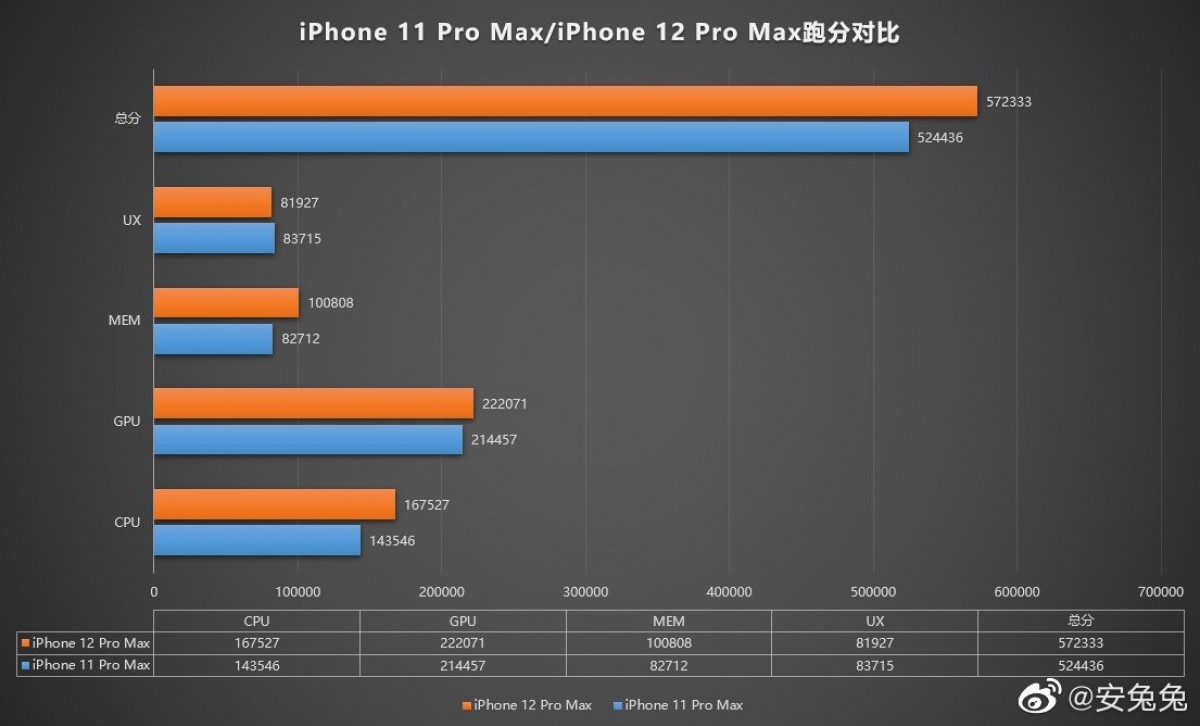 The combined result of 572,333 points might seem low, considering the Snapdragon 865+ Android competition goes above the 600,000 mark, but cross-platform benchmark comparison isn't really a level playing field because there are differences in how the tasks are executed.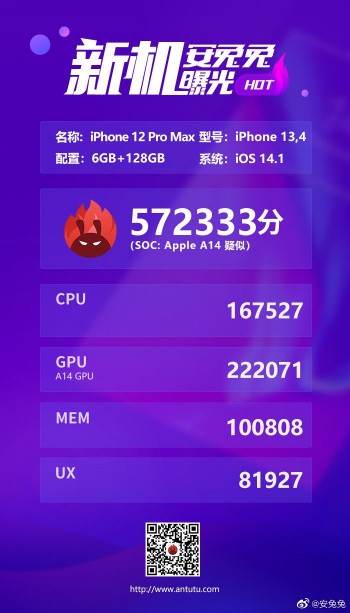 However, the comparison to the A13 should be fully relevant and it shows that the world's first 5nm chipset won't bring the performance leap many were expecting of it. There are three explanations that come to mind.
For one Apple might have prioritized battery draw over outright performance making the A14 use less power, while achieving what is roughly the same performance. That's most likely it since the A14 Bionic pioneer – the Apple iPad Air 4th generation – has the same battery life as its predecessor despite packing an 8% smaller cell.
Alternatively, the move to 5nm chipsets might not yield the gains that we all hoped. While the almost 30% smaller process should theoretically deliver great efficiency boost, it may take time until it's fully utilized.
Finally, this could be an engineering sample and the performance of the final units can be far better. However with Apple itself claiming modest gains close to these results that seems like a very long shot.
Source: https://www.gsmarena.com/iphone_12_pro_max_surfaces_on_antutu_with_apples_a14_chip-news-45343.php