The Internet's Original Sin It's not too late to ditch the ad-based business model and build a better web.
Ron Carlson's short story "What We Wanted To Do" takes the form of an apology from a villager who failed to protect his comrades from marauding Visigoths. It begins:
What we wanted to do was spill boiling oil onto the heads of our enemies as they attempted to bang down the gates of our village. But as everyone now knows, we had some problems, primarily technical problems, that prevented us from doing what we wanted to do the way we had hoped to do it. What we're asking for today is another chance.
There's little suspense in the story—the disastrous outcome is obvious from the first paragraph—but it works because of the poignancy of the apology. All of us have screwed up situations in our lives so badly that we've been forced to explain our actions by reminding everyone of our good intentions. It's obvious now that what we did was a fiasco, so let me remind you that what we wanted to do was something brave and noble.
We ended up creating one of the most hated tools in the advertiser's toolkit: the pop-up ad.
The fiasco I want to talk about is the World Wide Web, specifically, the advertising-supported, "free as in beer" constellation of social networks, services, and content that represents so much of the present day web industry. I've been thinking of this world, one I've worked in for over 20 years, as a fiasco since reading a lecture by Maciej Cegłowski, delivered at the Beyond Tellerrand web design conference. Cegłowski is an important and influential programmer and an enviably talented writer. His talk is a patient explanation of how we've ended up with surveillance as the default, if not sole, internet business model.
The talk is hilarious and insightful, and poignant precisely for the reasons Carlson's story is. The internet spies at us at every twist and turn not because Zuckerberg, Brin, and Page are scheming, sinister masterminds, but due to good intentions gone awry. With apologies to Carlson:
What we wanted to do was to build a tool that made it easy for everyone, everywhere to share knowledge, opinions, ideas and photos of cute cats. As everyone knows, we had some problems, primarily business model problems, that prevented us from doing what we wanted to do the way we hoped to do it. What we're asking for today is a conversation about how we could do this better, since we screwed up pretty badly the first time around.
I use the first personal plural advisedly. From 1994 to 1999, I worked for Tripod.com, helping to architect, design, and implement a website that marketed content and services to recent college graduates. When that business failed to catch on, we became a webpage-hosting provider and proto-social network. Over the course of five years, we tried dozens of revenue models, printing out shiny new business plans to sell each one. We'd run as a subscription service! Take a share of revenue when our users bought mutual funds after reading our investment advice! Get paid to bundle a magazine with textbook publishers! Sell T-shirts and other branded merch!
Think of it as an advertising future, or perhaps the world's most targeted ad.
At the end of the day, the business model that got us funded was advertising. The model that got us acquired was analyzing users' personal homepages so we could better target ads to them. Along the way, we ended up creating one of the most hated tools in the advertiser's toolkit: the pop-up ad. It was a way to associate an ad with a user's page without putting it directly on the page, which advertisers worried would imply an association between their brand and the page's content. Specifically, we came up with it when a major car company freaked out that they'd bought a banner ad on a page that celebrated anal sex. I wrote the code to launch the window and run an ad in it. I'm sorry. Our intentions were good.
Cegłowski's speech explains why Tripod's story sounds familiar. Advertising became the default business model on the web, "the entire economic foundation of our industry," because it was the easiest model for a web startup to implement, and the easiest to market to investors. Web startups could contract their revenue growth to an ad network and focus on building an audience. If revenues were insufficient to cover the costs of providing the content or service, it didn't matter—what mattered was audience growth, as a site with tens of millions of loyal users would surely find a way to generate revenue.
source:http://www.theatlantic.com/technology/archive/2014/08/advertising-is-the-internets-original-sin/376041/?utm_content=buffer49918&utm_medium=social&utm_source=linkedin.com&utm_campaign=buffer
Instagram is working on a new messaging app
Rivaling Snapchat, Threads will enable users to automatically share their location, movements, and battery life with their IG 'close friends' list
Now Facebook is a wasteland for your racist aunt and high school friends' wedding photos, the platform is determined to maintain its social media stronghold via Instagram and WhatsApp (sorry, 'Instagram and WhatsApp from Facebook'). Its latest venture? A new messaging app called Threads.
As reported by The Verge, Threads will be a companion app to Instagram, promoting constant sharing between users and their IG 'close friends' list. The app will enable people to automatically share their location, movements, and battery life with each other, as well as send text, photo, and video messages.
The development could be seen as another attempt to rival Snapchat – which already lets users share their location – following Instagram's introduction of Stories three years ago.
Instagram has been trying to develop the messaging side of its app since late 2017 when the company started working on Direct, a standalone camera-first app exclusively for DMs. The platform ceased work in May this year after research revealed users found it frustrating to switch apps when they wanted to send a message – although this is exactly what happened with Facebook Messenger in 2016.
Screenshots acquired by The Verge show that users have the option to switch on automatic sharing, but are also able to update their statuses manually. Although Threads encourages friends to share their location with one another, it will reportedly show updates like 'on the move', rather than a real-time location.
The app's main feed will show all messages, as well as friends' updates and active status, and will allow users to watch their close friends' IG stories as opposed to having to go back to Instagram to view them.
This announcement comes after a number of updates to the platform, including the removal of likes, an anti-bullying feature, and a tool to report fake news. Although, there's currently no launch date for Threads, and given Instagram's history with fucked-up trials, it may never even materialise.
Source: https://www.dazeddigital.com/science-tech/article/45768/1/instagram-facebook-new-social-media-messaging-app-threads-to-rival-snapchat
Massive change coming to WhatsApp with introduction of ads
WhatsApp will see a massive change by 2020 with the introduction of adverts into the instant messaging app.
It's been rumoured for a while and now WhatsApp looks set to finally bring adverts to its popular messaging app.
The Facebook-owned firm revealed the news during its annual Marking Summit in the Netherlands, with a rollout expected next year.
Photos of the way these new adverts will look have even been posted online with attendee Olivier Ponteville, giving fans a closer look at what's to come.
The image, which can be seen on Twitter, shows how ads currently appear on Facebook and Instagram with a WhatsApp screenshot then revealed with a full-screen advert.
According to technology website BGR, once the message appears users will be able to "swipe up when an ad appears for more information about the product or service being advertised."
Adverts in WhatsApp have been spoken about for a while but this is the first evidence that things are changing within the popular service.
How fans react is yet to been seen but it's unlikely to go down well with its billions of users.
The bad news is that it seems there's nothing that can be done to stop this new feature from arriving within the app.
It seems almost certain that there will be no way to switch them off or hide these paid-for messages which may prove to be hugely irritating.
Source: https://www.thenewsguru.com/technology/internet/article/massive-change-coming-whatsapp-introduction-ads/
Facebook Messenger finally adds quoted replies
Today Facebook Messenger has added a sorely missing feature – quoted replies. This allows you to reply to a specific message in a conversation, and is incredibly helpful when you're engaged in chats that have a big range of topics. Using the new feature, the people you're talking to will now know exactly what you were replying to with that "LOL", for example.
This has been a feature in WhatsApp, which is also owned by Facebook, for a very long time, and it's always been sort of a baffling omission in Messenger. So it's good to finally see it there too.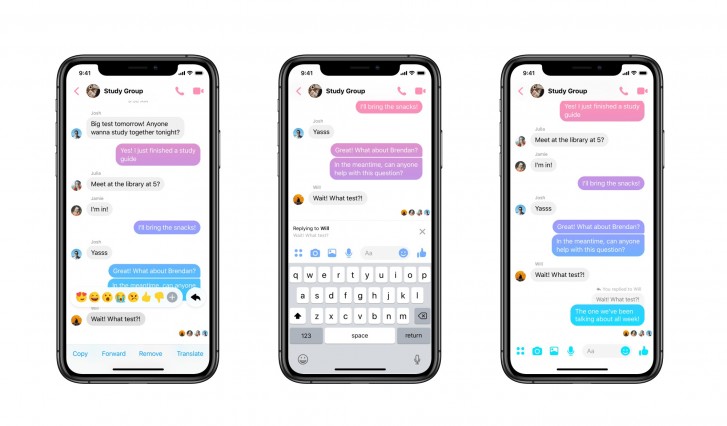 In order to quote a specific message, long tap on it and you'll see a new Reply button to the right of the reaction emojis. Tap that, write your reply, and, just like in WhatsApp, the message you're replying to will appear above your reply. Easy. This potentially means you'll have less misunderstandings with your friends as to which message was referencing what.
The feature is rolling out now on both iOS and Android.