The Samsung Galaxy S11+ may be close to launch with new certification
The Chinese telecomms regulator 3C has just cleared a phone called the Samsung SM-G9880. This phone is currently thought to be the Galaxy S11+, a potential 2020 ultra-flagship phone. If so, it will ship with a 25W charger and support 5G.
It's nearly 2020, which means it's traditionally time to start thinking about next-gen Samsung flagship phones in earnest. They are projected to be called the Galaxy S11 series, and, like its predecessors, comprise of base, 'budget' and 'plus' models. The latest leak on this subject suggests that the latter has passed through 3C testing in China, suggesting that its debut is seriously gathering steam at this point.
This new rumor is based on this device's model number (SM-G9880) and its similarity to another thought to be associated with the Galaxy S11e (SM-G9810). These phones' respective 3C certifications suggest that they have some specs in common. They will both come with the same charging brick, the Samsung EP-TA800, which is capable of a top charging rate of 25 watts (W).
This limit may come across as disappointing to some who may hope the Galaxy S11+ may support an improved standard compared to those of the S10s, particularly as this phone is also linked to a 5000mAh battery that could take ages to charge at standard speeds. However, it is still possible that the Plus variant will end up compatible with fast-charging bricks that the OEM sells separately.
The "Galaxy S11e" and "Galaxy S11+" devices certified in China also have something else in common: 5G support. This suggests that both kinds of Samsung flagship will have variants with this connectivity, or may come with it by default.

Source:
https://www.notebookcheck.net/The-Samsung-Galaxy-S11-may-be-close-to-launch-with-new-certification.448621.0.html
This PS5 upgrade will give gamers the 'fastest data loading ever'
Sony hasn't been shy at talking up the PS5's proprietary 825GB SSD and the performance enhancement gamers can expect as a result when the console launches on November 12. But surprisingly, it appears the company may have been selling its true potential short, according to one development tool maker.
Charles Bloom, a data compression specialist working at RAD Game Tools, has written a lengthy blog post explaining how the company's Oodle Kraken technology will help give the PS5 "the fastest data loading ever available in a mass market consumer device." In fact, Bloom continues, "we think it may be even better than you have previously heard."
We're not going to sugarcoat it: the blog post is long and very technical. The main point, however, is that the fast SSD, CPU-dependent IO stack and Kraken hardware decoder combines in a way that makes it greater than the sum of its parts. Kraken, Bloom writes, "acts as a multiplier for the IO speed and disk capacity" which both ensures faster loading times and smaller install footprints.
"Sony has previously published that the SSD is capable of 5.5 GB/s and expected decompressed bandwidth around 8-9 GB/s, based on measurements of average compression ratios of games around 1.5 to 1," Bloom explains.
"While Kraken is an excellent generic compressor, it struggled to find usable patterns on a crucial type of content: GPU textures, which make up a large fraction of game content. Since then we've made huge progress on improving the compression ratio of GPU textures, with Oodle Texture which encodes them such that subsequent Kraken compression can find patterns it can exploit. The result is that we expect the average compression ratio of games to be much better in the future, closer to 2 to 1."
But it doesn't stop there. "Good data compression also improves game download times, and lets you store more games on disk," Bloom explains, with the compression ratio acting as "an effective multiplier for download speed and disk capacity."
The long and short of it? "A game might use 80 GB uncompressed, but with 2 to 1 compression it only take 40 GB on disk, letting you store twice as many games. A smaller disk with better compression can hold more games than a larger disk with worse compression."
Things might get better over time, as well, because the company's latest Oodle Texture technology, which promises the best compression results, is new enough that not every launch title will benefit. But, Bloom says, the team "expect it to to be in the majority of PS5 games in the future."
You can read the full explainer on Charles Bloom's blog, but for most consumers, the headline will be enough: the PS5 has some very clever technology that massively improves the way data is both stored and accessed. The upshot to you? Your console's storage should go further, and long load times should be a thing of the past. Roll on November 12.
Source: https://www.tomsguide.com/uk/news/this-ps5-upgrade-will-give-gamers-the-fastest-data-loading-ever
PS5 might get new PSVR motion controllers for next-gen virtual reality
There has been plenty to indicate that a new PSVR 2 headset is in the works for PS5, and the uncovering of a new patent puts more weight behind the idea that next-generation virtual reality will be accompanying Sony's next-generation console.
As spotted by LetsGoDigital, the controller ditches the wand-like design of the ageing PlayStation Move controllers (first introduced way back 10 years ago in the Playstation 3 generation), and instead shows a joystick-equipped grip with a halo-like band surrounding it.
The patent (detailed in a 34-page document filed back in March 2020), discusses how  a single controller could be used, or a pair in tandem. As well as standard face buttons and joysticks, the controller would also support triggers and a touch sensor, which could be optionally added.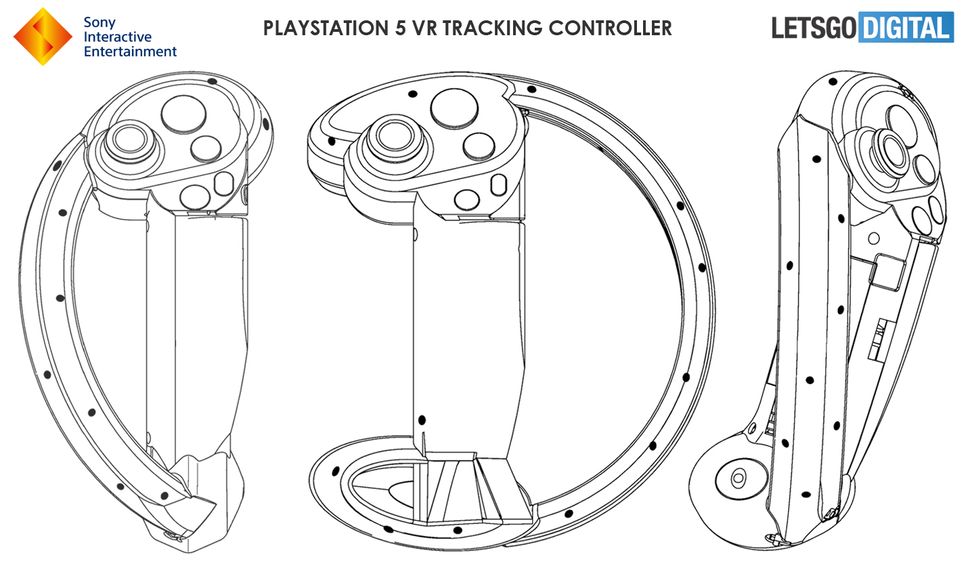 The controllers would require an external camera in order for their movements to be followed, with the suggestion that a camera on the VR headset itself could be picking up light-emitting parts on the curved surface of the controller, or a totally external, separate camera accessory.
Sony has already confirmed that PSVR will be compatible with the PS5 (though the need for a new camera adapter may prevent it being used at launch), and Sony continues to support the current generation virtual reality headset with new games and experiences, such as Hitman 3 and Vader Immortal. With products like the Oculus Quest 2 now on sale, Sony's current headset would be starting to look a little aged next to a brand new console however.
As well as more refined controllers, we'd hope that the PSVR's display would get a resolution boost, with additional processing power allowing for higher frame rates to ease issues some suffer from with motion sickness. A fully wireless headset would also bring Sony's offering in line with the likes of Oculus's range, and the HTC Vive Cosmos – though no company has yet managed to master the issue of lag between a wireless headset and an external processing device like a PC or games console, which would be a hurdle Sony would have to clear.
Source: https://www.techradar.com/news/ps5-might-get-new-psvr-motion-controllers-for-next-gen-virtual-reality
The sequel to Sony's PlayStation Phone apparently leaks, eight years too late
Cast your mind back, if you can, to the tender world of gadgets circa 2011. Apple had just launched Siri on the iPhone, Google was making its biggest push into social networking with Google Plus, and Sony had decided it was time to release a true gaming smartphone: the much-anticipated "PlayStation Phone," officially dubbed the Xperia Play.
It was not, by any means, a great success. A 2011 Engadget review praised the phone's sliding mechanism and gamepad but bemoaned its dim screen and lack of playable titles. The device had its fans, though, many of whom were excited in 2012 by whispers of an Xperia Play 2. This promised sequel never emerged, but eight years after the PlayStation Phone 2 was first rumored, images purportedly showing the device have appeared online.
Pictures of the phone were shared on the Xperia subreddit by a user who found a listing for the device on Idle Fish, a Chinese secondhand goods store operated by Alibaba. The seller says the phone is only a prototype and there's no way to verify its authenticity. The seller's shop, though, suggests they have some sources in the world of obsolete tech, with other listings including a PS3 devkit and classic keyboards like the venerated IBM Model F.
The phone certainly looks the part. It's got the same slide-out mechanism as the original Xperia Play and the PSP Go, a D-pad, a set of standard PlayStation buttons, left and right shoulder buttons, and Xperia branding on the rear. There's also a mysterious "3D" button, which was perhaps for features similar to the stereoscopic display on Nintendo's 3DS.
Notably, the front of the phone has capacitive buttons instead of hardware buttons. That's consistent with changes to the design of Xperia phones from 2012 onward, and it matches a leaked render of the Xperia Play 2 that did the rounds on gadget blogs back in 2012. In other words: this may well be the real deal, but we have no way of knowing for sure.
It's certainly interesting to think, though, what might have happened if the Xperia Play had found a market. Would gaming smartphones have become mainstream instead of a niche, if persistent, product category? Despite its limitations, the Xperia Play reportedly handled PlayStation games extremely smoothly (check out this video review of the device from 2019 for an in-depth look) and who wouldn't want to have the PS1's back catalog in their pocket?
But Sony apparently thought the hybrid approach just wasn't worth it. Indeed, in 2011, it also released the PS Vita: the successor to the PSP which handily took care of any Sony fans looking for a reliable and portable gaming experience.
And in 2020, it's hard to imagine a dedicated gaming phone ever making a comeback. Why bother when you can simply stream most console games to your smartphone of choice? If the Xperia Play 2 has finally surfaced, it's only as a shipwreck of a long-forgotten age.
Source: https://www.theverge.com/2020/9/23/21452167/sony-xperia-play-2-playstation-phone-prototype-concept-leaked-images