Using a PlayStation 4 controller with your PC
Microsoft's Xbox controller has been the default gamepad for PC gamers for some time now, but you may prefer Sony's competing — and also quite good — DualShock 4 controller. The good news is, you can easily configure it to work on Windows or macOS.
The PlayStation 4 gamepad's ergonomic and efficient design cannot be denied. Whether you play first-person shooters, roleplaying games, or any other genre, the DS4 is crafted to feel comfortable in button placement, weight, and grip. Long-time PlayStation gamers may wish to use it on their PC games because of its familiarity. Others opt for it instead of spending money on a new controller. And, of course, the DualShock 4 controller is perfect for playing games with the Remote Play app on your computer.
Whatever the case may be, it is relatively simple to connect and use the DualShock 4 with your computer. There are a few quirks, though, which is why we thought a primer on setting up and using them would be prudent.
TL;DR
First: Unpair the PS4 controller from your console. Then connect it to your PC or Mac using the original cable (or buy a longer one) or use Bluetooth. More instructions on how to use Bluetooth can be read below.
On Windows: Download DS4Windows and use this to map the DualShock 4 controller and emulate an Xbox controller, so you gain native-like OS support. Steam Big Screen mode also has support for the PS4 controller.
On Mac: Using the most recent release of macOS Catalina 10.15 is highly encouraged as that will provide with the easiest integration. Steam for Mac and few other apps provide native controller support. More detail on that below.
PS4 Remote Play: Using the DualShock 4 with PlayStation's Remote Play app is relatively painless since both PC and Mac have built-in support.
The DualShock 4 is more or less plug-and-play. It can be connected to both PCs and Macs via a compatible micro USB cable. The one that comes with the controller is fine but is a tad short and may not suit your computer set up. You can buy a 20-foot cable that should be more than enough for anyone's needs.
However, who needs a cable when the controller is equipped with Bluetooth? Therefore this article will mostly focus on pairing it wirelessly.
Unpairing from PS4 and Pairing Mode
Whether you are planning to use your DualShock 4 with PC or Mac, you will first have to unpair it from the PlayStation, unless you bought it new, and it has never been paired. If that's the case you may skip this step.
To unpair it, turn on your PS4 and go into the Settings menu. Scroll down and open the Devices sub-menu. Select Bluetooth Devices and then DualShock 4, and click on Disconnect. With your DS4 now unpaired, you are set to connect it with your Mac or PC via Bluetooth, but first, you need to get the controller into pairing mode.
To initiate pairing, simultaneously press and hold the PS and the Share buttons on the DS4 for about three seconds. You will know it is in pairing mode when the light on the front of the controller begins blinking white in a double flash pattern (above).
Connecting the controller to Mac and PC is a similar process, but setting it up with macOS is a bit more straightforward, so let's start there.
Connecting the DS4 in macOS
With the controller in pairing mode, go to your Mac's settings and open Bluetooth Preferences. It might take a few seconds or more while the Mac searches for the signal, so be patient. Eventually, a listing for it will appear.
We have seen various labels show up here — "wireless controller," "DualShock 4 wireless controller," even the raw MAC address has shown up before. Regardless of how it is listed, it will be obvious which device is the controller.
Next to the listing, click the Connect button. After a few seconds, the wireless controller will move to connected status. Also, the light on the front of the DS4 will be a steady light blue. Now you are good to go — well, almost. Skip to the Quirks and Game Support section to see what caveats we encountered.
Connecting the DS4 in Windows
With the controller in pairing mode, go into Windows Bluetooth settings. Click on "Add Bluetooth or other device." A window will pop up with the top option to connect to a BT device. Click it, and on the next screen you should see an entry for "wireless controller." Click that, and it will pair the controller.
Once the DS4 is connected, you would think that you are ready to go. After all, it will clearly show that the computer is connected and receiving a signal from the controller — it may have even run some driver installs. However, the DualShock will be useless when trying to run native games.
Since Windows does not have native support for the DS4, you will have to trick it into thinking you are using an Xbox 360 controller, which it does support. You can do this by downloading and installing an open-source program called DS4Windows. Features are listed on the official website, and you can download it from TechSpot Downloads. You won't need this app if you plan to play only Steam games, which we will get to in a minute.
DS4Windows comes in a zipped file. Extract it and you will see two .exe files. DS4Udater.exe just downloads the latest drivers. For now, you should be good, but keep this in mind if you have problems down the road. The main program is DS4Windows.exe. Run this, and your DualShock will immediately have functionality in Windows. You can even use the DS4's touchpad as a mini trackpad to move the cursor around. Pushing in on the pad emulates left-clicking.
With DS4Windows running in the background, you should not have any trouble playing games natively on your PC using the DualShock 4. However, you may wish to customize settings in-game to suit your button preferences.
Quirks and Game Support
Now for the "bad" news. Using a DualShock 4 on your computer can be a bit tricky at times. A lot of it depends on your system setup and what you are trying to do with the controller.
Windows users relying on DS4Windows should be good to go as long as the game you are playing has controller support. DS4Windows transforms the signals from the DS4 into Xbox 360 code, so it's effectively remapped across the OS.
We also tested the DualShock 4 with Steam on PC, and it works great in "Big Screen" mode after a bit of tinkering. After starting the Steam launcher in Big Screen mode, you want to click on the Settings icon (the gear in the upper right). Click the Controller Settings tab and check the "PlayStation Configuration Support" box.
Using the DualShock 4 with PlayStation's Remote Play app is relatively painless since the apps for both PC and Mac have built-in support. However, if you are running a version of macOS earlier than Catalina 10.15, you will need Sony's DS4 Bluetooth dongle. This is unfortunate because the officially supported adapter goes for about $65 on Amazon, although you can find them for less on eBay.
Some Redditors have reported that you can use any Bluetooth adapter, and this may be true, but we have not tested to confirm this. We have tested the official dongle, and it solves Remote Play compatibility issues on older iterations of macOS.
With the Mac version of Steam, we encountered a few more problems and the solutions can vary a lot. The safest bet here is to run the latest macOS and Steam's 64-bit launcher which are both new and are still catching up on receiving full support. For games that we could start, the DualShock worked fine. Big Screen mode gives you a very console-like experience with the benefit of PC-powered graphics, and any game you can launch in that mode will recognize the controller. Running Steam games outside of Big Screen mode, the DS4 didn't work at all. It would seem that Big Screen works similarly to the PC's DS4Windows app, translating controller input to the game.
All-in-all, the DualShock 4 is a great controller for your PC with just a few caveats. It would appear that Windows users have it easier than Mac gamers, but that is somewhat to be expected. With that said, Apple is making strides as of late and even native Xbox controller support recently was made available for its desktop OS.
Source: https://www.techspot.com/article/1923-playstation-4-controller-on-pc/
Google launches People Cards to help Africans who want to be found on Google Search
Google today introduced a new mobile-only feature that makes people more discoverable on Google Search.

People Cards allow people to create their presence on Search in the form of a card (similar to a Google Search Knowledge Panel) that includes all the details they want other people to have about them.
"For many people," says Olumide Balogun, Head of Consumer Apps, Sub Saharan Africa at Google, "whether they're content creators, business professionals, or just wanting to stand out from the crowd — having an online presence is important.
"For those without a formal website, or for people who share a name with many others, this is an easy way to create or distinguish their presence on Search," he adds. "Google's mission has always been to organise information and make it useful and accessible, and we're now providing a new way – for people who want to be found – to organise information about themselves, right on Search, on their mobile phones."
Anyone with a Google Account can create a People Card by simply searching for their name and tapping the "add me to Search" prompt. This will lead them through a simple process to add a photo, description, links to social profiles and other information that they'd like others to know about them.
For the initial card creation, a unique phone number is required. One profile card is allowed per Google account and phone number. Additionally, people can report abusive content and impersonation claims through a feedback link directly from the product.
"In the last few years, we have been working with people across the region to better understand how Africans see Search and how we can make it more relevant and work better for the people on the continent. We built this feature for the millions of influencers, content creators, entrepreneurs, self-employed individuals, freelancers, or anyone else out there who wants to be discovered," Olumide continues.
Google has recently introduced several locally relevant features within Search. Job Search Experience, for example, helps people find jobs through Search, while Health Symptom Search makes it easier for users to explore health conditions related to symptoms.
Google has also introduced other features that make it easy to find information on everyday interests like Sports, Recipe, Movies, and Lyrics.
"A critical part of creating for Africa means building in line with the insights we are seeing from the region. We see that people in Africa want a search tool that reflects their real environment and also supports them to succeed as they go about their everyday hustle which is why the People Card creator is in full control of their information at all times; they choose what they would like to make public and if they would like to remove it," he concludes.
Source: https://www.pulse.ng/news/local/google-launches-people-cards-to-help-africans-who-want-to-be-found-on-google-search/lyz14bs
The Ultimate Guide to Protecting Your Child Online in 2020
So many Online Child Safety guides are just scaring parents, without telling them what they can actually do; and this is why we came together, a group of cybersecurity experts and parents, to create a different guide. It's updated for November 2020, and it's all about steps you can take to protect your child from Sexual predators, Cyberbullying, Mobile phone addiction, and hurtful content. While we don't think you should panic as a parent, you do need to be aware of the risk's magnitude, as every kid could be affected.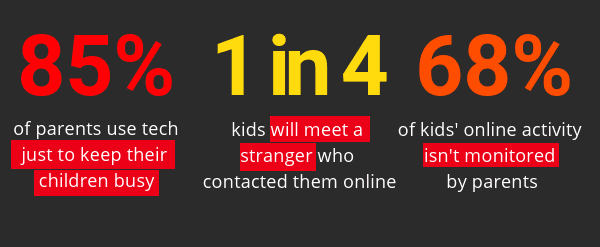 What can we do as parents? Instead of using technology to just to keep kids occupied, we need to educate them about it. Instead of sticking phones in their tiny hands at younger and younger ages, we need to tell them about the dangers of online life. And instead of hoping everything will be just fine, we need to take action, check our kids' activity, and make sure it actually will be fine.
This comprehensive guide will show you how. In it, we've outlined eight areas that you should pay attention to as you navigate this complex online world – from mobile devices to social media, gaming, cyberbullying, and information security.
The usual challenge is that most parents don't really understand platforms like TikTok, Instagram, Snapchat and even Twitter – not to mention 4Chan and gaming communities. But for their kids, the online world is more real than the real world. It is crucial for our children's sake that we understand what they see online, what is out there, both good and bad, and how it impacts their physical and emotional well-being.
The good news is that it's not that difficult to put certain technical controls in place to protect your children online. Far more importantly, the best thing you can do to protect your children is to talk to them. This guide will help you set clear boundaries for what and when they access online, but also to be there for your children when they make a mistake, or when they have gone too far. Isn't that what parenting fundamentally comes down to?
1.  Mobile phones and apps
According to research by SellCell, the average age that children get their first smartphone is 8 years old and it seems to keep dropping. The average was 10 in 2015 according to 000. While giving a child a smartphone comes with some benefits, it's easy to forget they're no less than a Pandora's Box.
Smartphones give kids unprecedented freedom: The ability to communicate with people without supervision, to consume whatever content they desire and even act forcefully towards other kids online with ease. If they don't know how to behave with their phone, follow basic ethics and caution, and be aware of the risks – they could fall victim to online harassment, Malware and money theft, get exposed to violent or sexual content and far worse. Since smartphones are personal devices, we don't often know what our children do with them, how they use them, and what threats they encounter.
If you're considering giving your child a smartphone, it's critical to have some clearly outlined guidelines in place beforehand, so that everyone is on the same page. If your child already has a smartphone, it's not too late to review the family rules. Demonstrate to them that having a smartphone is a big responsibility.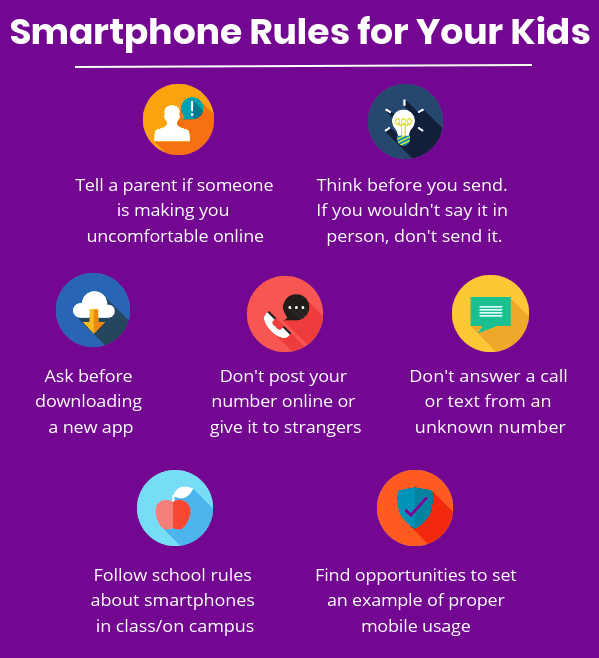 Implement smartphone rules with your child. Making sure your kids involve you on their phone activities with help keep them safe.
There are many precautions you can take to implement phone safety:
2.  Streaming content and smart TVs
Streaming content has shot up in popularity, and there are more TV shows and movies available at our fingertips than ever before – much of it not particularly appropriate for kids. While there are great educational shows on Netflix, Hulu, Disney+, Apple TV+, BBC iPlayer, and others, children will always be drawn to popular shows everybody's talking about – without knowing how violent, sexual or disturbing they could be for a kid. And there are a lot of opportunities: According to 2019 JAMA pediatrics research performed in the UK, Children aged four to six consume 89 minutes of television every day on average.
How can you make sure your kid won't be exposed to unwanted content?
Most of the big streaming content providers have parental controls, some more robust than others. Netflix allows you to set up separate profiles for you and for your children.
Using these tools, you can ensure that your kids only have access to age-appropriate content. Because Netflix's children's menu features a different color scheme than the regular menu, you can easily see whether your kids are accessing the content permitted to them or not. However, this doesn't stop kids from moving over to your profile, so you still have to be vigilant.
iTunes and Apple TV allow parents to set rating levels for the content their children watch. By contrast, Amazon Prime features no parental controls, so the only thing to do is to logout of your account and not share the password.
All of these tools, however, do not replace having frequent conversations with your children about what they watch. They need to know that even if a show's name is mentioned all the time, it doesn't mean it's right for them.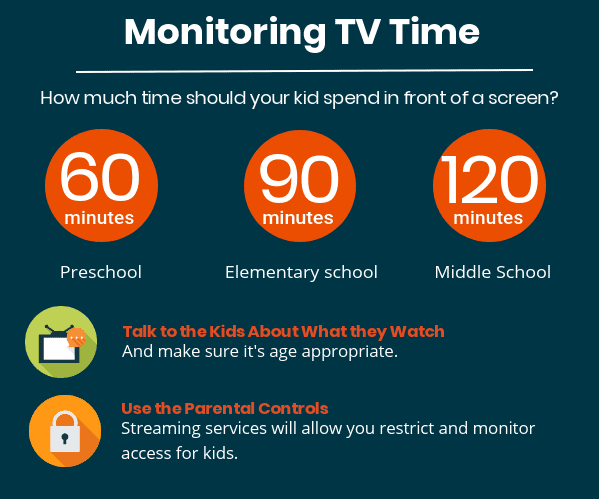 Monitor TV time by limiting the number of hours they watch per day, incorporating parental settings, talking to your child about the content they watch, and spending TV time as a family.
3.  Gaming consoles and online games
21% of all video game players in the US are under the age of 18. With so many games featuring violent or sexual content, and so many platforms to play on, it is important to be careful about the kinds of games your children play.
In addition, many games that have a multiplayer component, or are just entirely based online, which makes them open to abuse from other players, harassment, and sexual advances through the game's chat system. Kids may also form relationships with other players and may give away their personal information.
But not all is bad: Games are also a great way for kids to develop a variety of skills. They help children develop problem-solving skills, learn how to commit to long-term goals, and how to work as part of a team. They can also be a great opportunity for family bonding. In order to make sure our kids will enjoy the benefits of gaming and not suffer from its risks, we need to monitor their gameplay.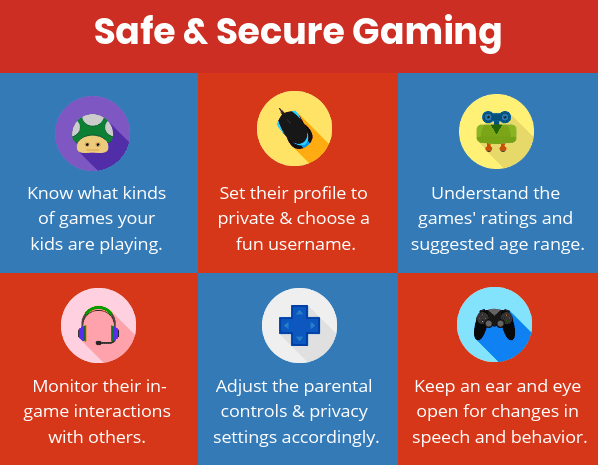 Encourage your children to discuss the games they play. Make sure your child profile is set to private. Consider keeping the gaming console in a shared, social space. Study the age rating of the games. Use parental controls to set up profiles. Limit the type of people your child can speak to online.
4.  Social media
Social media usage is now ubiquitous among US teens; 71% use more than one social platform. Children nowadays also spend an enormous amount of time on social media. A survey by the non-profit group Common Sense Media showed that 8 to 12 year-olds were online six hours per day, much of it on social platforms, and 13 to 18 year-olds a whopping nine hours!
According to a recent Harvard study, even though most social media platforms require users to be 13 years of age to sign up, 68% of parents surveyed had helped younger children set up an account.
Social media can be particularly addictive for tweens and teens. It opens the door to a variety of different issues, like cyberbullying, inappropriate sharing, and advances from sexual predators (more on those below).
Access to social media is also central to teens' developing social identity. It's the way that they connect to their friends, and it can be a healthy way to hang out. The key is to set boundaries so that it remains a positive experience.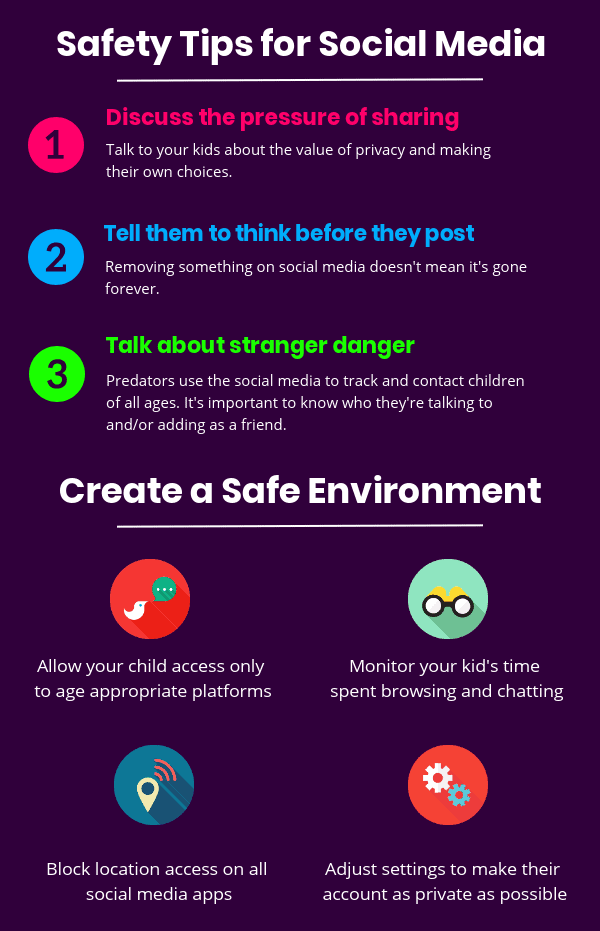 Enforce a safe environment. Do not let your kids on social media until they're old enough. Keep the computer in a public location. Limit the amount of time spent on social media. Block location access to all apps. Adjust the privacy settings. Monitor your child's online activity.
5.  Cyberbullying
Our children's lives have moved online. Unfortunately, their bullies have moved online, too.
Cyberbullying is frequently in the news, with reports of child suicides due to online harassment. Cyberbullying starts at younger ages and could have disastrous effects on your child, ones that will require psychological and psychiatric treatments. Young cyberbullying victims are 1.9 times more likely to commit suicide than those who do not experience online bullying.
Cyberbullying occurs across all of the platforms we have outlined above, and it comes in many forms: spreading rumors and sending threatening messages via social media, texting, pretending to be another child and posting embarrassing material under their name, forwarding private photos without consent, and generally posting online about another child with the intent to humiliate them.
Cyberbullying is particularly harmful because it is so public. In the past, if a kid was bullied on the playground, perhaps a few of his peers saw. Now, a child's most private information can be splashed across the internet and is there permanently unless reported and taken down.
Cyberbullying can negatively affect the online reputation not only of the victim, but also of the perpetrator, and have a deep impact on that child's future, including college admissions and employment.
It is also extremely persistent. If a child is the target of traditional bullying, his or her home is more often than not a place of refuge. Because digital platforms are constantly available, victims of cyberbullying struggle to find any relief.
It's often very difficult to tell if your child is being bullied online. It happens digitally, so parents and teachers are less likely to overhear or notice it. Fewer than half of the children bullied online tell their parents or another adult what they are going through, according to internet safety organization i-SAFE. In fact, according to the Cyberbullying Research Center, 36.4% of children aged 12 to 18 have experienced cyberbullying in their lifetime.
The best way to prevent cyberbullying or to stop it in its tracks is to be aware of your child's behavior. A number of warning signs may present themselves.
A child who is bullied may shut down their social media account and open a new one. He or she may begin to avoid social situations, even if they enjoyed being social in the past. Victims (and perpetrators) of cyberbullying often hide their screen or device when other people come into their vicinity and become cagey about what they do online. They may become emotionally distressed or withdrawn.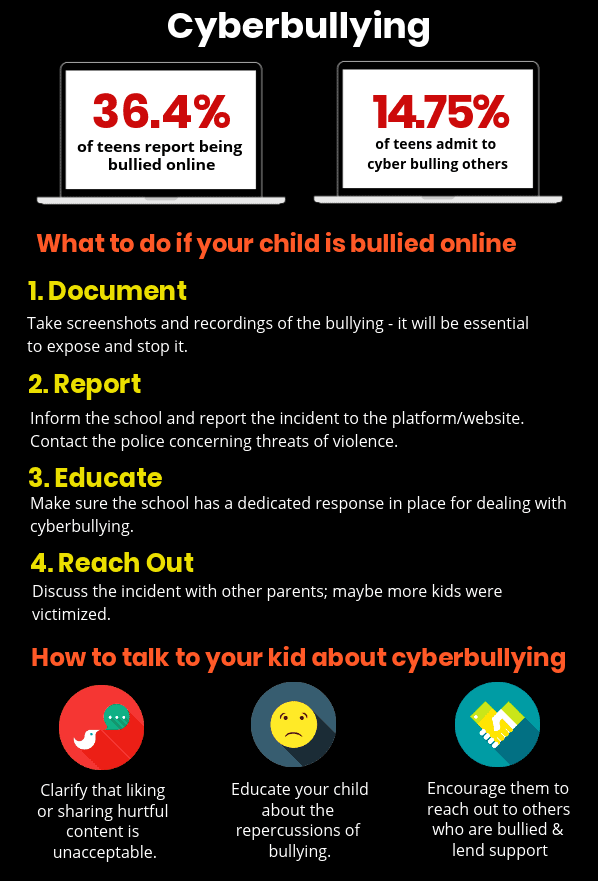 Talk to your child about cyberbullying.
6.  Privacy and information security
As parents, we are most concerned about the effect of the online world on our children's emotional and physical well-being. It's easy to forget that children are susceptible to information security threats that can cause significant financial harm.
Threats such as malware and viruses, phishing scams, and identity theft can have a much better chance of hitting a child – being so much more trusting and less experienced than us adults. To kids, sharing their personal details, such as their full name or where they live, may not seem like such a big deal. They may even be tricked by a malicious third party into sharing your own credit card details.
There are a number of ways that hackers and thieves can get information out of children. Free downloadable games, movies, or even ringtones that market themselves to children can place viruses onto your computer and steal your information.
Hackers posing as legitimate companies, like Google, send emails asking for your child's password.They may also pose as one of your children's friends or even a relative.
What should you communicate to your child?
What you can do to create a safe environment: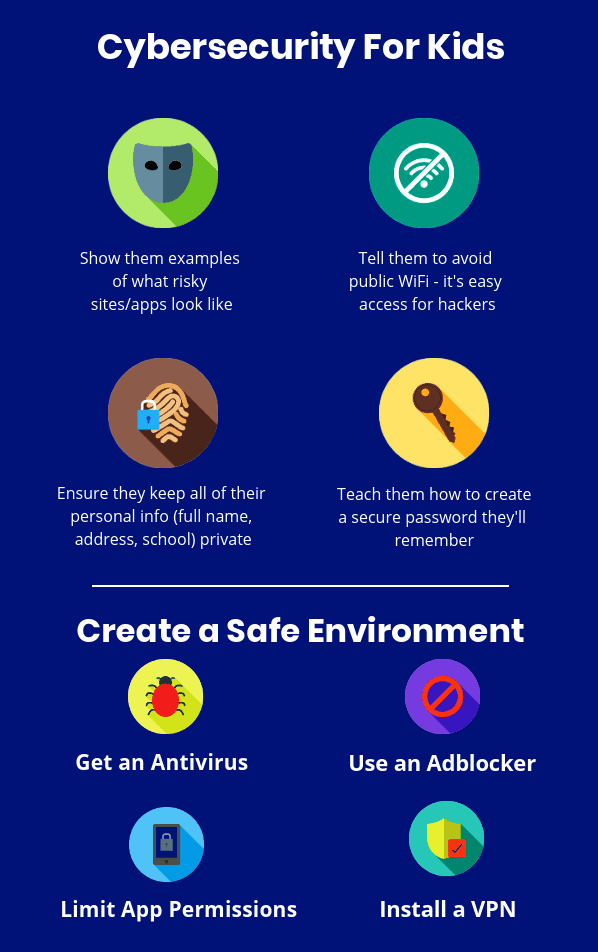 Teach your kids the importance of keeping their information and devices safe and secure when going online.
7.  Viewing inappropriate content online
Because the internet is so open and public, it is also a place where kids can stumble upon content intended for adults – content which they may find upsetting, confusing or distressing. "Inappropriate content" can mean many things to many different people, from swearing to violence to sexual nature. Also, our kids might be exposed to political or religious ideas we don't see fit for them.
It's not easy, but eventually, every parent will need to have a conversation with his children about what they might see online. Many children don't go to their parents when they see something they perhaps shouldn't have seen, for fear that their parents will be angry at them, and take away their devices or internet access.
If your child comes to you with this type of issue, the best thing to do is to respond calmly and be open to discussion. If the content under discussion is sexual, your child will likely be embarrassed already, particularly when talking to their parents about these kinds of issues. Let them know you are there for them and are ready to answer any questions without judgment.
Young people may see sexual content online for all kinds of reasons. They may have seen it by mistake, a friend might have sent it to them, or they may have sought it out themselves out of natural curiosity.
It helps a great deal to talk to your kids honestly and frankly about sex, and a discussion about online pornography is a crucial part. A lot of research has shown that pornography can have a detrimental effect on young people, giving them distorted and unhealthy notions about sex. Pornography can also lead people to think of others as objects, rather than people with thoughts and feelings. At the same time, it's totally normal to be curious about sex and relationships. This conversation is a great opportunity to direct your kids to positive resources about sexuality.
There are also a number of steps you can take to try to prevent your kids from being exposed to content they're not ready for, like setting up parental controls on your internet connection. Remember, though, that technical fixes can't replace open communication with your child.
Communicate with your child:
Steps you can take to block inappropriate content: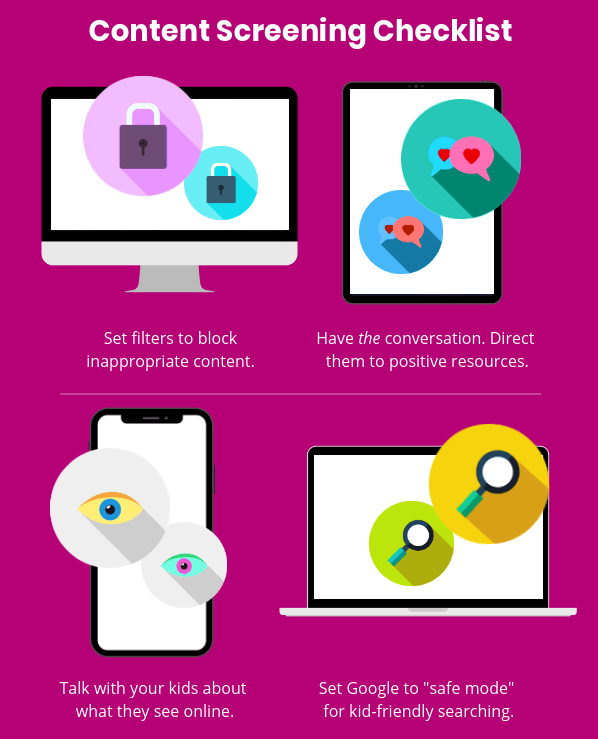 8.  Online predators
In our last section, we take a look at the darkest and scariest online threat of all: online child predators. According to the US Department of Justice, 13% of young people with internet access have been the victims of unwanted sexual advances, and one in 25 children have been solicited for offline contact; 50% of online victims of sexual exploitation are between 12 and 15 years old.
Predators engage in a practice called 'grooming.' In other words, they attempt to form a relationship with a child with the intention of later abusing them.
The internet has made life a lot easier for child predators. Predators target their victims through any and all online mediums: social media, email, text messages, and more.
Predators often create multiple online identities, posing as children to trick kids into talking to them. They discover as much as they can about the children they are targeting by researching their social media profiles – Facebook, TikTok, Snapchat, and others.
They may contact a number of children at once, but tend to concentrate their efforts on the most vulnerable. These predators aren't satisfied with merely chatting with children online. They frequently trick or coerce their victims into online sexual activity via webcam or by sending sexual images. They may also attempt to meet and abuse their victims in person.
It's not always easy to tell if a child is being groomed, particularly because most keep it a secret from their parents. There are a number of warning signs: children who are being groomed by predators may become very secretive because the predator often threatens the child not to share information with their parents or friends. Children can also become sad and withdrawn, distracted, and have abrupt mood swings. It is absolutely crucial to let your child know that you are there for them and that they can talk to you about anything.
What should you communicate to your child?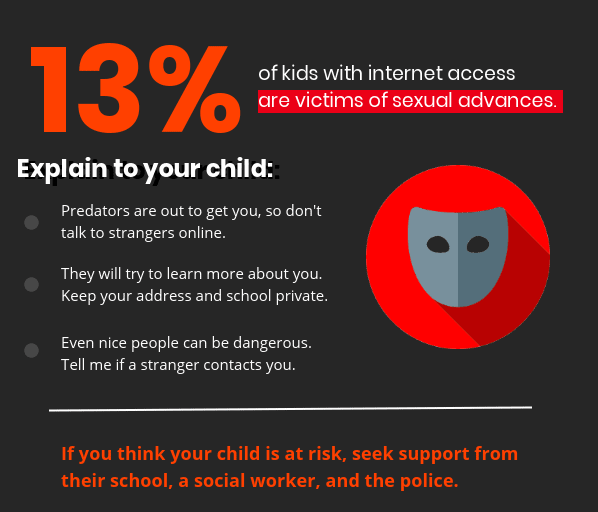 Conclusion
There are lots of different technical tools available out there to help keep your kids safe online. These vary from VPNs and antivirus software to internet filters and parental controls. But none of these are really enough to help keep your child safe.
As we've repeated over and over in this guide, the key isn't mastering a set of complicated technical tools. (In fact, most are very easy to set up, so don't let a lack of technical ability hold you back). It also doesn't mean you have to master the latest internet fab every time one pops up – believe us, you will never keep up!
The far more important, but also far more difficult task, is to have frequent, open and honest discussions with your children about their lives. Remember, internet companies, social media networks, gaming providers, and everyone else in the online space may be able to help you set content limits, but they don't necessarily have your child's best interests at heart.
The very best person to keep your child safe online is you. Talking about how to stay safe on the internet is an excellent conduit to build a trusting and positive relationship with your child.
Internet safety needs to be a priority for every parent and caregiver. If you have found this guide useful, consider sharing it with friends and family via Facebook and Twitter.
Source: https://www.vpnmentor.com/blog/the-ultimate-parent-guide-for-child-internet/
Parents Working From Home: 10 Productivity Hacks
Do you want to become a more productive work-from-home parent? A recent Yahoo Finance/Harris Poll showed that about 40% of Americans were working full-time from their homes due to the COVID-19 pandemic. The option for parents to work via virtual offices using PCs, email, and IM platforms might seem like a practical way to be strictly business at boosting work productivity. Is it the real deal?
The problem is many telecommuting parents might experience new challenges. These include ones related to getting kids ready for school, meals, or bed; flexible work schedules; and Netflix binging. Ironically home-based parents can experience a drop in work efficiency. That's right!
When doing a balancing act of job and family life here are some helpful tips & tricks:
Tip #1 Make a Home-based Workspace
If you're going to work from home then it's important to create a workspace that's dedicated to your job. There are lots of home-office ideas you can try out.
Keep It Simple
When designing your workspace keep in mind it doesn't have to include a $200,000 Spiral Desk with several exotic woods. Your home office setup could be as basic as a small desk and laptop computer in the corner. Another good option is a garden summerhouse if you happen to own one.
One of the main benefits of having an official working space is it's easier to shift into work or home mode.
Tip #2 Get up Earlier for Quality Me-Time
If you're a stay-at-home mom or dad then consider getting up a little earlier. You should still be getting a full 7 to 9 hours of sleep every night after you pick a mattress that suits your sleeping needs. This means you should be catching Zs a little earlier.
More Me-Time
One of the main benefits of waking up early for virtual workers is you'll have more time for yourself.
You can spend this time taking a warm bath or shower, drinking your morning coffee or tea, or doing some light exercise. A home is quieter early-morning even if you have kids. This makes it an ideal time for more "me time." It's also a good mood-booster before you start pulling double duty as a working parent.
Tip #3 Set Realistic Goals You Can Usually Achieve
If other telecommuting friends make social media posts showing they're achieving all their work, home, and family goals every day—then it might be too good to be true. A clean house, home-cooked meals, and successful business are all possible but it's more complicated than Instagram photo-sharing.
Set Goals and Get Help
Make sure to set realistic goals as a working parent. They can be challenging but ones you're likely to achieve with some effort and planning. You should also complete one item at a time on your to-do list and get help when needed.
Tip #4 Get Virtual Help from Distant Relatives
If you have isolated or lonely relatives they might be willing to help through social media like Facebook or virtual assistants like Alexa, Siri or Google Assistant. This could be for an hour or two daily. For example, a faraway grandparent could help your little one with schoolwork and answer questions.
This frees up time for at-home parents to meet work deadlines and hold Skype or Zoom meetings, for example. If you have a few free relatives who help your kids for 2 hours, for example, that frees up several hours you can dedicate to weekly reports or client calls.
Tip #5: Say 'No' to New Work When Necessary
This is a classic lifehack that's usually related to general time-management advice. An irony is that parents often have to tell their kids "no" when they make a request. However, they often don't give the same reply about their own workload when they're already swamped.
Avoiding Burnout
Studies show that parent burnout affects up to 12% of Mommies and Daddies, according to Frontiers in Psychology.
Every day you should compare your to-do list with your available time. If you get a professional or personal request that doesn't fit within your daily schedule then you should say "no."
Tip #6 Plan out Your Working Hours
Many home-based workers mistakenly don't schedule their workday.  A better approach is to make a schedule and aim to stop working at the traditional 5:00 PM. If you finish earlier then it frees up more family time.
Weekly Work Times
Try to avoid the mentality that you have all day to finish your work. Yes, you have flexibility to work during times that you'll be the most productive. That could be early morning, late evening, or a few hours here and there between preparing meals for your kiddos and picking them up from school.
Try to create a weekly schedule that includes your working times. This will help to prepare you for a busy day like an excellent mattress selection.
Tip #7: Do Regular Exercise during the Morning
How could taking a morning jog or lifting weights boost work productivity? Home-based working parents tend to spend a lot of time sitting and standing.
Exercise can provide many health benefits that involve your:
Blood Flow
Muscles
Energy
Heart/Lungs
Cognition
Doing morning exercise can help to prepare you physically, mentally, and emotionally for a busy day handling your work and familial responsibilities. This can make you a more effective (and healthy) stay-at-home parent.
Tip #8: Avoid Working in Front of Your Kids
This isn't something you'll be able to achieve 100% of the time and especially if your kids are toddlers. However, it's a general rule to make sure you're 100% "present" during family time.
Work/Family Time
It all starts with scheduling quality time with your kids during the day. This will help to make sure you've scheduled time to be present from the get-go.
When you're around your kids, try to avoid doing tasks like answering emails or taking calls. Even sitting in front of your computer can blur the lines between work and family life. One of the best steps to take is to close the door of your home office when you're working.
Tip #9 Be Flexible with the New Setup
While it's good to make daily schedules and to-do lists, it's also important to go with the flow. There are times you might have to take work calls during family time. Your work schedule might also change suddenly. The key is to stay flexible about the "new normal."
Tip #10: Outsource Work When You Can
When you're an at-home working parent, it might seem that your work never ends. Try to get help when you can from friends, family, or food delivery/cleaning services. You could even outsource some of your job's work, like data input or design work.
Conclusion
Working from home can be a practical option for many parents. The key to more productivity is to create things like daily schedules, yet be flexible for on-the-fly changes during the day. This provides the perfect blend of planning and spontaneity. You'll then be more likely to get everything done on your to-do list, including video meetings, soccer practice pick-up, and a good night's sleep.
About the Author

Brett is a writer at ID-Mag. An enthusiast and expert when it comes to sleep products, Brett dedicates a lot of his time reading, researching, and reviewing about both traditional and emerging sleep brands that manufacture varied types of sleep products – from eco-mattresses, smart pillows to cooling sleep systems, Brett has probably reviewed them all. Brett also finds sleep especially important since he juggles a small business which he runs from home, makes sure he spends time with his daughter and he also writes during his spare time – you can definitely see that he needs a great forty winks all night, every night so he'll make sure that you get great sleep, too!