vivo iQOO Neo's battery capacity confirmed
The vivo iQOO Neo arriving on July 2 will have Snapdragon 845 SoC under the hood. Now the company has revealed another one of its specs – the smartphone will ship with a 4,500 mAh battery with 22.5W fast charging support.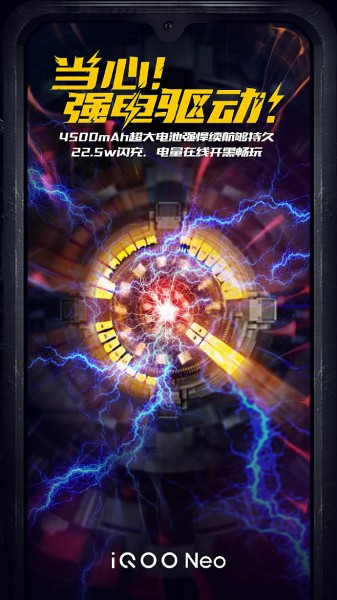 For comparison, most vivo iQOO versions are powered by Snapdragon 855 SoC and pack a 4,000 mAh cell with support for 44W fast charging. The exception is the 6GB/128GB variant, which makes do with 22.5W charging speed.
That said, the iQOO Neo is already listed on vivo China's official website along with its renders which confirm the phone will come in at least two colors – Black and Purple.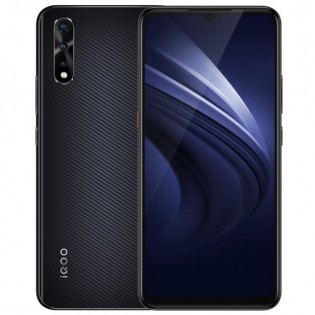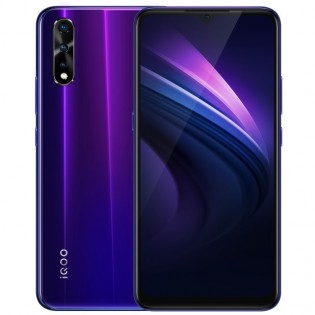 vivo iQOO Neo in Black and Purple colors
The iQOO Neo looks similar to the iQOO, with the only difference being the placement of the LED flash.
We are still five days away from the launch of the iQOO Neo, so expect the company to reveal some more details about this smartphone until then.
Source: https://www.gsmarena.com/vivo_iqoo_neo_battery_capacity-news-37812.php
NEW NOKIA LAPTOP SERIES REVEALS BIS CERTIFICATION
In the past, Nokia had quite a diversified business model, wherein it has manufactured personal and laptop computers, and a mini laptop as well at some point. MikroMikko was a dedicated line of computers manufactured by Nokia's computer division Nokia Data back in the 1980s, which was sold until 1991. In 2009, Nokia also announced the Nokia Booklet 3G, a mini laptop or a netbook, which used Microsoft Windows 7 as the OS, had 3G support via SIM card, Nokia's Ovi Maps service, and the company claimed a battery life of up to 12 hours on a single charge. Thereafter, we did not see any such product from Nokia.
Now, it looks like we will again get to see the Nokia brand on a laptop, albeit by a Nokia brand licensee. The new series of Nokia laptops that were certified on November 27 will be launched in India. As per BIS (Bureau of Indian Standards) certification, the laptops will be manufactured by Tongfang Limited in China. The certification mentions at most nine different models of Nokia laptop with model numbers NKi510UL82S, NKi510UL85S, NKi510UL165S, NKi510UL810S, NKi510UL1610S, NKi310UL41S, NKi310UL42S, NKi310UL82S, and NKi310UL85S.
It is a pure guess from my side, but as per the model numbers, the first two characters (NK) probably mean Nokia, the next characters (i5 or i3) probably describe the processor, and the number '10' probably means Microsoft Windows 10 as the OS. So if we go as per the model numbers, we might see five Nokia laptops with Intel Core i5 processors, while the other four Nokia laptops with Intel Core i3 processors.
Source: https://nokiamob.net/2020/11/29/new-nokia-laptop-series-coming-to-india-reveals-bis-certification/
Next Galaxy Z Flip to sport 120Hz display and narrower frame says leakster
Samsung already has two foldable clamshells in its lineup with the Galaxy Z Flip and Z Flip 5G and we've been hearing about a successor coming in Q2 of 2021. Now, leakster IceUniverse shared a couple of bits about the upcoming foldable which is referred to as the Galaxy Z Flip3.
According to his intel, the Z Flip3 will sport a 120Hz AMOLED display which would match Samsung's Galaxy Z Fold2 and Galaxy Note20 Ultra flagships. The new Z Flip is also touted to feature a narrower frame which likely means less bezels around the panel.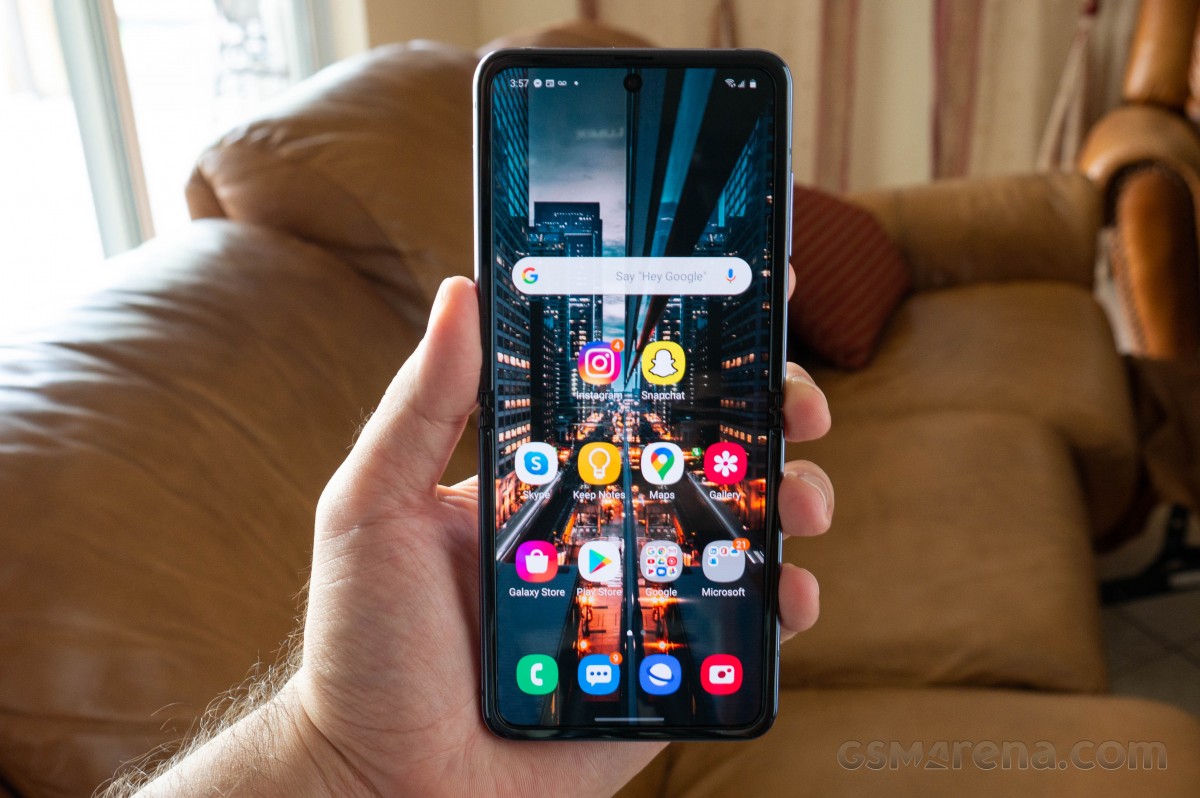 The tipster also mentions a cheaper pricetag though we don't get specific numbers here. Previous reports on the upcoming Z Flip model suggest it will feature stereo speakers and is expected to launch around March 2021, separate from the Galaxy S21 line. There's also talk of a Galaxy Z Flip Lite model in the works as Samsung's most affordable folding phone.
Source: https://www.gsmarena.com/next_galaxy_z_flip_to_sport_120hz_display_and_narrower_frame_says_leakster-news-46438.php
Google Zork Chromebook with AMD Ryzen 3 3250C spotted on Google Play Console
HIGHLIGHTS
Google Zork Chromebook specifications have been spotted on Google Play Console
Key specs include AMD Ryzen 3 3250C, 4GB RAM, Radeon Vega 3 GPU, and Full HD display
There could be another variant with Ryzen 7 3700C processor, as per Geekbench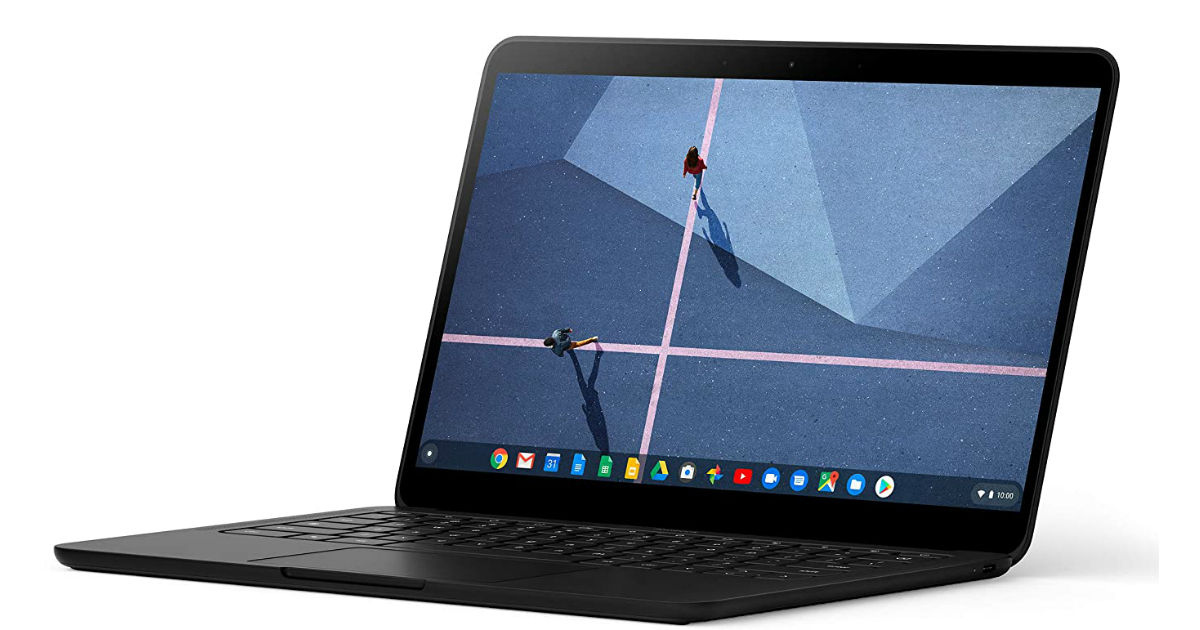 Google is said to be working on a new Chromebook with the codename 'Zork' and it was spotted on the Geekbench platform back in April revealing key information, including the Android operating system version and chipset powering it. Now, the same Google Zork Chromebook has appeared on the Google Play Console, 91mobiles has discovered. The listing reveals more specifications of the notebook and reiterates earlier leaked details. Google Zork Chromebook specs, as per the listing, include the AMD Ryzen 3 3250C paired with 4GB RAM, Radeon Vega 3 GPU, a Full HD display with 1,920 X 1,080 pixels resolution, and 160 screen density.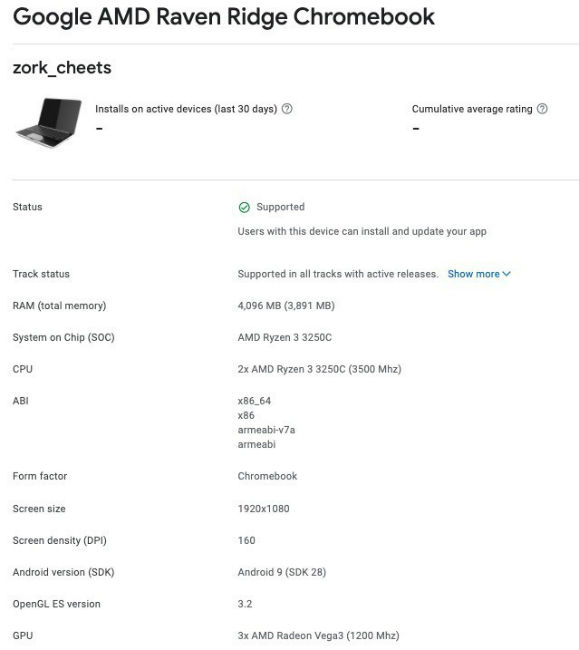 Though the Google Play Console listing shows the device will run Android 9 OS, we suspect it might run on Chrome OS considering Android devices aren't powered by AMD processors. The HP Pro Chromebook c645 that was introduced recently comes with the same AMD Ryzen 3 3250C processor, thereby making way for more Chromebooks with AMD processors. The listing also includes a render of the notebook with a sizeable trackpad and a proper keyboard with a matte finish. However, it's possible the image could be a placeholder for now and may not represent the actual design of Google Zork.
Google Zork Chromebook specifications on Geekbench previously also mentioned a variant with the AMD Ryzen 7 3700C processor variant that has 4 CPU cores and 8 threads. The chipset is paired with Radeon Vega Mobile GFX graphics module and a large 8GB of RAM. Since the Chromebook has started appearing on the web, we suspect the development is inching closer to the final stages and the launch could be around the corner. We hope to learn more information soon. Stick around.
Source: https://www.91mobiles.com/hub/google-zork-chromebook-specifications-on-google-play-console/