We tried the $200 Bose audio sunglasses
We tried the $200 Bose audio sunglasses – Bose created $200 sunglasses that can play music and answer phone calls, using Bluetooth .
Bose created $200 sunglasses that can play music and answer phone calls, using Bluetooth .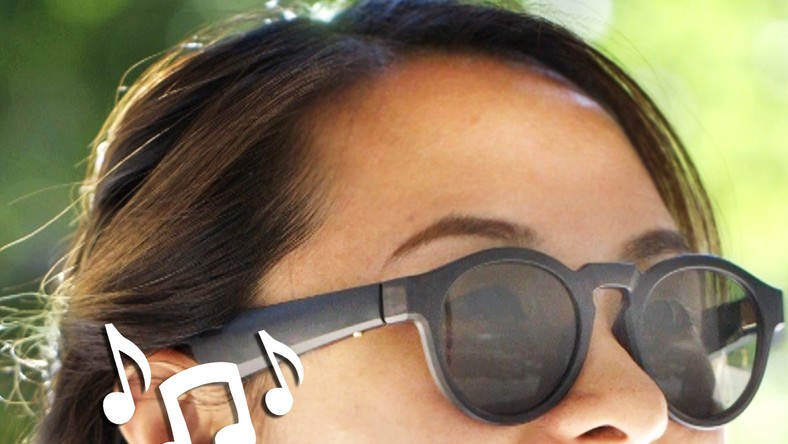 The audio sunglasses come in two frames: the Alto, a bigger, more square frame, and the Rondo, a smaller and more round frame.
We tried them out to see if they're worth the price.
Following is a transcript of the video.
Michelle Yan: Bose is known for its high-end speakers, but now it's putting its tech into sunglasses. Are they any good, or are they just a gimmick? Let's find out.
I'll admit, when I first heard about these audio sunglasses, I thought they were kind of lame. But when I put it on for the first time and actually heard music coming out of it, I was shocked. I even let my coworkers try it on, and they had the same reaction.
Coworker 1: Holy s—.
Coworker 2: Am I gonna see something?
Coworker 3: It's weird, right?
Coworker 4: That's so weird.
Coworker 2: Does it just play music? Oh, my God.
Michelle Yan: I was also really impressed with the style of these sunglasses. Bose offers two frames: the Alto, a bigger, more square frame, and then the ones that I have, the Rondo, a smaller and more round frame. So how do these audio sunglasses work? They connect via Bluetooth. Just download the Bose Connect app and press the button on your sunglasses. You'll hear a voice telling you which device it's connected to and what your battery percentage is. The connectivity is also really fast. Once I put on my sunglasses and click the button, I'm instantly connected to my device and I can start listening to my music.
The sound quality is very clear. But if you're looking for a nice bass, you're not going to get it with these. Since the speakers sit on the end of the temples of the glasses, the bass is hard to translate. Not to mention the temples will be bulky. But I found that when I listened to my music like this, I could hear the bass a little better. Obviously, I'm not gonna be walking around listening to music like this, but the point of these sunglasses is to hear your surroundings but also listen to your music.
In a quiet room, music sounds good when I'm at 60% volume. But when I'm out on the street, it's a little harder to hear the music, even if I crank the volume up to 100%. So can other people hear music from these headphones? Maybe if you were in a small, quiet elevator. But in a loud, noisy environment like this, they won't hear it.
There's also just one button on these sunglasses. With one click, you can pause and play a song or accept and end a call. Double-click to skip a song, triple-click to go back to a song, and hold down to activate the voice assistant. One big feature I wish they had was a volume control. And I wish the case charged the sunglasses. A huge missed opportunity here.
The battery life for these isn't the greatest: only three hours of continuous listening. They charge using a unique magnetic USB cable, which can also be used with a portable battery pack. And they take about two hours to charge to 100%.
The material of these sunglasses are kind of lightweight and they feel a little plasticky. If you look closely, there's a matte finish and it's almost like it's translucent. Even though these are lightweight, they're heavy enough to feel uncomfortable after 15 minutes of wear. As you can see, there are dents on my nose.
These sunglasses have an IPX2 rating, meaning they can handle some splashes and light rain. But I wish these were water-resistant so I could wear them when I'm in the water. This is pretty disappointing, because Snap's Spectacles 2 came out last year and have an IPX7 rating, making them water-resistant and, according to Snap, can go under shallow water for a short period of time. As sunglasses, they do their job well. They block out the sun, Bose says they are shatter- and scratch-resistant, and they have UVA and UVB protection.
As for the price, they cost $200. The price is pretty high, especially when the battery life is short, the case isn't a charging case, and there's little water resistance. So, these sunglasses would be great for strolling down the street, riding a bike, sunbathing, or if you just don't like having anything in your ears. But it wouldn't be great for wearing them in the pool or in the water, wearing them at night or indoors, or wearing them for a long time.
So while it was nice to not have to pack another thing in my bag, and I used my AirPods less, I don't think these can replace headphones completely, because they don't have the best sound quality or battery life.
Source: https://www.pulse.ng/bi/tech/we-tried-dollar200-bose-audio-sunglasses-that-can-replace-your-headphones/0ts1sfr
Editing HTML Like A Boss In VS Code
Here's a seven minute video from Caleb Porzio that focuses on some of Emmet's HTML editing features. You might think of Emmet as that thing that expands abbreviations like table.stats>tr*3>td*3 into glorious, expanded, and perfect HTML. But Emmet has other HTML editing trickery up its sleeve. My favorite is "wrap with abbreviation" (which happens to be Cmd/Ctrl + Shift + A on CodePen), but there are more, like expanding your selection inward and outward and tag changing.
If you haven't seen it, the Emmet 2 preview on CodePen is pretty neeeeat. It shows you what you're about to expand into before you do it:
Source: https://css-tricks.com/editing-html-like-a-boss-in-vs-code/
PS5 Game Install Sizes Revealed, And They're Enormous
There was hope that the efficiency of the PlayStation 5's super-fast SSD hard drive would reduce game file sizes, as titles wouldn't need to duplicate data to ease read speeds. That, apparently, is not quite the case, as the minimum install requirements for a couple of PS5 launch games have been revealed – and they're enormous.
Demon's Souls, for example, will eat up 66GB of the next-gen system's storage space; Marvel's Spider-Man: Miles Morales will gobble up 50GB, and if you plump up for the Ultimate Edition – which includes Marvel's Spider-Man: Remastered as well – you'll lose an eye-watering 105GB. That's already an eighth of the device's available 825GB.
It's worth noting that textures will be more detailed on the PS5, so developers may well be saving space compared to PS4 titles, but using it up with higher quality assets. In the case of Marvel's Spider-Man: Remastered, for example, the original game with all of its DLC installed takes up approximately 75GB on the PS4, compared to roughly 55GB in its revamped form.
Still, it looks like you're definitely going to have to juggle which games you've got installed – although eventually you will be able to expand the system's storage space. You can find out more about that through the following link: Which SSD Drives Will Be Compatible with PS5?
Source: https://www.pushsquare.com/news/2020/09/ps5_game_install_sizes_revealed_and_theyre_enormous
Best of everything in tech and gadgets we've seen recently
At Gadget Flow, we're constantly scouring the online world for the best new and interesting gadgets for our readers. And we've come across quite a treasure trove as of late. Check out today's roundup of the best in tech and gadgets we've seen recently. We have so many new favorites to tell you about.
With IFA 2020 just ending and Apple rumors around the corner, there have been a lot of exciting new tech updates recently. We are surprised to see some really cool designs in everyday tech that will surely surprise you. From beautiful smart photo frames to robot vacuums, the designs are getting sleeker while the technology is getting even smarter.
Having said that, let's take a look at the 15 best tech and gadgets that will make you appreciate innovation in a whole new way. It seems like we're gearing up for a more design-inspired tech world.
Autel 
EVO II Pro
6K Folding Drone
First on our best of everything in tech roundup is the Autel EVO II Pro 6K Folding Drone. This impressive gadget gives you 360º obstacle avoidance and can record up to one billion colors.
Neato 
D Series
Robotic Vacuums
Remove up to 99.97% of the allergens on your floor with the Neato D Series Robotic Vacuums. Available in three models, one will definitely have the capabilities that fit your needs, including one with LIDAR-based technology.
Meural WiFi Photo Frame Digital Picture Display
You'll love the Meural WiFi Photo Frame Digital Picture Display. This home gadget uploads albums right from your smartphone so you can keep your memories throughout your home or office.
Amazon Halo

 Health and Wellness Band

Another great item on our best of everything in tech list is the Amazon Halo Health and Wellness Band. This useful device monitors your health data and even makes a digital 3D model of your body.
MSI 
Summit E Series
Business Laptops
Increase your productivity with the MSI Summit E Series Business Laptops. Excellent for remote work, these laptops use the 11th Gen Intel processor and have an infrared camera that's compatible with Windows Hello facial recognition.
Gigabyte Aorus 15P
Portable Laptop
Professional gamers will get everything they need with the Gigabyte Aorus 15P Portable Laptop, another great item on our best of everything in tech guide. This gaming laptop gives you a 144 Hz refresh rate and boasts the Intel Core i7-10750H processor.
LIFX Clean
Antibacterial Smart Bulb
Sanitize surfaces and kill bacteria with the LIFX Clean Antibacterial Smart Bulb. This smart home gadget emits high-energy violet light to kill bacteria like E.coli. It also works with voice assistants and connects to Wi-Fi for easy scheduling.
Weekend-Works 
Circle Watch
Aesthetic Smartwatch
Enjoy a smartwatch with an edge-to-edge screen with the Weekend-Works Circle WatchAesthetic Smartwatch. The extra-large display makes everything easy to see, and its 15º tilt makes sure you always get a good view.
DJI Osmo Mobile 4

 Foldable Phone Gimbal

You'll love the magnetic design of the DJI Osmo Mobile 4 Foldable Phone Gimbal. This video stabilizer is easy to use and offers gesture control.
Panasonic 
Cubie Steam Convection Oven
Versatile Microwave
Cook a range of meals with the Panasonic Cubie Steam Convection Oven Versatile Microwave. This useful microwave helps you steam healthfully and is large enough to accommodate a sizeable amount of food.
Vue Lite
Everyday Smart Glasses
You'll be amazed at how thin and stylish the Vue Lite Everyday Smart Glasses are. Great for all-day wear, these glasses let you listen to your favorite songs, make calls, and access the internet via voice assistants.
LG PuriCare Wearable Air Purifier
Battery-Powered Face Mask
Another great device on our best of everything in tech roundup is the LG PuriCare Wearable Air Purifier Battery-Powered Face Mask. This mask features two H13 HEPA filters to provide you with fresh air indoors or outdoors.
8Bitdo TG16

 2.4 

Wireless Gamepad

Game completely free of lag with the 8Bitdo TG16 2.4 Wireless Gamepad. This new gadget looks a little retro, but it has all the modern capabilities you need, including 18 hours of battery life.
Blink Indoor Security Camera
The Blink Indoor Security Camera is one of our best of everything in tech items because you won't have to change its battery for two years. It's also wireless, which means you can keep it wherever you like.
CLMBER Pure 
Workout Machine
The CLMBER Pure Workout Machine boasts a cutting-edge companion app. Developed for commercial use, this workout machine gives you all the stats you need and keeps your body in the proper position throughout your workout.
Well, there you have it. These are the best of everything in tech and gadgets that we've seen recently. And we're pretty sure you'll agree with us that there are a ton of exciting new things out there. Let us know your thoughts about these items in the comments.
Source: https://thegadgetflow.com/blog/best-of-everything-in-tech/