'What is 4K?': Here's what it means to watch content in Ultra High Definition resolution
4K is often referred to as Ultra High Definition or UHD; it is currently the most affordable of the clearest resolutions available, capturing more detail and texture than any other format outside 8K.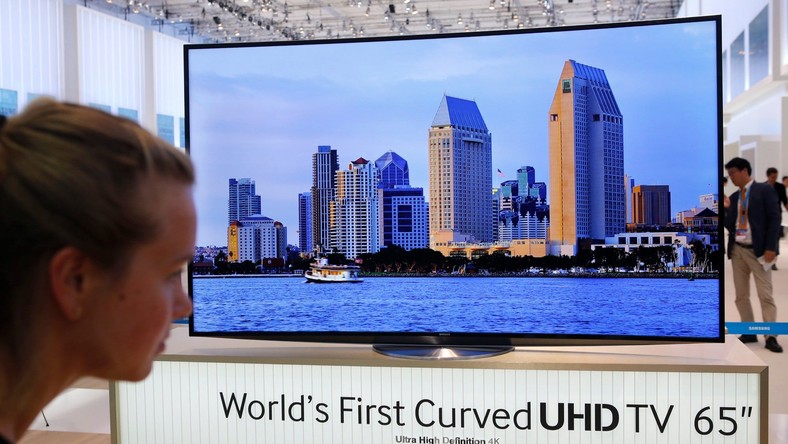 4K provides at-home viewers with a resolution of 3840 x 2160 pixels or about four times as many pixels as a regular full HD TV.
4K is increasingly supported by TV networks and studios, as well as streaming platforms like Netflix and Hulu , and gaming consoles such as Xbox One X and PS4 Pro .
You can play 4K UHD streaming or Blu-Ray content through a 1080p or 720p screen for a sharper picture than content shot initially in 1080p and 720p.
TVs and entertainment branded with the 4K label boast a viewing experience better than almost any other.
With one of the highest display densities on the market, thanks to its more than 8 million pixels, 4K resolution makes entertainment appear more life-like than ever before.
Instead of the more pixelated images of lower quality screens like 1080p or 720p, 4K provides viewers with the feeling that they're looking right out a window. Those smoother edges and that greater visual depth make viewing your screen from a shorter distance more ideal for achieving the full power of a 4K's immersive experience.
Here's everything else you need to know about 4K.
What you need to know about 4K and its benefits
4K can refer to technology, equipment, or content that provides a particularly clear image. The 4K label is typically ascribed to two different screen resolutions: 4096 x 2160 and 3840 x 2160. The larger was introduced in digital cinemas while the other is more commonly available with your home television. The horizontal pixels of 3840 x 2160 screens are referred to as Ultra High Definition or UHD, while 4096 x 2160 are officially 4K. But 4K UHD is often used interchangeably to describe them both.
Regardless of which screen size you're watching in, 4K offers gamers, film, and TV lovers an unmatched viewing experience. It does this by doubling the number of pixels visible on your TV grid with HD or 1080p screens. 4K is best on very large screens think a 55-inch set or bigger. There have been debates about whether the human eye can actually detect all the detail 4K provides. But either way, it's possible to see the difference a reduction in visible picture structure going from a 1080p to 4K TV of the same or different screen size, depending on the quality of media you were watching before.
While it's best to view 4K shows and movies on a corresponding screen, 4K content can still look great on your 1080p or 720p set or projector. Your 4K resolution will be downconverted to fit the 1080p or 720p screen resolution, but you may note that the content's picture color and clarity is still better than when rendered at 1080p.
Source: https://www.pulse.ng/bi/tech/what-is-4k-heres-what-it-means-to-watch-content-in-ultra-high-definition-resolution/60lmv2c
Where do Android apps store data?
If you have noticed your Android device slowing down lately, you might be thinking that it's time to clear out your storage to speed things back up again. That could just be as simple as clearing your device's app cache, which clears out all the files that your apps have been adding to the storage, with the aim of fixing the slowdown.
See, in a perfect system, the app cache should make all of your apps faster to load, and also faster to run. The reality is that many apps don't use caching efficiently, which makes your device slower as it caches more data than needed. It could even be an issue after updating an app, if enough structural changes happen to make the existing cache data obsolete.
So, how do you deal with this without resetting your device to factory settings? Where does Android actually store its files?
So, where do Android apps actually store their data?
Short answer: In the Data partition
See, Android takes a different take on storage compared to desktop operating systems. When you install an app (either from the Google Play Store or through a downloaded apk file), Android places that into /data/app/your_package_name. This section of your device storage is also known as Shared Storage, as all of your apps put their data here. The thing is, giving apps access to the whole folder when they might only need a small section can mean that files generated stay in storage, even after uninstalling the app.
Android is fixing this in Android 10 and the upcoming Android 11, with a thing called Scoped Storage. The biggest change is that apps should now have all their generated files inside their own app directory, and not cluttering up the Shared Storage folder. That change makes it so the system knows which files were created by individual apps, so there won't be leftover files after uninstalling, and also makes it harder for other applications to snoop on files that might be in external storage.
Most users only need to clear the app cache by going to Settings > Storage and tapping on individual apps to clear their cache. If your apps are misbehaving, such as crashing on open, you might need to clear the data files as well, which puts the app back into a freshly installed state, wiping all information on your device and making you sign back in again if it's an app that uses a login. Only do this if you're sure that you have backups of any important documents that the app has created.
What is Next for Digital Transformation in Financial Services?
The following is a guest post by Natalie Myshkina, Strategic Business Development, FSI at Adobe.
Like many industries and businesses right now, financial organizations in banking are finalizing and implementing business continuity/contingency plans as well as enabling all employees to work from home. At the same time, they are diligently working to meet changing client needs and building new ways to serve clients. Beyond the operational actions underway, banks and capital markets need to start developing medium- and longer-term plans to address each element of financial, risk, and regulatory compliance, and create new environments to support the business in fully digital settings.
In late 2019, an Arizent survey commissioned by the Credit Union Journal and American Banker reported that only 30 percent of organizations have a digital first, enterprise-wide strategy and readiness. Other organizations are still in the middle or beginning of the digital transformation of their businesses.
While most organizations have business continuity plans, they have been heavily tested over the last few weeks. I'd like to highlight a few operational steps that are essential to consider now for banks:
Transparency and trust
Continue to adjust a communication plan to quickly liaise with employees, customers, business partners, regulators, investors, and vendors. Keeping close communications with customers and other stakeholders creates the opportunity to strengthen the relationship.
Operating model
Implement a dynamic, scalable, and flexible operating model to ensure business continuity in any scenario. For example, in the case of temporary closures, branches need to quickly train branch employees to provide online help or assist the call center in serving clients.
Remote services and capabilities
Many enterprise organizations have an extensive set of workflow tools, document management tools, document collaboration, and electronic signature solutions in place, but they are not fully utilized. For example, one department in the organization may fully embrace digital documents and electronic signatures, while another department keeps receiving and sending snail mail. The solution here would be to review best practices and tools across the organization, understand the full capabilities of available solutions, and offer them to unit managers to utilize as immediate solutions.
Digital project prioritization
Conduct project prioritization exercises, and speed up projects related to offering digital products and services (client onboarding, product enrollment, etc.) or operational inefficiencies. If possible, speed up time-to-market or release solutions with limited/partial functionality or limited integration points.
Organizational culture
Communicating and fostering the culture that maintains employee morale is becoming extremely important, and it can be done in different forms: through top-down communication and leaders acting as role models, by encouraging grassroots initiatives, by providing platforms for team collaboration, creating virtual watercoolers, etc.
Peer communications
Be in close contact with industry groups for information to get best practices and requests to obtain waivers from regulators if required.
The coronavirus pandemic is already leading to major changes in how customers manage their finances and how financial organizations support their customers. Next we would be seeing activities related to meeting changing client needs due to financial stress, supporting client activities in digital channels, rapid digitalization in commercial and corporate banking, and more.
Here are a few notable areas financial organizations should address:
Proactively address new customer needs
To operate in the new environment, banks would need to rapidly meet different client needs and serve them in ways outside the norm. Scalable solutions to process and approve requests for forbearance, mortgage holidays, deferred loan repayments, etc. would need to be implemented quickly as well as quickly scale up the Paycheck Protection Program (PPP) via the SBA program.
Branchless banking and self-service options in digital channel
Due to the temporary closing of branches and reduced ATM availability and usage, the branchless banking or virtual branches idea is becoming more popular. As many interactions move online, expect to see more and more consumers want to use self-service tools on the web and in their mobile devices.
Rapid digitalization and digital service accessibility across all customer lifecycles stages
For many organizations, their digital transformations began with onboarding new clients. But often we see that many other client touchpoints in the customer lifecycle are not fully digitized, and some require manual/paper steps. In the new environment, most of the client-initiated activities would be done on digital platforms. Automation is essential to provide clients with fast service and a consistent experience while keeping cost-effective operating model in place.
Expending successful digitalization of customer touchpoints beyond retail banking
Over the last few years, we have seen substantial efforts and budgets spent on elevating customer experiences and moving clients to digital platforms. This has been done for many reasons, one of them was a demand from a digitally native consumer to have a better experience and the competition coming from neobanks (aka digital-only banks).

Commercial and corporate banks were behind this trend partially because the lack of these drivers and the complexity of the processes. In the new reality, we would be seeing a lot of rapid digitalization of customer-facing and internal activities in commercial/corporate banking and capital markets.
Data use, extraction and manipulation
Going forward, the ability to extract and process data from multiple documents will be essential to manage risks and to create cost-conscious processes. Immediately, we could see requests for solutions to process documents to feed systems assessing portfolio health in stressed markets, or complete search thought legal documents.
Adaption of cloud solutions
As financial services organizations have been behind the curve in the cloud solution adaption, this situation will trigger a revisit of internal policies and expedite further cloud adoption for both client-facing and internal solutions to improve efficiencies, eliminating the need for a larger security and maintenance staff, and creating cost-effective, scalable environments.
During these trying times, banks can best serve their clients by delivering products and services for business continuity today while working on business resilience for the future. Industry experts predict that the current situation will accelerate the digital transformation in the industry over the a short period of time. That time starts now.
Photo by Twixes on Unsplash
Source: https://finovate.com/what-is-next-for-digital-transformation-in-financial-services/?utm_source=feedblitz&utm_medium=FeedBlitzEmail&utm_campaign=Weekly_2020-06-25_08:15:00&utm_content=646536&utm_medium=FeedBlitzEmail&utm_campaign=Weekly_2020-06-25_08:15:00&utm_content=646536
Apple Silicon Chips to Bring Mac Computers Into iPhone Ecosystem
Apple said Monday it would build its own chips to power its Mac computers to create a "common architecture" that allows the devices to run the same apps as those on the iPhone and iPad.
The news came at the annual Apple developer conference — a virtual event due to the coronavirus pandemic — where the tech giant announced a series of product updates including details of its upcoming iOS 14 software powering its popular handsets.
The new "Apple silicon" initiative ends a longstanding partnership with chipmaker Intel and enables the computers to run the same apps as those on iPhones.
Apple chief executive Tim Cook said the move represents "a huge leap forward for the Mac," which would get a more powerful and energy-efficient system that operates more like Apple's mobile devices.
Cook said the first of the new Mac computers will be shipping by the end of the year and that the change would help lead to "a common architecture for all of our products."
This means developers can more easily create services which can run across the range of Apple products and devices, the company said.
"Apple has made an important point that by designing their own silicon it has helped them keep pushing performance in ways merchant silicon vendors can't," said Ben Bajarin, analyst at Creative Strategies.
New look on iPhone
Apple also offered a first look at its iOS 14 for the iPhone which gives a new look to its home screen and allows users to more easily manage their apps.
The new operating system will organise apps into a cleaner "app library" with the most frequently used ones prominently featured.
The update "transforms the most iconic elements of the iPhone experience, starting with the biggest update we've ever made to the home screen," said Craig Federighi, Apple's senior vice president of software engineering.
Apple said the software would include a "digital car key" allowing the iPhone or Apple Watch to unlock and start a car. The virtual key for compatible car models can be shared using messages, or disabled if a device is lost.
Apple said iOS 14 would also include a translate feature for 11 languages powered by its Siri digital assistant and allow for "app clips" or fragments of apps that can be quickly downloaded and used for transactions at partner merchants and services.
A revamped Apple Maps app will for the first time include directions for bicycles, a feature which has been available for years on Google Maps.
Updated software for the Apple Watch, known as watchOS7, will include a series of health and fitness features including improved sleep tracking and automatic handwashing detection to help users clean their hands for the 20 seconds recommended by health officials to help prevent virus spreading.
Apple announced its upcoming Mac operating system will be known as "Big Sur" with more immersive features and improved privacy.
The updated iPadOS14 will add new features for the Apple Pencil which can be used on the tablets.
Source: https://gadgets.ndtv.com/laptops/features/apple-silicon-chips-to-bring-mac-computers-into-iphone-ecosystem-2250745