WhatsApp, Instagram, Twitter, YouTube: How to enable dark mode on Android, iOS?
After a long wait, WhatsApp has finally enabled dark mode on its beta app for Android. While the feature is still under beta, it suggests that the stable rollout is not far anymore. Dark mode became a sensation in the industry recently and now almost every popular app and custom UI skin includes a toggle for a dark theme. Dark mode basically turns the light colours into darker or black shades. This not only makes it easier on the eyes during the night time but also helps in saving battery on phones with OLED panels.
How to enable dark mode on WhatsApp?
WhatsApp has just added support for a dark theme on the beta version of WhatsApp for Android. The feature will soon be made available to the stable version of the app. Once available, follow these steps to enable dark mode: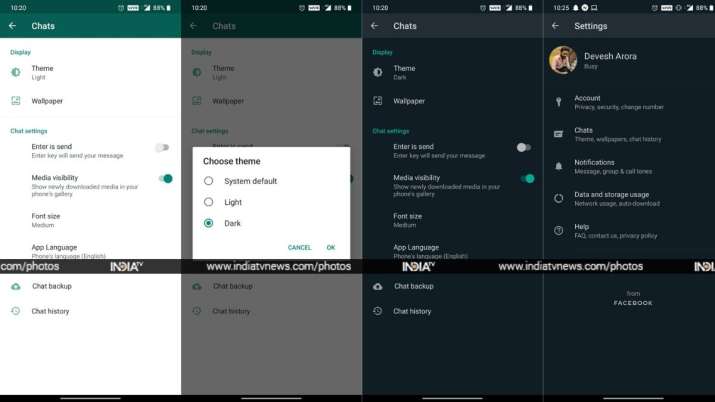 WhatsApp Dark Mode
Open WhatsApp
Head over to Settings > Chats > Theme
Tap on Dark and then press ok
Once done, you should see a dark theme across the app. Alternatively, you can also select System Default, which will switch the theme of the app depending on your phone's theme.
How to enable dark mode on Instagram?
Unlike other apps, Instagram does not have a toggle for switching between dark and light modes. However, it does have a dark mode feature that depends on the phone's theme. If you have a smartphone running on Android 10, you can enable dark mode in the smartphone's settings page. On iOS, head over to Settings > Display & Brightness and select Dark mode. Once the dark mode is enabled in the system settings, the Instagram theme will automatically switch to the dark theme.
How to enable dark mode on YouTube?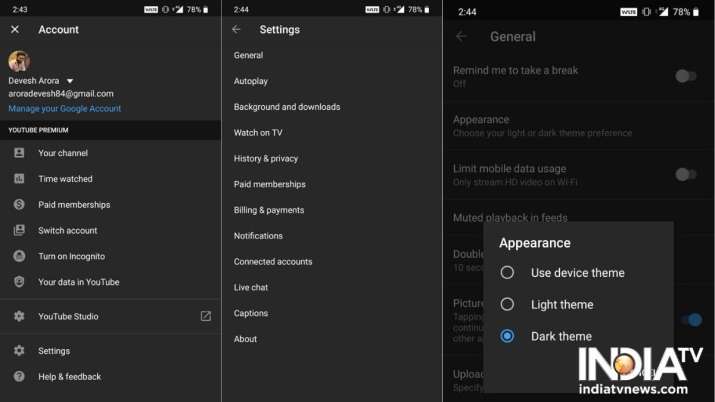 YouTube Dark Mode
YouTube is another popular app that has also received the dark mode feature on all three platforms – Android, iOS and Web. On both mobile platforms, head over to the YouTube Settings > General and enable the dark theme option. As for the website, tap on your profile icon and then look for the dark theme option. Enable it in order to switch to the dark mode.
How to enable dark mode on Facebook Messenger?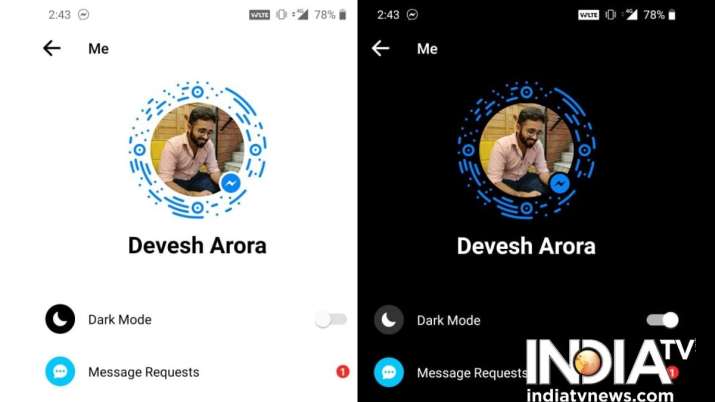 Facebook Messenger
While the Facebook app itself has not received the dark mode update, the Messenger app for Facebook has received the feature. In order to enable the feature on your Android or iOS smartphone just tap on your profile icon and then toggle the dark mode switch.
How to enable dark mode on Twitter?
Twitter also has the dark mode feature on all the platforms including Android, iOS and Web. On Android and iOS, head over to the Twitter Settings by tapping on your profile and go to Display and Sound. Here, you can enable and customise the dark mode according to your taste. Alternatively, you can also tap on your profile icon and then tap the light icon on the bottom left corner to switch themes. On the website, tap on "More" and head over to Settings and Privacy > Display and select the type of background you want.
Source:
https://www.indiatvnews.com/technology/news-how-to-enable-dark-mode-whatsapp-instagram-twitter-youtube-android-ios-582577
Scientists Built a Genius Device That Generates Electricity 'Out of Thin Air'
hey found it buried in the muddy shores of the Potomac River more than three decades ago: a strange "sediment organism" that could do things nobody had ever seen before in bacteria.
This unusual microbe, belonging to the Geobacter genus, was first noted for its ability to produce magnetite in the absence of oxygen, but with time scientists found it could make other things too, like bacterial nanowires that conduct electricity.
For years, researchers have been trying to figure out ways to usefully exploit that natural gift, and they might have just hit pay-dirt with a device they're calling the Air-gen. According to the team, their device can create electricity out of… well, almost nothing.
"We are literally making electricity out of thin air," says electrical engineer Jun Yao from the University of Massachusetts Amherst. "The Air-gen generates clean energy 24/7."
The claim may sound like an overstatement, but a new study by Yao and his team describes how the air-powered generator can indeed create electricity with nothing but the presence of air around it. It's all thanks to the electrically conductive protein nanowires produced by Geobacter (G. sulfurreducens, in this instance).
The Air-gen consists of a thin film of the protein nanowires measuring just 7 micrometres thick, positioned between two electrodes, but also exposed to the air.
Because of that exposure, the nanowire film is able to adsorb water vapour that exists in the atmosphere, enabling the device to generate a continuous electrical current conducted between the two electrodes.
The team says the charge is likely created by a moisture gradient that creates a diffusion of protons in the nanowire material.
"This charge diffusion is expected to induce a counterbalancing electrical field or potential analogous to the resting membrane potential in biological systems," the authors explain in their study.
"A maintained moisture gradient, which is fundamentally different to anything seen in previous systems, explains the continuous voltage output from our nanowire device."
The discovery was made almost by accident, when Yao noticed devices he was experimenting with were conducting electricity seemingly all by themselves.
"I saw that when the nanowires were contacted with electrodes in a specific way the devices generated a current," Yao says.
"I found that exposure to atmospheric humidity was essential and that protein nanowires adsorbed water, producing a voltage gradient across the device."
Previous research has demonstrated hydrovoltaic power generation using other kinds of nanomaterials – such as graphene – but those attempts have largely produced only short bursts of electricity, lasting perhaps only seconds.
By contrast, the Air-gen produces a sustained voltage of around 0.5 volts, with a current density of about 17 microamperes per square centimetre. That's not much energy, but the team says that connecting multiple devices could generate enough power to charge small devices like smartphones and other personal electronics – all with no waste, and using nothing but ambient humidity (even in regions as dry as the Sahara Desert).
"The ultimate goal is to make large-scale systems," Yao says, explaining that future efforts could use the technology to power homes via nanowire incorporated into wall paint.
"Once we get to an industrial scale for wire production, I fully expect that we can make large systems that will make a major contribution to sustainable energy production."
If there is a hold-up to realising this seemingly incredible potential, it's the limited amount of nanowire G. sulfurreducens produces.
Related research by one of the team – microbiologist Derek Lovley, who first identified Geobacter microbes back in the 1980s – could have a fix for that: genetically engineering other bugs, like E. coli, to perform the same trick in massive supplies.
"We turned E. coli into a protein nanowire factory," Lovley says.
"With this new scalable process, protein nanowire supply will no longer be a bottleneck to developing these applications."
The findings are reported in Nature.
Source: https://www.sciencealert.com/scientists-generate-electricity-out-of-thin-air-with-device-that-runs-on-humidity
Windows 10 is better in dark mode. Here's how to apply its dark theme
MacOS got dark mode a few years ago in Mojave, allowing Mac users to apply a dark theme across apps. Android 10 got a systemwide dark mode setting last year, making it drop-dead easy to go dark in the latest version of Google's mobile OS. And iPhones and iPads got a dark theme in iOS 13 and iPadOS.
You can dim the lights in Windows 10 as well, if you want to conserve a bit of battery life or lessen the strain on your eyes, or if you just like how a darker color palette looks on Microsoft's OS. (Though it turns out shifting the colors on your screen may not be so critical to good sleep hygiene, after all.)
You can make dark mode the default look of the Windows 10 operating system, as well as for many Windows apps. Some older Windows apps such as Task Manager, however, won't adopt the change to dark.
If you want to apply dark mode across Windows 10 and its apps, here's how.
Turn on dark mode on Windows 10
Here's how to apply a dark theme to Windows 10.
1. From the Start menu, open Settings.
2. Tap Personalization, and then over in the left navigation pane, tap Colors.
3. Under the label Choose your default Windows mode, turn on the Dark button.
You may need to choose Custom from the Choose your color menu to see the dark mode choice.
Turn on dark mode for Windows 10 apps
If you want to apply a darker color palette across Windows 10 apps, here's how.
1. From the Start menu again, open Settings.
2. Tap Personalization, and then over on the left tap Colors.
3. Under the label Choose your default app mode, turn on the Dark button.
Again, you may need to choose Custom from the Choose your color menu to see the dark mode choice.
And, if you want to apply the dark theme broadly — across Windows 10 and its apps — you can select Dark from the Choose your color menu.
Turn on dark mode in individual Windows 10 apps
If an app doesn't adopt the dark theme after you've turned it on in Windows 10 settings, you may need to adjust that app's individual preference for how it applies the Windows default theme.
1. Head to where the app keeps its appearance settings.
In the Mail app, for example, tap the Settings gear in the bottom left corner and then tap Personalization over on the right. In the new Edge browser, tap the the three-dot menu to the right of the menu bar, tap Settings, and then tap Appearance.
2. Now, check that the app's appearance preference is set to adopt the Windows 10 default theme.
For example, In Mail's Personalization settings, tap Use my Windows mode. In Edge's Appearance settings, from the Theme menu, choose System default.
For more, here are six Windows 10 security settings to tweak to protect your device and 13 Windows 10 settings to change to customize Microsoft's OS.
Source: https://www.cnet.com/how-to/windows-10-is-better-in-dark-mode-heres-how-to-apply-the-dark-theme/
How incredible would this DualShock 5 controller be for Sony's PS5?
Sony might have confirmed the official name of the new PlayStation, surprising absolutely nobody by calling it the PS5, but the company wasn't ready to confirm that the DualShock 4 controller will get a DualShock 5 successor. Sony did explain some of the new controller's features, though it stopped well short of revealing all of its upgrades. However, Sony's more recent moves, including the launch of a DualShock 4 accessory and new PlayStation controllers, may have spoiled some of the new DualShock controller's secrets. While we wait for Sony to unveil the PS5 in all its glory, we have a concept video to show you that imagines the PS5 controller of our dreams.
Aside from the improved haptic feedback and adaptive triggers, the DualShock 5 controller might pack additional features. Like a set of extra buttons on the back, which would be user-customizable, similar to what's now available for the PS4 — Sony just launched an add-on for the DualShock 4 controller that places buttons on the back.
Furthermore, the controller might pack a built-in microphone for improved voice control, and the PS5 is rumored to feature a game-centric voice assistant that could deliver help to gamers in real-time.
Overall, the new controller will look similar to the DualShock 4 controller, and a leak said not too long ago that it will work with the PS5 and the PS4, so we don't expect a complete design makeover or new features that are too crazy. The new controller might feel better in the hand though, as some recent patents appear to indicate.
That's a quick rundown of all the known features and rumors detailing the PS5's controllers, and many of them will be easily recognizable in the incredibly detailed video concept below that designer Giuseppe Spinelli (Snoreyn) created for LetsGoDigital.
On top of that, the clip proposes a few additional features like interchangeable joysticks and rear buttons that would ship with the device, as well as USB-C connectivity that would deliver faster battery charging.
While exciting, we're still looking at a concept video that might not be a totally accurate representation of the real thing. Sony is yet to release any imagery of the PS5 and DualShock 5. Hopefully, that will change real soon, as Sony is expected to unveil the new PlayStation sometime this month during a special PlayStation Meeting 2020 event.
Source: https://bgr.com/2020/02/03/ps5-announcement-date-soon-dualshock-5-controller-video/