WhatsApp, Instagram, Twitter, YouTube: How to enable dark mode on Android, iOS?
After a long wait, WhatsApp has finally enabled dark mode on its beta app for Android. While the feature is still under beta, it suggests that the stable rollout is not far anymore. Dark mode became a sensation in the industry recently and now almost every popular app and custom UI skin includes a toggle for a dark theme. Dark mode basically turns the light colours into darker or black shades. This not only makes it easier on the eyes during the night time but also helps in saving battery on phones with OLED panels.
How to enable dark mode on WhatsApp?
WhatsApp has just added support for a dark theme on the beta version of WhatsApp for Android. The feature will soon be made available to the stable version of the app. Once available, follow these steps to enable dark mode: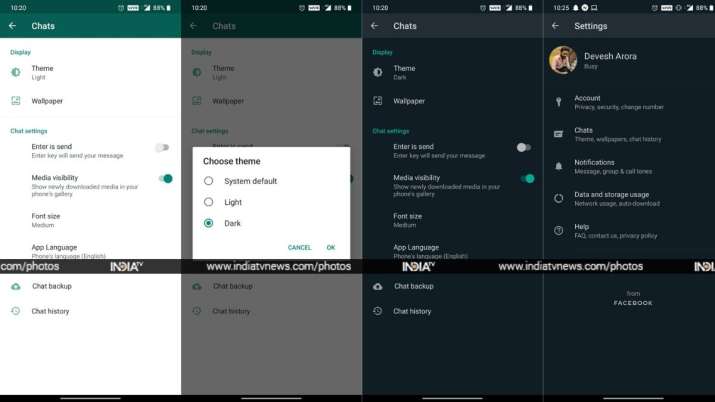 WhatsApp Dark Mode
Open WhatsApp
Head over to Settings > Chats > Theme
Tap on Dark and then press ok
Once done, you should see a dark theme across the app. Alternatively, you can also select System Default, which will switch the theme of the app depending on your phone's theme.
How to enable dark mode on Instagram?
Unlike other apps, Instagram does not have a toggle for switching between dark and light modes. However, it does have a dark mode feature that depends on the phone's theme. If you have a smartphone running on Android 10, you can enable dark mode in the smartphone's settings page. On iOS, head over to Settings > Display & Brightness and select Dark mode. Once the dark mode is enabled in the system settings, the Instagram theme will automatically switch to the dark theme.
How to enable dark mode on YouTube?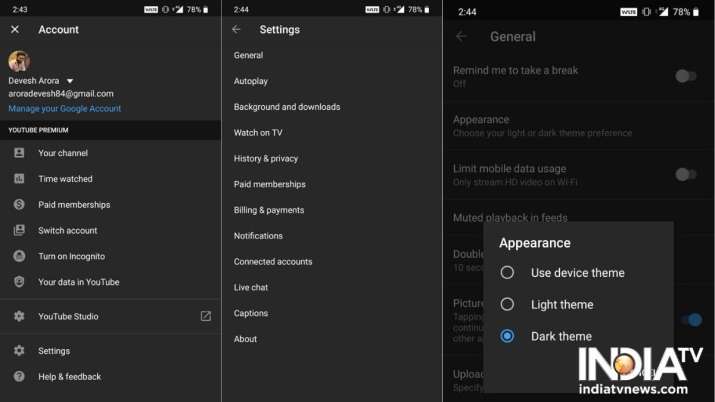 YouTube Dark Mode
YouTube is another popular app that has also received the dark mode feature on all three platforms – Android, iOS and Web. On both mobile platforms, head over to the YouTube Settings > General and enable the dark theme option. As for the website, tap on your profile icon and then look for the dark theme option. Enable it in order to switch to the dark mode.
How to enable dark mode on Facebook Messenger?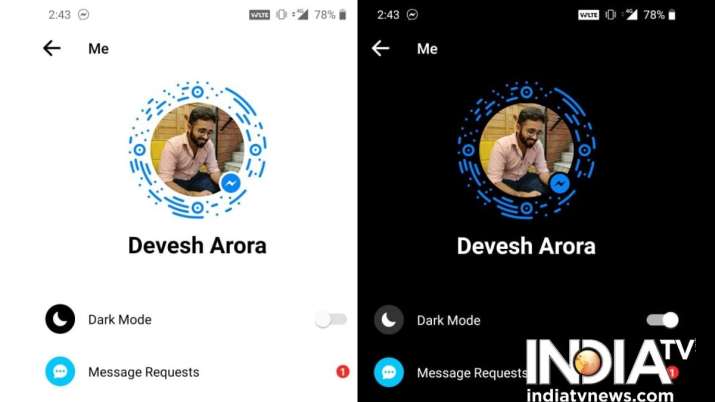 Facebook Messenger
While the Facebook app itself has not received the dark mode update, the Messenger app for Facebook has received the feature. In order to enable the feature on your Android or iOS smartphone just tap on your profile icon and then toggle the dark mode switch.
How to enable dark mode on Twitter?
Twitter also has the dark mode feature on all the platforms including Android, iOS and Web. On Android and iOS, head over to the Twitter Settings by tapping on your profile and go to Display and Sound. Here, you can enable and customise the dark mode according to your taste. Alternatively, you can also tap on your profile icon and then tap the light icon on the bottom left corner to switch themes. On the website, tap on "More" and head over to Settings and Privacy > Display and select the type of background you want.
Source:
https://www.indiatvnews.com/technology/news-how-to-enable-dark-mode-whatsapp-instagram-twitter-youtube-android-ios-582577
Series – Amazing People with a genius Abilities – Shakuntala Devi
Shakuntala Devi (4 November 1929 – 21 April 2013) was an Indian writer and mental calculator, popularly known as the "Human Computer". Devi strove to simplify mathematics for students. Her talent earned her a place in the 1982 edition of The Guinness Book of world Records. However, the certificate for the record was given posthumously on 30 July 2020, despite Devi achieving her world record on 18 June 1980 at Imperial College, London. Devi was a precocious child and she demonstrated her arithmetic abilities at the University of Mysore without any formal education.
Devi wrote a number of books in her later years, including novels as well as texts about mathematics, puzzles, and astrology. She wrote the book The World Of Homosexuals, which is considered the first study of homosexuality in India. She saw homosexuality in a positive light and is considered a pioneer in the field.
Early Life
Shakuntala Devi was born in Bengaluru, Karnataka to a Kannada Brahmin family.Her father worked as trapeze artist, lion tamer, tightrope walker, and magician in a circus. He discovered his daughter's ability to memorize numbers while teaching her a card trick when she was about three years old. Her father left the circus and took her on road shows that displayed her ability at calculation. She did this without any formal education. At the age of six she demonstrated her arithmetic abilities at the University of Mysore.
In 1944, Devi moved to London with her father.
Mental calculation
Devi travelled to several countries around the world demonstrating her arithmetic talents. She was on a tour of Europe throughout 1950 and was in New York City in 1976. In 1988, she travelled to US to have her abilities studied by Arthur Jensen, a professor of educational psychology at the University of California, Berkeley. Jensen tested her performance at several tasks, including the calculation of large numbers. Examples of the problems presented to Devi included calculating the cube root of 61,629,875 and the seventh root of 170,859,375. Jensen reported that Devi provided the solution to the above mentioned problems (395 and 15, respectively) before Jensen could copy them down in his notebook. Jensen published his findings in the academic journal Intelligence in 1990.
In 1977, at Southern Methodist University, she gave the 23rd root of a 201-digit number in 50 seconds. Her answer 546,372,891 was confirmed by calculations done at the US Bureau of Standards by the UNIVAC 1101 computer, for which a special program had to be written to perform such a large calculation, which took a longer time than her to do the same.
On 18 June 1980, she demonstrated the multiplication of two 13-digit numbers—7,686,369,774,870 × 2,465,099,745,779. These numbers were picked at random by the Department of Computing at Imperial College London. She correctly answered 18,947,668,177,995,426,462,773,730 in 28 seconds, which was the time taken by her to speak the answer. This event was recorded in the 1982 Guinness Book of Records. Writer Steven Smith commented, "the result is so far superior to anything previously reported that it can only be described as unbelievable." Indira Gandhi once told Shakuntala, "Shakuntala, I have got many ambassadors all over the world, but you are a very special ambassador, as you can win many friends for India through your Mathematical and Quick Calculation Skills."
Shakuntala Devi explained many of the methods she used to do mental calculations in her book Figuring: The Joy of Numbers, which is still in print.
Book on homosexuality
In 1977, she wrote The World of Homosexuals, the first published academic study of homosexuality in India, for which she was criticized. In the documentary For Straights Only, she said that her interest in the topic was because of her marriage to a homosexual man and her desire to look at homosexuality more closely to understand it.
The book, considered "pioneering", features interviews with two young Indian homosexual men, a male couple in Canada seeking legal marriage, a temple priest who explains his views on homosexuality, and a review of the existing literature on homosexuality.
It ends with a call for decriminalization of homosexuality, and "full and complete acceptance—not tolerance and sympathy". The book, however, went mostly unnoticed at that time.
Personal life
Devi returned to India in the mid-1960s and married Paritosh Banerji, an officer of the Indian Administrative Service from Kolkata. They divorced in 1979 due to personal problems. In 1980, she contested the Lok Sabha elections as an independent candidate for Mumbai South and for Medak in Andhra Pradesh (now in Telangana). In Medak she stood against the former Prime Minister Indira Gandhi, saying she wanted to "defend the people of Medak from being fooled by Mrs. Gandhi"; she stood ninth, with 6,514 votes (1.47% of the votes). Devi returned to Bangalore in the early 1980s.
In addition to her work as a mental calculator, Devi was a notable astrologer and an author of several books, including cookbooks and novels.
Death and legacy
In April 2013, Devi was admitted to a hospital in Bangalore with severe respiratory problems.Over the following two weeks she suffered from heart and kidney complications.She died in hospital on 21 April 2013.She was 83 years old.She is survived by her daughter, Anupama Banerjee.
On 4 November 2013, Devi was honoured with a Google Doodle on what would have been her 84th birthday.
A film on her life was announced in May 2019. The eponymous film stars Vidya Balan in the lead role and features Sanya Malhotra, Amit Sadh, and Jisshu Sengupta. Produced by Sony Pictures Networks Productions, the film streamed worldwide on Amazon Prime Video on 31 July 2020.
Selected works
VALORANT'S NEWEST HERO HAS SOME ADORABLE ROBOTS
Killjoy is the latest character coming to Riot's team shooter Valorant, and she's a German hacker with what sounds like some useful skills. She has access to a turret and a nanoswarm grenade that should shake up the game's meta. The most important part, though, is that she has some adorable robot friends that join her in battle.
These include a cute alarmbot that hunts down enemies and explodes once it gets close enough, and the stealth drone, a rolling machine on wheels with a surprisingly expressive face. Just look at its mechanical ears perking up in the concept art below. Even the turret is charming: it reminds me of a friendlier version of the mousers from TMNT.
Killjoy will join the cast of Valorant on August 4th. The game officially debuted back in June, and since then Riot has steadily been updating it with new characters, maps, and elaborate weapon skins. It has also become an increasingly popular esport: next week will see the latest major tournament with the Faze Clan Valorant Invitational.
Source: https://www.theverge.com/2020/7/29/21346648/valorant-killjoy-character-cute-robot-release-date
WHY WAS SUBWAY SURFERS CREATED? TWITTER'S CLAIMS ABOUT CREATOR'S SON EXPLAINED
Subway Surfers is one of the most popular games available right now on mobile phone and there's a bunch of tricks you can deploy to enhance your experience. However, aside from just enjoying the game, lots of people are now asking why Subway Surfers was created, and this is because of a viral tweet which suggested that it was developed because the creator's son had died.
Although it's just a mobile game, Subway Surfers remains massively popular to the point where it has even influenced huge IPs onto the mobile market such as Crash Bandicoot On The Run. Lots of people continue to play the mobile game regardless of where they are, so it's no surprise that it still has a huge following online.
However, what will surprise people is the claims on Twitter that the game was made and created to honour the creator's son who allegedly died.
WHY WAS SUBWAY SURFERS CREATED?
There's a rumour on Twitter which says that Subway Surfers was created because of the creator's son passing away.
This rumour suggests that Subway Surfers was created to honour the passing away of the creator's son, and you can find the viral tweet just below, which has nearly 250,000 likes.
Aside from just claiming why the game was made, the above viral tweet also suggests that the son had died because of a skating accident on a train track.
This supposedly explains why the gameplay is comprised of players dashing around trains and hover-boarding along train tracks.
SUBWAY SURFERS: IS THE 'CREATOR'S SON DIED' A REAL STORY?
Lots of people are asking if the Subway Surfers story about the creator's son is real or not.
People are spreading the rumour about the creator's son all over Twitter, but the CEO of SYBO Games has previously provided an official reason for why Subway Surfers was made.
Source: https://www.hitc.com/en-gb/2020/07/30/why-was-subway-surfers-created-creators-son-died/