Why LinkedIn should be your first port of call for B2B marketing
LinkedIn is often overlooked in marketing campaigns – but that may be a missed opportunity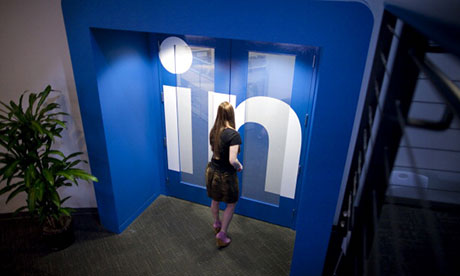 LinkedIn is popular among businesses wanting to use social media for B2B marketing, but it comes low down the list of platforms that brands consider for marketing to consumers. Photograph: Bloomberg
Samsung's launch of the Galaxy Note 2 "phablet" (a mobile phone of near-tablet size) at the beginning of this year made great use of LinkedIn, the professional networking site which is often overlooked in consumer marketing campaigns.
The mobile phone giant created a microsite and invited visitors to sign in with their LinkedIn membership profiles. They were then encouraged to share their thoughts about the phablet with their LinkedIn connections, enabling Samsung to reach a global audience of 20 million people. Samsung's director of social media marketing, Andy Hwang, points to LinkedIn's ability to precisely target audiences, adding: "It provided a platform for driving word of mouth and shifting perceptions among consumers worldwide."
Since its launch 10 years ago, LinkedIn has become the first port of call for businesses wanting to use social media for B2B marketing, staff recruitment and disseminating industry information. But it comes low down the list of social platforms that brands consider for marketing to consumers, a situation the company is seeking to remedy.
Its 239 million members worldwide tend to spend less time on the site compared with users of Facebook and Twitter, but LinkedIn's members are there for serious reasons. They are less likely to lie in their profiles and they visit the site to enhance their position in the world.
With 3m company pages, the marketing potential seems huge. LinkedIn's marketing solutions division accounts for about a quarter of the company's revenues, recruitment account for more than half of revenues, while subscriptions make up about a fifth. In the second quarter of this year, the marketing unit's profits grew 36% on the 2012 period to over $85m (£54m).
Josh Graff, head of LinkedIn Marketing Solutions across Europe, says this shows that advertising on LinkedIn "is truly coming of age". He adds: "The platform has changed. People used to think of it just as a place to secure a new job. But six times more impressions flow from people seeking information about companies than those specifically looking for a new job.
"More and more consumer brands such as Samsung and Mercedes are going on LinkedIn every day because they can target our members who are affluent, educated and influential and have a high disposable income." He says that a third of visits to the site come via mobile, up from a fifth a year ago.
Paul Armstrong at Digital Orange Consulting points to figures from digital analysts ComScore, which show that the 9.4 million unique UK visitors to LinkedIn in July were evenly spread across the age groups. But the site has an above-average proportion of high-income visitors. While nearly 6 million had incomes under £50,000 a year, 3.5 million earned in excess of 50K, according to ComScore. "People are getting to understand that it is a controlled space, there's not a lot of noise going on there and it is a simple eco-system. It is becoming a hub for high-quality business information," he says.
LinkedIn has recently introduced Sponsored Updates, where businesses can pay to ensure their posts appear in the news feeds of members, who they can target using a range of criteria.
Graff says this enables brands to promote new and relevant information, such as white papers, research and infographics, particularly important for companies seeking to build their reputations for thought leadership on business issues. This helps the site's B2B marketing strategy, positioning it as a resource for anyone in business who wants advice, data and contacts.
Computer giant HP uses LinkedIn to target small businesses through its Business Answers page, where firms can discuss areas of interest such as tax. Rebecca Shears, head of marketing for printing and personal systems at HP, says: "We had research which showed that more and more small businesses are turning to social media and are looking for peer-to-peer advice, so we launched the hub two years ago. Now we've got over 9,000 members. The main reason we are doing it is to position HP as a brand that supports businesses." She says members of the LinkedIn page are 20% more likely to recommend HP products than the average population.
Though the LinkedIn page is free for HP to run, the computer giant supports it with advertising. Shears says that if HP doesn't buy the ads, rival companies will.
Of course, B2B marketing also has a consumer spin off. Vodafone UK's business division uses LinkedIn to promote its Your Better Business website, which offers information and advice to business people. Helen Moon, head of Enterprise Brand at Vodafone UK, says LinkedIn is a powerful platform for disseminating business information. She adds: "There is a definite halo effect for consumers on LinkedIn. Business people are also consumers so they absorb information which shapes their personal and professional opinions."
In truth, all the social media sites are works in progress for marketing, says Leo Ryan, head of [email protected] "LinkedIn certainly is not a natural place for consumer marketing," he adds. "Though that's not to say you can't do something innovative there. Facebook's billion-strong membership is a hard number to ignore, so it is the default site for brands, while Twitter can have such an impact on the news cycle. LinkedIn is behind Instagram for consumer campaigns. But if B2B's your thing, it is the first stop."
LinkedIn's share price is soaring in the US. Investors seem to like LinkedIn's argument that the site's users go there for serious reasons and that this offers brands strong marketing potential.
source: http://www.theguardian.com/technology/2013/sep/11/why-linkedin-should-be-your-first-port-of-call-for-b2b-marketing
Instagram is working on a new messaging app
Rivaling Snapchat, Threads will enable users to automatically share their location, movements, and battery life with their IG 'close friends' list
Now Facebook is a wasteland for your racist aunt and high school friends' wedding photos, the platform is determined to maintain its social media stronghold via Instagram and WhatsApp (sorry, 'Instagram and WhatsApp from Facebook'). Its latest venture? A new messaging app called Threads.
As reported by The Verge, Threads will be a companion app to Instagram, promoting constant sharing between users and their IG 'close friends' list. The app will enable people to automatically share their location, movements, and battery life with each other, as well as send text, photo, and video messages.
The development could be seen as another attempt to rival Snapchat – which already lets users share their location – following Instagram's introduction of Stories three years ago.
Instagram has been trying to develop the messaging side of its app since late 2017 when the company started working on Direct, a standalone camera-first app exclusively for DMs. The platform ceased work in May this year after research revealed users found it frustrating to switch apps when they wanted to send a message – although this is exactly what happened with Facebook Messenger in 2016.
Screenshots acquired by The Verge show that users have the option to switch on automatic sharing, but are also able to update their statuses manually. Although Threads encourages friends to share their location with one another, it will reportedly show updates like 'on the move', rather than a real-time location.
The app's main feed will show all messages, as well as friends' updates and active status, and will allow users to watch their close friends' IG stories as opposed to having to go back to Instagram to view them.
This announcement comes after a number of updates to the platform, including the removal of likes, an anti-bullying feature, and a tool to report fake news. Although, there's currently no launch date for Threads, and given Instagram's history with fucked-up trials, it may never even materialise.
Source: https://www.dazeddigital.com/science-tech/article/45768/1/instagram-facebook-new-social-media-messaging-app-threads-to-rival-snapchat
Massive change coming to WhatsApp with introduction of ads
WhatsApp will see a massive change by 2020 with the introduction of adverts into the instant messaging app.
It's been rumoured for a while and now WhatsApp looks set to finally bring adverts to its popular messaging app.
The Facebook-owned firm revealed the news during its annual Marking Summit in the Netherlands, with a rollout expected next year.
Photos of the way these new adverts will look have even been posted online with attendee Olivier Ponteville, giving fans a closer look at what's to come.
The image, which can be seen on Twitter, shows how ads currently appear on Facebook and Instagram with a WhatsApp screenshot then revealed with a full-screen advert.
According to technology website BGR, once the message appears users will be able to "swipe up when an ad appears for more information about the product or service being advertised."
Adverts in WhatsApp have been spoken about for a while but this is the first evidence that things are changing within the popular service.
How fans react is yet to been seen but it's unlikely to go down well with its billions of users.
The bad news is that it seems there's nothing that can be done to stop this new feature from arriving within the app.
It seems almost certain that there will be no way to switch them off or hide these paid-for messages which may prove to be hugely irritating.
Source: https://www.thenewsguru.com/technology/internet/article/massive-change-coming-whatsapp-introduction-ads/
Facebook Messenger finally adds quoted replies
Today Facebook Messenger has added a sorely missing feature – quoted replies. This allows you to reply to a specific message in a conversation, and is incredibly helpful when you're engaged in chats that have a big range of topics. Using the new feature, the people you're talking to will now know exactly what you were replying to with that "LOL", for example.
This has been a feature in WhatsApp, which is also owned by Facebook, for a very long time, and it's always been sort of a baffling omission in Messenger. So it's good to finally see it there too.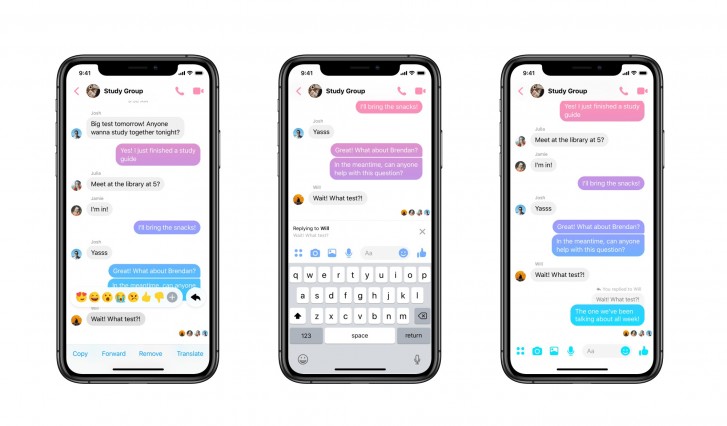 In order to quote a specific message, long tap on it and you'll see a new Reply button to the right of the reaction emojis. Tap that, write your reply, and, just like in WhatsApp, the message you're replying to will appear above your reply. Easy. This potentially means you'll have less misunderstandings with your friends as to which message was referencing what.
The feature is rolling out now on both iOS and Android.