Windows Virtual Desktop is now in public preview
Last year, Microsoft  announced the launch of its Windows Virtual Desktop service. At the time, this was a private preview, but starting today, any enterprise user who wants to try out what using a virtual Windows 10 desktop that's hosted in the Azure cloud looks like will be able to give it a try.
It's worth noting that this is very much a product for businesses. You're not going to use this to play Apex Legends on a virtual machine somewhere in the cloud. The idea here is that a service like this, which also includes access to Office 365 ProPlus, makes managing machines and the software that runs on them easier for enterprises. It also allows employers in regulated industries to provide their mobile workers with a virtual desktop that ensures that all of their precious data remains secure.
One stand-out feature here is that businesses can run multiple Windows 10 sessions on a single virtual machine.
It's also worth noting that many of the features of this service are powered by technology from FSLogix, which Microsoft acquired last year. Specifically, these technologies allow Microsoft to give the non-persistent users relatively fast access to applications like their Outlook and OneDrive applications, for example.
For most Microsoft 365 enterprise customers, access to this service is simply part of the subscription cost they already pay — though they will need an Azure subscription and pay for the virtual machines that run in the cloud.
Right now, the service is only available in the US East 2 and US Central Azure regions. Over time, and once the preview is over, Microsoft will expand it to all of its cloud regions.
Samsung confirms the Galaxy S10 5G release date is April 5
Samsung has confirmed the Galaxy S10 5G release date today. It was initially supposed to release the device by the end of this month. The release had to be delayed due to ongoing discussions between carrier partners and the South Korean government. The company today confirmed that it will release the first 5G-enabled device on April 5 in South Korea.
There will not be any pre-order program for the device, Yonhap News reports. The Galaxy S10 5G is also expected to release in the United States in April. It will initially be exclusive to Verizon in the country. The carrier has confirmed that its mobile 5G network will launch on April 11.
Samsung once again aims for the world's first title
After launching the world's first foldable smartphone, the Galaxy Fold, Samsung is now eyeing the title of putting the world's first 5G smartphone on the market. Verizon is gearing up for the launch of its mobile 5G service on Motorola's Moto Z3 in Chicago and Minneapolis on April 11. That device doesn't have an integrated 5G modem like the Galaxy S10 5G. Customers will be required to purchase the 5G Moto Mod if they want to use the phone on a 5G network.
Samsung will comfortably beat it to market when its 5G flagship launches on April 5. The device has already passed the signal verification test from South Korea's National Radio Research Agency. It was reported yesterday that the South Korean government was hastening the launch of 5G services in the country after Verizon announced the April 11 date. It really wants South Korea to be the first country in the world to have commercial mobile 5G.
Although Samsung hasn't yet revealed the pricing of the Galaxy S10 5G, industry watchers expect it to cost around 1.5 million won ($1,332) in South Korea. Launch offers include free Galaxy Buds and a wireless charger for the customers who register the phone from April 5-16. Samsung is also offering a 50% discount on one-time screen replacement with the validity of 1 year.
How to AirDrop a file from an iPhone to a Mac or other Apple devices
Hands down, AirDrop is the easiest way to send files like photos, documents, and even web pages from an iPhone to a Mac (or to another Apple device).
AirDrop is automatically available on your iPhone 's sharing option whenever there's another AirDrop-compatible device in range.
You may need to set up AirDrop on your Mac before being able to AirDrop a file from an iPhone to that computer.
Compared to the ancient days of floppy disks, it's like we're living in a science fiction future today. After all, it's easy to share large files via email or on cloud services like Dropbox.
But Apple offers an even easier option: AirDrop. Armed with AirDrop, you can send files even ones too big for email from your iPhone to a Mac with just a tap, as long as the Mac is in range to receive them.
What's "in range"? AirDrop uses a combination of both Bluetooth and Wi-Fi to transmit files, so your Mac or other Apple device has to be within about 30 feet of the phone, according to Apple .
To successfully AirDrop, you'll need to configure AirDrop on a Mac you only need to do that once and then you can send files from your iPhone quickly and easily.
Activate AirDrop on your Mac or another Apple device
1. Click "Go" in the Finder menu and then click "AirDrop."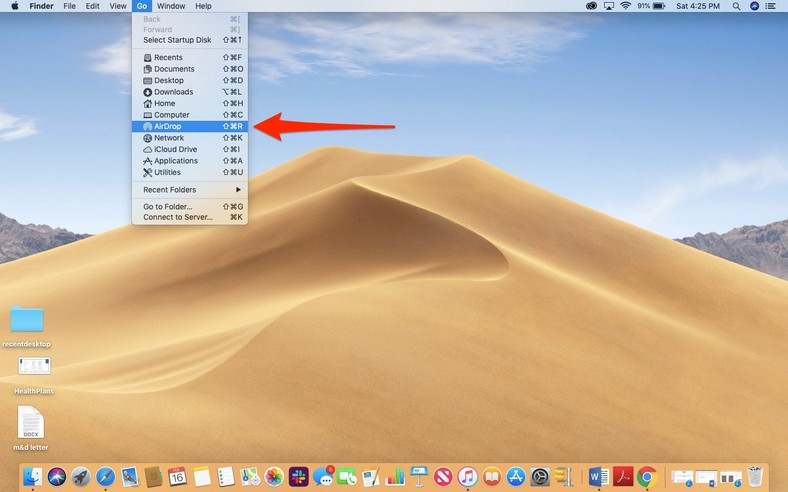 2. If your Mac's Bluetooth or Wi-fi is turned off, you will be asked to turn them on.
3. In the AirDrop window, choose who can AirDrop you. Click "Allow me to be discovered by" and choose either "Contacts Only" or "Everyone."
For Apple devices other than a Mac, including an iPhone, you can access the same permissions by going into your Settings, clicking General, and then selecting AirDrop to choose whether you can receive an AirDrop from "contacts only" or "everyone."
Limiting AirDrop only to your contacts is more secure, but choosing "everyone" is more convenient if you frequently have to receive files from a lot of different people.
It's generally easier to choose "Everyone." But be aware that if you are working in a public place (like a coffee shop), anyone in your vicinity will be able to try to send you files, so be careful whom you accept AirDrop files from.
Send a file from your iPhone
1. On your iPhone, open the app that you want to AirDrop from. To send a photo, for example, open Photos.
2. Select the file or photo you want to send (you can select more than one at a time).
3. Click the Share button.
4. In the AirDrop section of the Share screen, you should see icons for all of the AirDrop-compatible devices in range (it might take a moment for them to appear). Tap the icon for the Mac you want to send the file to.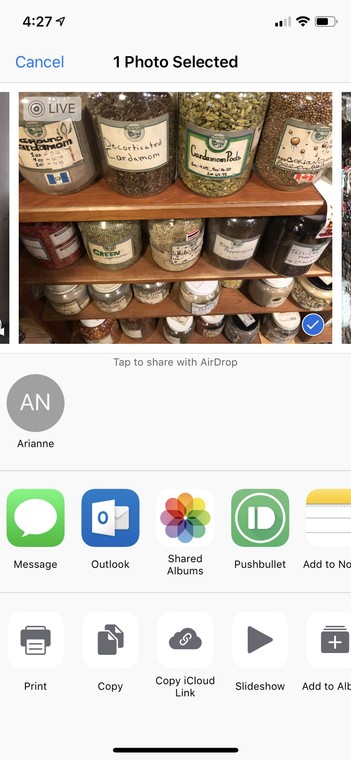 If you're in range, you should see a button for your Mac (and other AirDrop-compatible devices).
That's all you need to do on the iPhone; now the Mac or other device needs to accept the file.
Receive a file on your Mac or another Apple device
1. You should see a notification appear on your desktop or device's screen. Choose "Accept."
2. On a Mac, choose whether to open the file or save it to the Downloads folder.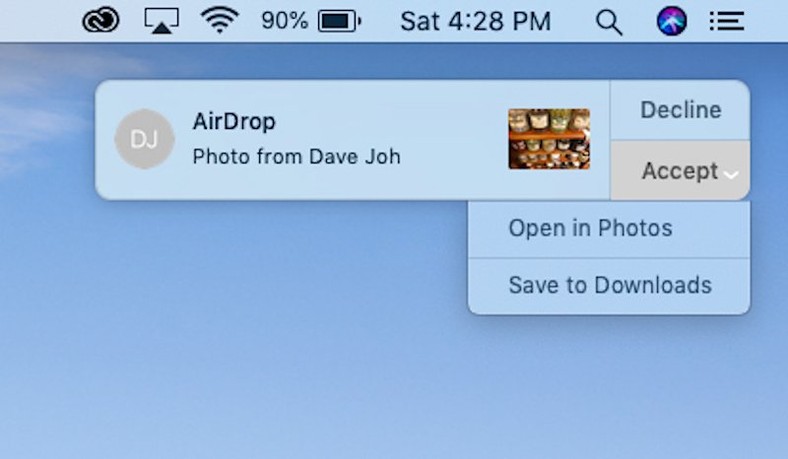 3. Open Downloads in Finder on your Mac. The file should be the most recent.
If you run into trouble
Like any technology, sometimes it doesn't work the way you expect. If you're having trouble with AirDrop, there are a few common things to check:
Is your Mac AirDrop-compatible? It needs to be running Mac OS X Yosemite or later.
Make sure that Bluetooth and Wi-fi are enabled on both your Mac and your iPhone.
It's possible the devices are too far apart, especially if you can't see the Mac on the iPhone's AirDrop list. Bring the two devices closer together.
Make sure that the iPhone isn't connecting to the Internet via a personal hotspot. Open Settings and make sure Personal Hotspot is "Off."
MWC 2019: Oppo releases 10 times lossless camera zoom
Ahead of the Mobile World Congress to hold in Barcelona, Spain, later this month, Mobile devices manufacturer, OPPO, has built an innovative smartphone camera technology with its 10x lossless zoom which simply means that images captured by Oppo cameras are just as good as photos captured on conventional cameras. The company said introducing the camera was important to signpost its position as an important enabler of mobile imaging technology. The company prided itself as having been continuously involved in exploring and innovating in the field of mobile computing optics. As the pioneer of hybrid optical zoom technology, OPPO's innovation also makes mobile photography one step closer towards professional image quality, apparently helping it remain at the forefront of mobile phone photography. OPPO's triple-camera solution consists of Ultra Wide Angle + Ultra Clear Master + Telephoto features. The ultra-wide-angle camera has an equivalent focal range of 15.9mm. The primary camera guarantees photo quality and the telephoto camera, with 159mm equivalent focal range, combined with the original "peep-up structure" to support high-magnification zoom, can ensure a high-quality long-distance shot. All three cameras work at the same time to maximise their respective advantages, optimise imaging quality at various zoom ranges to achieve 10x zoom in a relay manner. To maintain image quality at all ranges, OPPO has introduced dual OIS optical image stabilisation on both standard and telephoto cameras.