Woman arrested in Abu Dhabi over a Facebook post
An Australian woman has been jailed in the United Arab Emirates (UAE), apparently pending deportation, after posting a picture of a badly-parked car on Facebook. The crime: "Writing bad words" on social media.
Jodi Magi, 39, is currently being held in Abu Dhabi, where she has lived since 2012, the ABC'sPM program reported Monday.
The dispute began in February, when Magi took a photo of a car without disability stickers parked across disabled parking spaces in her apartment block, and posted the image on Facebook. Although she reportedly obscured the number plate, someone in her building is said to have complained about the post.
The case came up in a Abu Dhabi court in June, according to the ABC, and Magi was found guilty of "writing bad words on social media about a person." Told she would be deported, Magi tried to voluntarily self-deport and went back to court to pay the fine, which is roughly A$3,600.
Instead, she was imprisoned Sunday. It is not clear how long she will be held for. A spokesperson for the Australian Department of Foreign Affairs and Trade (DFAT) described the charge as a "cyber crimes offence" to Mashable Australia.
"I'm putting my life in the hands of chaos," Magi told the news outlet. "No one is talking to me. No one is telling me what is going on. I've been driving around for literally about four hours."
The DFAT spokesperson said that consular assistance had been provided to Magi since May 25. "On 12 July, the Ms Magi presented herself to a court in Abu Dhabi to pay a court-ordered fine and was taken into custody pending deportation to Australia. This is normal practice in Abu Dhabi."
The spokesperson added that Australians travelling overseas are subject to the laws of the country they are in. "The Australian Government's travel advice for the UAE warns that local laws that appear harsh by Australian standards nevertheless apply to Australian travellers or residents."
Foreign Minister Julie Bishop told media Tuesday she believed Magi would soon be deported back to Australia.
Mashable Australia has reached out to the United Arab Emirates embassy in Canberra for comment.
In Abu Dhabi, Magi teaches Emirati women graphic design, according to her blog. She describes herself as "an Australian who loves a creative challenge, appreciates the stimulation travel brings and believes in the importance of questions."
On her Facebook page, friends commented and expressed sympathy for her situation. One called her "brave," while another wrote: "Be strong Jodi you're not alone, we are all thinking of you."
In 2014, Robert Alan Black, a 70-year-old American, was arrested in the UAE for taking a photograph of a venue that authorities had declared off-limits for photos. In 2013, an American man, Shezanne Cassim, was imprisoned for making a 19-minute video that made fun of teens from Dubai.
source:http://mashable.com/2015/07/13/australian-abu-dhabi-facebook/
Instagram is working on a new messaging app
Rivaling Snapchat, Threads will enable users to automatically share their location, movements, and battery life with their IG 'close friends' list
Now Facebook is a wasteland for your racist aunt and high school friends' wedding photos, the platform is determined to maintain its social media stronghold via Instagram and WhatsApp (sorry, 'Instagram and WhatsApp from Facebook'). Its latest venture? A new messaging app called Threads.
As reported by The Verge, Threads will be a companion app to Instagram, promoting constant sharing between users and their IG 'close friends' list. The app will enable people to automatically share their location, movements, and battery life with each other, as well as send text, photo, and video messages.
The development could be seen as another attempt to rival Snapchat – which already lets users share their location – following Instagram's introduction of Stories three years ago.
Instagram has been trying to develop the messaging side of its app since late 2017 when the company started working on Direct, a standalone camera-first app exclusively for DMs. The platform ceased work in May this year after research revealed users found it frustrating to switch apps when they wanted to send a message – although this is exactly what happened with Facebook Messenger in 2016.
Screenshots acquired by The Verge show that users have the option to switch on automatic sharing, but are also able to update their statuses manually. Although Threads encourages friends to share their location with one another, it will reportedly show updates like 'on the move', rather than a real-time location.
The app's main feed will show all messages, as well as friends' updates and active status, and will allow users to watch their close friends' IG stories as opposed to having to go back to Instagram to view them.
This announcement comes after a number of updates to the platform, including the removal of likes, an anti-bullying feature, and a tool to report fake news. Although, there's currently no launch date for Threads, and given Instagram's history with fucked-up trials, it may never even materialise.
Source: https://www.dazeddigital.com/science-tech/article/45768/1/instagram-facebook-new-social-media-messaging-app-threads-to-rival-snapchat
Massive change coming to WhatsApp with introduction of ads
WhatsApp will see a massive change by 2020 with the introduction of adverts into the instant messaging app.
It's been rumoured for a while and now WhatsApp looks set to finally bring adverts to its popular messaging app.
The Facebook-owned firm revealed the news during its annual Marking Summit in the Netherlands, with a rollout expected next year.
Photos of the way these new adverts will look have even been posted online with attendee Olivier Ponteville, giving fans a closer look at what's to come.
The image, which can be seen on Twitter, shows how ads currently appear on Facebook and Instagram with a WhatsApp screenshot then revealed with a full-screen advert.
According to technology website BGR, once the message appears users will be able to "swipe up when an ad appears for more information about the product or service being advertised."
Adverts in WhatsApp have been spoken about for a while but this is the first evidence that things are changing within the popular service.
How fans react is yet to been seen but it's unlikely to go down well with its billions of users.
The bad news is that it seems there's nothing that can be done to stop this new feature from arriving within the app.
It seems almost certain that there will be no way to switch them off or hide these paid-for messages which may prove to be hugely irritating.
Source: https://www.thenewsguru.com/technology/internet/article/massive-change-coming-whatsapp-introduction-ads/
Facebook Messenger finally adds quoted replies
Today Facebook Messenger has added a sorely missing feature – quoted replies. This allows you to reply to a specific message in a conversation, and is incredibly helpful when you're engaged in chats that have a big range of topics. Using the new feature, the people you're talking to will now know exactly what you were replying to with that "LOL", for example.
This has been a feature in WhatsApp, which is also owned by Facebook, for a very long time, and it's always been sort of a baffling omission in Messenger. So it's good to finally see it there too.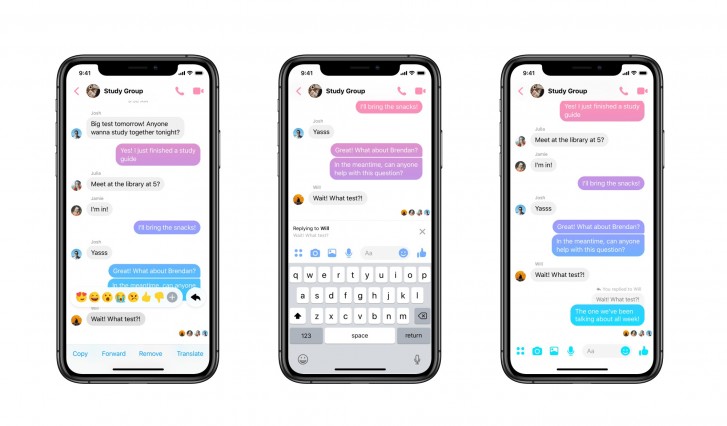 In order to quote a specific message, long tap on it and you'll see a new Reply button to the right of the reaction emojis. Tap that, write your reply, and, just like in WhatsApp, the message you're replying to will appear above your reply. Easy. This potentially means you'll have less misunderstandings with your friends as to which message was referencing what.
The feature is rolling out now on both iOS and Android.