Xiaomi's 100MP camera phone is very crazy
This week we're hearing from Xiaomi – from the company itself – that they're developing a 100MP camera. That means 108,000,000 pixels in total – 12032 x 9024 pixel resolution. If you think this is "absolutely crazy", per one of their fans Manu Kumar Jain, you might also think you're in a time-loop when you look at the camera phone released half a decade ago by Nokia.
What's in a megapixel? Do you really need to be capturing photos with THAT many pixels? For most people the answer is no, absolutely no, that's just silly. Most people capture photos and never look at them again, or if they DO look at them again, they upload said photos to services that make little use of the majority of the pixels captured in the first place.
#MiFan Manu Kumar Jain✔@manukumarjain
WHOA! #100MP camera

Yes, we've been working on 100MP camera flagship phone!

Beginning of 2019, we launched #48MP, & today all flagships use it. We'll soon disrupt the market again with #64MP camera.

And then #100MP

RT if you think this is absolutely crazy! #Xiaomi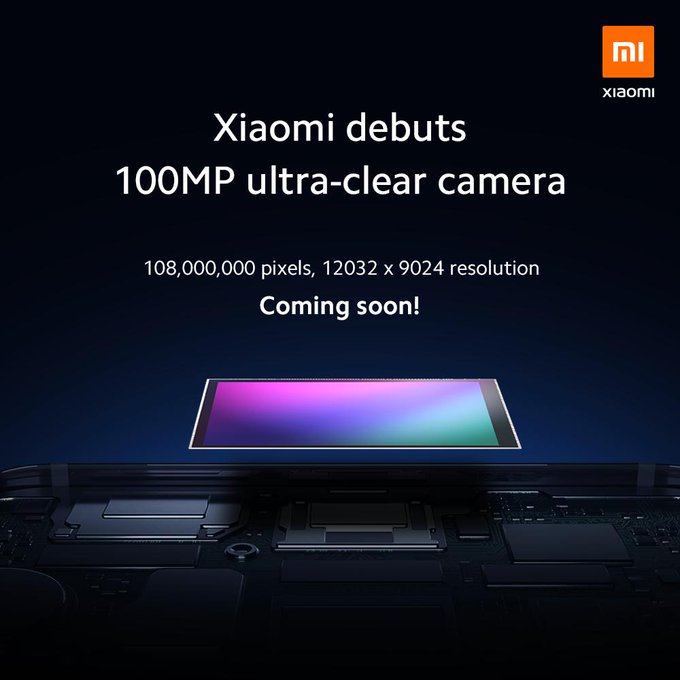 Just in case you vaguely remember Nokia having a smartphone in the early 2010s with a mega-massive camera full of megapixels, but cannot recall its name, here it is: Nokia 808 PureView. That thing had a 41-megapixel camera sensor in the year 2012. How strange is that?
If you upload a photo to Instagram right now, it'll be re-sized to 1000 x 1000 pixels. Those pictures you upload are stored at 1000 x 1000 with Instagram, then they're displayed (often times) at sizes much, much smaller than that for mobile viewing. Most views of these images occur as the viewer is flying by, scrolling at extreme speed.
So why when the end product is often just a fraction of the pixels, would Xiaomi want to develop a smartphone camera sensor that can capture 100MP photos? The simple answer is hype – news – getting a handle on one of the last legacy features that can still sensibly be improved.
Now that the public seems to have realized that we've reached the no-sharper point in mobile displays, the camera is the next obvious place to move. Xiaomi wishes to push the idea that more megapixels are, by their nature, better. This 100MP camera appeals to our basest desires: to have the best and most advanced abilities in the world.
Xiaomi suggests they've already moved to 64MP camera sensors that'll come in 2020, then they'll bring some 100MP sensors in 2021. Whether that'll make any difference in the quality of the images the cameras capture – we'll just have to wait and see.
Source: https://www.slashgear.com/xiaomis-100mp-camera-phone-is-more-than-madness-07586623/
FIFA 21: No demo for upcoming game, EA Sports confirm
EA Sports has announced that the company will not be releasing a demo for FIFA 21.
FIFA 21 is set to be released on PlayStation 4 and Xbox One on Friday, October 9, having being pushed back from its usual September release date due to the coronavirus pandemic.
In addition, the game will also be eventually released on the upcoming Sony PlayStation 5 and Xbox Series X, making this year's release one of the most important in recent years.
Typically, EA Sports release a demo for each year's game around three weeks before the official release, allowing players to test out the gameplay in one-off matches featuring some of the game's top teams.
The demo is then typically followed by an early access period for those that are EA Play members, offering players a chance to play the full game for a limited time before release.
However, EA confirmed on Monday that this year's game will not have a demo, with the company instead focusing on making sure the full game is prepared for its October 9 release date.
"We aren't releasing a demo for FIFA 21. Instead we've made the decision to focus our development team's time on delivering the best full game experience for current & next-gen consoles," EA said in a statement.

"We look forward to EA PLAY members jumping in 10 days from now and launching the game Oct 9."

In recent weeks, EA has begun to unveil the list of the highest-rated players in the game, with Lionel Messi, Cristiano Ronaldo and Robert Lewandowski earning the top three places on this year's rankings on the men's side with U.S. women's national team star Megan Rapinoe leading the way for the women.

This year's game will feature improvements to career mode, new attacking systems such as Agile Dribbling, Positioning Personality and Creative Runs and improvements to the highly-popular Ultimate Team mode including FUT Co-Op gameplay and increased club customisation options.

Additionally, the game will feature a series of new icons: Eric Cantona, Ferenc Puskas, Xavi, Nemanja Vidic, Petr Cech, Samuel Eto'o, Bastian Schweinsteiger, Phillip Lahm, Fernando Torres, Ashley Cole and Davor Suker.

Source: https://www.goal.com/en/news/fifa-21-no-demo-for-upcoming-game-ea-sports-confirm/w6bswvm9fg9h16crm45vzt6qs
Editing HTML Like A Boss In VS Code
Here's a seven minute video from Caleb Porzio that focuses on some of Emmet's HTML editing features. You might think of Emmet as that thing that expands abbreviations like table.stats>tr*3>td*3 into glorious, expanded, and perfect HTML. But Emmet has other HTML editing trickery up its sleeve. My favorite is "wrap with abbreviation" (which happens to be Cmd/Ctrl + Shift + A on CodePen), but there are more, like expanding your selection inward and outward and tag changing.
If you haven't seen it, the Emmet 2 preview on CodePen is pretty neeeeat. It shows you what you're about to expand into before you do it:
Source: https://css-tricks.com/editing-html-like-a-boss-in-vs-code/
PS5 Game Install Sizes Revealed, And They're Enormous
There was hope that the efficiency of the PlayStation 5's super-fast SSD hard drive would reduce game file sizes, as titles wouldn't need to duplicate data to ease read speeds. That, apparently, is not quite the case, as the minimum install requirements for a couple of PS5 launch games have been revealed – and they're enormous.
Demon's Souls, for example, will eat up 66GB of the next-gen system's storage space; Marvel's Spider-Man: Miles Morales will gobble up 50GB, and if you plump up for the Ultimate Edition – which includes Marvel's Spider-Man: Remastered as well – you'll lose an eye-watering 105GB. That's already an eighth of the device's available 825GB.
It's worth noting that textures will be more detailed on the PS5, so developers may well be saving space compared to PS4 titles, but using it up with higher quality assets. In the case of Marvel's Spider-Man: Remastered, for example, the original game with all of its DLC installed takes up approximately 75GB on the PS4, compared to roughly 55GB in its revamped form.
Still, it looks like you're definitely going to have to juggle which games you've got installed – although eventually you will be able to expand the system's storage space. You can find out more about that through the following link: Which SSD Drives Will Be Compatible with PS5?
Source: https://www.pushsquare.com/news/2020/09/ps5_game_install_sizes_revealed_and_theyre_enormous