Yahoo hack wasn't Shellshock, company claims

 Malware attack was not Shellshock, and no user data was affected, Yahoo said
Yahoo has announced that the hackers who breached its servers this weekend did not use the Shellshock superbug as was previously reported.
In a statement, Yahoo's head of information security Alex Stamos said that hackers had executed malware in a failed search for Shellshock vulnerabilities, and had not gained access to any user data.
The attackers, who zeroed in on the site's Sports API servers, "mutated" the malicious code to look for access points.
Stamos reported that the original security flaw was exclusive to a small number of machines, and that it has now been fixed, with the malware added to Yahoo's scanners.
He wrote: "We isolated a handful of servers that were detected to have been impacted by a security flaw. After investigating the situation fully, it turns out that the servers were in fact not affected by Shellshock.
"At this time we have found no evidence that the attackers compromised any other machines or that any user data was affected.
"As you can imagine this episode caused some confusion in our team, since the servers in question had been successfully patched (twice!!) immediately after the Bash issue became public."
He added: "Just because exploit code works doesn't mean it triggered the bug you expected!"
Yahoo's investigation into server security was launched after ethical hacker Jonathan Hall discovered a group of Romanian cyber criminals were infiltrating Yahoo servers.
Hall, who published his method and his findings on his blog, also alerted Yahoo and the FBI to the hack.
Stamos also addressed criticism of Yahoo for not compensating Hall for his discovery, arguing that it was done outside of the company's bug bounty programme.
He wrote: "Yahoo takes external security reports seriously and we strive to respond immediately to credible tips.
"Our records show no attempt by this researcher to contact us using [bug bounty] means."
Hall also found similar security breaches in WinZip and Lycos servers. He said that WinZip confirmed the hack and thanked him for the discovery.
Hall claims that Lycos, on the other hand, denied the hack and have tried to cover it up by deleting the compromised script.
source:http://www.independent.co.uk/life-style/gadgets-and-tech/news/yahoo-hack-wasnt-shellshock-company-claims-9779594.html
Instagram is working on a new messaging app
Rivaling Snapchat, Threads will enable users to automatically share their location, movements, and battery life with their IG 'close friends' list
Now Facebook is a wasteland for your racist aunt and high school friends' wedding photos, the platform is determined to maintain its social media stronghold via Instagram and WhatsApp (sorry, 'Instagram and WhatsApp from Facebook'). Its latest venture? A new messaging app called Threads.
As reported by The Verge, Threads will be a companion app to Instagram, promoting constant sharing between users and their IG 'close friends' list. The app will enable people to automatically share their location, movements, and battery life with each other, as well as send text, photo, and video messages.
The development could be seen as another attempt to rival Snapchat – which already lets users share their location – following Instagram's introduction of Stories three years ago.
Instagram has been trying to develop the messaging side of its app since late 2017 when the company started working on Direct, a standalone camera-first app exclusively for DMs. The platform ceased work in May this year after research revealed users found it frustrating to switch apps when they wanted to send a message – although this is exactly what happened with Facebook Messenger in 2016.
Screenshots acquired by The Verge show that users have the option to switch on automatic sharing, but are also able to update their statuses manually. Although Threads encourages friends to share their location with one another, it will reportedly show updates like 'on the move', rather than a real-time location.
The app's main feed will show all messages, as well as friends' updates and active status, and will allow users to watch their close friends' IG stories as opposed to having to go back to Instagram to view them.
This announcement comes after a number of updates to the platform, including the removal of likes, an anti-bullying feature, and a tool to report fake news. Although, there's currently no launch date for Threads, and given Instagram's history with fucked-up trials, it may never even materialise.
Source: https://www.dazeddigital.com/science-tech/article/45768/1/instagram-facebook-new-social-media-messaging-app-threads-to-rival-snapchat
Massive change coming to WhatsApp with introduction of ads
WhatsApp will see a massive change by 2020 with the introduction of adverts into the instant messaging app.
It's been rumoured for a while and now WhatsApp looks set to finally bring adverts to its popular messaging app.
The Facebook-owned firm revealed the news during its annual Marking Summit in the Netherlands, with a rollout expected next year.
Photos of the way these new adverts will look have even been posted online with attendee Olivier Ponteville, giving fans a closer look at what's to come.
The image, which can be seen on Twitter, shows how ads currently appear on Facebook and Instagram with a WhatsApp screenshot then revealed with a full-screen advert.
According to technology website BGR, once the message appears users will be able to "swipe up when an ad appears for more information about the product or service being advertised."
Adverts in WhatsApp have been spoken about for a while but this is the first evidence that things are changing within the popular service.
How fans react is yet to been seen but it's unlikely to go down well with its billions of users.
The bad news is that it seems there's nothing that can be done to stop this new feature from arriving within the app.
It seems almost certain that there will be no way to switch them off or hide these paid-for messages which may prove to be hugely irritating.
Source: https://www.thenewsguru.com/technology/internet/article/massive-change-coming-whatsapp-introduction-ads/
Facebook Messenger finally adds quoted replies
Today Facebook Messenger has added a sorely missing feature – quoted replies. This allows you to reply to a specific message in a conversation, and is incredibly helpful when you're engaged in chats that have a big range of topics. Using the new feature, the people you're talking to will now know exactly what you were replying to with that "LOL", for example.
This has been a feature in WhatsApp, which is also owned by Facebook, for a very long time, and it's always been sort of a baffling omission in Messenger. So it's good to finally see it there too.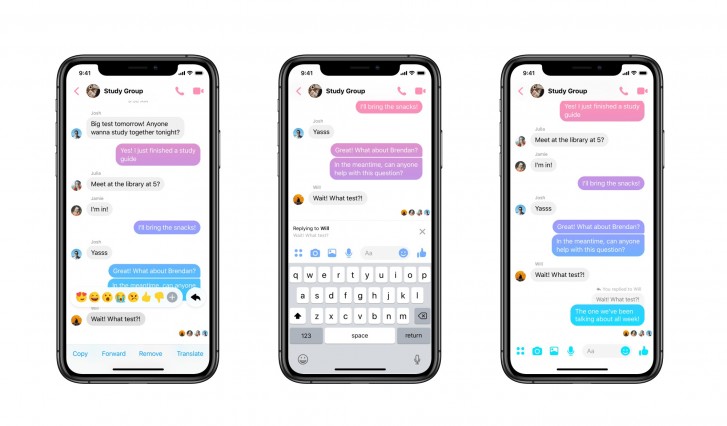 In order to quote a specific message, long tap on it and you'll see a new Reply button to the right of the reaction emojis. Tap that, write your reply, and, just like in WhatsApp, the message you're replying to will appear above your reply. Easy. This potentially means you'll have less misunderstandings with your friends as to which message was referencing what.
The feature is rolling out now on both iOS and Android.