New MacBook Pro Must Answer This One Simple Question
There are two key questions around Apple's new direction with the Mac family, both based around the switch from Intel-based processors to Apple's own ARM-based processors.
One of these is the relative performance of the two chipsets. If ARM is the future then the future needs to have the same heft as the past. Leaked benchmarks suggest that this will be the case, at least in terms of raw numbers.
The second is that of backwards compatibility. The move to ARM has the potential to break compatibility with the application library relied on by countless millions of Mac users. Ensuring a smooth transition and allowing the ARM-powered Macs to invisibly pick up where an older Intel-powered Mac was replaced will go a long way to rejuvenating the Mac platform.
The move to ARM needs to be, for the consumer at least, something that (ahem) just works.
Broadly speaking, there are three tranches of apps that need to be considered.
The first is the easiest for Apple to deal with… its own apps. The full range of applications that come as part of a new Mac machine should all be available out of the box. They will take full advantage of the power savings, have deep integration with the hardware, and will likely show up the speed and power advantages that ARM offers.
The second tranche consists of the existing third-party apps that are currently under active development. No doubt Apple will be working hard with many of the key developers to ensure that specific apps have native ARM versions ready to go when the MacBook and MacBook Pro machines go on sale. Thanks to the Developer Transition Kits, there will be an army of smaller developers who will have apps ready as well. Apple will no doubt have a big number of apps that are 'already running on our new platform."
The third tranche are those apps that have not yet been ported. For these applications users will be reliant on Apple's Rosetta 2 emulation layer. Not every developer will have a transition kit, not every developer will have the ability to create native code versions, and some apps will have been abandoned – but could still be in active use in the community.
Will Apple look to support every app that could run under macOS Catalina? Will it limit the emulation to the latest tools? How much performance will be lost using emulated apps compared to the native apps? The goal will be for a totally invisible process where the user doesn't need to know about the intricacies of ARM and Intel at the heart of their apps.
Apple just needs them to work. Apple's event on Tuesday will show us how Apple intends to deliver on that expectation.
Source: https://www.forbes.com/sites/ewanspence/2020/11/08/apple-macos-big-sur-intel-arm-emulation-rosetta-2-macbook-air-macbook-pro/?sh=5ee99d2526af
Google Zork Chromebook with AMD Ryzen 3 3250C spotted on Google Play Console
HIGHLIGHTS
Google Zork Chromebook specifications have been spotted on Google Play Console
Key specs include AMD Ryzen 3 3250C, 4GB RAM, Radeon Vega 3 GPU, and Full HD display
There could be another variant with Ryzen 7 3700C processor, as per Geekbench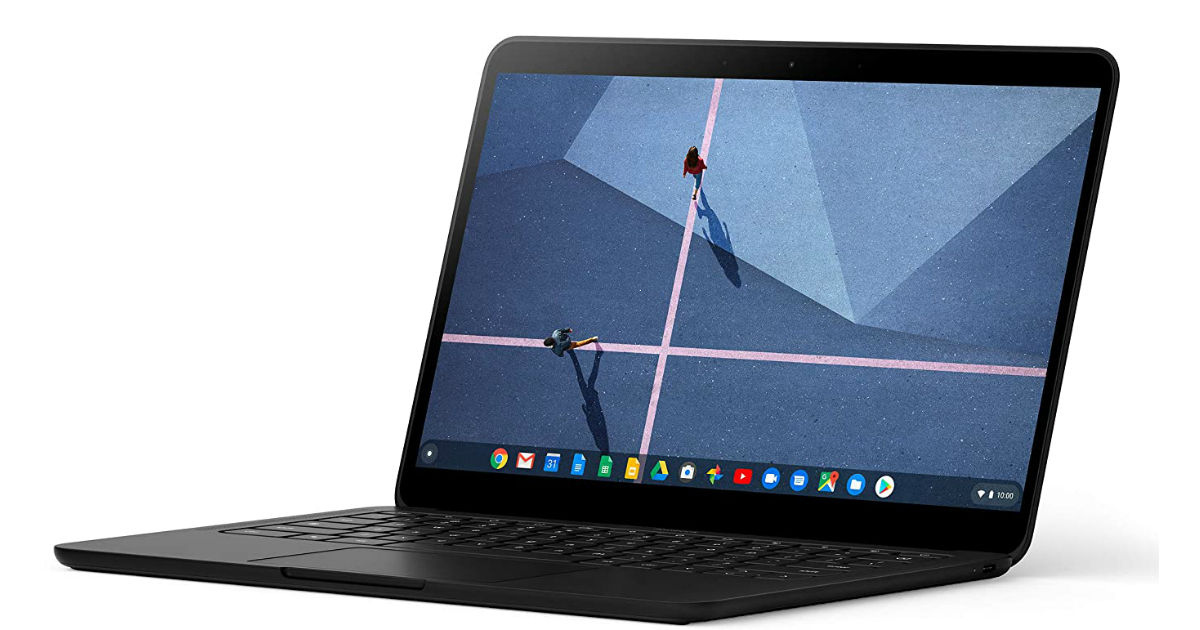 Google is said to be working on a new Chromebook with the codename 'Zork' and it was spotted on the Geekbench platform back in April revealing key information, including the Android operating system version and chipset powering it. Now, the same Google Zork Chromebook has appeared on the Google Play Console, 91mobiles has discovered. The listing reveals more specifications of the notebook and reiterates earlier leaked details. Google Zork Chromebook specs, as per the listing, include the AMD Ryzen 3 3250C paired with 4GB RAM, Radeon Vega 3 GPU, a Full HD display with 1,920 X 1,080 pixels resolution, and 160 screen density.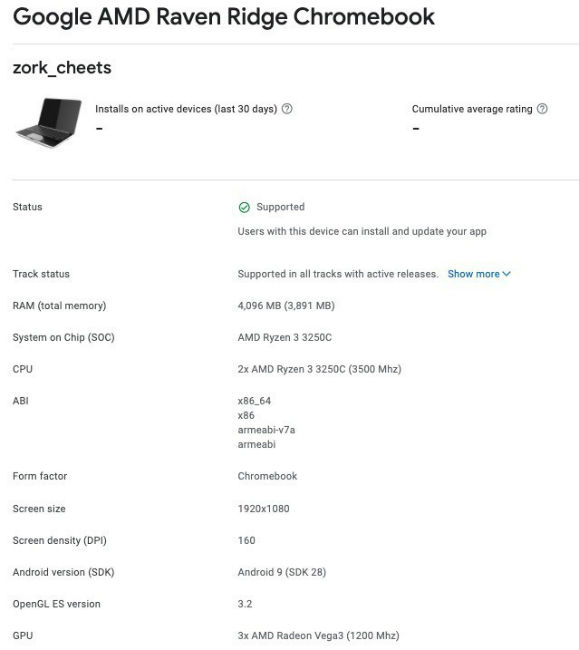 Though the Google Play Console listing shows the device will run Android 9 OS, we suspect it might run on Chrome OS considering Android devices aren't powered by AMD processors. The HP Pro Chromebook c645 that was introduced recently comes with the same AMD Ryzen 3 3250C processor, thereby making way for more Chromebooks with AMD processors. The listing also includes a render of the notebook with a sizeable trackpad and a proper keyboard with a matte finish. However, it's possible the image could be a placeholder for now and may not represent the actual design of Google Zork.
Google Zork Chromebook specifications on Geekbench previously also mentioned a variant with the AMD Ryzen 7 3700C processor variant that has 4 CPU cores and 8 threads. The chipset is paired with Radeon Vega Mobile GFX graphics module and a large 8GB of RAM. Since the Chromebook has started appearing on the web, we suspect the development is inching closer to the final stages and the launch could be around the corner. We hope to learn more information soon. Stick around.
Source: https://www.91mobiles.com/hub/google-zork-chromebook-specifications-on-google-play-console/
LG Rollable looks LIGHT YEARS ahead of Samsung Galaxy Z Fold 2 thanks to OLED TV tech
Foldable smartphones are big news in the mobile industry thanks to the likes of Samsung's Galaxy Fold and Galaxy Z Flip. But LG is looking to go big or go home with its LG Rollable phone. Also known as LG Project B, it features – naturally enough – a rollable display. It leverages the tech behind the LG Rollable OLED TV to give a whole new twist on folding smartphones – or should we say rolling smartphones?
LG's Explorer Project has already seen the LG Wing made its debut – a unique swivel handset that offer multi-screen functionality without folding – but its new Project B handset with a rollable screen is on another level entirely.
LG has been working on a rollable display for a while, and we initially heard about its Project B smartphone last November, with its extendable screen, as opposed to flexible, foldable display like the Galaxy Z Fold 2, or Motorola Razr.
Now, LetsGoDigital reports, the company has been awarded a patent for a device with the retractable display.
At first glance, the handset looks like a standard smartphone, but the frame can be pulled out to both the left and the right to double the screen real estate. This is achieved thanks to an inner, flexible frame that slides out of the device's metal housing.
The design has some advantage over foldable phones on the market now, with the biggest one being the absence of a hinge or crease; a panel with a fold in it will see the crease put under strain, potentially affecting the structural integrity of the display.
What's more, the rollable can adapt to how the smartphone is being used – in much the same way as the LG Wing. In landscape mode, for example, expanding the screen while playing a video or streaming music could reveal the controls so that your viewing remains uninterrupted. There's also the option of multitasking with a split-screen mode.
LG is reportedly skipping straight over the foldable trend, and is looking to launch its rollable smartphone in March, 2021 according to Neowin. It's possible that the handset will only be extendable on one side, as opposed to both as depicted in the patent, but it's a radical concept and we're intrigued to see a company bucking the foldable trend to try something new.
Source: https://www.t3.com/us/news/lg-rollable-smartphone-light-years-ahead-of-samsung-z-fold
Different types of printers? How to make a wise choice?
Printers have gained massive importance in the last few years. The speed, efficiency, and quality in which they not only print documents but perform several other functions make them highly valued in various industries. Undoubtedly, the discovery of the printer has been one of the greatest inventions of humankind.
Owing to significant advances in science and technology, there are several types of printers that are available in the market. Each of them caters to different purpose.
Let check the different types of printers and know more about them:
1) Laser Printers
Laser printers are one of the most highly sought printers for workplaces. These printers are efficient and print considerably fast.
This helps in increased productivity as more documents can be printed with relative ease.
It is most favourable for printing text documents. These are not suitable for printing glossy pictures or other unusual paper sizes.
The fact that it produces top-quality output and is quiet makes them perfectly suitable for use in offices.
2) Inkjet Printers
Inkjet Printers are the most commonly used printers in homes as well as offices. These come in a very economical budget but often have slow printing speed.
They also produce low-quality output that may affect your work productivity and use toners instead of ink in the cartridge.
Though in recent years, inkjet printers have developed and now are quite diversified and specific in their features and efficiency. These printers have been the basic ones that people started with for the past several years.
3) Large Format Printers
Large format printers are largely used for printing posters, large photographs, banners, etc. These are quite expensive and require a large space for its accommodation.
They have a wide range of functionalities. Some of these printers can easily handle photorealistic pictures with about 1440 DPI resolutions.
They can also print pictures in widths as large as 98 inches. The usage of different colour inks in huge tanks makes this possible. These printers are only purchased for professional usage.
4) Cardstock Printers
Cardstock papers vary distinctly from the regular papers in terms of weight and thickness. Most regular printers cannot handle the heavyweight cardstock paper and can result in making an utter mess.
To avoid this, cardstock printers are designed. These printers are equipped with features that make them handle the printing of cardstock papers with ease. Both inkjet and laser printers can support cardstock printing if fitted accordingly. These printers generally use more inks or toners than the regular ones.
5) Photo Printers
These printers are specifically designed to print out images. They are usually portable and small in size.
Due to the relatively small dimensions, these printers cannot carry out heavy functionalities and usually print images at small paper sizes.
But, full-size colour printers are also available for more extensive image printing. These printers usually have ports to plug in media cards and offer both wireless and wired connections to your system. Most of these printers also offer basic editing features.
6) Multifunction Printers
The Multifunction Printers of MFP is a great economical choice for professional use. These printers are designed in a way that it not only prints documents but also serves the purpose of several other machines.
Apart from being a printer, it also acts as a copier, fax machine, and scanner. The printers are equipped with several features like Wi-Fi connectivity with ports for media cards along with auto feeders and auto duplexers. These are available in a wide range of prices and have a considerably small footprint.
Choosing the printer that suits your needs the most is not an easy feat. It requires you to gain insight into some of the technical jargon associated. You can take a look at the tips given below to buy the printer that is perfect for you.
Purpose: The foremost thing that you must consider is the purpose of the printer and where it is needed. The requirement criteria differ for using it at home or workplaces. Printers used at home are generally not as detailed as those used for offices.
Types: There are various types of printers that are available. Please make a note of your needs and check out which one fulfils your requirements. Ask for an expert to help if you get puzzled.
Cost: This part is quite tricky. Budget is a factor that you need to prioritize. But, you also need to be aware that most cheap printers come with expensive ink cartridges. Make this decision wisely after serious deliberation.
Function:  Different printers have various functions. You must decide if you want a printer that only prints or scans copies, faxes along with printing. Deciding on this will make things easy for you.
Usage: The frequency with which the printer is used is a significant factor. If it is used often and for long periods, certain printers are better suited than others.
Footprint: The size of your printer will depend on the kind of work that you intend to do and how much space you can provide for the printer. This also depends on the number of people using it. If you have a large workspace, then you can accommodate a large printer with various functionalities.
Connectivity: You need to decide if you want to eliminate the issue of cables and cords. The majority of the printers now have features that allow wireless connection through Bluetooth or Wi-Fi. Some even use cloud technology and Wireless PictBridge.
Speed: If your printing needs to be fast, you need to check out the PPM (Pages per minute) or the CPM (Characters per minute) rate of the printer. Laser printers are generally much faster in printing than inkjet printers.
These are some of the factors that you can keep in mind while purchasing a printer. It is always better to remain updated about certain areas and do the due research diligently before making a decision.
Keep in mind that these printers come at a considerable cost and buying something that is of no use to you can make you dissatisfied, discontent, and poke e hole in your wallet- all at the same time.