The 7 WordPress Plugins Your Site Needs to Succeed
At least one website you visited today is powered by WordPress. In all likelihood, most of your favorite sites utilize the world's most popular content management system (CMS). Perhaps your business runs on it too.
According to WordPress, across its network of sites, "Over 409 million people view more than 15.8 billion pages each month." Furthermore, "Users produce about 43.7 million new posts and 58.8 million new comments each month."
More content is created than audiences can handle. The challenge for entrepreneurs, then, is to find an underserved segment of consumers that would love nothing more than what you have to offer, whether it is blog posts, products or services.
Fortunately, you won't need to build everything from scratch. In fact, a powerful website is possible even if you are a non-technical founder. To take your business to the next level with WordPress, here are seven outstanding plugins you will want to install immediately.
There is more to your audience than pure page views. Metrics such as engagement time and return rate are now tracked more closely as we enter an age of holistic analytics.
Chartbeat's real-time analytics suite enables you to better understand reader behavior to make smarter decisions about what you can do to both capture and offer the most value during audience visits. With it, hopefully, you can begin responding to reader activity with solutions to keep them on site longer, visiting more pages and converting more often.
Spam's persistence threatens to ruin the web. It is everywhere.
While smart filters and blockers protect you from getting duped by the seemingly honorable Nigerian Prince and his innocent business proposal, you might not even be aware of the spam that lives within your own website.
Built by the team at Search Engine Journal, LinkPatrol aims to help site owners analyze, manage and fix outgoing links to ensure your readers only end up clicking things that add to their reading experience and so you avoid getting on Google's bad side, which can be pretty ugly.
3. OptinMonster
Email has always been the ugly stepchild of marketing. It's not as ego-inflating as public relations, and it's surely not as novel as social media. That said, email marketing holds a valuable seat at the table due to its very intimate opt-in nature, which makes you confident that your lead is genuinely interested in engaging with your brand further.
A product of Syed Balkhi, OptinMonster allows you to instantly build and deploy compelling opt-in forms for your site. Advanced capabilities include page-specific targeting, A/B testing and built-in analytics.
While a simple (and free) Google form can do you a lot of good, many businesses choose Polldaddy to take advantage of its more powerful and sophisticated survey capabilities.
With it, you can learn a thing or two from your audience when you build engaging surveys which ultimately give you the sorts of responses you need, in an easy-to-manipulate way, to make better informed decisions about product development, customer success and more.
Built by my company, Shareaholic's fully integrated content marketing suite includes a Related Content app and Social Share Buttons. These tools make it seamless to boost reader engagement and social media traffic.
By algorithmically surfacing contextually relevant articles your audience is most likely to engage with, the Related Content app works to drive targeted traffic to the best content within your website. Those recommendations lead to longer visitor time-on-site and increased page views per visit. Shareaholic's customizable Share Buttons also stand out, encouraging your users to become active promoters of your content.
For product-based businesses, WooCommerce is perfect. You can take an average WordPress site and turn it into an ecommerce machine.
WooCommerce is developed by the folks at WooThemes, a veteran within the WordPress community. The plugin's flexibility and expansive extension store allows you to sell anything. Best of all, it helps manage payments, shipping options, inventory management, reporting, marketing and tax, so you can worry about the fun stuff, such as designing your next blockbuster product.
In an increasingly mobile world, we all have to remember the importance of responsive design. A report from eMarketer suggests, "4.55 billion people worldwide will use a mobile phone in 2014." By 2017, 33.8 percent of our global population will be smartphone users.
A significant number of your visitors already spend a large chunk of their time browsing the web on their mobile devices. Fortunately, solutions such as WPtouch help make your site fully responsive, for both smartphone and tablet users. WPtouch also offers a wide variety of extensions so you can further enhance the mobile browsing experience for your visitors and capture more value from your hard-earned traffic.
source:http://www.entrepreneur.com/article/237814
Instagram is working on a new messaging app
Rivaling Snapchat, Threads will enable users to automatically share their location, movements, and battery life with their IG 'close friends' list
Now Facebook is a wasteland for your racist aunt and high school friends' wedding photos, the platform is determined to maintain its social media stronghold via Instagram and WhatsApp (sorry, 'Instagram and WhatsApp from Facebook'). Its latest venture? A new messaging app called Threads.
As reported by The Verge, Threads will be a companion app to Instagram, promoting constant sharing between users and their IG 'close friends' list. The app will enable people to automatically share their location, movements, and battery life with each other, as well as send text, photo, and video messages.
The development could be seen as another attempt to rival Snapchat – which already lets users share their location – following Instagram's introduction of Stories three years ago.
Instagram has been trying to develop the messaging side of its app since late 2017 when the company started working on Direct, a standalone camera-first app exclusively for DMs. The platform ceased work in May this year after research revealed users found it frustrating to switch apps when they wanted to send a message – although this is exactly what happened with Facebook Messenger in 2016.
Screenshots acquired by The Verge show that users have the option to switch on automatic sharing, but are also able to update their statuses manually. Although Threads encourages friends to share their location with one another, it will reportedly show updates like 'on the move', rather than a real-time location.
The app's main feed will show all messages, as well as friends' updates and active status, and will allow users to watch their close friends' IG stories as opposed to having to go back to Instagram to view them.
This announcement comes after a number of updates to the platform, including the removal of likes, an anti-bullying feature, and a tool to report fake news. Although, there's currently no launch date for Threads, and given Instagram's history with fucked-up trials, it may never even materialise.
Source: https://www.dazeddigital.com/science-tech/article/45768/1/instagram-facebook-new-social-media-messaging-app-threads-to-rival-snapchat
Massive change coming to WhatsApp with introduction of ads
WhatsApp will see a massive change by 2020 with the introduction of adverts into the instant messaging app.
It's been rumoured for a while and now WhatsApp looks set to finally bring adverts to its popular messaging app.
The Facebook-owned firm revealed the news during its annual Marking Summit in the Netherlands, with a rollout expected next year.
Photos of the way these new adverts will look have even been posted online with attendee Olivier Ponteville, giving fans a closer look at what's to come.
The image, which can be seen on Twitter, shows how ads currently appear on Facebook and Instagram with a WhatsApp screenshot then revealed with a full-screen advert.
According to technology website BGR, once the message appears users will be able to "swipe up when an ad appears for more information about the product or service being advertised."
Adverts in WhatsApp have been spoken about for a while but this is the first evidence that things are changing within the popular service.
How fans react is yet to been seen but it's unlikely to go down well with its billions of users.
The bad news is that it seems there's nothing that can be done to stop this new feature from arriving within the app.
It seems almost certain that there will be no way to switch them off or hide these paid-for messages which may prove to be hugely irritating.
Source: https://www.thenewsguru.com/technology/internet/article/massive-change-coming-whatsapp-introduction-ads/
Facebook Messenger finally adds quoted replies
Today Facebook Messenger has added a sorely missing feature – quoted replies. This allows you to reply to a specific message in a conversation, and is incredibly helpful when you're engaged in chats that have a big range of topics. Using the new feature, the people you're talking to will now know exactly what you were replying to with that "LOL", for example.
This has been a feature in WhatsApp, which is also owned by Facebook, for a very long time, and it's always been sort of a baffling omission in Messenger. So it's good to finally see it there too.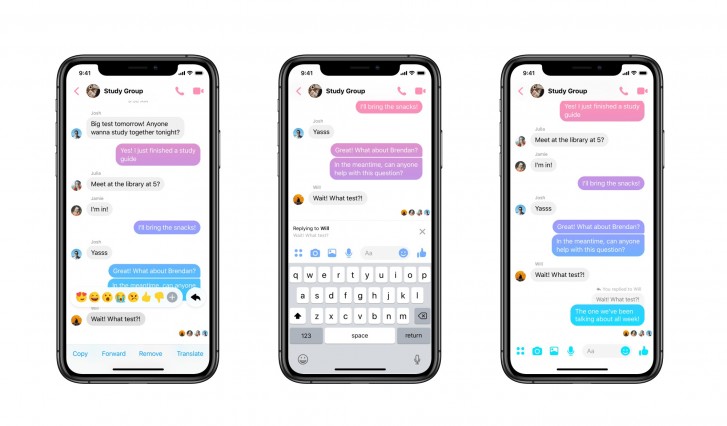 In order to quote a specific message, long tap on it and you'll see a new Reply button to the right of the reaction emojis. Tap that, write your reply, and, just like in WhatsApp, the message you're replying to will appear above your reply. Easy. This potentially means you'll have less misunderstandings with your friends as to which message was referencing what.
The feature is rolling out now on both iOS and Android.