China's smartphone giants reportedly unite to challenge Google's Play Store
Huawei, Xiaomi, and BBK's Oppo and Vivo are working together on a platform that will allow developers outside of China to upload their apps to all of the respective app stores simultaneously, Reuters reports. The manufacturers have joined together under the Global Developer Service Alliance (GDSA) in what appears to be an attempt to challenge the international dominance of Google's Play Store.
Since the Google Play Store is banned in China, Android users have grown accustomed to downloading apps from a variety of different app stores, many of which are maintained by manufacturers like Huawei and Oppo. But outside of China, the Google Play Store reigns supreme, providing a convenient single location where developers can upload their software. This near-monopoly means that third-party app stores have struggled with developer support internationally, and it's this advantage that could be challenged by the GDSA's platform.EACH MANUFACTURER OPERATES ITS OWN APP STORE IN CHINA
GDSA's prototype website notes that its services are planned for nine countries and regions, including India, Indonesia, Russia, and Malaysia. Reuters notes that the companies are strong in different regions, such as Xiaomi in India or Huawei in Europe. But together, they control over 40 percent of worldwide smartphone shipments as of the fourth quarter of last year. The new platform would make it easier for developers to upload their apps to every store at once while ensuring some degree of parity across app stores.
The Play Store's international dominance is a much more acute problem for Huawei, which lost its license to offer Google's apps and services last year, including the Google Play Store. This was such a problem that Huawei decided against officially releasing its last flagship, the Mate 30, internationally. The company has also announced it's working on its own operating system called Harmony OS, and it says it's investing $1 billion to fund the development, user growth, and marketing of Huawei Mobile Services, its alternative to Google's services.
The Play Store provides a significant revenue stream for Google, which takes a 30 percent cut of any sales made through the store. In total, it's thought to have made the company around $8.8 billion worldwide last year, according to one analyst quoted by Reuters. China's phone makers want a slice of that pie as handset sales slow globally.
Reuters reports that a March launch was planned for the new platform, but this may have been delayed due to the coronavirus outbreak.
Source: https://www.theverge.com/2020/2/6/21126118/huawei-xiaomi-vivo-oppo-app-store-platform-google-play-dominance-worldwide
SoundCloud Mobile Uploads Are Finally Here — Here's What You Need to Know
SoundCloud mobile uploads have finally arrived in the latest update for iOS users.
SoundCloud now allows iPhone users to upload tracks to their account using the app. Android users will have to wait as the feature is still 'coming soon.' SoundCloud is embracing mobile uploads at a time when most of the world's only internet access is through their phone.
A report from 2019 found that by 2025, three-quarters of internet users will access the internet from their smartphone. The study estimates that around 2 billion people only accessed the internet via their phones in 2019. Smartphone-only growth is led by people in countries like China, India, Nigeria, and Pakistan.
SoundCloud mobile uploads allow people to share their creations with the world, using only a smartphone.
Here's how to use the feature on the iOS app. Tap the upward-pointing arrow on the top right of the home screen. Then choose any supported audio file on your phone. Lossless HD files like FLAC, WAV, ALAC, or AIFF have the best audio quality.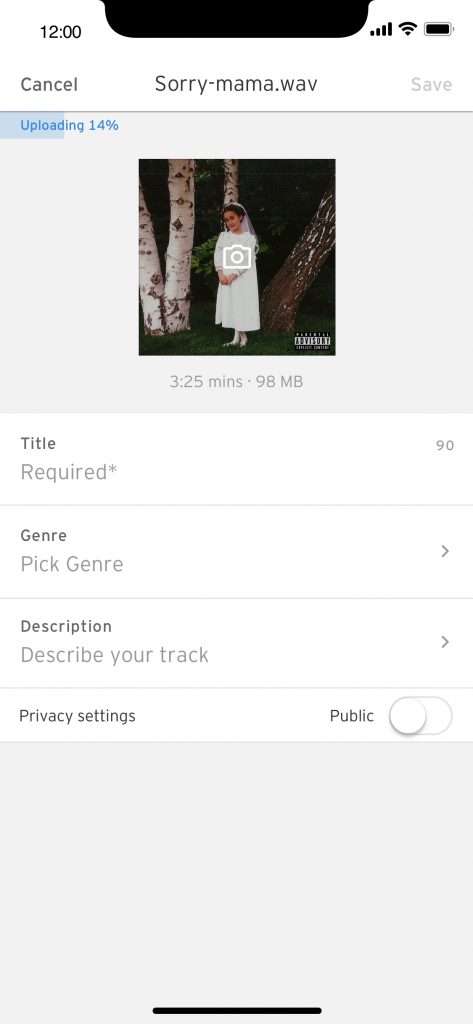 Once the song is uploaded, you'll be presented with a screen to correct metadata. Make sure everything is correct, add artwork, a title, check genres, and add a description of the track right from your smartphone. You can even check whether you want the track to be public or private.
Once you tap save, the track will display on your public SoundCloud profile. SoundCloud even features integration with Instagram Stories for quick-sharing tracks among your followers.
SoundCloud mobile uploads are the single feature users have wanted for years. Now the mobile app allows track, Spotlight, and profile editing as part of its mobile toolkit. That gives grassroots artists everything they need to maintain an online presence using their smartphone.Also Read: TikTok Signs Thousands of Indie Labels for Its Resso Streaming Music Service
It's a wise choice on SoundCloud's part – expanding its mobile presence means more artists are likely to choose it as a platform.
Source: https://www.digitalmusicnews.com/2020/02/18/soundcloud-mobile-uploads/
Samsung's Z Flip glass covering is ready for non-Samsung foldables
Samsung's display unit has provided further details on the glass used in the Galaxy Z Flip and pointed to its potential wider adoption on non-Samsung foldables in the future. Yonhap reports that the 30-micrometer-thick covering is the result of a collaboration with glass manufacturer Dowoo Insys, in which Samsung Display holds a minority stake. Samsung Display currently provides display technologies to a variety of smartphone manufacturers, including the OLED panels found in Apple's recent iPhones.
Although the Z Flip's display is covered by this new ultra-thin glass (UTG), the glass layer is protected by an additional layer of plastic that YouTube channel JerryRigEverything found was highly susceptible to scratching. Removing the plastic layer caused the screen to break (similar to what we saw with Samsung's original Galaxy Fold), which shows that the layer is still integral to the display unlike regular aftermarket screen protectors. Samsung Display claims that its glass is "tough, yet tender" and able to withstand 200,000 folds.
Nevertheless, commercialization of Samsung Display's ultra-thin glass is a big step for foldable devices, since companies now have a major manufacturer to turn to for their foldable glass needs. Yes, its durability has come into question, but that could improve over time as we've seen with each successive generation of Corning's Gorilla Glass.
Source: https://www.theverge.com/2020/2/19/21143505/samsung-display-ultra-thin-glass-foldable-display-galaxy-z-flip-commercialized
PS5 and Xbox Series X surprise reveal as key specs leak for BOTH consoles
What's going to be the better console: PS5 or Xbox Series X? It's certainly an argument that's been waged across quite a few message boards in recent months, as Xbox Series X was officially unveiled to the world. Meanwhile, a series of leaks and sly comments by Sony execs have given us an inkling as to what the PlayStation 5 will be capable of.
However, we still don't know which will be the better buy. Although the Xbox will come with no exclusive games at launch, if it proves to be the more powerful console in the long term, it could hurdle this barrier. Although some PS5 games will be exclusive, this is no guarantee of power. The stakes are high. And now, thanks to a recent link, we could finally have the answer we've been looking for.
Posted on 4chan's /v/ gaming board, the anonymous leaker posts what they claim to be specifications from the second, revised development kits, which means if true, these specs won't be too far off the finished product.
One the one hand, 4chan's lack of accountability means it's awash with misinformation. However, a leaker posting on the same board last month correctly predicted PlayStation's new tagline: "it's time to play". The tagline, incidentally, was hidden among a smorgasbord of PS5 info also disclosed by the same leaker, so we won't write anything off just because of the source.
The specs adhere closely to some of the rumours previously heard about the consoles, with the Series X being incrementally more powerful while the PS5 is set to edge it out in the GPU stakes.
Both consoles appear to have cores dedicated to ray tracing, the GPU technology that creates incredibly immersive, realistic environments. However, the PS5 also includes dedicated 3D sound cores too, something the Series X appears to lack.
As stated above, take this info with a whole heap of salt. In addition, although the kits are fairly advanced in the development process, things could change between now and release. We can't wait until the PS5 is officially revealed and both consoles' gamepads are in our hands, so we can compare them side-by-side. Not long now…