Is Social Media Actually Helping Your Company's Bottom Line?
When it comes to business, we talk too much about social media and expect too little. It's like the old joke about sales people: one person says, "I made some valuable contacts today," and the other responds, "I didn't get any orders, either." Companies measure the market results of their sales investments. But few have measures or even have accountable managers in place for their social media investments, and only 7% say their organizations "understand the exact value at stake from digital." Meanwhile,according to a Gallup survey, 62% of U.S. adults who use social media say these sites have no influence on their purchasing decisions and only 5% say they have a great deal of influence.
Consider:
The most common metrics for evaluating social media are likes, tweets, reviews, and click-through-rates (CTRs) for online ads — not cause-and-effect links between the medium and market results. The basic investment logic is typically no deeper than a version of "Fifty million tweets or likes can't be wrong" . . . or can they? There is justifiable skepticism about this data. Farming services spike these numbers, with evidence that one in three online reviews is fake. For $50, you can buy 1,000 Likes, 5,000 Twitter followers, or 200 Google +1s. With real people, moreover, 8% of internet users account for 85% of clicks on display ads, and 85% of social media updates come from less than 30% of a company's social-media audience. One online reviewer, Harriet Klausner, has reviewed more than 25,000 books.
A Forrester study found that posts from top brands on Twitter and Facebook reach just 2% of their followers (note: that's followers, not new customers) and only 0.07% of those followers actually interact with those posts. As others have noted, people are more likely to complete a Navy Seal training program or climb Mount Everest than click on a banner ad.
There are, as always, opportunity costs. Since 2008, according to a McKinsey study, companies have devoted more time and money to social networks and 20% less to e-mail communications. Yet, the same study found that humble e-mail remains a more effective way to acquire customers — nearly 40 times more effective than Facebook and Twitter combined. Why? Because 90% of U.S. consumers use email daily and the average order value is 17% higher than purchases attributable to those social media.
Technology changes fast — remember MySpace and Friendster? — but consumer behavior changes more slowly. As a result, people tend to overhype new technologies and misallocate resources, especially marketers.
When banner ads first appeared their CTR was 10%, but that soon fell due to heavy usage by firms, and clutter. Research has long demonstrated that ad elasticities are generally very low, that firms often persist with ineffective ad media (because they have the wrong measures or no measures), and that companies routinely over-spend on ads (due to ad agency incentives, the fact that ad expenses are tax-deductible, and companies' use-it-or-lose-it budgeting processes). Other research indicates that traditional offline consumer opinion surveys (when they use representative samples) are better at predicting sales than clicks, number of website visits or page views, positive or negative social media conversations, and search (although online behavior is good at tracking the reasons behind week-to-week changes in sales.)
With new media, therefore, great expectations are common and missing the goal is understandable: it takes practice and learning. But changing or dismantling the goal posts is a different story.
It's now common to say that social media is "really" about awareness, not sales. Companies that "get" social media should be "relentless givers [who] connect instead of promote." In fact, forget "traditional" ROI (that lovely qualifier), focus on consumer use of social media and, instead of calculating the returns in terms of customer response, measure the number of visits with that social media application. How convenient: to be evaluated with a metric without tangible marketplace outcomes. But it's wrong, a circular argument, and smart companies should not follow this flawed business logic.
The value of any advertising, online or offline, depends on what effects it has on purchases. As Bill Bernbach, David Ogilvy, and other ad execs have emphasized, "our job is to sell our clients' merchandise, not ourselves." Those effects are difficult to measure, because consumers buy (or not) for many different reasons and even good ads in the right media have both carryover and wear-out effects that vary over the product life cycle and an ad campaign. But to justify an investment by activity and not outcomes is a tautology — we advertise because we advertise — not a meaningful business argument.
Even an activity measure, moreover, assumes the consumer can see the ad. Did you know that a display ad is deemed "viewable" if at least half of each ad is visible on your computer or smart phone for a minimum of one second? Data released in 2014 by comScore indicated that more than half of online display ads appear on parts of a web page that are not viewable. In response, the Interactive Advertising Bureau noted that for various reasons 100% viewability is "not yet possible," but the industry should aim for 70%. In other words, hope that "only" 30% of your intended ads are not seen by anyone for at least a second!
Further, what we now know about shopping and social media activity says that online and offline behavior interact. They're complements, not substitutes, and you ignore these interactions at your peril. The vast majority of communications on social media sites are between friends who are within 10 miles of each other. The same is true about the available data on buying behavior. As Wharton professor David Belldocuments, the way people use the internet is largely shaped by where they live, the presence of stores nearby, their neighbors, and local sales taxes.
For years now, we have heard big talk about the big data behind big investments in social media. Let's see who is behind the curtain. It's time to expect more from social media and prove it. The Association of Advertising Agencies has refused to endorse the 70% goal and wants 100% viewability, which means if an advertiser buys 1 million impressions from a site, that site must display that ad as many times as it takes to ensure a million viewable impressions. In 2014, The Economist guaranteed those who buy space on its apps and website that readers will spend a certain amount of time there. For instance, it will guarantee that a site containing an ad appearing for three weeks will receive X hours of readers' attention — documenting, not assuming, engagement with the medium.
Other companies try to trace the links (or not) between online platforms and sales outcomes. They buy point-of-sale data from retailers and have systems that purport to match Facebook or Twitter IDs, for example, with a given campaign and subsequent retail sales for a product. The validity of these approaches is still to be determined. And the FTC has raised concerns about privacy issues and disclosure practices, and has urged Congress to pass legislation to give consumers the right to opt out. But shining light on what does and doesn't happen here will be a good thing.
Business success requires linking customer-acquisition efforts with a coherent strategy. You can't do that if you are not clear about the differences between hype and reality when it comes to buying and selling. And we should care about this distinction for reasons that go far beyond making even more ads more viewable. Companies' abilities to make better use of their resources are important for society, not only shareholders. It spurs productivity, and productivity — not just tweets and selfies — is what spurs growth.
source:https://hbr.org/2015/03/is-social-media-actually-helping-your-companys-bottom-line
Instagram is working on a new messaging app
Rivaling Snapchat, Threads will enable users to automatically share their location, movements, and battery life with their IG 'close friends' list
Now Facebook is a wasteland for your racist aunt and high school friends' wedding photos, the platform is determined to maintain its social media stronghold via Instagram and WhatsApp (sorry, 'Instagram and WhatsApp from Facebook'). Its latest venture? A new messaging app called Threads.
As reported by The Verge, Threads will be a companion app to Instagram, promoting constant sharing between users and their IG 'close friends' list. The app will enable people to automatically share their location, movements, and battery life with each other, as well as send text, photo, and video messages.
The development could be seen as another attempt to rival Snapchat – which already lets users share their location – following Instagram's introduction of Stories three years ago.
Instagram has been trying to develop the messaging side of its app since late 2017 when the company started working on Direct, a standalone camera-first app exclusively for DMs. The platform ceased work in May this year after research revealed users found it frustrating to switch apps when they wanted to send a message – although this is exactly what happened with Facebook Messenger in 2016.
Screenshots acquired by The Verge show that users have the option to switch on automatic sharing, but are also able to update their statuses manually. Although Threads encourages friends to share their location with one another, it will reportedly show updates like 'on the move', rather than a real-time location.
The app's main feed will show all messages, as well as friends' updates and active status, and will allow users to watch their close friends' IG stories as opposed to having to go back to Instagram to view them.
This announcement comes after a number of updates to the platform, including the removal of likes, an anti-bullying feature, and a tool to report fake news. Although, there's currently no launch date for Threads, and given Instagram's history with fucked-up trials, it may never even materialise.
Source: https://www.dazeddigital.com/science-tech/article/45768/1/instagram-facebook-new-social-media-messaging-app-threads-to-rival-snapchat
Massive change coming to WhatsApp with introduction of ads
WhatsApp will see a massive change by 2020 with the introduction of adverts into the instant messaging app.
It's been rumoured for a while and now WhatsApp looks set to finally bring adverts to its popular messaging app.
The Facebook-owned firm revealed the news during its annual Marking Summit in the Netherlands, with a rollout expected next year.
Photos of the way these new adverts will look have even been posted online with attendee Olivier Ponteville, giving fans a closer look at what's to come.
The image, which can be seen on Twitter, shows how ads currently appear on Facebook and Instagram with a WhatsApp screenshot then revealed with a full-screen advert.
According to technology website BGR, once the message appears users will be able to "swipe up when an ad appears for more information about the product or service being advertised."
Adverts in WhatsApp have been spoken about for a while but this is the first evidence that things are changing within the popular service.
How fans react is yet to been seen but it's unlikely to go down well with its billions of users.
The bad news is that it seems there's nothing that can be done to stop this new feature from arriving within the app.
It seems almost certain that there will be no way to switch them off or hide these paid-for messages which may prove to be hugely irritating.
Source: https://www.thenewsguru.com/technology/internet/article/massive-change-coming-whatsapp-introduction-ads/
Facebook Messenger finally adds quoted replies
Today Facebook Messenger has added a sorely missing feature – quoted replies. This allows you to reply to a specific message in a conversation, and is incredibly helpful when you're engaged in chats that have a big range of topics. Using the new feature, the people you're talking to will now know exactly what you were replying to with that "LOL", for example.
This has been a feature in WhatsApp, which is also owned by Facebook, for a very long time, and it's always been sort of a baffling omission in Messenger. So it's good to finally see it there too.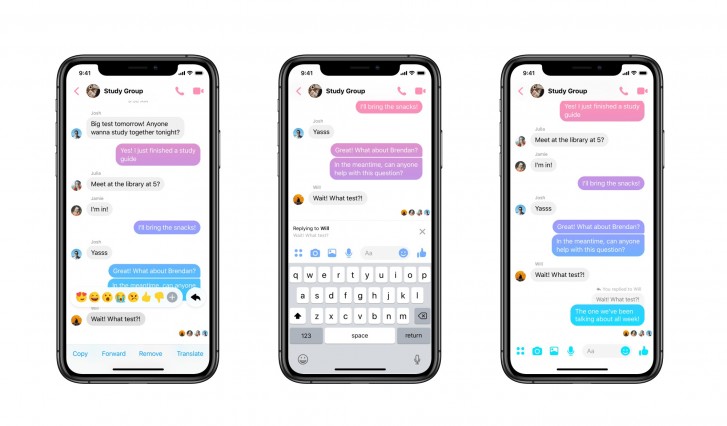 In order to quote a specific message, long tap on it and you'll see a new Reply button to the right of the reaction emojis. Tap that, write your reply, and, just like in WhatsApp, the message you're replying to will appear above your reply. Easy. This potentially means you'll have less misunderstandings with your friends as to which message was referencing what.
The feature is rolling out now on both iOS and Android.