Next Apple Watch Series 6 will have even more features
Before we get another Apple Watch, it's going to be by Fall of the year 2020 which is the time we'll be seeing the likes of the Apple 12, 12 Pro and the 12 Pro Max (what we think they'll be called at least) meanwhile, there's a lot of room for more and as more rumors breaks about the Watch 6, it's obvious the device is going to trump the previous model and be a really better upgrade. Below are a list of what we're expected to see when the Apple Watch 6 gets released all based on rumors and Apple patents.
A new round design might be implemented
Way back since the first Apple Watch back in 2014, there hasn't been much changes as the device's looked very similar to one another as the generation progresses. This new model might just be a few tweaks here and there with slightly larger display, a different design materials as well as a different watch band designs.
There has been rumors of a circular watch face in the Apple Watches since way back but Apple do release the square face. Compared to the likes of Galaxy Watch, Amazfit Verge, Huawei GT, most of which have circular designs, Apple might just be the next on the line. Another thing that might confirm the rumor is the fact that the company has issued a couple Apple Watch patent that shows a round display.
But not to get too excited as this isn't official yet as it's just a possibility. Changing the display from square to circle will mean Apple has to go through a ton of reworks which includes redesigning both the software and the hardware to fit this changes so there is no guarantee about it.
Even more watch faces
Apple Watch will add more to its tons of watch faces which ranges from the likes of Disney Characters to animated weather interfaces. The fact remains the company probably won't be ditching its third-party watch faces so soon.
What Apple might also be including this time is the ability to share those watch faces according to 9to5Mac with each watch face being configurable and can be shared as a unique file through Airdrop.
The report, which cites leaked iOS 14 code as the source of its information, also says WatchOS 7, the next version of Apple's smartwatch software, will add an analog-style tachymeter to its design options that would measure speed and distance.
Another interesting thing is the ability to share albums from photos app and create a customised watch face that cycles through the photos in that album. That can give family members the opportunity to add up individual photos to the shared album for everyone in the group to see on their wrists I think that might not be gimmicky.
Lastly, for patriotic users, WatchOS 7 may add an "international" option that lets you choose a country's flag as your watch face so God Bless America.
A native fitness app that works with the core
Good fitness feature is very important and that has been the core functionality of the Apple Watch ever since its been launched and that might be further enhanced now this new year.
MacRumors has it that the company I'd working on creating a standalone fitness application which unlike the current Activity application which tracks your progress and already on the Apple Watch, the new upgrade or should I say new app will guide workout activities which includes running, cycling, rowing, strength training, dance and yoga.
While there are tons of third-party applications that do just this, the fact that Apple is creating something native to the WatchOS 7 core might be a good intention this time around. The app won't be limited to just the watch but also the iPhone and the Apple TV which might be free to download.
Also there's no evidence of in-app purchases but do not rule out the possibility of subscription based services such as the Apple music just yet.
Native sleep tracking may finally arrive
Sleep tracking might be coming natively to the device. Apple acquired Sleep sensor Beddit, a tracker that sits right underneath your mattress back in 2017. The rumor that Apple could incorporate this two devices into one another might be a good thing.
So the inclusion of a Sleep Watch might be a great thing and not to forget about the accidental mention through a screenshot of Apple's preinstalled Alarm app in the App Store. The image was spotted by a reader of MacRumos back in October, and has since been removed.
By using third-party services, users of the Apple Watch can access sleep tracking but implementing it right into the core of the watch system will be a big improvement that will also impact on the device's battery life.
This would likely drain the battery much faster. It's in the company's best interest to solve this issue soon though; many Apple Watch competitors like Fitbit and Samsung have had it on their devices for years.
More health features are coming
Wellness applications will continue to expand throughout the device's ecosystem with bthe biggest feature being the SPO2 tracking which is going to measure the level of Oxygen in your blood and alert you in case there's any abnormal count.
The Apple Watch already does something similar with heart rate, and alerts you if it detects an abnormally high, low or irregular heart rhythm.
The current sensors on the Apple Watch 5 won't be able to do just this and so there could be need for other type of sensors such as the Pulse Oximeter but implementing it right within the current hardware might not be easy.
Other health rumors include glucose and blood-pressure monitoring on the next Apple Watch, but these could be further off.
Parental controls coming to new IOS
The next big thing on the Watch 6 includes a more better parental control which is also rumored to come on the iOS 14 which will allow two Apple Watches to be setup on a single iPhone which can allow parents to keep tabs on their kids but not to buy them an iPhone.
Source: https://www.brumpost.com/next-apple-watch-series-6-will-have-even-more-features/
HTC's first 5G phone may debut in July, could be a flagship phone
A recent report had revealed that HTC is working on a mid-range phone called HTC Desire 20 Pro even though it has been encountering losses in its smartphone business. The Taiwanese company is reportedly gearing up to launch its first 5G smartphone in July. It could either be a high-end of a flagship smartphone. The HTC Exodus 1 and HTC U12+ that went official in 2018 were the last flagship phones from the company.
In a recent interview, HTC Taiwan Chen Boyou said that when 5G arrives in Taiwan, HTC will also launch 5G-ready smartphones. It is speculated that the first 5G phone from HTC will debut in July. There is no word on the name and specifications of HTC's first 5G smartphone. Hopefully, more details on the device will appear in the near future.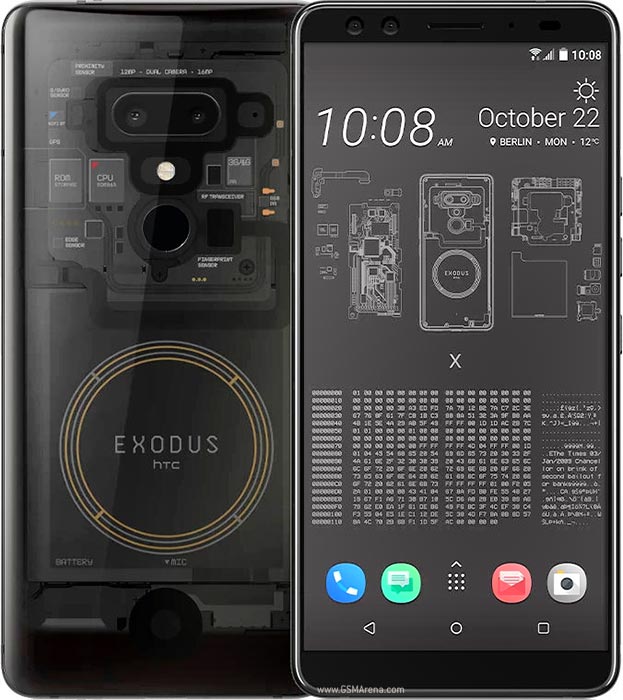 On the other hand, HTC is also planning to launch a 4G smartphone in June. The name of the device is not known yet. However, there is a possibility that it could be the HTC Desire 20 Pro smartphone.
The Desire 20 Pro is speculated to be equipped with a Snapdragon 665 mobile platform and 6 GB of RAM. Its back panel may sport a triple camera system and a fingerprint reader. It could be the first punch-hole display phone from the company.
Source: https://www.gizmochina.com/2020/05/25/htcs-first-5g-phone-coming-in-july-could-be-a-flagship-phone/
Here's what Xiaomi's first phone with an in-display selfie camera might look like
What you need to know
A new patent may have revealed the design of Xiaomi's first smartphone with an in-display selfie camera.
Xiaomi and OPPO had shown off their in-display camera tech last year.
Xiaomi doesn't expect phones with in-display selfie cameras to become a reality this year.
In June last year, popular Chinese smartphone maker Xiaomi showcased a Mi 9 prototype featuring an in-display selfie camera. While Xiaomi isn't likely to launch its first phone with an in-display selfie camera anytime soon, a new patent discovered by Dutch tech site LetsGoDigital has revealed two designs that the company could be working on.
Source: LetsGoDigital
As can be seen in the image above, the two designs are nearly identical, with the only difference being the location of the in-display selfie camera. The design sketches reveal a phone with a flat display, instead of the curved screens seen in Xiaomi's Mi 10 series phones. As described in the patent filing, the screen area above the selfie camera becomes transparent when it is in use. When it is not activated, the area is displayed normally like the other parts of the screen.
While it is certainly possible that Xiaomi's first phone with an in-display camera could feature a very similar design to the sketch above, it isn't guaranteed. Even though Xiaomi has been working on in-display cameras for a long time now, the company's Vice President said in March this year that it might take a long time for the first phone with the technology to become available. Thanks to the high pixel density of displays on modern phones, in-display cameras do not receive enough light to deliver acceptable image quality.
Xiaomi isn't the only smartphone maker currently working on in-display cameras. OPPO and Samsung are also working on the technology, although neither of them has confirmed any plans of commercializing it yet.
Source: https://www.androidcentral.com/heres-what-xiaomis-first-phone-display-selfie-camera-might-look
Motorola's answer to the Samsung Galaxy S20 is coming April 22
Motorola is revealing its next flagship smartphone series to rival the Galaxy S20 lineup on April 22, according to a tweet shared by the Chicago-based company today.
The Motorola Flagship Launch E-vent will be next Wednesday, April 22 at 11 a.m. CT/12 p.m. ET. Motorola is expected to unveil two new 'Edge' devices at the online press conference, including the standout Moto Edge Plus.
It's arriving. Join us for the Motorola Flagship Launch E-vent, April 22nd, 11AM CDT.2664:10 PM – Apr 13, 2020Twitter Ads info and privacy116 people are talking about this
The Edge series is positioned to replace the modular Moto Z family, which first launched back in 2016. In our Moto Z4 review, we found Motorola's latest handset to  provide a decent 5G-ready experience for a budget price, but it lagged against competitors like the Google Pixel 3a. If rumors about the Moto Edge's processing boost prove true, it could being the company back into the premium flagship market.
The Moto Edge Plus reportedly features a Snapdragon 865 processor, which is the same chipset powering all the Samsung Galaxy S20 phones as well as the LG V60 ThinQ 5G.
Motorola's new phone is also rumored to sport a 6.67-inch display with a faster 90Hz refresh rate, catching the Edge Plus up to the likes of the Google Pixel 4 and OnePlus 7T. We're also expecting a 5,000-mAh battery, and a triple camera array led by a 108-megapixel main sensor and a 25MP camera up front.
We also expect to see a budget Edge device offered alongside the Edge Plus, which could pack less powerful hardware and smaller 64-megapixel main sensor.
Of course, this is all speculation. The Motorola Flagship Launch E-vent's teaser video doesn't confirm any of previous leaks or rumors, but we could learn more as the announcement date approaches.
Source: https://www.tomsguide.com/news/motorolas-answer-to-the-samsung-galaxy-s20-is-coming-april-22