China has become the new global leader in smart speaker shipments (BABA, GOOGL, AMZN)
Global smart speaker shipments experienced upheaval in Q1 2019, with the US and China swapping spots as the largest market by shipments, according to Canalys. The US accounted for just 24% of smart speaker shipments in Q1 2019, down from 44% in Q4 2018, while China grew almost 500% from the previous quarter to account for 51% of the market.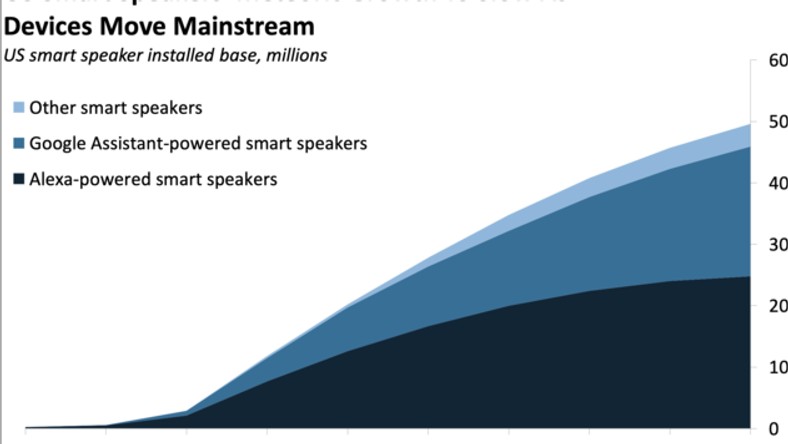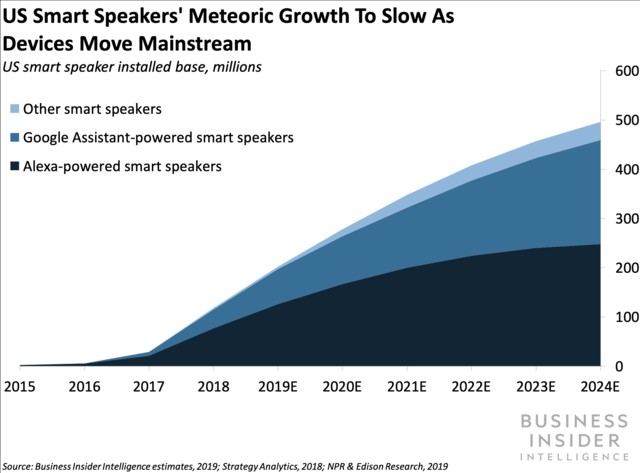 Business Insider IntelligenceUS Smart Speakers' Meteroric Growth to Slow as Devices Move Mainstream
Here's what it means: The Chinese smart speaker market is gaining traction, as its share of shipments reached an all-time high.
Chinese smart speaker makers Alibaba, Baidu, and Xiaomi all experienced meteoric growth in Q1.Alibaba's smart speaker shipments grew over 200% YoY to 3.2 million, Xiaomi's grew over 400% YoY to 3.2 million, and Baidu was able to ship the most smart speakers of the three (3.3 million) despite only entering the market in Q2 2018.
The Chinese smart speaker market, led by the above-mentioned companies, shipped more units than the US market, led by Google and Amazon.Google and Amazon shipped 8.1 million smart speakers in Q1 2019, while the trio of major Chinese vendors shipped a collective 9.7 million smart speakers. None of the Chinese players have individually surpassed Amazon or Google in shipments yet, though.
Chinese companies enjoy native advantages in their home market compared with US competitors.US companies like Amazon and Google are at a disadvantage in China because they lack the same working relationships that likely exist between Chinese device makers and Chinese tech companies that make ubiquitous platforms like WeChat. Moreover, US companies likely lack access to an established local developer community for their products. These weaker relationships can leave their devices with poor integrations with popular local apps and services, or without access completely, making their devices less attractive to consumers.
The bigger picture: As the US smart speaker market begins to leave its growth stage and enter a maturity stage, Amazon and Google will likely find it difficult to maintain their spots as the top global smart speaker providers, and will turn to services to drive higher revenue as growth slows.
In 2018, 35% of US smart speaker households owned more than one smart speaker, up from 18% a year earlier. To capitalize on the existing base of US smart speakers, market leaders Amazon and Google can turn to services such as voice app stores and subscription services to drive higher revenue.
Amazon already has a wide offering of almost 60,000 voice apps for its Alexa-enabled smart speakers, while Google has just over 4,000. The companies can monetize these apps by taking a cut of the apps' revenue and in-app purchases, like Apple does from its App Store, for example.
Source: https://www.pulse.ng/bi/tech/china-has-become-the-new-global-leader-in-smart-speaker-shipments-baba-googl-amzn/214lh08
All in: From recovery to agility at Spark New Zealand
Three members of the telco's top team describe the challenges and rewards of implementing agile rapidly—and the power of a "no plan B" approach to change.
All in: From recovery to agility at Spark New Zealand
DOWNLOADABLE RESOURCES
Big organizational changes are tough to pull off for any company, and arguably harder still for one with roots as a state-owned monopoly in a relatively small market. Yet for Spark New Zealand, the country's incumbent telecom operator, embracing change has been a way of life since late 2011, following the demerger of its fixed-access network.Sidebar
Meet the team: Spark's leadership squad
Coming out of the split, Telecom New Zealand (as Spark was then known) faced significant challenges. Technology was changing quickly, historically important revenue lines were declining at speed, and the company was increasingly competing for customer attention with digital natives such as Netflix and Spotify.
In response, Telecom New Zealand embarked in 2013 on a turnaround program to lower its costs, rebalance its portfolio, and build the "performance muscle" the company would need to thrive. Telecom's longer-term goal was ambitious: turn away from its legacy infrastructure–oriented focus and aspire to become a true digital-services provider—effectively embracing the disruption sweeping the sector. Along with this move came a new name: Spark New Zealand, in 2014.
Making the shift, however, required a faster operational cadence. This led company leaders in 2017 to make the bold decision to implement agile work practices company-wide and, effectively, to take an agile approach to go agile. The resulting launch moved some 40 percent of Spark's employees into cross-functional teams (or tribes), comprising people from IT, networks, products, marketing, and digital. The agile transformation of the rest of the business began immediately after and has since reached all parts of the organization.
In this commentary, three of Spark's top leaders—outgoing managing director Simon Moutter, customer director Jolie Hodson (slated to succeed Moutter as CEO in July 2019), and HR director Joe McCollum—describe the arc of change at the company, as well as how they are confronting the challenges together as a "leadership squad." Taken together, their observations underscore the importance of a joined-up top team in securing change—even when the changes require significant mind-set shifts for themselves personally.
This commentary is adapted from interviews with McKinsey's David Pralong, Jason Inacio, and Tom Fleming.
Time for a reset
Jolie Hodson: I joined Telecom New Zealand—as it was then known—as CFO in 2013, coming from a different industry. It was interesting to watch the behaviors and see how siloed an organization we were at that point. I recall some of the early conversations. Invariably, the sentiment would be, "We're largely all good here; you should go have a look at that part of the company over there, because there's something going on there you should be across." The other thing I noticed was a lot of statements started with "Simon says," like the children's game. And I thought: hmm, this is curious, because I didn't get the sense that Simon was that kind of leader. I think it was revealing about accountability and people's mind-sets and people feeling they needed to use someone else's power to have certain kinds of conversations. At this point in time, the company's level of organizational health was low, and we knew we had a massive job to do.
Joe McCollum: Back then, the analysts regarded us as one of the poorest-performing telcos in the sector. If you're an organization in a fast-changing industry, and the rate of change externally is greater than the rate of change internally, then pretty soon you're going to be out of step. It showed up as a lot of senior people playing out of position, in duplication of responsibilities. People honestly believed that the "good old days" would one day return and everything would be fine, which lulled us into believing we had all the time in the world to bring a new product to market. Whereas, in reality, you've got two, three months.
The result was missed targets. Drawn on a chart, it looked like a hairy spider leg—the result of all the business plans saying that performance would go one way when the actual performance of the company is going the other way. Yet here we were, happily writing business plans that purportedly solved the problem [see exhibit].Play VideoPreparing for changeThree Spark New Zealand executives describe their decision to go agile and how they needed to get beyond the "foosball table" model of change.
Simon Moutter: When I returned to Telecom as CEO in 2012, what I found was a company that was still in decline; we had a group of very capable people, but we were way too comfortable with losing. There was too much of everyone trying to do each other's jobs, thinking they all had a veto right. It's hard to get anything to happen when you need 30 people to say yes but only one person to say no [to stall a decision]. We had a lot of work to do giving teams clear roles to play and the accountability to deliver—this was critical in getting the organization reset. We also needed big investments in leadership and management capability, because those skills go soft when you're in a losing company for a long time.
Jolie Hodson: We needed a mind-set of accountability, and the daily rhythm it takes to be a retailer. We also needed to be much sharper about how we spent our money—getting everyone to value a dollar like it was their own. If I think of Everest as an analogy, then getting to base camp was all about business turnaround—buying into businesses that provided growth, exiting ones we didn't need to be in, slimming down the organization where we needed to—and getting the mind-sets right. And by the end of 2015, we had achieved a dramatic shift in mind-sets and put the company back on a growth trajectory.
The other thing that happened was that Simon made a courageous call about our brand. We didn't believe the Telecom brand could evolve in the way we needed to support the journey we were on. So Simon made the call to shift to Spark. And we've not looked back since then [see sidebar "'Is this a scam?': Taking a rebrand from skepticism to support"].
Go agile to be agile
Jolie Hodson: As we looked around [after the turnaround phase], we thought: Do we have the "oxygen" to get to that next level? How do we make the choices? And what's really going to get us there? We didn't think it was so much about the what—we knew the goals we should be focused on and what we needed to do. Agile was much more about how we would get there.
Simon Moutter: The decision that we made in late 2017 to go "all in" with agile was not without experience of agile. What we felt wasn't so much doubt about whether agile was a good thing or not, it was deciding: Can it be a powerful thing if we apply it to the whole business, rather than to areas that we would know it to be suited? I admit that at first I wasn't really willing to engage strongly in considering it—until I saw a groundswell from our people and from the leaders who reported to me that they were convinced. They believed in it and were also up for what it implied and what we would have to do to make it real.Sidebar
"Is this a scam?": Taking a rebrand from skepticism to support
Our leadership team visited a range of agile companies, some born agile, others that had built agile units, and one or two that had tried large-scale transformations. What I was looking for was a model that would work for a highly performance-driven business that has a lot on the go at any one time, by necessity, and was very focused on delivery.
I was impressed when we visited ING; I thought ING's model was structured, performance driven, and very applicable in our context—"agile for grown-ups," if you like. It was less about beanbags and foosball tables and more about real delivery action, and that gave me confidence that there was an outcome that—if we could deliver it—would make a big and enduring difference.
We're in a very constraint-driven world and knew that in our industry, 'agile for kids' wouldn't work.
— Joe McCollum
Joe McCollum: With all the bells and whistles, you can have a lot of fun with agile if you're a start-up looking down the barrel at an unbelievable level of growth. But if you're a big company in a low-growth industry, then it's very different. We're in a very constraint-driven world and knew that in our industry, "agile for kids" wouldn't work. Having regained the performance ethic, we needed to use agile to hold onto it—and to strengthen the performance muscle that we had put into this company. For us, it was about "How do we get better at what we're doing?" We saw agile as the next logical progression.
Jolie Hodson: We came back to New Zealand and went away for a couple of days as a leadership squad. Simon was pretty clear that as a business this wasn't a decision that only some of us could make. We were either all in and hugely committed or we weren't going to make it. There isn't a halfway ground with agile, certainly not going agile at this scale—because the old way of working would absolutely rub up against the new way of working. To be clear, we were doing this for improved customer experience, speed to market, and to empower our people. If we had two models clashing, it would be like being in molasses.Play VideoTaking the leap to agileA closer look at how Spark New Zealand's executive team designed the company's transformation and found the courage to go "all in," versus taking an incremental approach.
Joe McCollum: We sat around the table and said, look, we can move the company into agile; we've got two ways of doing it. We can either sit back and task ourselves with getting everything right, maybe dabble about with customizing the model, the language, and then we'll move to agile in two years' time. Or, why don't we give it a big run now instead? We'll try and get as much stuff right as we can manage; we'll have a bit of faith in the agile model in terms of design and effort. We'll put it all into agile, and we will openly tell our world: "We're going agile to be agile." Which means that we're not arrogant enough to think that we've got it right from the outset. We're totally open to learn and change.
Simon Moutter: You've got to do a lot of personal counseling of yourself, and the team needs to stay tight. It's not a situation where you can have the leadership team start to show any cracks in their intent. It's about belief, about being super committed, turning up multiple times a week as a team and working for hours if necessary to clear roadblocks, to solve a communication gap, to make a decision, to apply resourcing—whatever it takes to get to the outcome.
We thought the risks were higher going slow than going fast. When you're in a business like ours, you have to execute across a couple hundred initiatives in parallel, into multiple markets, across multiple infrastructures, with all sorts of different people. And we make our overall numbers as the sum of a thousand small numbers. It's not a straightforward path. The risk of getting caught in no-man's-land—with one foot in the old world and one foot in the new—felt much higher to us than the risk of jumping across the line with both feet and using the agile ways of working to get better at agile itself.
We weren't prepared to spend more than eight months to get from the start of the program to what we called "flip day," the day we moved the engine room of the company into an agile model. And we took a "no plan B" approach. We simply never entertained the idea of failing, and I think that mentality is critical. If you have a get-out-of-jail card, you almost inevitably roll back to it.
New ways of working
Simon Moutter: We've been able to build excitement and a sense of pride around becoming the first telco in the world to go "all in" agile. We were able to engage our staff in the excitement of that possibility—that it wasn't like any old restructure that we've had in the past; it wasn't like shuffling deck chairs on the Titanic. It was genuinely an inspirational new possibility, pivotal to delivering on our ambition to become a digital-services company.
Our people bought into that vision quite quickly, and we backed it up with the most massive internal-communications program I've ever been associated with. It was extraordinarily well handled by the team, but it was a heavy load on leaders. A lot of face-to-face fronting up, lots of work to keep everyone excited about the potential.
Of course, we had people who were concerned, who were doubtful, who wondered if it might not be for them or if they were too old to get it or whatever. We had all of those emotions, but, actually, 98 percent of our people made the leap to say, "Well, I'm going to try it, this sounds like it could be a good thing." They recognized that it creates a lot of opportunities for people.
Jolie Hodson: When you're thinking about your organization in a completely new way, you can start with a clean piece of paper. What do we want it to look like? What is the mix of experiences? What are the capabilities we need? We took risks on people—people leading tribes and chapters—much bigger risks than we probably would have in the past. We've changed the leadership profile, which is a good thing. It's meant some people have been able to accelerate very quickly by having courage, taking risks, demonstrating new mind-sets.
A squad can make a single choice off its backlog, and the minute they do, all ten people are very focused on the outcomes.
— Simon Moutter
Joe McCollum: In our pre-agile world, we would have had seven or eight layers between the top and bottom of the company. Now, across much of the company, we have three. The result is that things are massively faster. When you talk to people, you hear things like, "We're getting stuff done now in two weeks that used to take us three months." Emails have dropped off significantly, because back when the developers lived in one part of the building, and the marketing people lived over there, and the product people were in another part of the building, just to organize a meeting was 27 emails. All of that has gone. Now, there's ten of us sitting around a table. In fact—and not surprisingly—there's been a big drop-off in the use of our designated meeting rooms because of this. When you have a multidisciplinary team already working together around a table, why bother getting up and decamping to a meeting room in another part of the building when they could simply stay where they are and solve the problem in real time?Play VideoGaining an agile mind-setLeading in an agile organization required Spark New Zealand's executive team to challenge their long-held views on leadership.
The decision making is also a lot richer now, and transparency improved immeasurably. I can't stress this enough. Otherwise, you're in a world where people come in to work, they do their little bit, they go home, but they may have no idea where that fits into the big scheme of things. Agile puts direct ownership and real-time accountability with the squad so that they have absolute clarity about where it all fits now. That's where the engagement comes from—employee engagement goes off the chart because people have richer jobs, they've got a broader perspective, and they're focused on solving problems. They don't feel like hamsters—they feel like they're part of a squad that's on a mission.
Jolie Hodson: If you think about getting a product to market the old way, it could be quite slow, involving an idea working its way through multiple groups. In an agile setting, you're starting with having all the people in the squad who can largely give you an end-to-end capability. We even have customers work with us on some of these squads, too, which exponentially speeds up the time from idea to design to commercialization.
For example, we've partnered with Network for Learning to provide the fiber broadband and security layers to 2,500 New Zealand schools. In the past, the design process alone would take many months, with lots of documents flowing back and forth before testing or any migration of schools even started. Whereas in an agile model, we've already designed the new solution, rolled out the proofs of concept for different-sized schools, and migrated half of the schools in eight months. This would never have happened at that pace in the past. And it's changed the way we work with the customer. They didn't come to the squads to observe—they were coming to be part of the change, to have tasks and responsibilities like any other squad member. It helps them refine their own thinking and helps us build a much stronger working relationship.
Simon Moutter: I'm a crusty old guy from a long way back. [Laughs.] And having become a believer in agile rather than being born that way, I boil down the advantage to the fact that a squad can make a single choice off its backlog, and the minute they do, all ten people are very focused on outcomes delivered in short cycles. And they hold each other to account; it's the peer-to-peer accountability that delivers it. They're empowered by their ability to make choices and get on with it, with a high degree of confidence that they're doing the right thing.
Leadership challenges
Jolie Hodson: In a more command-and-control environment, the mind-set is about working in your narrow center of functional expertise, getting your stuff done, and moving it to the next area of the business. Agile, by contrast, is very much focused on: "How do I work across this group to deliver the outcome?"
There's a fluidity that's new; you've got a 90-day set of priorities, and at the end of those 90 days if we haven't achieved the outcomes then we may not progress the initiative further. That's quite different for a leader who is used to having their own sandbox, where they know the resources they have at the start of the year, and—so long as they're doing what they said they'd do—they might otherwise take the attitude of "speak to the hand."
Behaviors like listening and collaboration become more important. Curiosity and openness to other perspectives are critical too. You're creating a little silo of a tribe, but it's vital that these tribes work well across the company to get things done for customers.
Simon Moutter: By and large, decision making in a hierarchy occurs inside business units. A well-organized business unit will have most of the degrees of freedom it needs to solve problems, reallocate resources. It doesn't often have to branch across to other units to make trade-offs. That's not the case in our model. Decision making requires more clarity around priorities, and mechanisms for collaboration.
There's a risk in traditional organizations that leaders get a lot of status, a lot of control, and they lose sight of what's really going on.
— Joe McCollum
Joe McCollum: It puts pressure on leaders to be doers. There's a risk in traditional organizations that leaders get a lot of status, a lot of control, and they lose sight of what's really going on. But if you're leading a squad, 70 to 80 percent of your time is working with the people in the squad—it's not a "stand back," supervisory role. This may sound a bit unfair, but the shiny, presentation-orientated leadership skills where somebody gets up and looks good in a presentation—it doesn't mean anything here. It's the squad—the team—that looks at it and says, "Well, Bob's a good presenter, but Bob doesn't do very much in terms of delivery. Whereas Mary, who's very quiet, gets a lot of stuff done. If we have a choice, we'd rather put Mary on the team than Bob."
Become an agile top team
Simon Moutter: Most leadership teams in large, complex corporate environments function more like a working group than a team, because individual accountabilities tend to prevail over the team dialogue. They each have a business unit, and they're consumed mostly by the issues and decisions of that particular business unit. The overall coordination is a smaller part of the conversation.
Agile is very different. Now, you're the CEO, but you're also part of the leadership squad. It's an extremely tight team mission; it's hard work, but fun. But it's not simple to reset your leadership model. In our town-hall meetings, I used to say that I've been a hierarchical manager all my life and I'm pretty damned good at it. [Laughs.] And so this was a big change for me, too, to think about leading in an agile context. It's going to be challenging to anyone used to calling all the shots.
We work on a 90-day cycle—what we call the quarterly business review, or QBR—and what this means for leaders is we must be alert and ahead of the game. We need to pick up problems early so we're not turning up halfway through to do a "rug pull" on a tribe or squad. I think there's a lot of sanctity in that "90 days of certainty" method—that every tribe and squad has the right to 90 days of certainty with the QBR. And I'll admit we've still got a lot of improving to do.
But as we have improved, as squads get results in a self-determining way, it's very empowering. When I think of the old adage that true empowerment requires forceful leadership, the forceful leadership in this model comes from coaching, from helping provide extreme clarity around what the vision is, what the main strategic platforms are, and therefore what each tribe's mission is.
It takes vulnerability to stand up there and say, 'I know I'm here to lead you through this, but I'm learning too.'
— Jolie Hodson
Jolie Hodson: I think for us as leaders, it was quite a vulnerable time, because most of your career you've worked a certain way. Agile is a great opportunity to learn something new and develop, but it takes vulnerability to stand up there and say, "I know I'm here to lead you through this, but I'm learning too." To use the analogy of baking a cake, in the past you'd bake the cake, you'd ice it, and just when you're about to put the candles on you'd go and share it for feedback. Now, you're still beating the eggs and you're out there sharing it at this early stage to see what works and what doesn't.
Diversity—an unexpected benefit
Simon Moutter: I think the single biggest "aha" moment for me was about three weeks after we had set up our first front-runner tribes, which were the ones getting the internal learnings to help us on the journey to "flip day" as a company. When we walked on the floor, I could see the dramatic change that was occurring.
We've always had a diverse organization when you count up the numbers, but like many organizations it shows up in career groupings. For example, our IT team had an Indian influence, our marketing and HR teams had more younger women, and our network engineers were more likely to be older, Caucasian men. And like any traditional organization, the teams tended to work as compartments. When we saw them all together, sitting at multidiscipline squads around tables, we realized what a dramatic change this would be. That moment actually started us down a path we hadn't anticipated, to launch a major program around diversity and inclusion. It caused us to change the way we thought about employment, contracts, pay equity—because you could see that any unfairness would be exposed instantly in our new model.Play VideoHow agile helps inclusionSpark New Zealand already had diversity. In adopting agile, the company unleashed the power of inclusion as well.
It's been powerful for the organization to really see why inclusivity matters. We had a diverse organization, but we didn't have inclusivity right. Focusing on both is just the right thing to do, and we've all been struck by how much better it is when a diverse squad becomes truly inclusive. They know how to work together as a group, every voice comes to the table, and it's extraordinary how much better the outcomes are and how much better the workplace feels.
Jolie Hodson: Agile by its nature starts to break down barriers between groups, between cultures. "Where have I come from? What have I done before? Oh, you're marketing, you must be in the 'coloring in' department. You're tech, so you won't know anything about what customers want." Squads break all that down very quickly because they are your team, your buddies, the ones that you work with every day to deliver to your customers. And because squads are limited to no more than ten people and have a clear mission and purpose, everyone has to have a voice. There isn't a place for anyone to just cruise along.
You can see the change in people as you go through this. For example, at the start, if I visited a squad with a customer, you'd have some very extroverted people who'd be happy to jump up and speak to what the squad's doing. As time went by, the whole squad could do that really easily. It's great to see that growth in people; it's not an unintended consequence, it's one of the benefits of the approach, but to see it in real life after around six, seven months of working this way is pretty amazing.
Spark's next phase
Simon Moutter: It never sat well with me when I left old Telecom in 2008, because I didn't feel like I'd left the company in the right shape. That was a significant driver for me in coming back as CEO in 2012. By contrast, today it makes me proud that we are genuinely seen by the vast majority of New Zealanders to be part of the solution, not part of the problem. Spark is seen as a positive company, an innovative company, and our brand and reputation would be the strongest proof point of that position being recovered. Over the past two years or so, we've been winning a range of business awards, a number of which we weren't even getting nominated for before. We also have a degree of execution excellence now that has been noticed by investors. We say it, we do it.
The success is showing up in the "hard" numbers; our mobile market share is up eight percentage points, to 40 percent, since 2013—a huge turnaround. And it shows up in "barbecue conversations." When you are introduced to someone you've never met before at a barbecue or social event, and they ask, "What do you do for a living?" there's no need to mumble under your breath anymore and get ready for an onslaught of criticism. Back then, it was uncomfortable and inevitable that you would suddenly become the center of attention for all the wrong reasons. Today, people are proud to say they work at Spark, and the conversation immediately moves to all the new technology, or even: "Well, can you help me get a job there?"
When you are introduced to someone you've never met before at a barbecue or social event, and they ask, 'What do you do for a living?' there's no need to mumble under your breath anymore.
— Simon Moutter
Joe McCollum: Remember, we moved to agile to improve customer experience, improve speed to market, and, finally, to empower our people, and the hard numbers are beginning to stack up. From the "soft number" side of things, it's also been pretty good. We've improved our customer NPS [net promoter score] results—across all customer journeys and interactions—and we've seen almost a doubling of our employee NPS scores. In some key areas of the company, our eNPS results are +80—which is extraordinary.
And we're just getting started. On the agile maturity scale of 1 to 5, in most parts of the company we're really only at a 2 or 3. We're less than halfway through the journey, and we're already seeing significant benefits. Once we're further along, there are doors that will open for us that we simply can't envisage at the moment—a bit like a computer game where the next level reveals hidden doors in hidden walls. When we think of the new business opportunities—whether it's 5G, streaming, adjacent businesses—and the world-class customer-service backbone we're building, all combined with a super-engaged workforce, it's just such a winning combination. We're miles ahead of where we were six to nine months ago, and I think we will be miles ahead again in another six to nine months. I'm very excited about the next chapter of our story.
Simon Moutter: The next phase for Spark is to move beyond just being about connectivity. We can't achieve our purpose unless we support customers with all the things connectivity is used for—for example, the digital services that help people run a better business or live a more efficient or amazing life. I think we've set up a foundation to do exactly that. And we've got an outstanding leader in Jolie Hodson to take hold of the helm. She has been a key part of our journey to date and knows what it takes, and I think she'll add great value as CEO from here. It's Jolie's turn; she's earned it, and I'm absolutely thrilled that the board has chosen to run with her. It's fantastic for the company and fantastic for her.
The perception around us has changed. We're seen as innovative, ready to try new things. When we do something, we do it with vigor.
— Jolie Hodson
Jolie Hodson: If I think about where we were even three or four years ago, and the ways we've evolved from both a customer and business perspective, it's clear we've taken a real step forward. We've been creating a foundation in terms of the infrastructure and the IT, and especially in terms of our people. And if I stand back, it was our ability to shift from a company that was largely declining to one that's growing that I would be most proud to stand behind.
And not only are we growing into our positive financial results, but the perception around us has changed. We're seen as innovative, ready to try new things. When we do something, we do it with vigor. People want to be with us, work with us, and that's a fundamental change.
We're clear on the strategy we've developed and what we want to continue to do: focus on the future of wireless, engage our customers in ways that matter to them—including support and services. We started the journey with Spark Sport, and we see opportunities in cloud security, data, and other areas as well. And now, when we face any of these new areas, we have an organization that has the confidence, courage, and muscle memory to change—and understands that although there's ambiguity, change can lead to great new places. I'm excited about the opportunity in front of us—for our people and our customers, and for New Zealand as a whole.
About the author(s)
This commentary is adapted from interviews with David Pralong, a senior partner in McKinsey's New Zealand office, Jason Inacio, a partner in the Sydney office, and Tom Fleming, a member of McKinsey Publishing based in the Chicago office.\
Source: https://www.mckinsey.com/industries/telecommunications/our-insights/all-in-from-recovery-to-agility-at-spark-new-zealand
Would life be happier without Google? I spent a week finding out
People had to get by without the search engine giant before it was launched in 1998. But is it possible to live your life – and do your job – without it these days?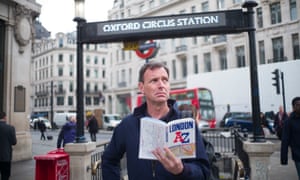 Halfway through my week without Google, my wife mentions that she would like to go out to see a film that evening, and I agree to deal with the logistics. In what I initially think is an inspired move, I drop by the local cinema on the way home and scribble down all the film times in my notebook. Then my wife insists on going to a different cinema.
"Can I do this by phone?" I ask her. "Is 118 still a thing?"
Turns out it is, and an expensive one: £2.50 a call, plus 75p a minute, plus a 55p access charge from my mobile provider. But more than a million people a year still use the service, and it even offers a text facility that answers questions – although you're essentially just asking someone to Google something for you and text you back, for £3.50 a go.Advertisement
Before I started this experiment, when I tried to imagine what it would be like to take a break from Google, what I was really trying to remember was how my life worked all those years before it started.
Google was founded in 1998. Thinking back to the mid-90s, I dimly recall visiting libraries in the course of my work as a journalist, and having fat envelopes of press cuttings delivered to my door. I remember tracking down Meat Loaf's out-of-print autobiography in a secondhand bookshop the day before interviewing him. But often, I never found the answers I was looking for. Instead, I adjusted the questions.
I remember factual disputes in pubs and at dinner parties that simply never got settled. I remember finding my own way around town. I remember learning straightforward repairs from books instead of videos. I remember doing all of these things, but I don't really remember how it felt.
To get Google out of your life is a big undertaking. Google Maps doesn't just get you to places; it drives many of the other apps you use, including Uber. Google owns YouTube. Google controls my thermostat.
For the purposes of this experiment, I am simply avoiding the maps, the search engine, the browser and YouTube. I am going to keep using email. There are, of course, other browsers, search engines and map apps out there, but I am not trying to find substitutes. I am trying to do without.
My reasons have little to do with Google's monopoly on searching, or its free and easy way with my data. I am worried it is doing something to my brain. Actually, I am worried that Google is my brain.Advertisement
In his book The Shallows, Nicholas Carr describes familiar symptoms while trying to absorb text of any length: "My concentration starts to drift after a page or two. I get fidgety, lose the thread and begin to look for something else to do." The book's main contention is that our highly plastic brains are being rewired by the demands of online existence: an increased knack for mental multitasking comes at the price of our ability to think deeply. Google, he says, is a huge part of this: "Google is, quite literally, in the business of distraction."
The Shallows was published in 2010, and it is unlikely anything has improved since then. Carr maintains that the rise of the smartphone, along with social media, has magnified the problem considerably. "A decade ago, you could still make a distinction between 'online' and 'offline'," he tells me in an email. "We spent a lot of time on the internet, but we didn't live there. Now, we do. Today, essentially, people are always online."
Google receives 63,000 searches every second, about 2tn a year, accounting for more than 90% of the global search engine market. It is said that the average person performs three to four searches a day, but a glance through my browser history before shutting Google down shows I regularly exceed 20. Many of these are purposeful; many more are not. Two weeks ago, I found and ordered the precise replacement part I needed for my broken coffee machine. But I also searched for the name of someone I'd met the night before; a definition of China's One Belt One Road development strategy; a catflap door; a list of Balkan cities (cheating at a crossword); the local recycling timetable; what toothwort is; and "Yul Brynner as robot with face plate removed".
For my own sanity, I need a break.
Monday
When I moved house two years ago, I started to rely on Google for navigation. Now, I am utterly dependent. I don't just want to know the way – I want to know the best way, as of this minute. I can't remember the last time I gave a thought to where anything was.
"How do I buy an A-Z?" I ask my wife.
"I don't even know that you can," she says. I think: Google would know.
A-Zs are still widely available, as I discover after I take the bus to the closest bookshop on my severely depleted mental map. While I am there, I run across a book called Offline – which promises to help me "avoid the potentially disastrous side-effects of digital pollution". I am reminded how big a role serendipitous discovery used to play in pre-Google research.
On the way home, I drop by my nearest library for the first time. It is a tiny branch, and the computing section is mostly dedicated to programming manuals, a fair number with the words "for Dummies" in the title. Everybody else in the room is looking at Google. I am sure this borough has a bigger central branch, but I have no idea where it is. An A-Z only works with an address. You can't just look up "library".
Later, I find my son in the kitchen, making tea. He was born in 1999, so he has never known a world without Google.
"So, it's the first day of my week without Google," I tell him.
"You're switching search engines?" he asks.
"No, that's not the point," I say.
"What is the point?"
"The point is to remember what it was like before," I say. "You have no idea how people used to find out stuff."
"You just had to hope someone else knew," he says.
"There were systems in place," I say, "of which you know nothing."
"Without Google, the issue was how to get the answer," he says. "With Google, the issue is the answer."
"Let's say you wanted to know about brain surgery," I say. "First, you would …" I stop there. I can't remember.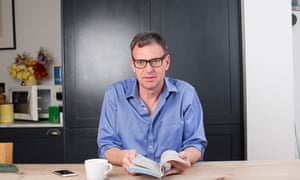 Tuesday
I spend the morning in my home office, unsure about how to proceed with, well, anything. Once again, I ask myself: how did this work in 1997?
I remember that, back then, I bought three or more newspapers every day, and kept all the copies until the end of the week. I still have a basic printed reference library – dictionaries of biography, film, literature, etymology, quotations, etc – but nothing has been updated for 20 years. I once owned a handy encyclopedia on CD-Rom, but that went the way of the CD-Rom drive.
For reassurance, I return to the book I bought – Offline, by Imran Rashid and Soren Kenner – which explains that while Google may be great for finding facts and coffee machine parts, its primary purpose is to deliver me to advertisers, as part of a system designed to make sure I am never not shopping: "Think of it as a complete set of rails laid out in front of you and designed to keep you engaged by exposing you to a number of different approaches."
I think about a jacket I searched for last week, which I decided was too expensive, and which haunted every webpage I visited afterwards, floating above the text I was reading as if to say: look what you forgot to buy.
As the authors point out, there is a reason I had this miraculous, free, search facility – and all the knowledge it could locate – at my fingertips. "The equation is actually very simple if you look at it as a reversal of the traditional vendor-consumer relationship," they write. "Your attention is the commodity." Competition for my attention is fierce, and the result is that I am inattentive to almost everything else. As the book reminds me, before the advent of smartphones "most of us could hold 20 or even 50 phone numbers in our head". Today, I know precisely four: my parents' home phone – unchanged for 55 years; my dad's office number – not in use for 15; my wife's mobile; and mine.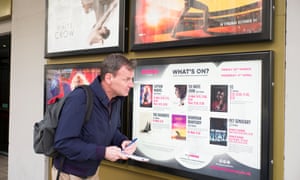 Wednesday
A Guardian photographer follows me while I navigate through London with my A-Z, but I can tell he is frustrated and wants to use his phone. I keep dropping things into the conversation such as: "I wonder how you go about getting a British Library card?", hoping he might be able to tell me. I think about what my son said – "You just had to hope someone else knew" – and I realise my primary research tool was, and still is, the stupid question. When you ask Google, nobody has to hear.
It's the day of my wife's proposed cinema visit, and 118 connects me to the cinema chain's recorded phone menu, which refers me to the website for film times and hangs up on me. I ring back and select the booking option. After a 10-minute wait, I am connected to a charming woman who seems to have nothing but time. She runs me through the whole film schedule twice, and describes the interior of the cinema in some detail so I can choose my seats. I have a little trouble making up my mind. "No worries at all," she says. "Is there a card in your name we'll be popping this on to?" I can't figure out why she's being so patient, until I realise she's assuming I am very old. Otherwise, I would be doing this online.
That evening, following her precise instructions, I show my credit card to the man at the popcorn till. He looks up my name and prints out my tickets. "It's like shopping by candlelight," I say.
Thursday
At a small library I run across by accident, I make a random discovery: in a thick binder labelled "local info" is a book that contains the addresses of every library in the country. I take a picture of the listing for my local main branch – Ealing central library – and head off.
Navigating by A-Z again is an eye-opener. You need to keep your head up to read street signs and posted bus routes, and there are still plenty of "now what?" moments, not least when I get off the bus where the library is supposed to be, and there is nothing remotely library-shaped on the horizon.
It transpires Ealing central library is located inside the Ealing Broadway shopping centre. After a speculative wander, I find a sign, then another, directing me to the first floor. The library, it turns out, is closed – not for the afternoon, or the day, but since August, for renovations.
Friday
I don't know what to do with myself. What is the point of having a computer if you can't look things up on Google? Yes, I do have some work to do, but the days of deprivation have done nothing to restore my attention span. In the afternoon, a slim package arrives: my long-awaited coffee machine part, essentially a knob. Thanks to Google, it is the precise knob for my model, but it's missing the small plastic insert that was the actual broken bit. Without it, the knob is useless.
At this point I feel very close to quitting the experiment because I really want that plastic sleeve. With a heavy heart, I pull the invoice from the bin, ring the number on it and listen to eight minutes of hold music. Eventually, a woman, Vivienne, picks up. I describe my problem.
"It's a little plastic piece, like a sleeve," I say.
"No idea what that would be," she says. "Can you find a picture of it and give me the model number?"
"I can't get online," I say.
"That's fine," she says. "What about an email address?"
"Yes," I say. "I'm allowed email."
She sends me an exploded illustration of my coffee machine with all the parts numbered.
"I don't see it there, Vivienne," I say. "Unless it's embedded in the knob."
"I'm afraid you'll have to call the manufacturer," she says. "Do you want the number?"
The manufacturer answers with a recording telling me that the service department is closed on Friday afternoons.
Saturday
It's probably fair to say that Google is inescapable, unless you resign yourself to getting nowhere without it. I spent so much of my week being either lost or bewildered, when the basic solution to my immediate problem might have been at my fingertips.
But it wasn't a waste. I got almost nothing done, but, while I was out there, I did a lot of looking and I bought a lot of stuff. I even found a version of that jacket I liked in a shop, for a third of the price. Now when it hovers over the webpage I am on, saying: "Buy me!", I'll be wearing it. I briefly reclaimed the ability to walk through the world with maximum inefficiency, relying on random discoveries, luck, the kindness of strangers and the patience of phone operators.
I return to the email Carr sent me. "Constant connectivity has become so habitual (and so expected by society) that brief breaks just aren't going to be sufficient to retrain the brain to relax, resist distraction and concentrate," he writes. "At this point, the craving for the screen's stimulations is pretty deeply engrained in most people's psyches."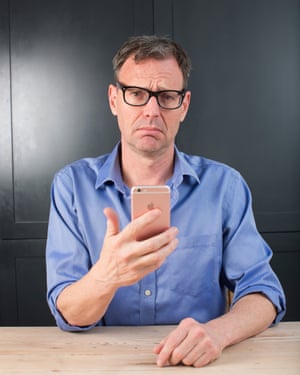 This may be the main problem: Google and the other major platforms have got very good at keeping our attention. The price we pay is endless inattention to the world around us. And that's not all Google's fault. "Thanks to some combination of laziness, gullibility and vanity, we have proven ourselves all too eager to embrace a culture of distraction and dependency," said Carr. "We could have said no."
One of the great impositions of modern life is the obligation to go everywhere forewarned and forearmed, to access timetables, reviews and instructions ahead of even the simplest tasks, for the sake of a frictionless existence. Once, it was creepy to Google someone just before you knew you were going to meet them. Now it's sort of required.
I am not nostalgic for an era of bank queues, closed shops and being lost. I am glad to be relieved of the obligation of social interaction just to access a bit of information, because people are not always helpful, patient or fun to talk to. But for all that Google has given us, we have paid a price: we're well on our way to eliminating the element of surprise from our lives and, with it, joy.
I don't think it is too late to reclaim some of our attention back. My brain responded pretty well to the time off. Even Carr is not wholly pessimistic about the future. "I wouldn't rule out the emergence of a counterculture that rejects digital media entirely – a kind of echo of the 'back to nature' movement of the 60s," he wrote. "That may be wishful thinking on my part, but you never know."
Source: The Guardian
Google Stadia Gaming Service 'Will Not Have Any Adults-Only' Content, Executive Says
A Google executive offered new details on Wednesday about the company's upcoming video game streaming service, telling Reuters that game makers may use competing cloud providers and must avoid some inappropriate content.
Google, owned by Alphabet Inc, unveiled Stadia on Tuesday, saying the service launching this year would make playing high-quality video games in an internet browser as easy as watching a movie on its YouTube service.
The game would operate on Google's servers, receiving commands from a user's controller and sending video streams to their screen. Player settings, leaderboards, matchmaking tools and other data related to the game would "not necessarily" have to reside on Google's servers, Phil Harrison, a Google vice president, said in an interview.
Hosting the data elsewhere, however, could lead to slower loading times or less crisp streaming quality, he said.
"Obviously, we would want and incentivize the publisher to bring as much of their backend as possible" to Google servers, he said. "But Stadia can reach out to other public and private cloud services."
The approach could limit Google's revenue from Stadia. It has declined to comment on the business model for the new service, but attracting new customers to Google's paid cloud computing program is one of Stadia's aims.
If a game publisher was using Amazon for some tools, "the first thing I would do is introduce you to the Google Cloud team," Harrison said.
In addition, Stadia will require games to follow content guidelines that build upon the system of Entertainment Software Rating Board (ESRB), a self-regulatory body, he said.
"We absolutely will not have A-O content," Harrison said, referring to the ESRB's moniker for the rare designation of a game as adult-only because of intense violence, pornography or real-money gambling.
He said Stadia's guidelines would not be public.
Asked about growing public concerns about game addiction, Harrison said Stadia would empower parents with controls on "what you play, when you play and who you play with."
Google views Stadia as connecting its various efforts in gaming, including selling them on its mobile app store, Harrison said. But game streaming, he said, is an opportunity to tackle among the most complex technical challenges around and potentially apply breakthroughs to other industries.
"We think we can grow a very significant games market vertical," he said. "And by getting this right we can advance the state of the art of computing."