Galaxy Note 10 may use Samsung's latest 64-megapixel camera
Samsung has unveiled a new 64-megapixel ISOCELL Bright GW1 image sensor today which is great news for the Galaxy Note 10. Given that the new sensor is expected to enter mass production in the second half of this year, there's a good chance that we might see it on the company's next flagship smartphone.
This new image sensor for mobile devices offers a higher resolution compared to any other sensor on the market right now. No wonder Samsung describes it as the "industry's highest resolution" sensor for mobile cameras.
Galaxy Note 10 may feature a 64-megapixel camera
The 64-megapixel ISOCELL Bright GW1 has the highest resolution in Samsung's 0.8μm-pixel image sensor lineup. It relies on the pixel-merging Tetracell technology to produce bright 16-megapixel images in low-light and detailed 64-megapixel images in well-lit conditions. It does that by merging four pixels into one while the color filter is descrambled for full-resolution 64-megapixel shots in good lighting.
There's even support for real-time high dynamic range (HDR) of up to 100-decibels which provides "richer hues," according to Samsung. The dynamic range of a conventional image sensor is around 60dB while that of the human eye is typically around 120dB.
Samsung has also announced an updated 48-megapixel ISOCELL Bright GM2 sensor today. The updated sensor also gets Tetracell technology in addition to a remosaic algorithm for well-lit environments. This should improve picture quality by reproducing colors that feel more natural and vivid. Much like the 64-megapixel sensor, the new 48-megapixel sensor also gets Super PD for high-performance phase detection auto-focus.
48-megapixel sensors have become quite common on smartphones now. Samsung's Galaxy A80 has one as well. The company is clearly hoping to gain a lead in the megapixel wars with its new 64-megapixel camera. Samsung says that the sensor will enter mass production in the second half of this year. Therefore, it's quite possible that we might see it on the Galaxy Note 10.
Source; https://www.sammobile.com/2019/05/09/galaxy-note-10-samsungs-64-megapixel-camera/
Samsung Galaxy S10+ vs Apple iPhone XS Max: Differences explained
For the past ten years, there's been one battle in the smartphone world that's raged fiercer than any other: Apple versus Samsung.
While there are now plenty of fantastic flagship products out there from other brands now, there's still something about the Galaxy series from Samsung that gets people talking, and spending money. As for the iPhone, well, that's the iPhone.
In 2019, the pinnacle from both companies are the iPhone XS Max and the Galaxy S10+. Two big, powerful phones promising fantastic displays, speed, cameras and everything else.
Prices
Galaxy S10+ starts at £899
iPhone XS Max starts at £1099
Perhaps the biggest difference between the iPhone and the Galaxy is the price. You'll find in daily use – more than likely – that each has its benefits, and both are genuine flagships. But at £1099, the starting price for the XS Max is steep.
Design
Both companies have had to juggle prioritising technological features and design. For Apple, you'll notice how the rounded corners on the screen match the roundness of the phone corners, and how the bezel thickness is the same all the way round up to the notch.
That gives it a really pleasing consistent and symmetrical appearance from the front, but then that advanced Face ID technology has meant adding quite a hefty notch at the top, and that some times gets in the way of content.
For Samsung, the hardware team wanted to keep using that curved glass on the edges of the OLED screen, and that means the bezel isn't uniform all the way around.
The bottom edge is thicker than the sides, and the top bezel, making it seem a little less balanced, but it's not something that really bothers when you use it day-in day-out. Plus. That hole punch cutout means more of the front surface is dominated by screen.
Turn it to the back, and – despite the oddness of that long rectangle on the back – we like that it makes the rear symmetrical. Apple's camera in the corner is iconic now, but protrudes quite far, even if it is really nicely finished.
Boiling it down to basics: both phones use high quality metal and glass work to make them look and feel every part the premium phones they are. They're both near enough the same size too, although the curved screen edges do mean the Sammy is slightly narrower.
Display
Galaxy S10+: 6.4-inch curved, Dynamic AMOLED, Quad HD+ 19:9
XS Max: 6.5-inch flat, OLED, 1242 x 2688, 19.5:9
iPhone Notch versus S10+ dual punch-hole
Samsung's OLED panel is QHD+ which means it's sharper than Apple's 1242 x 2688 resolution OLED screen. It's a slightly longer ratio 6.5-inch versus Apple's 6.4, and it takes up more of the available space.
Technologically, it's better than Apple's too, being HDR10+ compliant versus Apple's HDR10. But, in real daily use, you're not going to notice that difference really.
Both screens offer fantastic colour reproduction, detail, brightness and contrast.
Which ever phone you use, you're going to get a fantastic display, but each has its compromises. That iPhone notch, with some games and apps, will cut off some of the app detail.
Samsung's minor flaws are different, in that, sometimes the slight curvature means the very top and bottom of some video gets every so slightly distorted.
The other element is that apps often have a black bar to disguise that punch hole camera, making the picture look uneven, with one flat edge, and one with rounded corners.
Cameras
S10+: Triple camera – wide, ultra-wide and zoom
iPhone: Dual camera – wide and zoom
S10+: 12MP f/1.4 + f/2.5, 16MP f/2.2 and 12MP f/2.4
iPhone: 12MP f/1.8 and 12Mp f/2.4
With the Samsung, its combination of the regular, 2x zoom and ultra-wide cameras is so useful, and means we miss our real cameras less than before. It's like carrying around a camera with a wide and zoom lens.
With that said, we think the actual end results from the iPhone, considering it's just point and shoot, are a little better. Samsung's primary camera – which has that mechanical aperture – seems to leave photos looking a tiny bit more flat. iPhone's HDR makes daylight shots more dynamic.
And the iPhone's actually decent in low light, despite not having that dual aperture like Samsung. Neither has great night modes though, unlike a few other smartphones. We also think that iPhone's video looks nicer, a bit smoother, detailed and vibrant straight out of the camera.
Hardware and software
Galaxy S10+: 8/12GB RAM, 128GB/512GB/1TB
iPhone XS Max: 4GB RAM, 64GB/256GB/512GB
Galaxy S10+: 4100mAh battery, 15W fast wireless charging
iPhone XS Max: 3174mAh (approx), 7.5W wireless charging
Samsung OneUI vs Apple iOS 12
If it was down to pure numbers, Samsung's 4100mAh battery beats the iPhone's 3,174mAh capacity. But with iPhone's optimisations, we found – again – fairly similar results. But the key take away is that you'll easily get through a full day with either phone, without needing to plug them in.
It's charging where you might notice a difference. Both can charge wirelessly, but Samsung's can charge roughly twice as fast, with the right wireless charger.
So software and features – there's lots to love here. Samsung, as always loads the phone up with extras. It has DeX – which is a desktop computer like experience, that requires nothing other than a standard cable to connect to a monitor and a Bluetooth keyboard and mouse. It also has a headphone jack, and removable storage.
iPhones do not have any of those things.
There is iMessage though, and iOS is generally better supported in the software and accessories market, what's more, Apple customer service is really good, comparatively.
Face ID, despite requiring that notch feels a far more natural way to unlock the phone than using the ultrasonic in display fingerprint sensor on the Samsung, and fails a lot less often, if at all. Similarly, Apple Pay for contactless is supported by more of the big banks than either Samsung or Google Pay.
Both clearly have their benefits, it's about choosing which is more suited to what you need.
Conclusions
In truth, it doesn't matter too much which of these phones you buy. If you're in the Apple ecosystem and regularly use features like AirDrop, iCloud and Apple Pay, you're going to be delighted by the XS Max.
In all of our phone testing, Face ID is the most convenient way to unlock your phone.
However, if you want to save money and Apple's ecosystem holds no value to you, the Samsung is the way to go. You'll get a great display, camera and performance, plus you'll save yourself a good chunk of change. 
Source: https://www.pocket-lint.com/phones/buyers-guides/147893-samsung-galaxy-s10-plus-versus-apple-iphone-xs-max
MYSTERIOUS HACKERS HID THEIR SWISS ARMY SPYWARE FOR 5 YEARS
IT'S NOT EVERY day that security researchers discover a new state-sponsored hacking group. Even rarer is the emergence of one whose spyware has 80 distinct components, capable of strange and unique cyberespionage tricks—and who's kept those tricks under wraps for more than five years.
In a talk at the Kaspersky Security Analyst Summit in Singapore Wednesday, Kaspersky security researcher Alexey Shulmin revealed the security firm's discovery of a new spyware framework—an adaptable, modular piece of software with a range of plugins for distinct espionage tasks—that it's calling TajMahal. The TajMahal framework's 80 modules, Shulmin says, comprise not only the typical keylogging and screengrabbing features of spyware, but also never-before-seen and obscure tricks. It can intercept documents in a printer queue, and keep track of "files of interest," automatically stealing them if a USB drive is inserted into the infected machine. And that unique spyware toolkit, Kaspersky says, bears none of the fingerprints of any known nation-state hacker group.
"Such a large set of modules tells us that this APT is extremely complex," Shulmin wrote in an email interview ahead of his talk, using the industry jargon—short for advanced persistent threat—to refer to a sophisticated hackers who maintain long-term and stealthy access to victim networks. "TajMahal is an extremely rare, technically advanced and sophisticated framework, which includes a number of interesting features we have not previously seen in any other APT activity. Coupled with the fact that this APT has a completely new code base—there are no code similarities with other known APTs and malware—we consider TajMahal to be special and intriguing."
It's remarkable how long TajMahal remained undetected.
Kaspersky says it first detected the TajMahal spyware framework last fall, on only a single victim's network: The embassy of a Central Asian country whose nationality and location Kaspersky declines to name. But given the software's sophistication, Shulmin says TajMahal has likely been deployed elsewhere. "It seems highly unlikely that such a huge investment would be undertaken for only one victim," he writes. "This suggests that there are either further victims not yet identified, or additional versions of this malware in the wild, or possibly both."
Those initial findings may indicate a very cautious and discreet state-sponsored intelligence-gathering operation, says Jake Williams, a former member of the National Security Agency's elite Tailored Access Operations hacking group. "The extensibility of it requires a large developer team," Williams notes. He points out also that the ability to avoid detection and the single known victim suggest extreme care in targeting, stealth, and operation security. "There's all kinds of stuff here that screams opsec and very regimented tasking."
Shulmin says Kaspersky hasn't yet been able to connect TajMahal, named for a file the spyware uses to move stolen data off a victim's machine, to any known hacker groups with the usual methods of code-matching, shared infrastructure, or familiar techniques. Its Central Asian target doesn't exactly provide any easy clues as to the hackers' identities either, given the vagueness of that description and the countries with sophisticated hacker teams with Central Asian interests, including China, Iran, Russia and the US. Nor has Kaspersky determined how the hackers behind TajMahal gain initial access to a victim network. But they do note that the group plants an initial backdoor program on machines, which the hackers labelled Tokyo. That backdoor uses the tool PowerShell, often exploited by hackers, to allow the intruders to spread their compromise, connect to the a command-and-control server, and plant TajMahal's much more multifunctional payload spyware, labelled by the hackers as Yokohama, with its dozens of distinct modules.1
Yokohama's Swiss Army-style versatility is what stood out most to Kaspersky's researchers. While it includes many of the usual, powerful capabilities of state-sponsored spies, it also has some more idiosyncratic features: When a USB drive is plugged into an infected PC, it scans its contents and uploads a list of them to the command-and-control server, where the spies behind TajMahal can decide which files they want to exfiltrate. If the USB drive has been removed by the time the hackers have made up their minds, TajMahal can automatically monitor the USB port for the same drive to pull off that file, and upload it the next time it appears. The spyware has other modules that allow it to flag files that have been burned to a CD, or put into a printer queue.
While none of those features are particularly flashy, they signal a careful adversary taking pains to discern which files among the vast and messy contents of a victim's computer might be worth stealing. "One would not print information, save it to a USB stick, or burn it onto a CD if this information was not important in some way," Shulmin says.
Considering its sophistication and eclectic features, it's remarkable how long TajMahal remained undetected. The Central Asian embassy victim, Kaspersky says, had been compromised since at least 2014. But the compile times of various elements of TajMahal—the time stamps that indicate when a piece of it was programmed—indicate it was active both before and long after that date. Some modules dated back to 2013, while others dated as recently as 2018.
"Somehow, it has stayed under the radar for over five years. Whether this is due to relative inactivity or something else is another intriguing question," Shulmin writes. "It is a reminder to the cybersecurity community that we never really have full visibility of everything that is going on in cyberspace."
BEST WORDPRESS HOSTING PROVIDERS IN 2018
Need a managed WordPress plan? Start here…
Getting started with WordPress doesn't have to be expensive, after all the 15-year old WordPress is free (and open source). Even the cheapest shared hosting plan usually comes with a one-click WordPress installer, allowing the greenest of blogging newbies to have their first post ready in less than 60 seconds (we tried it).
Managing a blog over time is much more challenging, though. You'll need to find your own themes and plugins. And also keep them, and WordPress itself, up-to-date (although you can even get that done automatically).
Blogs are often targeted by malware, so it's important you have some way to detect and remove any threats, and you'll want regular backups to help get a broken blog working again.
If you don't have the time or technical experience for all that, you might prefer to buy a managed WordPress plan, and have the hosting company handle all the technical bits for you.
The host will often import your previous WordPress blog, if you have one. Usually you'll get some preinstalled themes and plugins to simplify customization. There should at least be an option to automatically update the site, a security service like SiteLock will be on hand to keep your blog malware-free, and we would expect 24/7 support from a team with real WordPress knowledge.
The best hosts go even further, optimizing their servers to boost WordPress performance, and sometimes throwing in extras like a content delivery network(CDN) to deliver great speeds worldwide (hopefully).
There's a long list of hosting companies offering managed WordPress plans, but we've picked out five of the best to point you in the right direction. Whether you're a first-time user or a big business, there's something for you here, and with prices starting at around a pound per month, it's well worth taking the time to find out more.
These are the best WordPress hosting services of 2018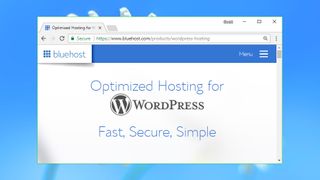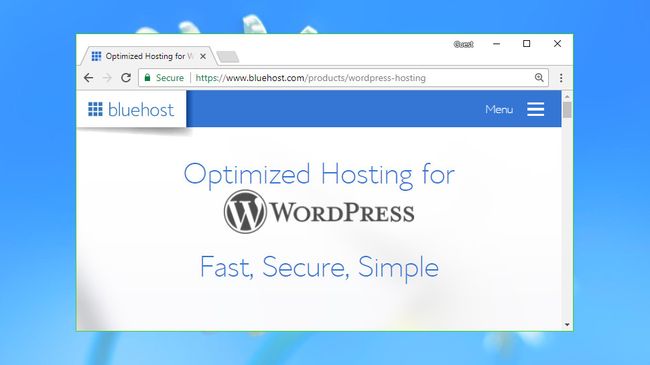 Best professional-level host
Optimized low-level setup
Many powerful extras
Not cheap
Budget WordPress hosting can have a lot of appeal, but it usually won't deliver the features, performance or reliability that high traffic sites need. If you're the demanding type, opting for a premium hosting plan will give you much better results.
Bluehost has created its own VPS-based architecture to deliver optimum WordPress performance via NGINX, a custom PHP-FPM setup and intelligently allocated resources through KVM hypervisor. (If you're not a hosting geek, this just means Bluehost has taken the time to optimize the low-level setup of its platform for WordPress, rather than simply making do with a standard configuration.)
The company doesn't waste time by pretending to offer 'unlimited' resources, and instead tells you exactly what you're going to get. For the WP Standard plan, this means 30GB storage, 1TB bandwidth, and key resources – 2GB RAM, two CPU cores – which are allocated to you, and not shared with anyone else.
Premium features include SiteLock Pro to keep your website malware-free, SiteLock CDN to optimize performance, a dedicated IP, and the ability to manage multiple sites with the excellent ManageWP.
This isn't cheap, with even the baseline Standard plan costing $19.99 (£14.30) a month for the initial term, rising to $39.99 (£28.60) afterwards. But you are getting a lot for your money, and if you're more interested in power than price, Bluehost has even more available.
The top-of-the-range Ultimate plan, for instance, gives you four CPU cores, 8GB RAM, 240GB storage and a monster 4TB bandwidth. SiteLock Enterprise handles all your security and CDN needs, and there's a wildcard SSL thrown in. Ultimate costs $49.99 (£35.70) a month initially, $129.99 (£93) after that, but that's a fair price for this spec, and Bluehost offers a 30-day money-back guarantee if you feel the service doesn't deliver.
Bluehost for $19.99 per month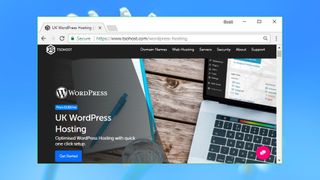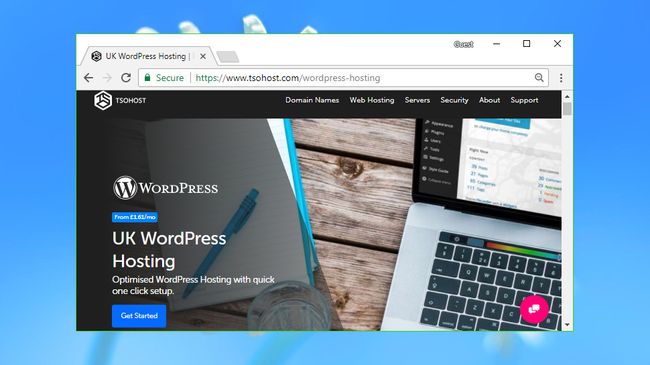 10% OFF WITH CODE TECHRADAR
TSOHost Personal
Great value pricing
24/7 support on basic plan
Not much in the way of extras
Managed WordPress packages can often feel overpriced. Many hosts charge significant premiums for impressive sounding claims – optimized servers, malware scanning – that are difficult to evaluate or confirm.
The UK-based Tsohost isn't interested in any of that, instead focusing on providing the core WordPress essentials at a very fair price.
The baseline Personal plan gives you a free domain name, will migrate your existing site, includes Let's Encrypt SSL support and has no limits on bandwidth. You get daily backups and can restore any of the last 30 days with a click. There's 24/7 support via ticket and email, and phone and live chat is available from 7am to midnight.
There are some limits. You only get five 200MB mailboxes, and the plan restricts you to 500MB storage and 25,000 page views a month. But it's hard to complain about a plan which costs only ~$1.99(£1.49) a month paid annually, or ~$1.79(£1.34) if you pay for two years upfront.
If that's just too underpowered, opting for the Startup plan gets you 15GB of storage, 100 mailboxes, and up to 100,000 page views over a maximum of three websites. That's significantly more capable, yet still very reasonably priced at ~$5.1(£3.82) a month.
The  ~$11.71(£8.78) a month Business plan supports 50GB storage, 500,000 page views and a hundred 1GB mailboxes, and the eCommerce plan ~$31.99(£23.98) lifts the limits to 100GB, 1,000,000 page views and unlimited 10GB mailboxes.
Tsohost doesn't offer all the frills and extras you'll get with some products. There's no talk of SiteLock malware protection, optimized WordPress add-ons or a custom CDN. But it's hard to complain at this price, and Tsohost is still delivering a capable service with more than enough power for smaller sites.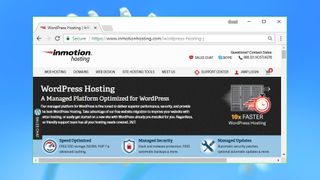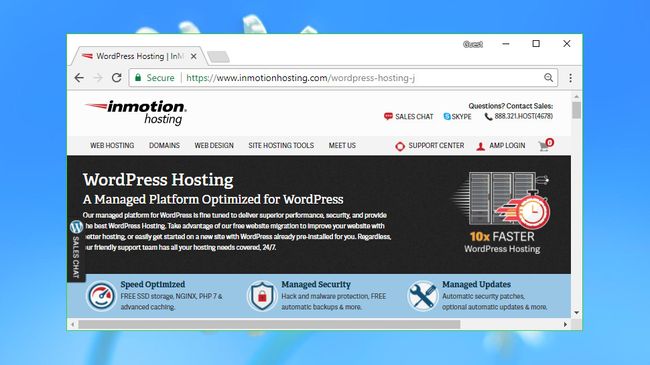 Best host for choice of plans
Low-end plans have key features
Reliable hosting provider
Not the cheapest host
Most web hosts offer only a few WordPress plans, and even these might be set up to point you in a particular direction. You'll often see an underpowered plan, an overpriced one, and a special deal on the mid-range plan they really want you to buy. That makes it easy to decide, but it also limits your upgrade options if your site grows over time.
InMotion Hosting is unusual in offering six WordPress plans, covering everything from small personal blogs to resellers and big business. Figuring out which is the best product for you will take a little more thought, but at least there's room to upgrade – or downgrade – if your circumstances change.
Better still, InMotion hasn't artificially limited the low-end plans by removing key features. Even the baseline WP-1000S plan – which costs $6.99 (£5) a month initially, $8.99 ($6.40) on renewal – gives you 40GB storage, unlimited bandwidth and email addresses, preinstalled WordPress, SSL, backups, automatic updates, SiteLock security, cPanel site management, and extras like BoldGrid and WP-CLI. The only significant issue is InMotion's suggestion that the plan works best for blogs with up to 20,000 monthly visits, and even that won't be a problem for many smaller sites.
Upgrading your plan gets you some extras – premium themes and plugin subscriptions, a dedicated IP address, support for hosting more sites – but it's mostly about giving you more resources. For example, the top-of-the-range WP-6000S plan supports 1,200,000 monthly visitors across up to 20 sites for $114.99(£82) a month initially (1-year plan), $142.99 (£102) on renewal.
There are cheaper deals around, but in previous reviews we've found InMotion to be reliable, professional and honest, and any price premium is likely to be worth paying. You don't have to take our word for it, though – an exceptional 90-day money-back guarantee gives you plenty of opportunity to find out for yourself.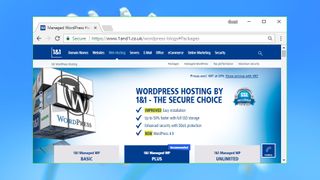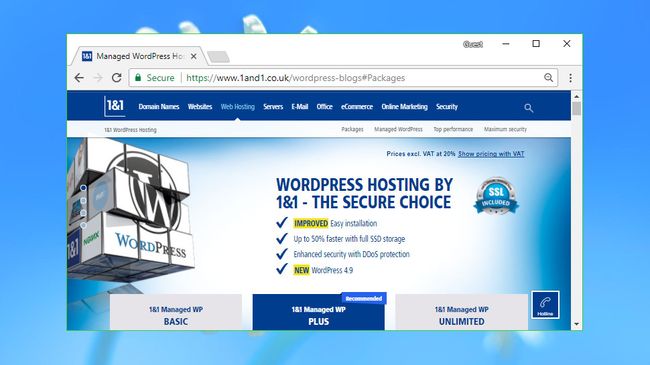 Very tempting price for first year
SSL and free domain
24/7 support including phone
Web giant 1&1 seems to have a hosting product for every possible need, and WordPress is no exception. Novice users can try out its service for a nominal $1.40(£0.99)  a month over the first year ($7 or £4.99 afterwards), yet the plan still outperforms many competitors.
The bundled 50GB of storage means you won't be running out of space in a hurry, for example. There are no bandwidth or visitor limits, and you can set up as many email accounts as you need.
1&1 offers the core WordPress management functions that you would expect: a setup wizard, preinstalled plugins, automatic updates and 24/7 support (including by telephone).
All this is built on a capable platform – NGINX, PHP 7.2, OPcache, up to 2GB RAM guaranteed – to enhance your blog's performance.
There's SSL included and even a free domain thrown in, which is ridiculously good value at this price.
If you're a WordPress novice, it might be worth taking out the plan for an initial year, claiming your free domain and taking the time to learn how the blog works. When you time is up, renew if you're happy, or if you're not, use your knowledge and experience to find a better plan.
1&1 isn't just about newbies, though: there's value for more demanding users, too. In particular, the Unlimited plan has no limits on websites, storage space, the number of databases (1GB max), visitors, email or SFTP accounts. Bonus features include a CDN and SiteLock malware scanning, and the price looks good at $9.80(£6.99)  a month for the first year, $14(£9.99)  on renewal.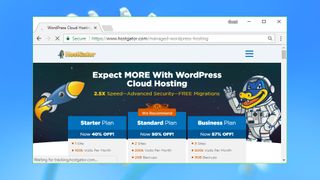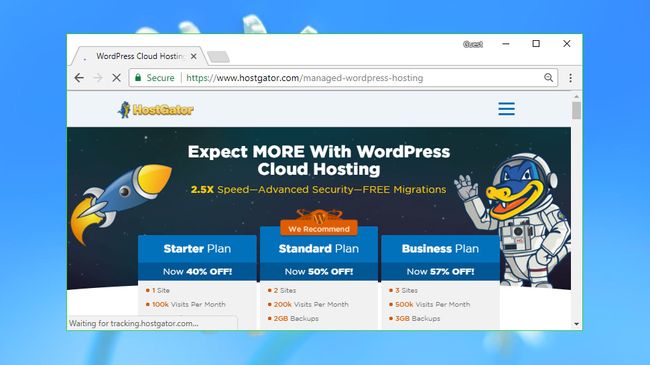 Free site migration
Automatic malware detection and removal
CDN benefits
Choosing the best WordPress hosting package can seem like a complicated business, with a stack of low-level details and issues to consider. But it doesn't have to be that way. If you don't have special requirements then opting for a reliable web hosting company will get you capable mid-range products that can handle everything most users need.
HostGator generally delivers powerful hosting plans for a fair price, and its managed WordPress range is no exception. Its Starter product may only cost $5.95 (£4.25) for three years, $9.95 (£7.10) afterwards, but you still get a free site migration, an SSL certificate, automatic malware detection and removal, unlimited email addresses and unmetered storage and bandwidth, and it can handle up to 100,000 visits a month.
Ramping up to the high-end Business plan gets you more CPU power, support for up to three sites and 500,000 visits a month, yet still costs only $9.95 (£7.10) a month initially  (first three years), $22.95 (£16.40) a month afterwards.
Smart caching and a CDN are on hand to enhance your website's performance, 24/7 support helps keep your site up and running, and surprise bonus features include free domain privacy to protect from identity theft and reduce annoying spam.
We've had good experiences with HostGator's service, but if you're not so lucky, there's a generous 45-day money-back guarantee. As with other hosting companies, this won't cover any domain registration fees, but it's still a better deal than you'll often find elsewhere.
You might also want to check out our other hosting guides:
Source: Tech Radar