How to Secure IoT Devices–Right Now
IoT devices are not going away any time soon. The estimates vary widely as to how many devices are currently in use, and how many devices will be deployed in the next few years, but the one thing that everybody seems to agree on is that IoT adoption is on the rise. The other thing people seem to agree on is that it is critical to secure IoT devices–using long-term and short-term strategies.
Early on, many IoT vendors rushed their products to market with seemingly no concern about security. Things seem to be getting better, but IoT's reputation for being insecure has been firmly cemented. That makes IoT devices a big target, so it makes sense to consider what you can do–right now–to keep secure IoT devices.
1. Perform a password audit.
The very first thing I recommend doing to secure IoT devices is to perform a password audit against all of your IoT devices. While it is important to determine whether any of your devices are using weak passwords, it is far more important to test for default password use. Remember, nearly every device manufacturer posts its manuals online, and these manuals almost always list the default password for the device. Anyone can get access to this information, and default passwords are often a starting point for those who seek to compromise IoT devices.
Ideally, each of your IoT devices should be equipped with a random, but complex password. After all, if all of your devices share a common password, an attacker could conceivably acquire that password and take control of all of the devices. This is especially troubling since there are stories of attackers who have managed to get IoT devices to function as botnets.
2. Review the end user agreement.
One of the things that I never hear anyone talk about with regard to IoT security is the importance of reviewing the end user agreement. That's the agreement that the manufacturer displays on screen when you initially configure the device. If you simply click OK to accept the agreement without reading it–so you can finish the deployment and get on with your day–you really don't know what you have just agreed to. Given the extent to which devices have become known for spying, it may be worth taking the time to review the end user agreement for your devices and make sure that the device is not compromising sensitive information. If you're not comfortable with something in the end user agreement, it may be worth adopting a competing vendor's product.
3. Keep firmware up to date.
Just as software vendors routinely release patches for their products, reputable IoT vendors will occasionally release firmware updates to secure IoT devices. It is important to download, test and deploy these firmware updates just as you would any other patch.
4. Disable unnecessary features.
In some cases, you can enhance your security by disabling unnecessary features. To determine what's really necessary and what's not, spend time reviewing the feature sets of the IoT devices that you use.
Obviously, some devices are far more feature-rich than others. An IP-enabled industrial sensor, for instance, probably has few, if any, ancillary features. On the other hand, devices that are oriented more toward the end user tend to be feature-rich. In some cases, disabling even a single feature can significantly improve the device's overall security.
For example, like many other people, I have a Wi-Fi enabled, smart thermostat in my home. This thermostat has a remote access feature that lets me remotely monitor the temperature in my home and make adjustments if necessary. I have disabled the thermostat's remote access feature–not because I'm worried about a hacker setting the air conditioner to run at full blast, but because an attacker who gains access to the thermostat could conceivably use it as a platform for launching an attack against other devices on the network.
5. Put segmentation to use.
My goal for this blog post was to focus on immediate actions that can be taken in an effort to secure IoT devices. Even so, I just couldn't conclude the post without mentioning segmentation. Segmentation takes some planning, so it doesn't really qualify as something that you can do right now. Even so, segmentation is one of the most important things that you can do to keep your IoT devices secure, so I wanted to be sure to mention it.
When possible, place your IoT devices on isolated network segments. The smart thermostat I mentioned is connected to a dedicated Wi-Fi network that services only the connected devices in my home. Using this dedicated network prevents IoT devices from accessing sensitive data such as the files stored on my laptop.
Even if you cannot completely isolate a device, you may be able to use firewall and routing policies to restrict a device's communications. For example, if a particular device communicates with a backend SQL Server, you should look for ways to prevent the device from ever communicating with anything else (with the possible exception of a management PC). This can go a long way toward keeping the device secure while also preventing data leakage.
Source: https://www.itprotoday.com/mobile-management-and-security/how-secure-iot-devices-right-now
Be Very Sparing in Allowing Site Notifications
An increasing number of websites are asking visitors to approve "notifications," browser modifications that periodically display messages on the user's mobile or desktop device. In many cases these notifications are benign, but several dodgy firms are paying site owners to install their notification scripts and then selling that communications pathway to scammers and online hucksters.
When a website you visit asks permission to send notifications and you approve the request, the resulting messages that pop up appear outside of the browser. For example, on Microsoft Windows systems they typically show up in the bottom right corner of the screen — just above the system clock. These so-called "push notifications" rely on an Internet standard designed to work similarly across different operating systems and web browsers.
But many users may not fully grasp what they are consenting to when they approve notifications, or how to tell the difference between a notification sent by a website and one made to appear like an alert from the operating system or another program that's already installed on the device.
This is evident by the apparent scale of the infrastructure behind a relatively new company based in Montenegro called PushWelcome, which advertises the ability for site owners to monetize traffic from their visitors. The company's site currently is ranked by Alexa.com as among the top 2,000 sites in terms of Internet traffic globally.
Website publishers who sign up with PushWelcome are asked to include a small script on their page which prompts visitors to approve notifications. In many cases, the notification approval requests themselves are deceptive — disguised as prompts to click "OK" to view video material, or as "CAPTCHA" requests designed to distinguish automated bot traffic from real visitors.
Approving notifications from a site that uses PushWelcome allows any of the company's advertising partners to display whatever messages they choose, whenever they wish to, and in real-time. And almost invariably, those messages include misleading notifications about security risks on the user's system, prompts to install other software, ads for dating sites, erectile disfunction medications, and dubious investment opportunities.
That's according to a deep analysis of the PushWelcome network compiled by Indelible LLC, a cybersecurity firm based in Portland, Ore. Frank Angiolelli, vice president of security at Indelible, said rogue notifications can be abused for credential phishing, as well as foisting malware and other unwanted applications on users.
"This method is currently being used to deliver something akin to adware or click fraud type activity," Angiolelli said. "The concerning aspect of this is that it is so very undetected by endpoint security programs, and there is a real risk this activity can be used for much more nefarious purposes."
Angiolelli said the external Internet addresses, browser user agents and other telemetry tied to people who've accepted notifications is known to PushWelcome, which could give them the ability to target individual organizations and users with any number of fake system prompts.
Indelible also found browser modifications enabled by PushWelcome are poorly detected by antivirus and security products, although he noted Malwarebytes reliably flags as dangerous publisher sites that are associated with the notifications.
Indeed, Malwarebytes' Pieter Arntz warned about malicious browser push notifications in a January 2019 blog post. That post includes detailed instructions on how to tell which sites you've allowed to send notifications, and how to remove them.
KrebsOnSecurity installed PushWelcome's notifications on a brand new Windows test machine, and found that very soon after the system was peppered with alerts about malware threats supposedly found on the system. One notification was an ad for Norton antivirus; the other was for McAfee. Clicking either ultimately led to "buy now" pages at either Norton.com or McAfee.com.
It seems likely that PushWelcome and/or some of its advertisers are trying to generate commissions for referring customers to purchase antivirus products at these companies. McAfee has not yet responded to requests for comment. Norton issued the following statement:
"We do not believe this actor to be an affiliate of NortonLifeLock. We are continuing to investigate this matter. NortonLifeLock takes affiliate fraud and abuse seriously and monitors ongoing compliance. When an affiliate partner abuses its responsibilities and violates our agreements, we take necessary action to remove these affiliate partners from the program and swiftly terminate our relationships. Additionally, any potential commissions earned as a result of abuse are not paid. Furthermore, NortonLifeLock sends notification to all of our affiliate partner networks about the affiliate's abuse to ensure the affiliate is not eligible to participate in any NortonLifeLock programs in the future."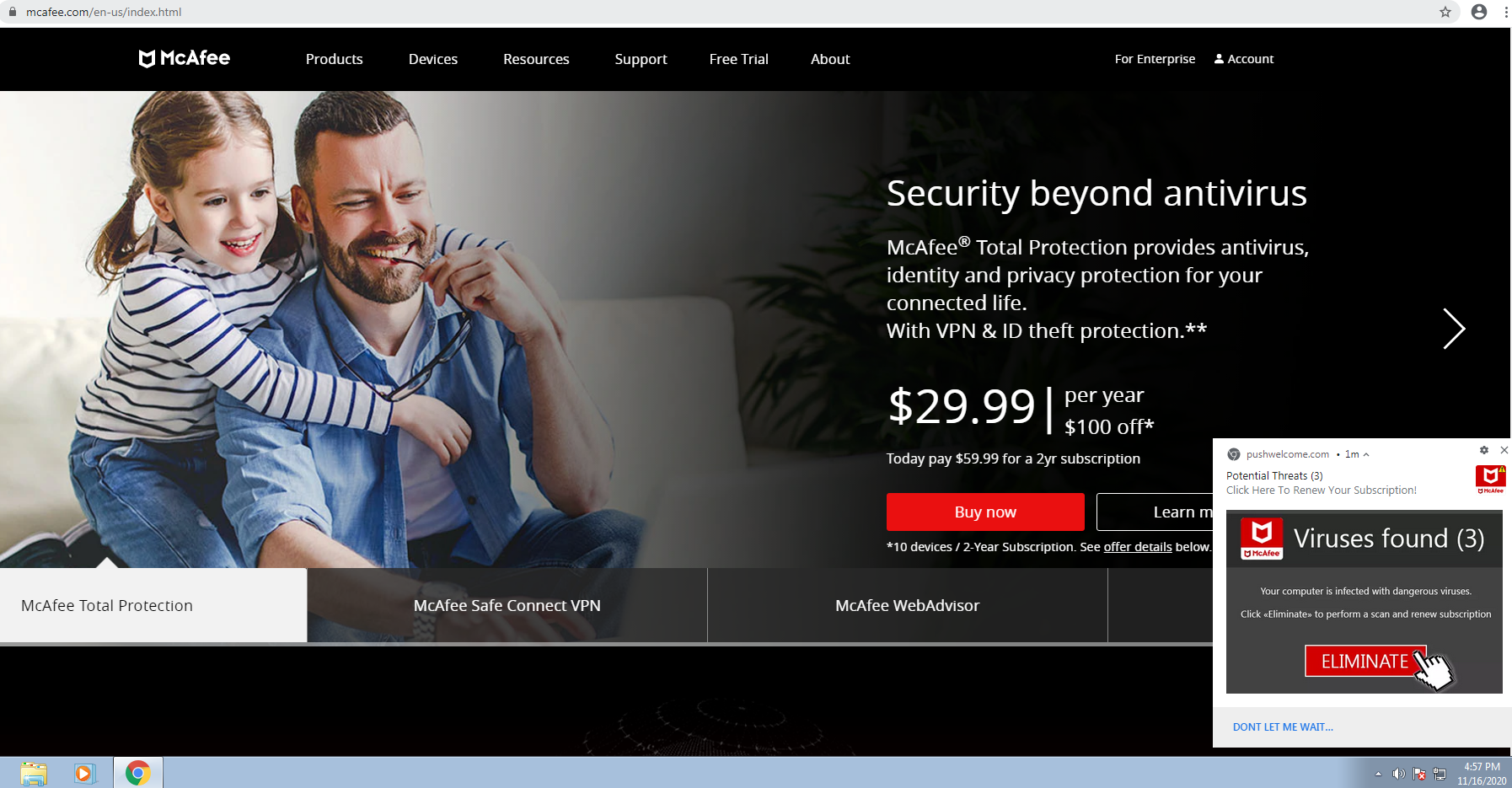 Requests for comment sent to PushWelcome via email were returned as undeliverable. Requests submitted through the contact form on the company's website also failed to send.
While scammy notifications may not be the most urgent threat facing Internet users today, most people are probably unaware of how this communications pathway can be abused.
What's more, dodgy notification networks could be used for less conspicuous and sneakier purposes, including spreading fake news and malware masquerading as update notices from the user's operating system. I hope it's clear that regardless of which browser, device or operating system you use, it's a good idea to be judicious about which sites you allow to serve notifications.
If you'd like to prevent sites from ever presenting notification requests, check out this guide, which has instructions for disabling notification prompts in Chrome, Firefox and Safari. Doing this for any devices you manage on behalf of friends, colleagues or family members might end up saving everyone a lot of headache down the road.
Source: https://krebsonsecurity.com/2020/11/be-very-sparing-in-allowing-site-notifications/
Google launches new VPN to prevent hackers
To protect people from hacking via unsecure public wi-fi networks, Google has announced a new virtual private network by Google One to provide an extra layer of online protection on Android phones.
According to The Economic Times of India, the VPN by Google One is available for people who have taken 2TB and higher plans.
If you've shared your 2TB Google One plan with family members (up to five additional people), they can also enable the VPN on their own devices at no extra cost.
The VPN by Google One will roll out in the US in the coming weeks through the Google One app (Android only) and will expand to more countries and to iOS, Windows and Mac in the coming months.
The company said in a statement that it is rolling out 'Pro Sessions' by Google One with VPN support.
"With Pro Sessions, you can schedule one-on-one online sessions with a Google expert to learn more about VPNs and how to stay safer online," the company said on Thursday.
Pro Sessions will also be available in the coming weeks to all 2TB members in the US, the UK and Canada.
The VPN is built into the Google One app, so with just one tap, you can "rest assured knowing your connection is safe from hackers."
Source: https://punchng.com/google-launches-new-vpn-to-prevent-hackers/
Study: These Are The Best Android Antivirus for Home and Business Use
Most people tend to think that antivirus software is only going to be useful if you were using a PC or something similar, but with all of that having been said and out of the way it is important to note that you would need this kind software on Android phones as well due to the reason that they tend to suffer from cyber attacks on a regular basis too. Figuring out what the best software is can be rather tricky, but AV-TEST has released a list of the top software that can be used to prevent viruses from having too much of an impact on your device.
This software was rated in three separate categories on scales of 1-6. These categories were protection, performance and usability. The highest possible score that any software would be able to obtain here would be 18, and the lowest would be 3 although all of the software on this list scored double digits except for Google's Play Protect which scored an embarrassingly low total of 6.
Six antivirus software managed to attain the top score of 18 when it came to home use. These were Bitdefender, ESET, G Data, Kaspersky, McAfee and NortonLifeLock. Any of these antiviruses are going to be great to make sure that you can use your Android device safely at home.
Things are a little different when it comes to business usage. This is because of the fact that businesses tend to be more likely to experience some kind of a cyber attack, which makes it all the more important for them to find an antivirus that can protect them without a shadow of a doubt.
The list for business users is quite short with only four programs being added. Google's Play Protect once again got a laughably low score of 9 out of 18, notably getting 0 out of 6 in the protection category, whereas the other three programs got perfect scores of 18. ESET, Sophos and Symantec were the manufacturers that managed to score 18, and the great performance of the antivirus each of these manufacturers create can help the average business owner enjoy a lot of peace of mind all in all.
Choosing the right antivirus software is essential if you want to make sure that you would be able to surf the net without any malicious actors causing you any kinds of problems along the way.