Huawei's first OLED TV is incoming, will have a 65″ panel and 14 under-display speakers
Huawei has been teasing a new smart TV and recent posters have filled in many of the blanks. The Huawei Smart TV X65 will have a 65" OLED panel- making this the company's first OLED TV.
A 24MP pop-up camera will be mounted above the display. There will be an ambient sensor that will be used to adjust the screen image for more natural colors. The TV will run Huawei's in-house Hongmeng OS, of course.
Richard Yu teased that the TV will support a new means of control, some speculate that this means a gesture control similar to the what the Huawei P40 phones have. It may even do eye and pose tracking using a Huawei NPU.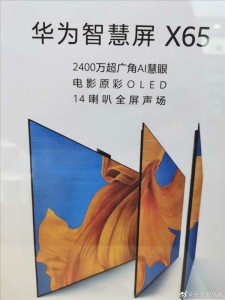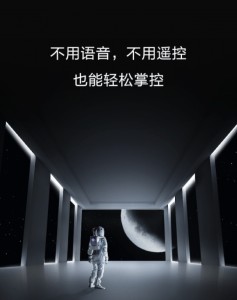 Teaser posters for the Huawei Smart TV X65
The TV will have 14 speakers located under the screen. A calibration process will feel out the soundscape in your room and create a profile for surround sound audio.
The full reveal of the Huawei Smart TV X65 is expected this Wednesday so stay tuned for pricing and availability info.
Source: https://www.gsmarena.com/huaweis_first_oled_tv_is_incoming_will_have_a_65_panel_and_14_underdisplay_speakers-news-42472.php
New Samsung Galaxy Note 20+ renders and video: Curved screen and massive camera bump
Just days after renders and a video clip of the Samsung Galaxy Note 20 were unveiled we now have renders and a video of the Samsung Galaxy Note 20+. Thanks to Pigtou in collaboration with @OnLeaks, the leaked images of the Galaxy Note 20+ offer a proper look at the upcoming smartphone, which is expected to be released in August unless further delayed by the COVID-19 pandemic.
Like the Galaxy Note 20, the Samsung Galaxy Note 20+ also has the S Pen slot moved from the right-hand side to the left. The apparent measurements for the device are 165 x 77.2 x 7.6 mm, which means it is longer and wider than the regular variant but also slimmer (7.6 mm vs. 8.5 mm). The 6.9-inch display has very narrow bezels, is curved, and it features a punch-hole solution for the selfie camera – so no under-display camera here either.
However, somewhat unfortunately the "standout" design feature for the Samsung Galaxy Note 20+ is the massive camera bump. According to the source, the housing for the rear-facing camera setup brings the phone's width to 10.7 mm at that area. It is extremely noticeable, and once it is seen it cannot be unseen. It's possible such an egregious camera bump may end up being a deal-breaker for some potential Galaxy Note 20+ buyers.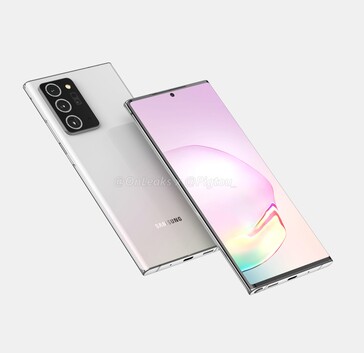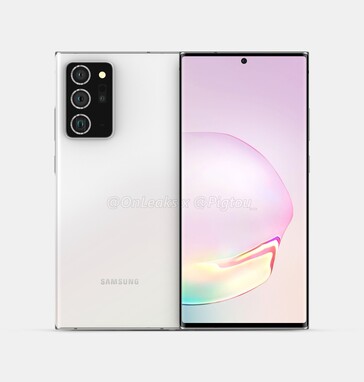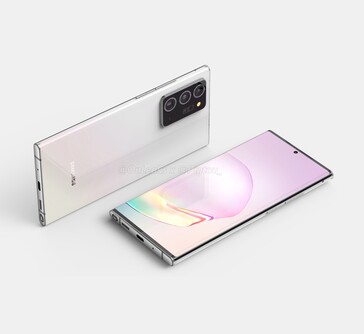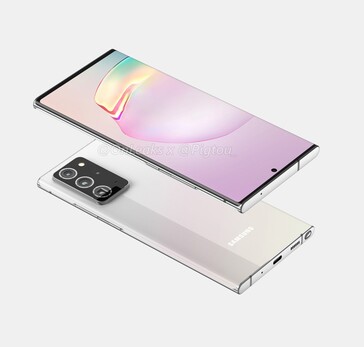 iPhone SE 2020 is proof that Apple won't actually bring back the tiny phone
After more than four years, Apple announced its new iPhone SE in April, and I imagine small-phone fans collectively jumped for joy upon hearing the news. The iPhone SE, which looks like an iPhone 8 but features the iPhone 11's powerful A13 chipset, also has a 4.7-inch display.
Apple claims that it's a "small" phone. And it is the smallest (and cheapest) iPhone currently available in Apple's lineup. It's also relatively compact by today's phone standards, and when compared to, say, the popular Galaxy S20, which has a 6.2-inch screen. But at 4.7 inches, the 2020 iPhone SE is roughly 20% larger than the original iPhone SE, which had just a 4-inch screen.
If you were holding out for something truly tiny, the iPhone SE 2020 doesn't deliver on that front. Apple's decision to not build a brand-new 4-inch phone is telling. It signals that the company will probably never bring back the tiny iPhone, no matter how badly people crave it. That's not to say Apple won't reduce the size of some of its upcoming phones. The iPhone 12 range is rumored to have a phone with a 5.4-inch screen, but that's not a small phone.
Personally, I'm all for it. Because we're in 2020 and I want a big phone. And because large screens simply deliver a better, more immersive user experience. For me, "portability" takes a backseat compared to those benefits. From making credit card payments and joining Zoom calls to following a banana bread recipe on YouTube, I spend more time than ever in front of my phone, for better or worse.
And if I'm using my phone for hours on end, I want to enjoy using it. Or at the very least, I don't want to have to struggle viewing my screen while carrying out more unpleasant tasks (like paying a credit card bill, for instance). Big phones can do that for me.
But my perception of what is large and what is small in terms of phones has evolved over the years. I wasn't always such a fan of large screens, nor do I subscribe to the "bigger is better" axiom. In fact, I used to adore my 4.7-inch iPhone 8, which I clung onto for years. I loved how it was purse-friendly and fairly effortless to use with one hand. But when I upgraded to the 5.8-inch iPhone X in 2018, it's been almost punishing to go back to anything smaller.
Whenever I do use my iPhone 8, I can feel my eyes strain when I attempt to navigate its interface, which now looks disturbingly cluttered to me. Reading news and watching videos on the iPhone 8 had become an unpleasant experience compared to the iPhone X. Either way, I do believe there is an upper limit to how supersized these phones should grow.
Phone-makers have been serving up increasingly larger handsets as the years go by. They know that screen size is one of the most important draws of a phone. But the jumbo phone trend really began back in 2011 with the first Galaxy Note. Samsung took a gamble and launched the 5.3-inch Note, which seemed enormous back then, or as one analyst put it, like a "dork flag." The Note ushered in big-phone mania, and is one of the reasons Apple eventually churned out my beloved 5.8-inch iPhone X in 2017.
Now, phones are even larger. Just take a look at the 2020 phone season so far: Within the Galaxy S20 family of phones, the S20 Ultra has a massive 6.9-inch screen. Oppo launched its super premium 6.7-inch Find X2 Pro, and Motorola unveiled the 6.7-inch Edge Plus in April, its first true flagship in years. Plus there are rumors percolating that Apple will release an iPhone 12 Pro Max that could also go as large as 6.7 inches. Sorry small-phone fans, it's clear the big phone trend is here to stay. 
Source: https://www.cnet.com/news/iphone-se-2020-proof-apple-wont-actually-bring-back-tiny-phone/
Cheap Gaming Laptops: Save on Acer, Asus, MSI, and Razer
Right now, medical professionals are doing everything that they can to end this global health crisis while the rest of us try to defeat boredom. If you're a gamer and have come to realize that your current laptop is no longer up to par in its gaming capability, we recommend the Acer Nitro 5, Asus ROG Zephyrus G GA502, MSI GS65 Stealth, or Razer Blade Stealth. These gaming laptops boast formidable specs and can also serve as your work laptop. What's more, they're all available at Best Buy at awesome discounted prices. Save up to $400 when you get them today.
Gone are the days when you have to spend at least $1,000 for a good gaming laptop. If you're on a tight budget but demand quality portable gaming, then the Acer Nitro 5 could be your best option. It's not the sexiest looking machine out there – in fact, it looks rather plain – but this laptop aces it where it really matters: Performance. Right now, you can get it for just $700 instead of $830 at Best Buy – a huge $180 off the price.
The Acer Nitro 5 is rather understated for a gaming laptop. It's not particularly stylish nor does it have the multicolor LEDs of premium gaming laptops. Nevertheless, it comes with stylized cooling vents and a red luminous keyboard so you can still distinguish it from ordinary business laptops. Its keyboard is precise and comfortable to use and features WASD keys that are boldly outlined in red. It features a small number pad, too. The touchpad is pretty good as well, responsive and precise with support of Windows 10 multitouch gestures. Unfortunately, its build quality isn't the best. We noticed a fair bit of flexing when we applied pressure on it, and at 1.1-inch thick and about 6 pounds, it's not exactly travel-friendly. At least it's got plenty of ports for peripherals, including one USB 3.1 Type-C, two USB 2.0 Type-A, one USB 3.0 Type-A, an SD card slot, HDMI out, and a headphone/mic combo jack.
Acer also outfitted the Nitro 5 with solid specs despite being a budget gaming laptop. Equipped with Nvidia's GeForce GTX 1650 GPU with 8GB of RAM, we enjoyed a steady 44 frames per second on medium graphics settings when playing Far Cry New Dawn, and 43 frames per second in Middle Earth: Shadow of War. While these numbers aren't exactly mindblowing, they are quite decent for an entry-level gaming laptop.
The Nitro 5 may come at a budget-friendly price but Acer certainly didn't skimp on its gaming performance. Get it for only $700 at Best Buy today.
For $950 (a whopping $250 less than its normal retail price of $1,200), you'll get a strong GTX 1660 Ti GPU, lengthy battery life, and a sleek and sexy design with the Asus ROG Zephyrus G GA502. Even though it has a middling AMD processor and a lackluster display, we still recommend the Zephyrus G if you're after solid gaming experience for relatively less money.
The aluminum chassis of the Zephyrus G has a textured brushed finish that's quite fetching. The glossy ROG logo is bedecked with red backlighting that faintly lights up. The screen is surrounded by super-slim bezels, and at 4.5 pounds and 14.2 x 9.9 x 0.8 inches, the Zephyrus G is incredibly light and slim. This laptop is outfitted with a decent number of ports, including an RJ45 Ethernet port, an HDMI 2.0 port, three USB 3.1 port, one USB Type-C port (DisplayPort 1.4), and a headphone jack. Although its 15.6-inch display is rather dull and dim compared to your average budget gaming laptop, it packs a 120Hz refresh rate for buttery-smooth gameplay. Its keyboard offers a very comfortable typing experience with the inclusion of palmrests, and the Windows precision drivers-powered touchpad is equally easy to use.
This laptop is armed with an Nvidia GeForce GTX 1660 Ti GPU with 6GB of VRAM. In our test, it was able to blaze through Shadow of the Tomb Raider at its highest graphics setting and at 36 frames per second. We did notice an occasional stutter and glitch, but not enough to ruin the overall experience. Moreover, its AMD Ryzen 7 3750H processor with 16GB of RAM was able to seamlessly juggle multiple Google Chrome tabs open with five 1080p-YouTube videos while Shadow of the Tomb Raider ran in the background, making this a great work laptop as well.
Boasting an awesome streamlined design and above-average GPU performance that's slightly marred by a subpar display, the Asus ROG Zephyrus G GA502 is a great pick for a budget gaming laptop. Get it for a huge $250 off at Best Buy right now.
Well go straight to the point: The MSI GS65 Stealth is one of the best midrange gaming laptops out there. It practically has no flaws, comes at an attractive price, and boasts the power to play the most graphically demanding games at the highest setting. This exquisite piece of gaming equipment is currently on sale at Best Buy for $1,300 instead of $1,700, and an unprecedented $400 off.
The MSI GS65 Stealth screams luxury. With opulent black and gold accents adorning its svelte and sophisticated chassis, this is the Cadillac of gaming laptops. At a mere 4.1 pounds and 0.7 inches thick, this is one of MSI's skinniest gaming laptops to date: It won't weigh you down when you're traveling with it. Despite its slim profile, it still has plenty of ports to offer. On the right side, you'll find a USB 3.1 Type-A port, Thunderbolt 3, a Mini DisplayPort, HDMI, and the power jack, while the left side flaunts a pair of USB 3.1 Type-A ports, Gigabit Ethernet, a secure lock slot, a microphone jack and an S/PDIF jack for high-res audio.
This laptop's 15.6-inch is packed with 1,920 x 1,080 pixels. It can get incredibly bright with sharp details and exquisite colors. Furthermore, its 144-Hertz refresh rate should help cut down on screen tears and latency, which works wonders on fast-paced games and movies. Normally, laptops this thin have keyboard keys that are somewhat shallow. This is not the case with the Stealth. Its island-style keys have a strong actuation, resulting in surprisingly springy action. Furthermore, your gaming will prove even more dazzling and dramatic thanks to MSI's customizable Steel Series individual keys lighting.
The MSI GS65 Stealth is one of the first portables to feature Intel's 8th-gen, six-core Coffee Lake processor. Working alongside an Nvidia GeForce GTX 1660Ti GPU and 8GB of VRAM, this laptop is not just a beast for gaming but also for productivity. The system can easily deliver good frame rates at the highest settings as well as VR support. You'll be able to enjoy 60fps or higher at peak settings on graphics-intensive games like Witcher 3, Rise of the Tomb Raider, and Hitman.
The MSI GS65 Stealth is a lethal combination of price, power, and portability. Get it for a staggering $400 off at Best Buy today.
One of the best and most popular gaming laptop manufacturers is Razer, and its premium gaming Ultrabook, the Razer Blade Stealth, is now leaner, meaner, and faster than ever, thanks to a dedicated Nvidia GeForce graphics processor. You can get the Razer Blade Stealth Ultrabook for an incredible $300 less than usual on Best Buy, bringing its price down from $1,800 to $1,500.
The Razer Blade Stealth has been completely redesigned. It still has the same solid aluminum chassis, but with thinner bezels, harder edges, sharper corners, and a gorgeous jet-black finish. It looks like a tiny version of the 15-inch Razer Blade (our best gaming laptop for 2019). At the back of the screen, you will find Razer's logo of three intertwined serpents. Its 13-inch matte screen has been calibrated to display accurate and precise colors and the blackest of blacks. It looks good no matter what angle you're viewing it from, and it can go incredibly bright at over 400 nits max, which is exactly what we want from a premium laptop.
It gets its keyboard design straight from the Razer Blade, for better or for worse. The keyboard is Chroma-lit for full-blown gaming immersion and typing on it is a pleasure. However, we think the layout could use some serious tweaking. The keys appear cramped and the Stealth borrows the worst aspect of the Razer Blade's keyboard layout: The full-size up/down arrow keys. This is great for gaming, but the up arrow key cuts between the "shift" and "question mark" keys, which will take time to get used to.
On to its gaming performance. The Blade Stealth has an eighth-generation Intel Core i7 processor, 16GB dual-channel memory, and the Nvidia GeForce MX150 graphics processor, all working together to ensure the best gaming experience despite its ultra-small size. We were able to play Fortnite and Civilization VI at more than 30 fps (frames per second) at the medium resolution setting, which isn't smooth but is still playable. Fast-paced shooter games, unfortunately, did not fare well. For Battlefield 1 to be playable, the resolution needed to be dropped down to a lower setting. Rocket League was the sole exception, which managed 60 fps with a high-resolution setting. Overall, the Razer Blade Stealth was by no means bad. It just wasn't as smooth as we expected it to be and is not as good as the Razer Blade.
With undeniably cool looks, a stunning display, and extreme portability, the Razer Blade Stealth is definitely worthy of recommendation. Unfortunately, it lacks stellar gaming performance, which should have been its primary strength. Still, it's one of the better gaming Ultrabooks out there.
Source: https://www.digitaltrends.com/dtdeals/acer-asus-msi-razer-gaming-laptop-deals-best-buy-spring-sale/