Rumors about Apple's upcoming 2020 iPhones, which could be called the iPhone 12 and iPhone 12 Pro.
AT A GLANCE
Apple in Fall 2020 will unveil new iPhones, and this roundup features all of the rumors that we've heard about the upcoming devices so far.
FEATURES
Four iPhones
New physical design
5.4″, 6.7″, and 6.1″ sizes
Triple-lens 3D camera
All OLED displays
5G connectivity
A14 chip
$649 starting price
Apple's 2020 iPhone Lineup
We're a few months away from the launch of the 2020 iPhones, which are expected in September or October 2020, but there are already dozens of rumors about the upcoming devices. We're expecting the 2020 iPhones to be called the iPhone 12 and iPhone 12 Pro if Apple follows the same naming scheme it used for the 2019 iPhone lineup.
The 2020 iPhones will feature major updates, introducing some of the first design changes that we've seen since the iPhone X was released in 2017. We're expecting four iPhones in three display sizes which could come in at 5.4, 6.7, and 6.1 inches (x2).
Rumors suggest the 6.7-inch iPhone and one 6.1-inch model will be higher-end devices with triple-lens cameras, while the 5.4 and 6.1-inch models will be lower-end iPhones with dual-lens cameras and a more affordable price tag. All iPhones in 2020 are expected to feature OLED display technology regardless of price, and a 120Hz "ProMotion" refresh rate could be included in some of the higher-end models, though that's not guaranteed due to battery life constraints and Apple could wait until 2021 to add the feature.
At a rumored 5.4 inches, the 2020 iPhone 12 will be the smallest iPhone Apple has released since the 4.7-inch iPhone SE. At 6.7 inches, the 2020 iPhone 12 Pro will be Apple's largest iPhone to date, topping the 6.5-inch iPhone 11 Pro Max. The two 6.1-inch models will be similar in size to the existing iPhone 11.
Design wise, rumors suggest the new iPhones coming in 2020 will feature a significant redesign with a metal frame that's similar to the frame of the iPhone 4 or the iPad Pro. The iPhone 4 had a distinctive, flat look for its stainless steel frame, which could be replicated in the new iPhones, bringing the design in line with the 2020 iPad Pro models.
There were rumors indicating Apple will use a new TrueDepth camera system that cuts down on the size of the notch on the front, but leaks are mixed on this subject and there could be no change in notch size. There are also rumors of a 3D triple-lens rear camera system that uses a laser to calculate depth information for objects in the room, improving both photography and AR capabilities. This is likely to be similar to the LiDAR Scanner in the 2020 iPad Pro, and it will be limited to the higher-end iPhone models.
2020 will be the first year that Apple introduces 5G support in the iPhone, allowing the new devices to connect to 5G networks that are much faster than 4G LTE networks. According to rumors, all of the iPhones in the iPhone 12 lineup will feature 5G connectivity, though it's not yet clear if all iPhone 12 models will have super fast mmWave support in all countries as some countries have not implemented mmWave technology.
The iPhone 12 models coming in 2020 will use an Apple-designed 5-nanometer A14 chip manufactured by TSMC. The A14 chip is expected to bring both speed and efficiency improvements that could bring small gains in battery life to compensate for 5G, which uses additional battery.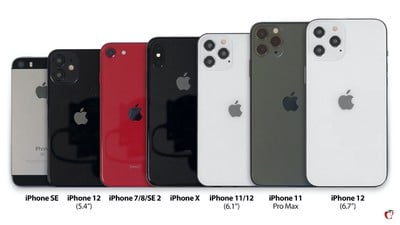 Size comparison: iPhone 12 dummy models compared to existing iPhones
Rumors suggest Apple has no plans to include a power adapter or EarPods in the box with the iPhone 12 models, letting the company cut down on production costs and packaging. Instead, Apple may offer a 20W power adapter that can be purchased separately. The USB-C to Lightning cable could get an upgrade, though, with rumors indicating Apple plans to offer a new braided cable design.
Note: See an error in this roundup or want to offer feedback? Send us an email here.
Prospective Name
Apple's iPhone naming plans have been confusing ever since the iPhone 8 debuted alongside the iPhone X in 2017, skipping the iPhone 9 entirely. Apple continued on with the confusing naming scheme in 2018 with the iPhone XS, XS Max, and XR, but things became clearer in 2019 with the iPhone 11, iPhone 11 Pro, and 11 Pro Max.
Apple previously did a numerical increase and then an "S" year, but because the changes expected in 2020 are so significant, it's unlikely that we're going to get an iPhone 11S or similar, and much more likely that we're going to see an iPhone 12.
If the lower-end followup to the iPhone 11 is named the iPhone 12 (which is what we'll be calling it), then we can expect the two higher-end devices that are coming in 2020 to be the iPhone 12 Pro and the iPhone 12 Pro Max. Below are the names that Apple has used since the iPhone first launched in 2007:
2007 – iPhone
2008 – iPhone 3G
2009 – iPhone 3GS
2010 – iPhone 4 (new design)
2011 – iPhone 4s
2012 – iPhone 5 (new design)
2013 – iPhone 5s and iPhone 5c
2014 – iPhone 6 and iPhone 6 Plus (new design)
2015 – iPhone 6s and iPhone 6s Plus
2016 – iPhone 7 and iPhone 7 Plus
2017 – iPhone 8, iPhone 8 Plus, and iPhone X (new design)
2018 – iPhone XR, iPhone XS, and iPhone XS Max
2019 – iPhone 11, iPhone 11 Pro, and iPhone 11 Pro Max
Of course, until the new devices are released, there's no confirmation that these new devices are set to be called the iPhone 12, 12 Pro, and 12 Pro Max, but it's the guess that makes the most sense at this time.
Size Options
Rumors suggest Apple will offer four iPhones in three different sizes, with Apple introducing new sizes for the first time in a few years.
So far, rumors indicate we'll see a 5.4-inch iPhone, a 6.7-inch iPhone, and two 6.1-inch iPhones. 5.4 inches is smaller than the current iPhone 11 Pro, while 6.7 inches is bigger than the current iPhone 11 Pro Max. Rumors suggest the 5.4-inch device will be close to identical in size to the iPhone 8.
One 6.1-inch model and the 6.7-inch model will be higher-end "Pro" iPhones, while the other 6.1-inch iPhone and the 5.4-inch iPhone will be lower-end models and successors to the iPhone 11. The higher-end iPhones will feature newer camera systems with triple-lens setups, while the lower-end iPhones will feature dual-lens camera setups.
Try the 5.4-Inch iPhone
We designed images that let iPhone owners who have a full-display iPhone visualize the size of the upcoming 5.4-inch iPhone. The 5.4-inch iPhone will be the smallest iPhone that Apple has released in recent years, and should satisfy those who are looking for a smaller form factor.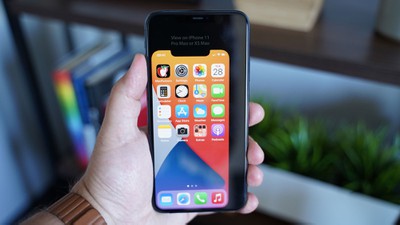 To try it out, make sure to check out our article with the images that will let you preview the design.
Design
The 2020 iPhones will feature an overhauled design with a metal frame that's similar to the frame of the iPhone 4. Apple analyst Ming-Chi Kuo says that the new iPhones will use a more complex segmentation design, and new trenching and injection molding procedures.

iPhone 12 dummy models vs. existing iPhones
The overall design, though, will resemble the iPhone 4 or iPad Pro with a squared-edged stainless steel frame between two pieces of glass. The new iPhone will feature a stainless steel frame, which will replace the current rounded stainless steel frame, and it will continue to use front and back glass for the body of the device.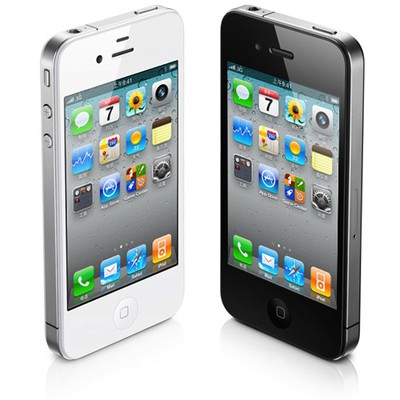 The grooving and injection molding of the metal in the frame is said to reduce the negative impact of metal shielding on the high-frequency transmission efficiency of the internal antenna. Kuo believes Apple will use sapphire or tempered glass to protect the grooves in the frame. Slightly wider antenna lines are a possibility according to one rumor, though that has yet to be backed up by a reliable source.
A mockup of what the new iPhone 12 could look like
According to Bloomberg, at least two of the high-end iPhones Apple plans to offer in 2020 will have the new design with flat, stainless steel edges instead of curved edges, reminiscent of the design of the iPad Pro.
Japanese site Mac Otakara believes the 6.7-inch iPhone will have a thickness of 7.4mm, which would be quite a bit thinner than the 8.1mm thick iPhone 11 Pro Max. It's also expected to be slightly taller than the 11 Pro Max. The 5.4-inch iPhone's height is expected to be somewhere between the height of the iPhone SE and the iPhone 8. The 5.4, 6.7, and at least one 6.1-inch iPhone are expected to have different numbers of microphone holes along the bottom.
Along with the iPad Pro-style design and size tweaks, leaked schematics that allegedly reveal Apple's plans for the device also show several other minor design tweaks worth noting, as listed below:
Slightly larger camera lenses
Thicker antenna lines at the side for 5G
SIM tray relocated to the left side of the device
Smart Connector-like input on the right (which may actually be an antenna)
One less speaker hole on right side of the speaker grille
Slightly lower power button
There will be a Lightning port on the iPhone 12, with Apple continuing to use Lightning instead of swapping over to USB-C.
Colors
One rumor suggests that at least one of the iPhone 12 models could come with a new navy blue finish. Apple introduced a new midnight green color with the iPhone 11 Pro lineup, so it's not unreasonable to think there could be a new blue color in the works as well.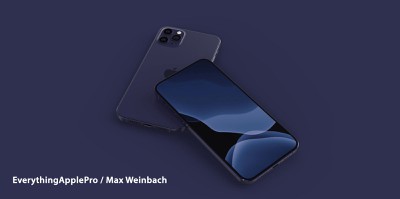 Another rumor suggests the iPhone 12 models could come in light blue, violet, and light orange, among other colors.
Schematics and Mockups
Leaked images said to depict the iPhone 12 picture a notch that is approximately 1/3 smaller than the current notch, which is in line with rumors that have suggested the notch in the 2020 iPhones could be smaller, though some rumors disagree that the notch will shrink in the iPhone 12 models.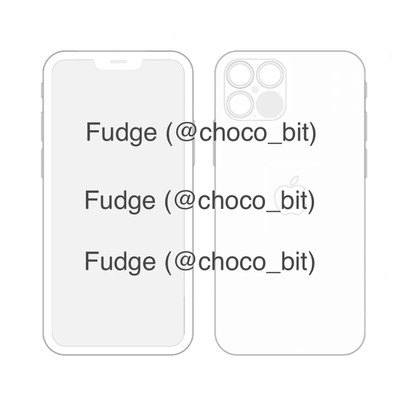 There's no clear word on where these images came from, nor if they're accurate, but it appears they could be from some kind of support documentation. The rear camera array is also pictured with a triple-lens camera and 3D sensor, as has been rumored.
A rendering of the iPhone 12 Pro Max said to be based on leaked CAD designs was shared in April, and it lines up with many of the rumors that we've heard about the device so far. The new iPhone appears to take design cues from the iPad Pro, with a square-edged stainless steel frame between two pieces of glass and a larger 6.7-inch OLED display.
The render suggests the iPhone 12 Pro Max will be 7.4mm thick, quite a bit thinner than the 8.1mm thick iPhone 11 Pro Max. The camera bump is expected to be thicker, measuring in at 1.26mm, up from 1.21mm. The notch in the rendering is the same size as the existing notch.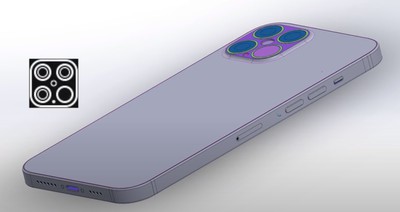 It's not clear if these renderings are entirely accurate, but given that they match well with the current rumors that we've heard about the upcoming iPhones, this could indeed be what the 2020 iPhones will look like.

Alleged iPhone 12 schematics that surfaced in April have suggested Apple will implement a smaller notch by integrating the front speaker for the device into the bezel. The updated hardware layout also features the ambient light and proximity sensors moved to a more central position within the TrueDepth camera system.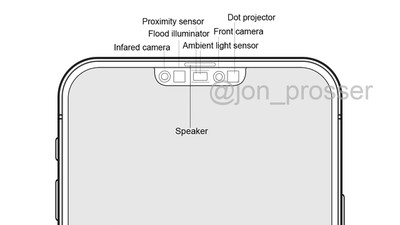 3D printed iPhone 12 mockups based on leaked schematics and info from Apple's supply chain surfaced in June, providing a size comparison.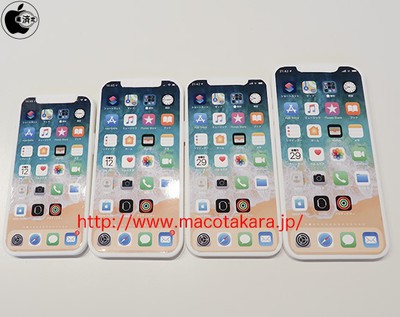 These mockups may not be entirely accurate as the camera setups depicted don't feature the LiDAR 3D sensor that some of the iPhones are expected to include.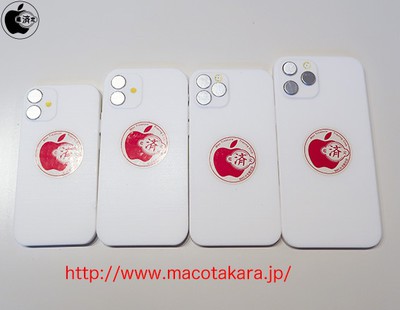 They do depict a relocated SIM tray, which rumors have suggested will be moved to the left side under the volume buttons in order to make room for the 5G antenna module. on the right side.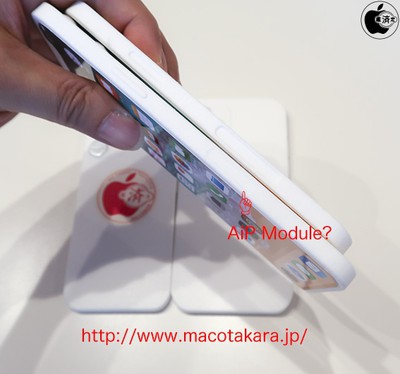 Images on Weibo said to be from the iPhone 12 depict a circular array of magnets in the body of the device. There are 36 individual magnets, which could be related to charging or mounting. There is speculation that it could be for alignment purposes should Apple release its own wireless charger at some point.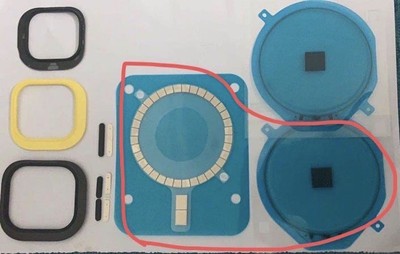 Case Molds
iPhone 12 case molds and CAD images surfaced in June 2020, offering a closer look at the different sizes of each iPhone. These are physical molds that are developed based on leaked schematics by third-party case makers.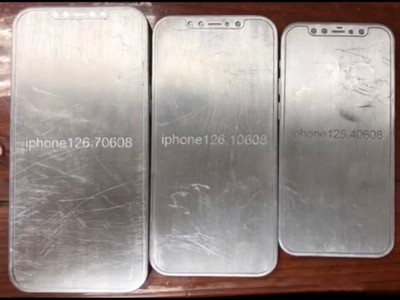 There's a lot of money in being first to come out with a case, so more often than not, these kinds of molds end up being accurately developed based on supply chain leaks.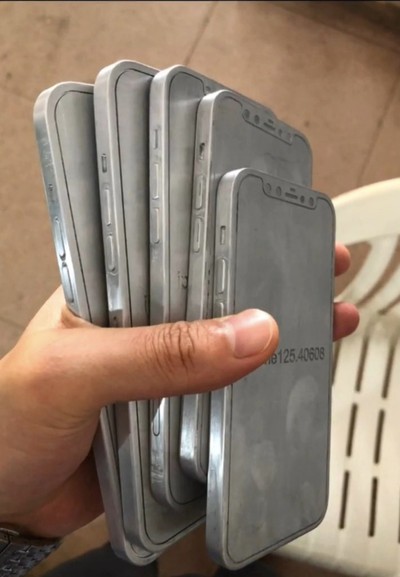 The molds are rudimentary, though they do feature the iPhone 4-style design that the iPhone 12 models are rumored to be adopting. Note that the notch may not be representative of the size of the actual notch as case makers likely do not need to have this information for case development purposes.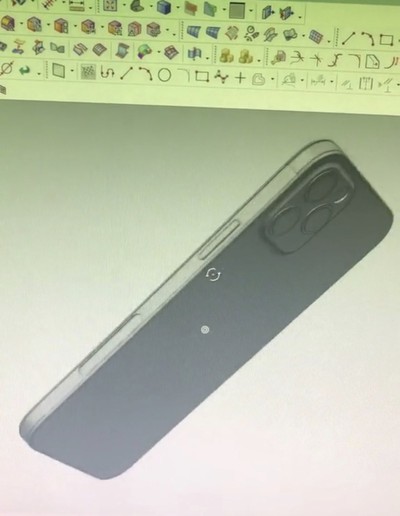 Some rumors have suggested the iPhone 12 models will have a smaller notch, and these case models do not necessarily disprove that rumor. The case models may not have accurate camera builds either, as that's another feature that doesn't need to be accurate beyond cutout size.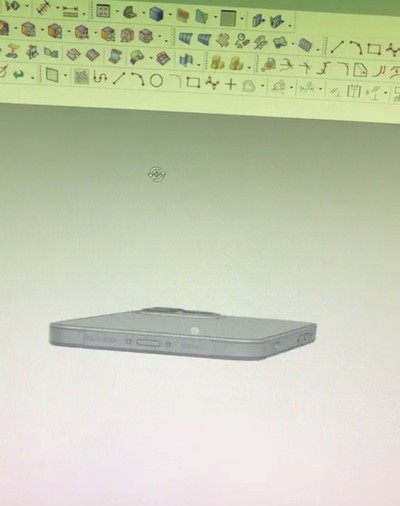 There has been conflicting information about the iPhone 12 rumors, which is worth noting. EverythingApplePro, for example, believes that CAD leaks for case makers are accurate device representations, and that the iPhone 12 will not have a smaller notch.
He has also suggested that only the 6.7-inch iPhone "iPhone 12 Pro Max" will feature LiDAR, rather than both the Pro models that are planned, and that a rumored "Smart Connector" is a mmWave antenna.
Dummy Models
Dummy models representing the iPhone 12 lineup started coming out in June, giving us a clearer look at how the sizes and designs of the new devices compare to older iPhones.
The 5.4-inch iPhone, for example, is a bit bigger than the iPhone SE, but a tad smaller than Apple's 4.7-inch iPhones like the iPhone 8, while the 6.7-inch iPhone will be the biggest iPhone that Apple has released.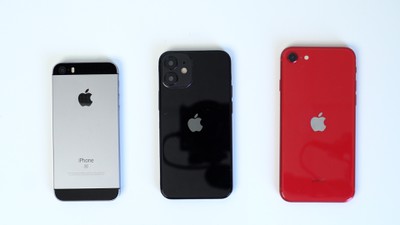 iPhone SE on left, dummy model in middle, iPhone SE 2020 on right
These dummy models are based on leaked schematics and are designed for case makers. Case makers create cases based on these models to be the first out with a new case when the new iPhones launch.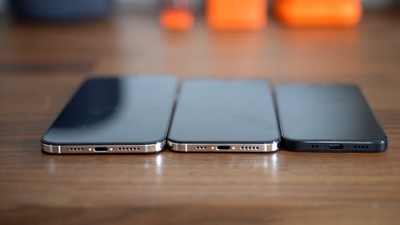 Since these are designed for case makers, the rear camera setups and the front-facing TrueDepth camera design may not be accurate, as rumors have suggested a LiDAR sensor for some models along with a smaller notch. We could still see those features even though they're not depicted in the dummy models.
Component Leaks
5.4-Inch Display
Alleged images depicting the display panel of the 5.4-inch iPhone 12 were shared on social networking site Weibo in July, and if accurate, the design of the notch suggests that smaller notches could perhaps be introduced across the iPhone 12 lineup.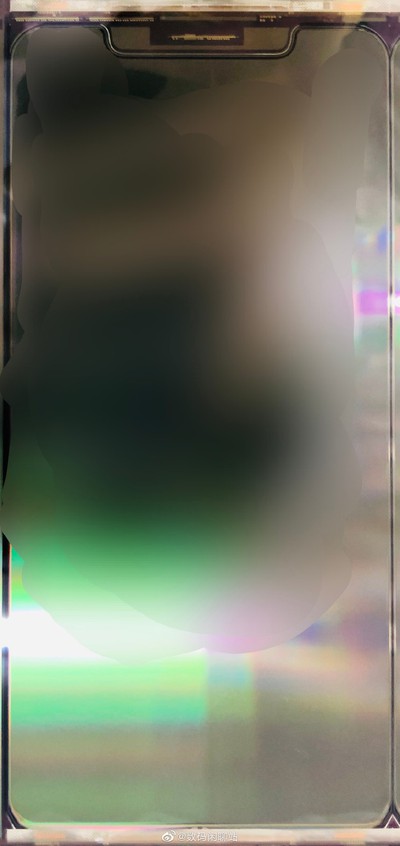 The display is for a smaller iPhone, but on existing iPhones like the 11 Pro and 11 Pro Max, the notch is the same size on both devices. If all iPhones in 2020 have the same size notch, the notch could be smaller than the current notch design.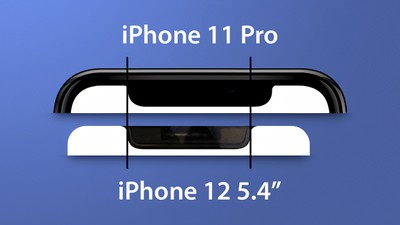 Display Unit
An alleged iPhone 12 display unit leaked online in August, giving us a look at a possible iPhone 12 display component. The display unit looks notably different from a similar component designed for the iPhone 11 Pro and may be related to rumors of the logic board moving to the other side of the device to accommodate a 5G antenna module.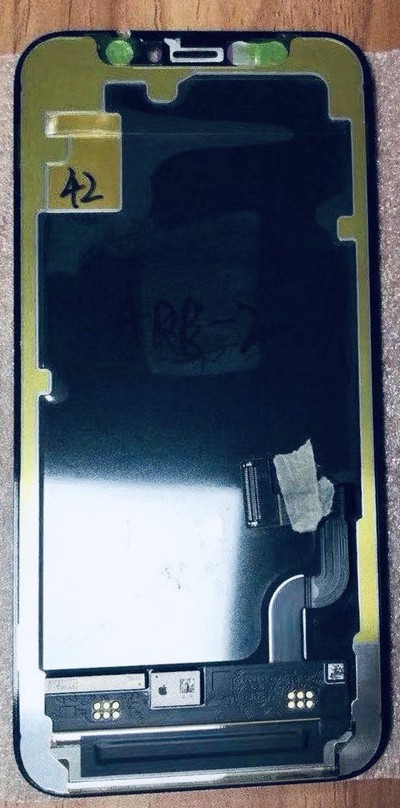 It's not clear what size the display unit is, but based on the size of the notch, it could be from the 5.4-inch iPhone 12.
A14 RAM Component
Photos of the RAM component of the A14 chip surfaced in July, but there's nothing to be gleaned from the images other than the chip component was manufactured in April 2020.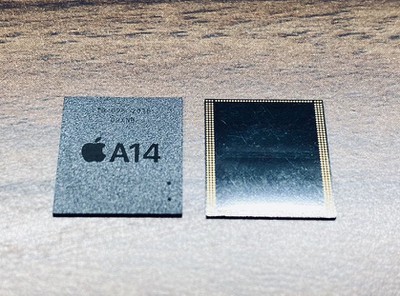 Logic Board
An image depicting an alleged iPhone 12 or iPhone 12 Pro logic board leaked in May. It's not clear which iPhone the logic board belongs to, nor is there much to be gleaned from it.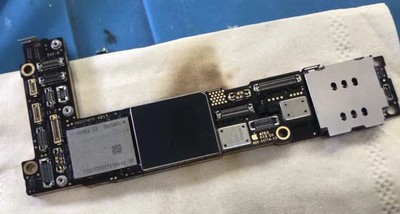 The logic board appears to feature a more elongated design compared to the compact boards seen in recent higher-end iPhone models.
Display
Though Apple is expected to continue offering both higher-end (aka more expensive) iPhones and lower-end (more affordable) iPhones in 2020, all of the devices may come equipped with OLED displays this year, with Apple doing away with LCDs for its iPhone lineup.
Apple's use of OLED across the iPhone lineup will allow for "more flexible handset design." Apple is testing OLED displays from Chinese company BOE Display, which makes LCDs for Apple's iPads and MacBooks. Apple has been using Samsung OLED displays in recent OLED iPhones and is expected to continue doing so, with Samsung supplying up to 80 percent of displays used for iPhone 12 models.
Some of the new iPhones coming in 2020 are expected to adopt a Samsung technology called Y-OCTA, that allows touchscreen circuitry to be directly patterned on the OLED panel without the need for a separate layer, resulting in a thinner display and lower production costs, though it's not clear if this translates to a thinner body design.
Future iPhones could adopt the Apple Watch's low-power LTPO display technology. LTPO, or low-temperature polycrystalline oxide, has an Oxide TFT structure that uses up to 15 percent less power than LTPS, or low-temperature polysilicon, the backplane technology that Apple currently uses. It's not entirely clear if Apple will adopt this technology for the iPhone 12 or a future iPhone.
Some of the iPhones coming in 2020 are also rumored to include touch-integrated displays supplied by LG, with LG also planning to switch to LTPO backplane technology in the second half of 2020, perhaps supplying more power efficient displays for some 2020 iPhones if the displays are ready in time.
Apple supplier BOE reportedly failed to deliver the first shipment of OLED panels for Apple's iPhone 12 after the displays were unable to pass OLED quality control tests, and BOE's panels will not be used in the first 2020 iPhones. Apple will instead use displays from other suppliers such as LG Display.
Display Details
Display details expected for each iPhone have leaked, with details below:
5.4-inch iPhone 12 – OLED display from Samsung Display with Y-OCTA integrated touch. 2340 x 1080 resolution with 475 PPI.
6.1-inch iPhone 12 Max – OLED display from BOE/LG Display with a 2532 x 1170 resolution and 460 PPI.
6.1-inch iPhone 12 Pro – OLED display from Samsung, possibly with XDR. ProMotion possible, but not guaranteed based on power requirements and lack of LTPO. 2532 x 1170 resolution and 460 PPI.
6.7-inch iPhone 12 Pro Max – OLED display from Samsung with Y-OCTA support and possibly with XDR. ProMotion possible, but not guaranteed based on power requirements and lack of LTPO. 2778 x 1284 resolution at 458 PPI.
ProMotion Technology
Some rumors suggest that Apple is considering a 120Hz ProMotion display for the higher-end iPhone Pro models, and a ProMotion iPhone could work similarly to the ProMotion iPad Pro, which dynamically adjusts the display to the movement of the content on the screen for fluid scrolling, greater responsiveness, and smoother motion.
The iPad's display refresh rate changes based on what's being viewed to conserve battery life. If you're watching a movie or playing a game, for example, the refresh rate may be at 120Hz, but if you're reading a web page or looking at a photo, you don't need a 120Hz refresh rate, so the frame rate lowers automatically. An iPhone with a 120Hz refresh rate could work similarly.
An improved refresh rate could bring more fluidity and realism to viewed content, significantly improving the OLED displays of the iPhone.
It's not entirely clear if ProMotion technology will make its way into the iPhone, though, because it may have too much of an impact on battery life. One rumor, for example, said that low-power LTPO technology isn't expected in the iPhone until 2021, and that could be a barrier that prevents ProMotion displays from being added to the 2020 iPhone lineup.
Other rumors have suggested ProMotion is planned for 2020, but that Apple won't add the feature to the iPhone's display if it doesn't meet battery life standards. An August rumor suggested there's a chance that Apple could delay the iPhone 12 Pro launch due to supply chain issues with the 120Hz display, or scrap the feature entirely. Apple is apparently unable to obtain 120Hz driver ICs for the device, even though the 120Hz panels may be available, so the 120Hz situation remains murky.
Screenshots said to be from a test model of the 6.7-inch iPhone 12 Pro Max suggest Apple is testing LiDAR functionality and a 120Hz display, though it still remains unclear if the 120Hz feature will make it into the final version of the iPhone 12 Pro. It's also unclear if these screenshots are legitimate.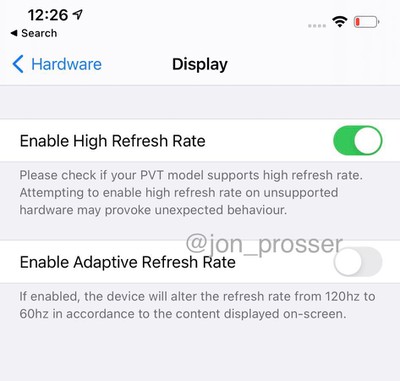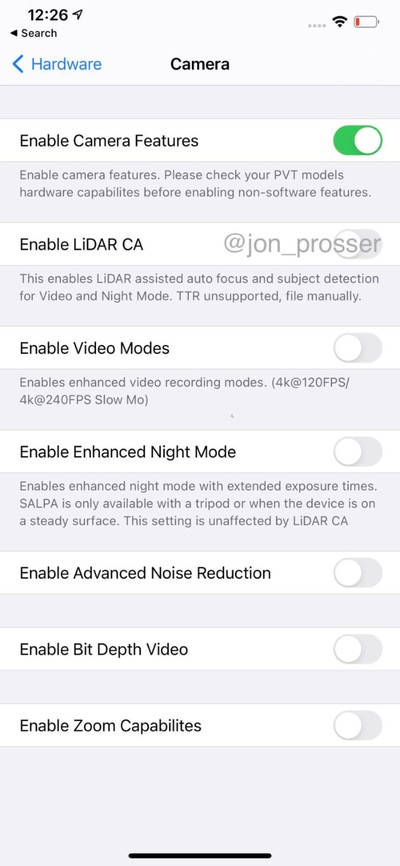 A14 Chip
Rumors suggest TSMC will manufacture the 5-nanometer chips Apple will use in its 2020 iPhone lineup. The 5-nanometer process will produce chips that are smaller, faster, and more battery efficient due to improved thermal management.
The A14 chip could feature 15 percent increased performance and a 30 percent reduction in power consumption compared to the A13 chip.
The A14 chip will focus on speeding up artificial intelligence and AR tasks, according to Bloomberg.
RAM
Barclays analyst Blayne Curtis believes the iPhone 12 Pro models will feature 6GB RAM, while the iPhone 12 will have 4GB RAM, which has also been echoed by leaker L0vetodream.
UBS analysts also believe the four iPhones in development will feature varying amounts of RAM. They're expecting a 6.7-inch iPhone with 6GB RAM, a 6.1-inch iPhone with 6GB RAM, a 6.1-inch iPhone with 4GB RAM, and a 5.4-inch iPhone with 4GB RAM.
Battery
The iPhones coming in 2020 could have some small gains in battery capacity as Apple suppliers are working on a custom battery protection module that's 50 percent smaller and thinner than the same component in previous iPhones. That could free up valuable space in the iPhone.
Certifications for three batteries that could be destined for Apple's iPhone 12 models suggest the iPhone 12 lineup could perhaps use batteries with lower capacities than the batteries in the iPhone 11 models.
The three capacities include 2,227 mAh (perhaps for the 5.4-inch iPhone), 2,775 mAh (for the 6.1-inch iPhone), and 3,687 mAh (for the 6.7-inch iPhone). A separate filing for a 2,815mAh battery suggests that the higher-end 6.1-inch iPhone could perhaps have a slightly larger battery. Comparatively, the iPhone 11 Pro has a 3,046 mAh battery, the 11 Pro Max has a 3,969 mAh battery, and the iPhone 11 has a 3,110 mAh battery.
It's not known if these battery capacities are accurate, but if they are, with processor improvements, battery life could be about the same as the prior-year models. 5G connectivity is a concern, however, so we'll need to wait to see how battery life in the iPhone 12 compares to iPhone 11 battery life.
Because the 5G components in the iPhone 12 models are so expensive, Apple is looking to save money when it comes to other components. Apple is moving to a battery board design that's simpler and smaller with fewer layers, which will be 40 to 50 percent cheaper than the equivalent part on the iPhone 11 series.
Power Adapter
Upcoming iPhone 12 models might not ship with a power adapter in the box, according to TF International Securities analyst Ming-Chi Kuo and Barclays analysts.
Apple may be planning to nix the adapter from the box in order to cut down on iPhone 12 production costs as adding 5G support has been expensive. Apple will instead release a new USB-C 20W power adapter as an optional accessory for existing iPhones, which can be purchased separately.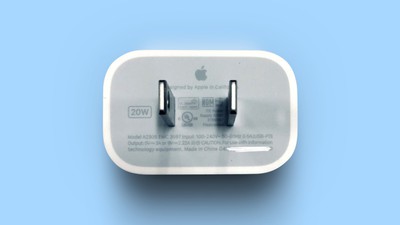 Hints of the new 20W 20W USB-C power adapter showed up on Twitter in June. The new 20W charger has been certified in Norway, and a second unknown charger has also been certified in Norway and Australia.
With no power adapter or EarPods included with the iPhone 12, the boxes for the device are expected to be thinner with less packaging included.
An alleged rendering of a box insert for the iPhone 12 that's supposedly based on a "really reliable source" depicts a thin box size that has room for a cable, an iPhone, and paper inserts, but no space for a power adapter or EarPods.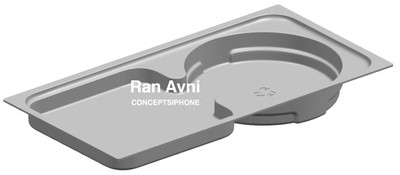 It's not clear if the rendering is accurate given that it doesn't come from a particularly reliable source, but if Apple does indeed eliminate the power adapter and the EarPods from the box, the box insert could indeed look something like this.
Lightning to USB-C Cable
While Apple is rumored to be eliminating the power adapter from the iPhone 12 boxes, the company may introduce a new USB-C to Lightning cable with a more durable braided design.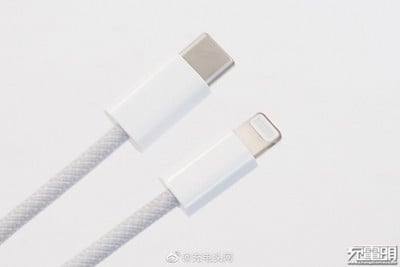 Leaked in July, the cable is similar to the existing USB-C to Lightning cables that Apple offers, but it is made from a gray and white woven fabric that may better withstand usage over time. It's not known if all iPhones released in 2020 will get the new braided cable as in 2019, a USB-C to Lightning cable was limited to the higher-end, more expensive iPhones.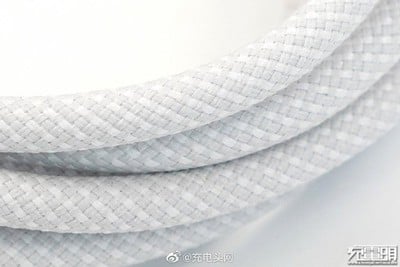 Rear Cameras
Apple made major changes to the rear camera system in the 2019 iPhone lineup with the new triple-lens setup of the iPhone 11 Pro and Pro Max, and 2020 may bring even more camera improvements. Rumors suggest some of the new iPhone models coming in 2020 will feature a 3D camera, which sounds like the LiDAR Scanner feature that Apple added in the 2020 iPad Pro models.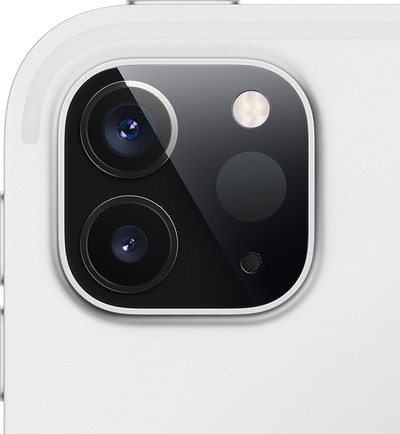 The LiDAR sensor and dual-lens camera in the 2020 iPad Pro
The LiDAR Scanner in the iPad Pro uses reflected light to measure the distance from the sensor to surrounding objects that are up to five meters away, which is equivalent to 16.4 feet. It works indoors and outdoors, and is essentially able to map the environment around you at the photon level at nano-second speeds.
Depth frameworks in iPadOS combine depth points measured by the LiDAR Scanner, data from cameras, and data from motion sensors to create a more detailed and complete understanding of a scene for improved augmented reality capabilities. The rumored 3D camera in the iPhone is likely to work similarly, if not identically.
Apple is said to be using VCSEL lasers from San Jose-based company Lumentum to provide the 3D depth sensor that is expected to be included in at least one of the iPhone models coming in 2020. Apple has used VCSELs or vertical-cavity surface-emitting lasers since 2017 for the TrueDepth front-facing camera, but the VCSEL lasers set to be used for the time-of-flight camera are more advanced.
So far, rumors indicate the two higher-end iPhones coming in 2020 will use the new time-of-flight rear camera, so it may not be available in the lower-end iPhones that are going to have a lower price tag. There's also a possibility that it could be limited to the higher-end 6.7-inch iPhone.
As with the 2019 iPhone lineup, the 2020 iPhones are expected to have different camera technology. UBS analysts believe Apple is working on high-end 6.7 and 6.1-inch iPhones with triple-lens cameras, while lower-end 5.4 and 6.1-inch iPhones could feature dual-lens cameras.
The higher-end iPhone 12 models could feature an improved telephoto lens with 3x optical zoom, improved from the current 2x optical zoom. Apple may also be planning to improve Smart HDR for better low-light performance.
The high-end 6.7-inch iPhone in 2020 is rumored to be getting sensor-shift image stabilization technology, which could potentially bring image stabilization to the ultra wide-angle lens on those devices. Sensor-shift technology allows the optical image stabilization to be applied to the camera sensor, rather than the individual lenses.
LG, Sharp, and O-film will share orders for the iPhone 12 cameras. LG will produce camera modules for the higher-end iPhones, while Sharp and O-film will produce camera modules for the lower-end iPhones.
Apple analyst Ming-Chi Kuo says Largan will provide "high-end" lens arrays for the rear cameras in the 2020 iPhones, with components shipping starting in July 2020.
Apple could include new camera modes on the higher-end iPhone 12 models, allowing them to shoot 4K video at 120 and 240 frames per second. The new camera modes are reportedly referenced in iOS 14.
TrueDepth Camera System
Apple analyst Ming-Chi Kuo and Bloomberg believe that at least one new iPhone in 2020 will feature a smaller front camera lens for an improved screen to bezel ratio, ultimately resulting in a smaller notch at the front. Rumors have been mixed on this point though and some mockups and schematics have featured notches that are the same size as the notch on the current models.
Barclays analysts believe the iPhone 12 will feature a "refreshed" TrueDepth camera system, though there are no details from Barclays on what might be improved.
An analyst from Credit Suisse has said that Apple will introduce at least one new iPhone with no notch or Face ID in 2020, relying instead on an under-display fingerprint sensor, though that technology may still be a few years off. Bloomberg has suggested the notch could be eliminated entirely in future iPhones, but the it is expected to be present in 2020 iPhones.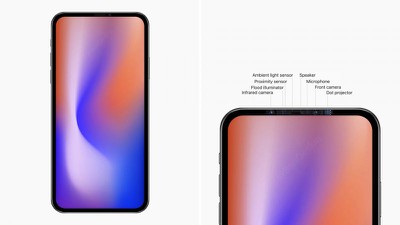 Apple supplier AMS has announced new camera sensor technology that allows the RBG light and the IR proximity sensor used for the front-facing TrueDepth camera system to be embedded under an OLED display. Apple could potentially be planning to introduce the new sensor tech in its 2020 iPhones, and this would allow Apple to create an iPhone with a smaller Face ID notch.
Face ID in the iPhone 12 models may also feature a wider view angle to support unlocking at a wider range of angles.
Storage Space
YouTuber Jon Prosser has suggested the iPhone 12 lineup will start with 128GB models, which means 128GB of storage minimum across the board. Another leaker, though, has said that the two lower-end iPhone 12 models will start at 64GB of storage while the higher-end models will start with 128GB of storage.
Touch ID?
Though not echoed by other rumors, Taiwanese site Economic Daily News believes that at least one of the iPhones coming in 2020 will use an ultrasonic fingerprint sensor manufactured by Qualcomm.
Economic Daily News has said multiple times that under-display fingerprint sensor technology could be included in at least one of the high-end 5G iPhone models coming in 2020.
We've heard ultrasonic fingerprint sensor rumors before, but most rumors have suggested that Apple is targeting a 2021 launch date for the technology. Qualcomm in late 2019 unveiled a 30x20mm in-display fingerprint sensor for smartphones that Apple could take advantage of.
Barclays analysts have also suggested 2020 iPhone models could use acoustic fingerprint technology, and Chinese site The Global Times has suggested Apple will release a notchless phone with an under-display fingerprint sensor aimed at the Chinese market.
Kuo believes Apple is working on an iPhone with both Face ID and an on-display fingerprint sensor for launch in 2021 rather than 2020.
A future iPhone will include both Face ID and an under-display fingerprint sensor, according to a 2019 report from Bloomberg. The technology could be introduced as soon as 2020, but may not be ready until 2021.
5G Connectivity
In 2020, Apple plans to transition back to Qualcomm modem chips instead of Intel chips, using Qualcomm's 5G technology in its iPhones. Qualcomm and Apple were previously embroiled in a bitter legal battle, but managed to settle their disagreements in April of 2019.
All of the iPhones expected in 2020 will use 5G technology, according to Apple analyst Ming-Chi Kuo. All four iPhones will feature Qualcomm's X55 5G modem chip.
The X55 chip offers 7Gb/s peak download speeds and 3Gb/s upload speeds, though these numbers are theoretical maximums and actual speeds will depend on carrier network. The chip is Qualcomm's first 5G chip that supports all major frequency bands, operation modes, and network deployments.
There are two kinds of 5G networks — mmWave (faster and limited in range) and sub-6GHz (slower but wider spread) and there could be some differences in which countries support which specifications. mmWave 5G technology will likely be limited to major cities and dense urban areas because of its short range, while 5G networks in rural and suburban areas will use the slower sub-6GHz technology
Kuo believes iPhone models with mmWave and sub-6GHz support will be available in main markets like the U.S., UK, Australia, Canada, and Japan, while in some other countries, Apple may offer iPhones with just sub-6GHz connectivity. Sub-6GHz could also be disabled in countries that do not offer 5G or have shallow 5G penetration, allowing them to connect only to 5G networks.
5G technology is still in the early stages of rolling out, but by the time Apple releases its new iPhones, the major carriers in the United States will have laid the groundwork for connectivity in most areas. For more on 5G technology and what we can expect when Apple rolls out its 2020 devices, make sure to check out our 5G iPhone guide.
Apple and Qualcomm are working together to get Qualcomm's 5G technology into an iPhone as quickly as possible, with the two companies behind as their dispute was only settled in April 2019. Apple usually secures finalized modem hardware 18 months before the launch of a new iPhone.
Apple may be planning to use Qualcomm's modems but not Qualcomm's RF front-end components due to time constraints, which could potentially impact maximum wireless speeds, though we'll need to see how Apple's implementation plays out to know for sure.
Though multiple sources have suggested the 2020 iPhone lineup will use Qualcomm's Snapdragon X55 modems, Taiwanese site DigiTimes believes the devices could instead use the Snapdragon X60.
The X60 is more power efficient and has a smaller footprint than the X55, and it is able to aggregate data from mmWave and sub-6GHz bands simultaneously for a more optimal combination of high-speed and low-latency network coverage. It's not clear if DigiTimes is accurate as the X60 was released in February, which isn't enough time for testing. Qualcomm has also said that chips using the X60 won't launch until 2021.
Antenna
Apple is using Qualcomm's X55 5G modem chip in its 5G iPhones, but Apple is planning to design the antenna module that will accompany the chip itself. Apple reportedly "balked" at the design of Qualcomm's antenna because it "doesn't fit into the sleek industrial design Apple wants for the new phone."
Apple is now working on its own antenna module, but there's a chance that Qualcomm's could also be used should Apple's in-house work on the antenna not pan out.
WiFi
Apple's 2020 iPhones could instead support a new Wi-Fi standard known as IEEE 802.11ay, a followup to 802.11ad, which quadruples the bandwidth and adds up to four streams of multiple transmission/reception. The WiFi spec uses the 60GHz spectrum and is expected to be finalized by the end of 2020.
No EarPods
Apple's iPhone 12 models may not come with the wired EarPods included in the box, according to Apple analyst Ming-Chi Kuo. Kuo says that Apple may leave out the EarPods to drive demand for its AirPods and to cut down on iPhone 12 costs.
To promote the AirPods to iPhone users, Apple may offer some kind of AirPods promotion in late 2020, perhaps offering a discount to customers who purchase a new iPhone.
Apple One Services Bundle
Apple with iOS 14 and the iPhone 12 lineup is rumored to be rolling out new "Apple One" service bundle options that will see Apple providing services like Apple Music, Apple TV+, and Apple News+ for a single monthly fee.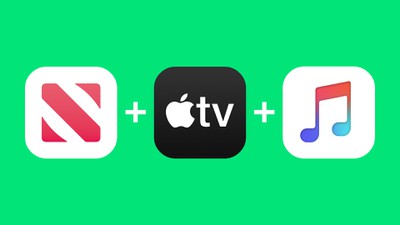 A basic Apple One package will include Apple Music and Apple TV+, while a more expensive option will bundle Apple Music, Apple TV+, and Apple Arcade. Yet another variation could use Apple News+, and the most expensive bundle could also include iCloud storage.
Apple is also working on a new fitness subscription service that will offer virtual classes and workouts to subscribers and will be bundled with other Apple services. Workout options could include core training, strength training, dance, yoga, and more.
iPhone 12 Price
Rumors suggest that the iPhone 12 will cost as low as $649 this year, which would be the lowest price that Apple has charged for an OLED iPhone. The iPhone 12 cost will range from $649 to $1,099, with these price estimates rumored:
5.4-inch iPhone 12: $649
6.1-inch iPhone 12: $749
6.1-inch iPhone 12 Pro: $999
6.7-inch iPhone 12 Pro Max: $1,099
Several rumors have suggested pricing in 2020 will be about the same as pricing in 2019, but Analyst Jeff Pu believes iPhone 12 pricing will start at $749 for the 5.4-inch model, up $50 from the entry-level iPhone 11 model, priced at $699.
Based on that price point, the 6.1-inch iPhone 12 could start at $799 or $849. It's not clear if the price increase would also include the higher-end Pro models, which currently start at $999 and $1,099.
iPhone 12 Release Date
Apple in its July earnings call confirmed that the 2020 iPhone 12 models are going to be released later than usual. Apple CFO Luca Maestri said that the 2020 iPhones will be available a "few weeks later" then the 2019 iPhones, which became available in late September.
That statement suggests that we can expect the iPhone 12 lineup to be released in October 2020, perhaps towards the middle of the month.
October is in line with multiple rumors that have indicated the iPhone won't launch on time due to development and production delays, as well as reports on delays from Apple suppliers like Broadcom and Qualcomm.
DigiTimes has suggested the two 6.1-inch iPhone 12 models could come out first in October, with the 6.7 and 5.4-inch models to follow. One 6.1-inch iPhone and the 5.4-inch iPhone are expected to be more affordable devices, while 6.7-inch iPhone and the other 6.1-inch iPhone will be "Pro" devices.
Leaker Jon Prosser claims the iPhone 12 models will be introduced at an event set to take place during the week of October 12. Lower-cost iPhone 12 models are expected to be available for pre-order shortly after the event, but Prosser says the iPhone 12 Pro models won't be available until November.
Apple in June registered nine unreleased iPhone models in the Eurasian Economic Commission database with the following model identifiers: A2176, A2172, A2341, A2342, A2399, A2403, A2407, A2408, and the A2411. Apple is required to register encrypted devices with the ECC ahead of release in order for them to be sold in Armenia, Belarus, Kazakhstan, Kyrgyzstan, and Russia.
Apple manufacturing partner Foxconn started its seasonal hiring for iPhone production in August as it prepares to start assembling and shipping new devices for their fall launch.
There is concern that Apple's 2020 iPhone shipments could be impacted if the United States follows through on forcing Apple to remove WeChat from iOS devices, due to its popularity.
Apple analyst Ming-Chi Kuo believes Apple shipments could decline by up to 30 percent if Apple is forced to remove the app worldwide, or three to six percent if the app is only removed from the U.S. App Store.
What's Coming in the Future
Early 2021
Wedbush Securities analysts believe Apple will release a 4G iPhone 12 in 2021, which could be priced cheaper than the 5G iPhone 12 models. The analysts suggested the price point would be $800, but that would be more expensive than the rumored price of the lower-end iPhone 12 and 12 Max, so the prediction could be off.
Later in 2021
Apple designers are said to ultimately be aiming to remove most of the external ports and buttons on the iPhone for a clean, streamlined device. If wireless charging technology improves, Apple could potentially get rid of wired charging all together, and rumors indicate Apple will release an iPhone without a Lightning port in 2021.
According to Apple analyst Ming-Chi Kuo, the highest-end iPhone model coming in 2021 will offer a "completely wireless experience." Charging would, presumably, be done all wirelessly through Qi-based wireless charging accessories.
Apple could be planning to combine wireless charging and a port-less Smart Connector system for data transfer and syncing.
Kuo also expects Apple to introduce an "iPhone SE 2 Plus" with a full-screen design, no Face ID, and a Touch ID fingerprint sensor built into the power button in 2021. This device is expected to feature a 5.5 or 6.1-inch LCD display and it will be positioned as a lower-cost iPhone.
Kuo believes this iPhone will feature an LCD display and a Touch ID fingerprint sensor built into the side button of the iPhone.
Qualcomm in February 2020 introduced the Snapdragon X60, its third-generation 5G modem, which is expected to be used in smartphones starting in early 2021. Apple could adopt the Snapdragon X60 for iPhones set to be released in the fall of 2021.
Barclays analysts also believe that starting in 2021, Apple will remove the Lightning connector from at least one iPhone model.
Two to three iPhones coming in 2021 are expected to have the sensor-shift stabilization predicted for the high-end 6.7-inch 2020 iPhone, and the 2022 iPhone could feature a periscope lens for much improved optical zoom capabilities.
Leaker Fudge (@choco_bit) has suggested the iPhone 13 will feature some major camera improvements, but it's so early in the development cycle that Apple's plans could change or the information could be inaccurate, so the leak should be viewed with skepticism until confirmed. Here's what Fudge says is in the works:
64-megapixel wide-angle lens with 1x optical zoom and 6x digital zoom
40-megapixel telephoto lens with 3x-5x optical zoom and 15-20x digital zoom
64-megapixel anamorphic lens for video capture (2.1:1)
40-megapixel .25x min ultra wide-angle lens with optical reverse zoom
LiDAR 4.0
Japanese site Mac Otakara has shared a rough mockup and rumors that suggest at least one 2020 model will feature a notchless design with an under-display camera, ultra thin bezels, and a USB-C port, but it's not clear if this information is accurate.
Apple's supply chain partners are developing OLED displays using LTPO backplane technology for 2021 iPhones, which will result in better power efficiency and possibly longer battery life. LTPO may be necessary for Apple to bring 120Hz ProMotion refresh rates to iPhone displays.
Apple's 2021 iPhones may feature single 5G band support, working on mmWave or sub-6GHz networks, but not both. This would allow Apple to save money in countries where mmWave 5G technology has not been implemented.
Due to the cost of 5G components, Apple for its 2021 iPhones will cut costs in other areas. It will adopt a soft battery board design that will drop costs 30 to 40 percent compared to the iPhone 12 board price.
Other Rumors
As for the more outlandish, Apple is said to be developing an iPhone with a foldable display in partnership with LG Display, with panel production for an iPhone with a folding display set to kick off in 2020. Apple is also said to be working on touchless gesture controls and curved screens, technologies that could launch within three years.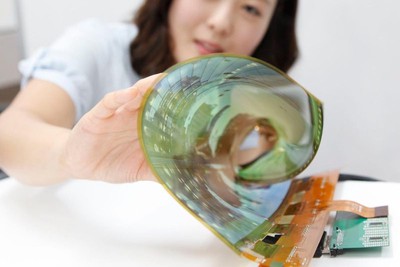 LG's foldable display technologySource: https://www.macrumors.com/roundup/iphone-12/
LG WING: THE PRICE TAG OF THE NEW ROTATING-SCREEN PHONE HAS BEEN REVEALED
Earlier last week, the South Korean company unveiled its wild smartphone LG Wing. We learned everything about the device except for the most important thing – its price tag. Today, the company finally decided to announce the price of the smartphone.
LG WING: THE PRICE TAG OF THE NEW ROTATING-SCREEN PHONE HAS BEEN REVEALED
As suggested by many publications, the device will cost almost $1000, or more precisely, $940. LG Wing will launch in South Korea next month, with other markets to follow, according to new information.
It is interesting that some publications, including Korean ones, considered that the price tag is quite "budgetary", given that we have a product that has no alternatives. By the way, the manufacturer decided not to accept pre-orders for the device.
LG plans to run an active promotional campaign throughout October, which will allow customers to receive a 70% discount coupon for screen replacement within two years of purchase.
The main feature of the LG Wing is its secondary screen. The main display is hinged and can be rotated 90 degrees, opening, if necessary, a second screen. The second display, in turn, is fixed in one place and hidden behind the first screen.
To reinforce the design of the smartphone, the company used a special design using hydraulic dampers for greater strength.
Recall that LG Wing is the first smartphone from the new line of LG Explorer. The company decided to spend more effort and money on expanding the number of unusual smartphones.
LG WING SPECIFICATIONS
6.8-inch (2440 × 1080 pixels) Full HD+ 20.5: 9 aspect ratio P-OLED display, 3.9-inch (1240 x 1080 pixels) 1.15:1 G-OLED second screen
Octa Core (1 x 2.4GHz + 1 x 2.2GHz + 6 x 1.8GHz Kryo 475 CPUs) Snapdragon 765G 7nm EUV Mobile Platform with Adreno 620 GPU
8GB RAM, 128GB / 256GB storage, expandable memory up to 2TB with microSD
Android 10
64MP rear camera with LED flash, f/1.8 aperture, OIS, 13MP 117° ultra-wide lens with f/1.9 aperture, 12MP 120° ultra-wide Gimbal mode Camera with f/2.2 aperture
32MP pop-up front-facing camera with f/1.9 aperture
In-display fingerprint sensor
USB Type-C audio
Dimensions: 169.5 x 74.5 x 10.9 mm; Weight: 260g
MIL-STD 810G Compliance, Water and Dust Resistance (IP54)
5G SA/ NSA, Dual 4G VoLTE, Wi-Fi 802.11 ac (2.4GHz + 5GHz), Bluetooth 5.1, GPS/GLONASS/Beidou, NFC, USB Type-C
4000mAh (Typical) battery with Quick Charge 4.0+ 25W fast charging, 10w wireless charging
Read Also:
LG K62 and K52 unveiled with large displays and 48MP cameras
The LG WING comes in Aurora Gray and Illusion Sky colors and will roll out in South Korea starting from October followed by key markets in North America and Europe.
Source: https://www.gizchina.com/2020/09/23/lg-wing-the-price-tag-of-the-new-rotating-screen-phone-has-been-revealed/
IPHONE 12 MINI COMING WITH A 5.4-INCH OLED DISPLAY
If you're an Apple enthusiast, then you'll maybe living the strangest of September. It's a very unusual month for a very unusual year in light of the ongoing pandemic. The fact is, that all fans waiting for an iPhone release this month will have to wait until October as the company couldn't finish the new smartphones in time for the usual schedule. We have been waiting for a new set of iPhone 12 devices and now, there's some light for the upcoming small model with 5.4-inch.
According to a new leaker (via), the smallest iPhone will be called the "iPhone 12 Mini". Interestingly enough, the leakster states that the device previously called "iPhone 12 Max" will now launch as "iPhone 12". As we can see, Apple is moving down the smartphones by introducing a new naming scheme for the smallest device. It's not a big surprise, after all, the company is planning four new devices for this year's release. For that reason the company is introducing the fourth device with a new name.
Worth noting that the "Mini" naming is not entirely new for the Cupertino-based firm. It already uses the Mini in the iPad and Mac computer lineups. The company even unveiled iPod Mini models in the past. So it's not so shocking to see an iPhone 12 Mini, even though this suffix has taken several years to reach the smartphone lineup. The company will likely keep the iPhone 12 Pro and Pro Max suffixes for the upcoming models with 6.1-inch and 6.7-inches. These names were introduced last year with the iPhone 11 lineup.
Read Also:
Alleged iPhone 12 Pro Max with the A14 Bionic SoC appears on AnTuTu
A14 BIONIC, 5G CONNECTIVITY, 60HZ REFRESH RATE AND SMALLER NOTCH
All the new iPhone will debut with the company's first 5nm chipset the Apple A14 Bionic. The gains in performance are incremental, but we can expect a massive boost in energy consumption. Apart from the power-efficient chipset, they will also be the first iPhones to surf on the blazing fast speeds of 5G networks.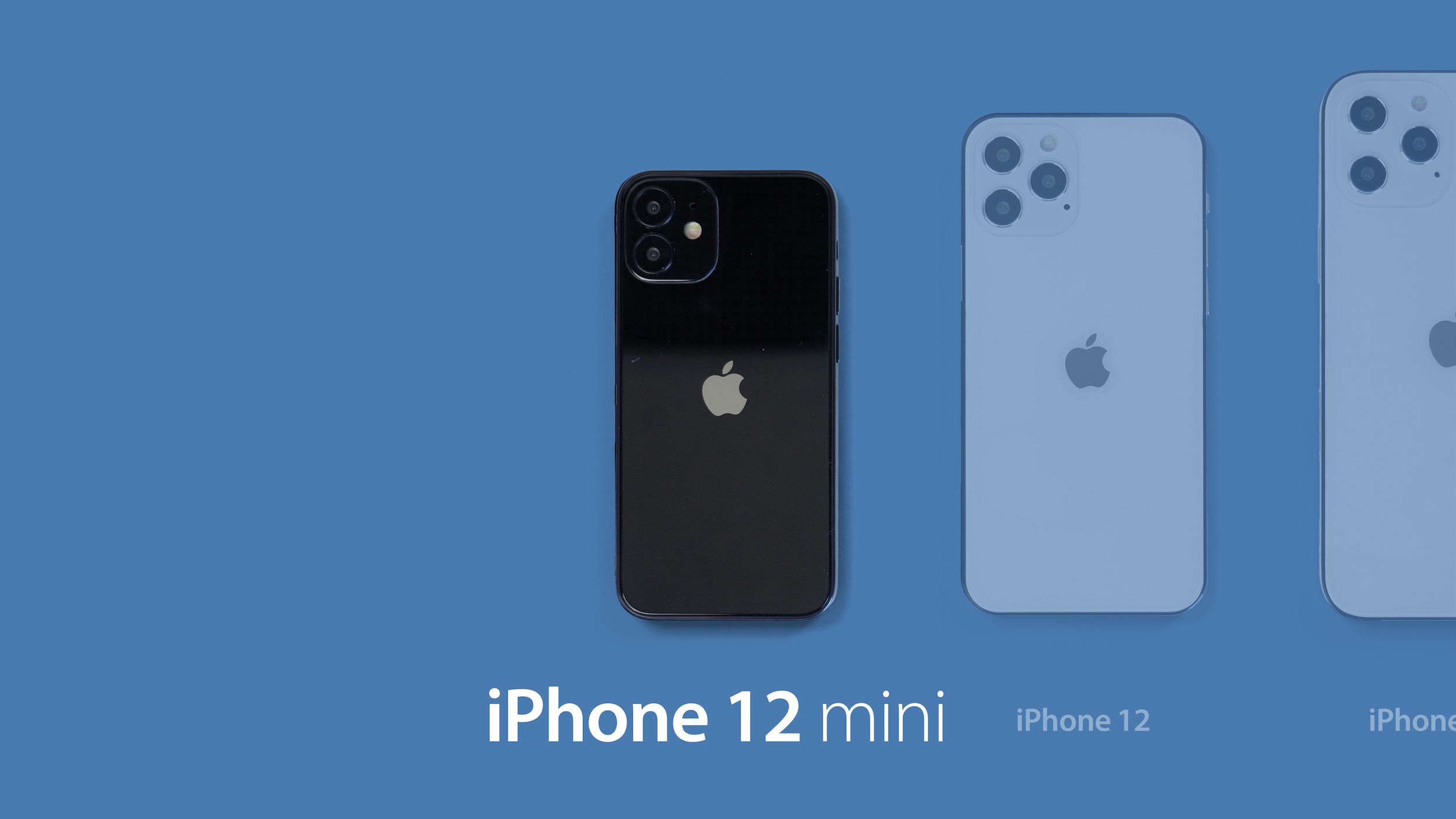 Unfortunately, Apple will not surf on recent trends like that one asking for high-refresh rate displays. All the new iPhones will pack 60Hz refresh rate OLED screens. However, they are said to sport smaller notches to allow more status icon at the display's top. It will be the first time we see the company making adjustments in the wide notch introduced with the iPhone X. Unfortunately, the new devices are said to not come with a charging brick. This certainly will enrage some users.
Source: https://www.gizchina.com/2020/09/21/iphone-12-mini-coming-with-a-5-4-inch-oled-display/
Samsung Galaxy Z Fold 2 Price, Release Date, and Specs
The 5G-ready Galaxy Z Fold 2 is Samsung's third attempt at a foldable smartphone since the release of the Galaxy Fold in the spring of 2019 and the Galaxy Z Flip in February of 2020.
Highlights:
The foldable smartphone starts shipping on September 18 with a $1999 price tag.
The Galaxy Z Fold 2 is available for pre-order from Samsung's website.
It comes in two colors: bronze and black. The hinge is available in metallic red, silver, gold, and blue.
A stylish Thom Browne Edition is available.
Galaxy Z Fold 2 Features
The Galaxy Z Fold 2 offers an array of improvements compared to the original Galaxy Fold. Here's what you need to know.
Glass screen folds like a book.
The camera has a hands-free option, where you can wave your hand to take a picture.
The screen emits reduced blue light, so its easier on your eyes.
No notch and slim bezels—just a tiny punch hole for the camera—make for more screen real estate.
Has a Hideaway Hinge for a streamlined look.
120 Hz refresh rate on the main screen.
Samsung's improved AI saves battery life.
Wireless charging support.
Comes with an array of VIP benefits (scroll down to learn more).
Galaxy Z Fold 2 Specs and Hardware
The Galaxy Z Fold 2 improves upon its predecessor in many ways, including upgrading from a plastic to a glass display, adding a more reliable hinge, and removing the thumb-shaped notch.
The glass display should be more conducive to folding and unfolding than the original Fold's plastic one. Speaking of folding, Samsung's Flex mode lets you fold the smartphone and lock the screen at any angle. The hinge is strong enough to stay open at a variety of angles so you can stand it up to watch a movie, have a video chat, or take photos using a hand gesture, for example.
This smartphone has app continuity when folding and unfolding, so your work or play isn't interrupted. You can use two apps on the smaller cover screen, and three on the main screen using the split-screen feature.
Users can launch up to 3 supported apps simultaneously and save the layout, so those apps will appear just like that every time you start up the phone.
There are two cool camera features too. Photo-takers can use the Cover screen to show a preview of camera shots to their subjects. Auto framing keeps your subjects centered and in focus, and widens and narrows the view as people enter and leave the scene.
Finally, its larger, 7.6-inch main screen has a 120 Hz refresh rate, which is excellent for gaming.
Galaxy Z Fold 2 Specs-at-a-glance
Operating System
Android 10
Dimensions (Folded)
6.26 by 2.67 by 0.6 inches
Dimensions (Unfolded)
6.26 by 5.04 by 0.27 inches
Screen Size (Folded)
6.2 inches
Screen Size (Unfolded)
7.6 inches
Screen Resolution
2260 by 816 pixels (inner); 2208 by 1768 (outer)
Camera (Front)
Dual 10-megapixel lenses
Camera (Rear)
Triple 12 megapixel lenses
Storage
256 GB
Hardware/chipset
Qualcomm Snapdragon 865+ 12GB RAM
Battery Size
4500 mAh
Galaxy Z Premier Perks
Galaxy Z Premier is Samsung's VIP club for foldable phones. The smartphone includes Galaxy Z Concierge, which offers 24/7 support and a discounted screen replacement if you damage it within a year of purchase.
Other benefits include a membership to Founders Card, an organization for entrepreneurs, a prepared meal from a Michelin starred restaurant, access to participating golf and country clubs across the U.S., and more. Samsung continually adds benefits to the program.
Source: https://www.lifewire.com/samsung-galaxy-z-fold-2-5076492