Web Design vs. Web Development
What is the difference between a web designer and a web developer? In the early days of the web, the answer to that question was simple: designers design and developers code. Today that question requires a little more nuance–you'd be hard pressed to find a web designer who didn't know at least a little HTML and CSS, and you won't have to look far for a front-end web developer who can whip up a storyboard. If you're strictly speaking about the general concepts of web design vs. web development, however, the distinction is a little more clear. Let's take a look at these two concepts and the roles they play in building the websites and apps we know and love.
What is web design?
Web design governs everything involved with the visual aesthetics and usability of a website—color scheme, layout, information flow, and everything else related to the visual aspects of the UI/UX (user interface and user experience). Some common skills and tools that distinguish the web designer from the web developer are:
Adobe Creative Suite (Photoshop, Illustrator) or other design software
Graphic design
Logo design
Layout/format
Placing call-to-action buttons
Branding
Wireframes, mock-ups, and storyboards
Color palettes
Typography
Web design is concerned with what the user actually sees on their computer screen or mobile device, and less so about the mechanisms beneath the surface that make it all work. Through the use of color, images, typography, and layout, they bring a digital experience to life. That said, many web designers are also familiar with HTML, CSS, and JavaScript—it helps to be able to create living mock-ups of a web app when trying to pitch an idea to the team or fine-tune the UI/UX of an app. Web designers also often work with templating services like WordPress or Joomla!, which allow you to create websites using themes and widgets without writing a single line of code.
What is web development?
Web development governs all the code that makes a website tick. It can be split into two categories—front-end and back-end. The front-end or client-side of an application is the code responsible for determining how the website will actually display the designs mocked up by a designer. The back-end or server-side of an application is responsible for managing data within the database and serving that data to the front-end to be displayed. As you may have guessed, it's the front-end developer's job that tends to share the most overlap with the web designer. Some common skills and tools traditionally viewed as unique to the front-end developer are listed below:
HTML/CSS/JavaScript
CSS preprocessors (i.e., LESS or Sass)
Frameworks (i.e., AngularJS, ReactJS, Ember)
Libraries (i.e., jQuery)
Git and GitHub
Front-end web developers don't usually create mock-ups, select typography, or pick color palettes—these are usually provided by the designer. It's the developer's job to bring those mock-ups to life. That said, understanding what the designer wants requires some knowledge of best practices in UI/UX design so that the developer is able to choose the right technology to deliver the desired look and feel and experience in the final product.
Meet the "Unicorn"
What started out as a joke in the industry—the designer/developer hybrid who can do it all—is now a viable endgame for both web designers and front-end developers, thanks to the increase in the availability of educational resources across the web. Those developers/designers who have a good grasp of skills across both sides of the spectrum are highly sought after in the industry. The "unicorn" can take your project from the conceptual stage of visual mock-ups and storyboards, and carry it through front-end development all by themselves. Not that you'd want them to; the real value of developers who design and designers who develop are their ability to speak each other's languages. This leads not only to better communication on the team and a smoother workflow, it means you'll land on the best solution possible. As a general rule, feel free to rely on the "unicorn" for small projects, where it's feasible for one or two people to handle both the back and front-ends of an application. For larger projects, even if you do manage to hire a few "unicorns," more clearly defined roles are required.
Source: https://www.upwork.com/resources/web-design-vs-web-development
iPhone 12 leak just confirmed key specs — this is insulting
The first iPhone 12 handsets are almost ready to ship, and we know how much storage space they'll have.
Leaker Jon Prosser's latest tweet claims that the iPhone 12 and iPhone 12 Mini are going to be available in 64GB, 128GB and 256GB variants. We see in a follow-up tweet that the two Pro models start at the more common baseline of 128GB, but they will likely have a later release date.
Apple is one of a small number of companies that still sells premium phones with 64GB of storage, a shamefully small amount for most users' needs.
For example, the new $699 Samsung Galaxy S20 FE comes with 128GB of storage standard. Plus, that handset offers a microSD card slot for expansion, allowing you to add up to another 1TB of storage.
The upcoming OnePlus 8T is also rumored to be shipping with 128GB of storage for the starting configuration, though the handset will apparently not have a microSD card slot.
Prosser also confirms the name of the smallest 5.4-inch iPhone 12 as the iPhone 12 Mini, with the larger 6.1-inch model being classed as the iPhone 12. The iPhone 12 mini is said to be even smaller than the iPhone SE 2020 despite the former having a larger display, so it should live up to its name.
The fact that the 6.1-inch iPhone 12 Pro and 6.7-inch iPhone 12 Pro Max aren't mentioned in the leak points to a delayed release, which Prosser mentions in another tweet. We've heard several rumors about Apple potentially staggering the iPhone 12 launch, with one or two models being held back until November.
The first shipment of units will be sent to distributors on October 5. This seems to line up with the expected October 13 reveal event, giving businesses just over a week to get the phones in stock for pre-orders to begin.
While it remains only a rumor for now, we already know what to expect from these new iPhones. Other than the new sizes, all four models will use OLED displays and new A14 Bionic chipsets, as well as 5G connectivity.
For cameras, the iPhone 12 and iPhone 12 Mini will come with two rear sensors: a main camera and an ultrawide camera. The iPhone 12 Pro and iPhone 12 Pro Max will have those plus a telephoto camera, with a new LiDAR depth sensor also present on at least the Pro Max.
Source: https://www.tomsguide.com/news/iphone-12-leak-just-revealed-key-specs-and-theres-bad-news
Apple's Stunning MacBook Design Looks Like Microsoft's Surface Book
Its move from Intel-based processors to ARM-based processors is one that Apple has telegraphed officially since the announcement at WWDC 2020, with the first macOS on ARM machines for the public expected to be a MacBook and a MacBook Pro. The insides are changing, but what about the outside.
For now, your new Mac is going to look remarkably like your old Mac (possibly with slightly smaller bezels around a slightly larger screen). But Apple's latest documents have confirmed that the company is working on a radical redesign of the laptop hinge.
Although it looks like Microsoft got there first with the Surface Book's fulcrum hinge.
The details on the new hinge come from a recently published patent. Titled "Hinges For Electronic Devices And Accessory Devices", it details a hinge that is made up from a mix of rolling elements with fixed elements between them. This allows for a hinge that looks remarkably close to the hinge on the aforementioned Surface Book. Jack Purcher reports for Patently Apple:
"The new hinge system is also shown in conjunction with a possible future MacBook-like portable device. Microsoft was first to move to a flexible hinge system for their Surface book and Apple's next-gen flexible hinge presents a similar style of hinge though technically different using multi-roller and spacer elements.
"Apple's possible next-gen iPad keyboard accessories are shown to include multiple sections and a new hinge system assembly that provides additional flexibility and range of motion of the section holding the iPad, thereby allowing a user to position the iPad at multiple different angles relative to the section carrying the input mechanism."
As can be seen, the patent is not restricted to a traditional laptop-styled device. It also features in a concept image of a keyboard and stand for a tablet device, and a 'reverse opening' hinge to lift up a screen from a laptop chassis.
It's also worth noting that, although the line drawings in the patent echo the Surface Book, the mechanisms inside will differed and of course any finalised form may take on other characteristics.
And as with every patent, the act of filing a patent and having it published does not mean that the design will reach any retail devices. To balance that out, Apple has already pushed the design mix of tablet accessories with the iPad Pro's Magic Keyboard, so its makes sense that imultiple hinge technologies have been both tested and patented.
Once Apple has redefined what it means to be a MacBook on the inside, it certainly has the tools to do the same to the outside. First up though, it needs to successfully launch the ARM-based laptops by the end of 2020.
Source: https://www.forbes.com/sites/ewanspence/2020/09/26/apple-macbook-pro-ipad-pro-patent-fulcrum-hinge/#746bb7c016d6
Apple iPhone 12 Pro Max's AnTuTu result shows minor performance gains
Even though Apple didn't announce any new iPhones during its September event, the company detailed the heart of the future phones – the Apple A14 chipset. Based on Apple's claims at the announcement we estimated it to have a 17% faster CPU and 8% better GPU than its predecessor and a newly surfaced benchmark shows these numbers are close enough.
An AnTuTu benchmark run on the iPhone 12 Pro Max, reveals 16% higher CPU score and 4% better GPU result. There's however a more pronounced boost in memory speeds – 22%, but overall the performance gains are clearly minor.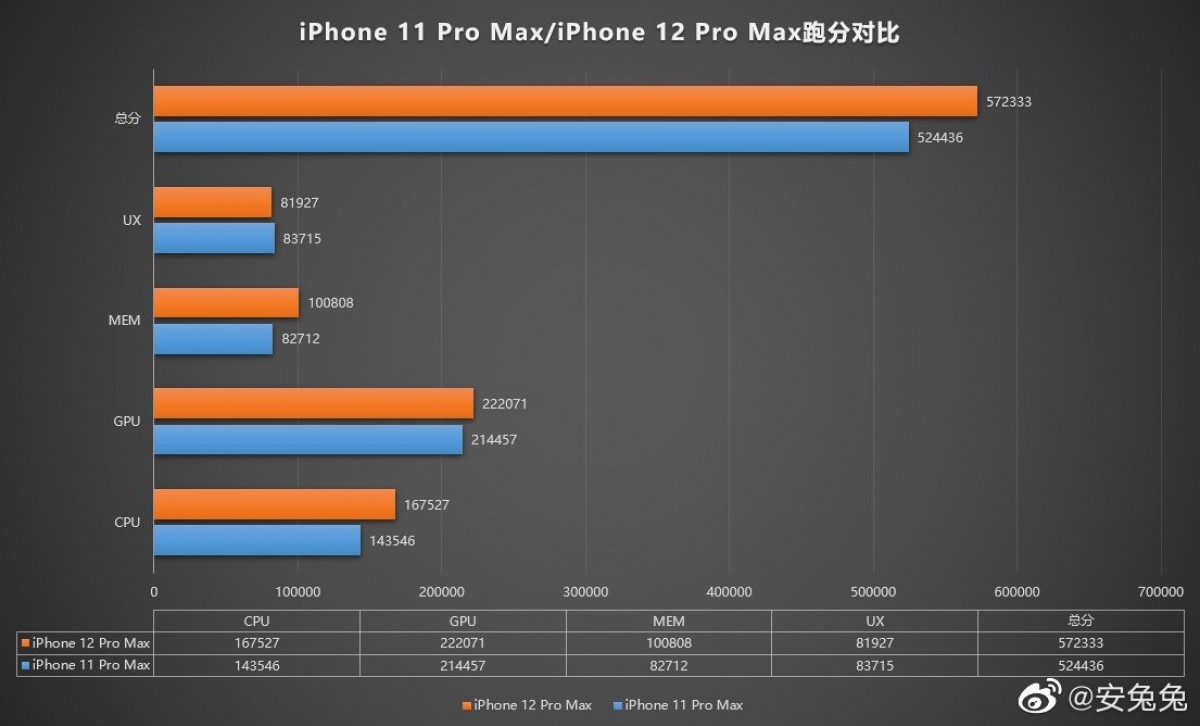 The combined result of 572,333 points might seem low, considering the Snapdragon 865+ Android competition goes above the 600,000 mark, but cross-platform benchmark comparison isn't really a level playing field because there are differences in how the tasks are executed.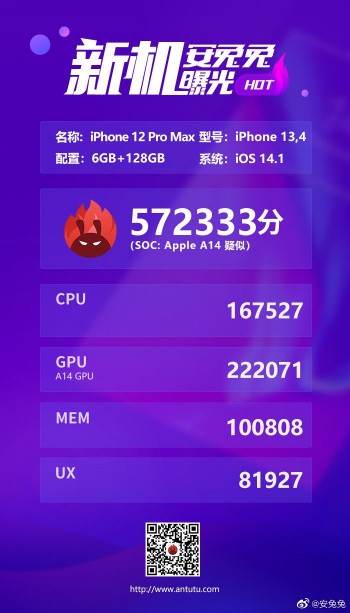 However, the comparison to the A13 should be fully relevant and it shows that the world's first 5nm chipset won't bring the performance leap many were expecting of it. There are three explanations that come to mind.
For one Apple might have prioritized battery draw over outright performance making the A14 use less power, while achieving what is roughly the same performance. That's most likely it since the A14 Bionic pioneer – the Apple iPad Air 4th generation – has the same battery life as its predecessor despite packing an 8% smaller cell.
Alternatively, the move to 5nm chipsets might not yield the gains that we all hoped. While the almost 30% smaller process should theoretically deliver great efficiency boost, it may take time until it's fully utilized.
Finally, this could be an engineering sample and the performance of the final units can be far better. However with Apple itself claiming modest gains close to these results that seems like a very long shot.
Source: https://www.gsmarena.com/iphone_12_pro_max_surfaces_on_antutu_with_apples_a14_chip-news-45343.php