Apple's iOS 13.4 might launch on March 17 — here's what to expect
With much of Europe on a coronavirus lockdown, one thing's for certain: We're gonna spend a lot more time on our phones. Which is why the potential launch of iOS 13.4 is a bit more interesting than usual because, hey, we might actually notice the updates for once.
And — if the rumors are to be believed — it might be launching pretty damn soon. Specifically, March 17. Or at least that's what this Twitter post, reported on by MacRumors, suggests:


According to some marketing materials from Alipay, iOS 13.4 will be released on March 17th https://www.ithome.com/0/477/879.htm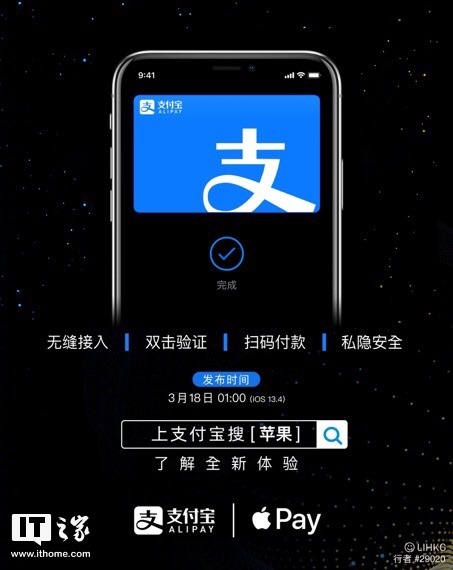 284:18 AM – Mar 16, 2020Twitter Ads info and privacy16 people are talking about this
If the details above are true, iOS 13.4 will be arriving on your iPhone potentially within 24 hours. After the initial excitement (don't contradict me), the next question is simple:
What new features are there in iOS 13.4?
To be honest, there's little here to blow your mind, but we've not got much better to do, so why not run through them?
Universal purchases for Mac and iOS apps
Actually, I'll eat my words. This is quite a big step for Apple and its goal to unify the App Store across its devices. The idea with this update is that, if the developer wants to, they can turn on a feature that bundles their app across platforms.
Effectively, this means that on iOS 13.4, if you buy an app on your iPhone, it's now possible for it to appear on your Mac. If the developer is cool, of course.
iOS 13.4 developers will be able to use the CarKey API
We covered CarKey before, but as a refresher, this is a feature that will eventually turn your iPhone into a, uh, car key.
One assumes that no vehicles will actually have CarKey support on iOS 13.4's launch, but I'd assume that companies will begin developing apps to take advantage of the feature. Then, in the next couple of months, we'll see a lot of car manufacturers to get involved. Hopefully.
New Memoji
I… really don't care about this. But maybe you do. So, there'll be 9 more Memoji stickers on iOS 13.4. Woo?
Say hello to a new toolbar on the Mail app
The Mail app is kinda shitty, but iOS 13.4 will improve this with a toolbar with some more, really standard functions.
This includes stuff like Move Message, Send to Trash, Flag, and a gamut of reply options that have been available on Gmail forever.
iCloud folder sharing
As the name suggests, you'll be able to share specific iCloud folders with people. This definitely won't be used for piracy.
An 'always-on' mode for Siri
An easy way to let Mr. Tim Apple personally listen to everything you're saying.
Seriously though, this means you can access the voice-activated assistant on iOS 13.4 while your device is face-down or out of action. Don't worry, you will need to turn this feature on, so don't worry about spying too much.
Anyway, there you have it! A quick update of what to expect from iOS 13.4, which will be hitting your phones very soon. When it's downloaded, let us know on Twitter which of these new features are your favorites. Happy quarantining.
Google Chrome prepares new tab groups feature that creates groups automatically
Months after announcing it, Google finally rolled out tab groups widely in the past couple of weeks. Now, an improvement could be coming to Chrome's tab group feature — the ability to recreate them automatically.
In the latest Chrome Canary release, a new flag is present that describes a feature Google is working on. That flag, titled "tab groups auto create," is one that has had us scratching our heads since it popped onto our radar earlier this week.
Google's description, too, unfortunately doesn't help matters. the company simply explains that the feature "automatically creates groups for users, if tab groups are enabled" in Chrome. What does that mean? We're not entirely sure, but there are a few possibilities!
For one, Google might be able to remember tab groups from a previous session and drop them into a group when opened. Alternatively, Google could intelligently create groups based on similar types of tabs. At this point, it's all up in the air. We can say pretty confidently, however, that this feature is not live in the latest Canary release.
Source: https://9to5google.com/2020/09/17/google-chrome-tab-groups-automatic-flag/
Facebook Is Apparently Adding Instagram Stories to Its Key Application
Facebook has built it no key that it would like to entwine Instagram into its principal blue app as a great deal as possible (to some Instagram users' chagrin.) Its most recent experiment evidently requires placing Instagram stories right on Facebook.
In accordance to a report in the Verge, some Facebook customers have lately started looking at Instagram stories in their Fb story feeds. A Fb representative apparently verified the news to Matt Navarra, a social media marketplace commentator and advisor, and stated that it was a restricted examination. The representative added that Facebook would be listening to feedback from its group on the prospective new characteristic.
In a screenshot posted by a Twitter consumer and Navarra on Friday, Fb seemingly points out that not just anyone can view an Instagram story on Facebook. In get to do so, consumers have to website link their Instagram accounts to Facebook and have this viewing placing turned on. Fb states that men and women who don't abide by a user on Instagram will not be ready to see that user's tales.
Fb also purportedly pressured that even however tales will be in two sites, users' overall practical experience would not improve. That is mainly because people will nevertheless essentially be sharing their tales with the similar persons on Facebook and Instagram. In addition, Instagram stories on Facebook (which will have a pink and orange circle) will surface with a user's Instagram take care of. And even though the tales will be seen on Fb, end users will see all tale sights and replies on Instagram.
G/O Media could get a fee
In new many years, Facebook has labored to convey all of its popular apps, which involve WhatsApp and Instagram, nearer with each other. Very last thirty day period, Facebook released a new exam working experience on Instagram messaging for some users. The new experience up-to-date the look of Instagram immediate messages and promoted the likelihood of chatting with individuals who use Fb.
Who knows, possibly in the foreseeable future we won't have an application named Instagram or Fb. We'll just have a person giant purple and blue app, owned by Facebook, that does almost everything.
Source: https://poptimesuk.com/facebook-is-apparently-adding-instagram-stories-to-its-key-application/175242/
Cloudflare goes down; crypto websites hit
Cloudlfare, an internet service provider responsible for various functions, went down Sunday morning, taking down many websites, including some crypto sites.
The company confirmed in a tweet it experienced issues around 9:24 am Eastern time caused by a third-party transit provider. Network stability returned around 11 am though Cloudflare said it is still monitoring for other potential problems. In a statement emailed to Cointelegraph, Cloudflare chief technology officer John Graham-Cumming said:
"Today we saw a widespread Internet outage online that impacted many multiple providers. This was not a Cloudflare-specific outage. Level 3/CenturyLink was responsible for an outage that affected many Internet services, including Cloudflare. Cloudflare's automated systems detected the problem and routed around them, but the extent of the problem required manual intervention as well."
A large majority of the internet uses Cloudflare. News reports noted several popular websites went down following Cloudflare's network issues, including streaming site Hulu and cooperative gaming services PlayStation Network and Xbox Live.
Crypto websites were not immune. Bitfinex Chief Technology Officer Paolo Ardoino tweeted that the Cloudflare outage caused any connection issues to Bitfinex Sunday morning.
Cloudflare's last outage made people question if crypto holders are truly decentralized. That outage reportedly affected Bitcoin transactions.
Source: https://cointelegraph.com/news/cloudflare-goes-down-crypto-websites-hit