HTC's first 5G phone may debut in July, could be a flagship phone
A recent report had revealed that HTC is working on a mid-range phone called HTC Desire 20 Pro even though it has been encountering losses in its smartphone business. The Taiwanese company is reportedly gearing up to launch its first 5G smartphone in July. It could either be a high-end of a flagship smartphone. The HTC Exodus 1 and HTC U12+ that went official in 2018 were the last flagship phones from the company.
In a recent interview, HTC Taiwan Chen Boyou said that when 5G arrives in Taiwan, HTC will also launch 5G-ready smartphones. It is speculated that the first 5G phone from HTC will debut in July. There is no word on the name and specifications of HTC's first 5G smartphone. Hopefully, more details on the device will appear in the near future.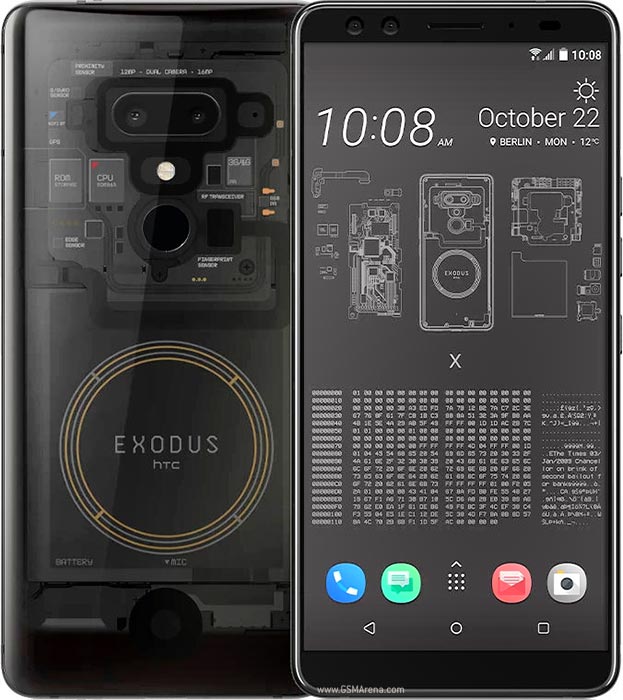 On the other hand, HTC is also planning to launch a 4G smartphone in June. The name of the device is not known yet. However, there is a possibility that it could be the HTC Desire 20 Pro smartphone.
The Desire 20 Pro is speculated to be equipped with a Snapdragon 665 mobile platform and 6 GB of RAM. Its back panel may sport a triple camera system and a fingerprint reader. It could be the first punch-hole display phone from the company.
Source: https://www.gizmochina.com/2020/05/25/htcs-first-5g-phone-coming-in-july-could-be-a-flagship-phone/
Samsung may remove chargers from some smartphones starting 2021
Samsung may stop including chargers with some of its smartphones in the future, a new report coming from South Korea claims. One of the world's largest smartphone manufacturers is trying to cut costs in an ever-growing industry.
After British investment bank Barkley predicted that Apple's next iPhone model will be shipped without earphones and charger, it looks like Samsung is going to do the same thing. Nothing is set in stone at the moment, as the South Korean company is waiting for consumers feedback before taking such a radical decision.
Samsung has taken into consideration removing chargers from its smartphones for quite a while because the company believes there have been enough supplied to the market in the last 10 years.
Although the cost of a charger is very small compared with other components, support for 5G technology has increased smartphone prices. In order to balance that, Samsung is looking to cut costs from everywhere it can and the removal of the charger could give it some room when it comes to setting prices.
Strangely, the report doesn't mention e-waste reduction as the primary reason for Samsung's decision to remove chargers from some of its smartphones. It sounds like Apple and Samsung are just looking for new ways to boost their profits or at least maintain them at a certain level.
That's not a bad thing business-wise, but removing a key component from the retail packaging must be backed by solid reasoning and extra measures, to ensure that consumers are getting everything they need to start using a product they bought right out of the box.
Source: https://www.phonearena.com/news/Samsung-remove-chargers-smartphones-2021_id125822
ASUS ZenBook Pro Duo: Truly the laptop of tomorrow?
ASUS clearly had the creatives in mind when they were conceptualizing the ASUS ZenBook Pro Duo. Known by ASUS as "the laptop of tomorrow", the ZenBook Pro Duo is a multitasking machine or laptop as you may call it that was purposely built for you if you are a programmer, video editor, photographer, animator, graphic artists, illustrators, architects, music producer, music artist, or even a Game streamer.
The ZenBook Pro Duo is not just an incredible laptop with powerful and admirable specifications, it's an exceptional one too, allowing you take your creativity and productivity to the next level. It is designed to give you the ultimate edge in workflow efficiency, the powerful RTX Studio Laptop features a full width 4K ASUS ScreenPad™ that works seamlessly with the main 4K UHD OLED display.
Computing Performance
The ASUS ZenBook Pro Duo UX581 is a Windows 10 Home laptop with a 15.60-inch display of 3840 x 2160 pixels resolution. The laptop comes with a 32GB of 2,666MHz DDR4 RAM and 1TB of SSD storage which is appropriate for a creative's laptop these days. For the very best graphics experience, ZenBook Pro Duo uses the latest NVIDIA® GeForce RTX™ 2060 discrete graphics powered by the NVIDIA Turing™ architecture. The ultrapowerful GPU with the NVIDIA Studio Driver enables you to enjoy the power of real-time ray-tracing and high-resolution video editing for the ultimate visual realism. Featuring up to a 9th Generation Intel® Core™ i9 eight-core processor that's designed to deliver the ultimate multitasking performance, the ZenBook Pro Duo can effortlessly handle all the apps on your main screen and ScreenPad™ Plus, this ultrapowerful combination ensures that ZenBook Pro Duo takes professional-quality tasks with ease, such as multi-layer photo or video editing, 3D graphics rendering or even game live-streaming.
Display
The ZenBook Pro Duo's primary screen is a 4K OLED display with a base resolution of 3,840 by 2,160 pixels. The ScreenPad™ Plus, a 3840 x 1110 resolution matte secondary screen is very different from the glossy primary screen despite having the same PPI and width. Together, these screens are an arresting sight to behold. While both multitouch displays support stylus input, ScreenPad Plus gives you a superbly ergonomic and stable platform for writing or drawing. Take notes, sketch out your ideas, or do precision graphical editing in the most intuitive way ever. ZenBook Pro Duo's display has PANTONE® Validated colour accuracy and supports an exceptionally wide 100% DCI-P3 colour gamutAdvertisement
ScreenPad™ Plus
The ScreenPad has a matte finish with its own display settings and a dedicated on and off button. This is good for when you don't want any distractions from that screen or just want to conserve some power. When you power on the ZenBook Pro Duo for the first time, the ScreenPad Plus offers some hands-on tutorials, which familiarize you with using the Launcher and the Action Menu. The ScreenPad™ Plus is equipped with a series of handy built-in apps to help boost your productivity. Such built-in apps include; Quick Key which allows one-tap automation of complex keyboard sequences, and Handwriting which lets you input text intuitively. There are also useful quick controls such as App Switcher, ViewMax and Task Swap for intuitive interactions between the main display and ScreenPad Plus. Task Group lets you lock into work mode by opening multiple tasks with a single touch. And now you can drag apps or in-app toolbars onto ScreenPad Plus to give you more room to work on the main display, wherever you are.
Connectivity
As far as connectivity is concerned, the ZenBook Pro Duo is powered with a full set of high-performance I/O ports — including the latest Thunderbolt™ 3 USB-C™ port — which gives you dongle-free connectivity whatever you're doing and wherever you are. The latest Intel Wi-Fi 6 with Gig+ (802.11ax) takes wireless speeds to the next level especially if you are connected to broadbands that are reliable and fast enough in this part of the world. Although the MicroSD reader cannot be found on this laptop, port positioning is otherwise good as they are evenly distributed and easy to reach along the sides.
Audio
ZenBook Pro Duo is equipped with the ASUS SonicMaster stereo audio system with surround-sound; smart amplifier for maximum audio performance. Its array microphone supports Cortana and Alexa voice-recognition. 3.5mm headphone jack. Long-travel voice coils for improved low-frequency response. Certified by Harman Kardon
Power
The machine is powered by a massive battery and is backed up by a 230W charger. On a full battery, the laptop will give a 6-7 hours lifetime without a recharge and when playing movies /games the consumption goes down to 4.7-5.5hours of use.
Features worthy of note
The DCI-P3 colour space — widely used in the motion picture industry — is increasingly the preferred choice of creative professionals for its increased range of possible colours and makes images on ZenBook Pro Duo look simply stunning.
There's also a separate palm rest in the box, which enhances the ErgoLift tilting keyboard design to give you the most comfortable typing experience ever.
Touchpad & Numberpad: ZenBook Pro Duo features the latest version of the ASUS NumberPad6, an LED-illuminated numeric keypad integrated into the touchpad. The precision touchpad (PTP) technology supports up to four-finger smart gestures
Infra-Red camera for Hands-free login with face unlock even in the dark!
Alexa built-in with light bar
Stylus: The ASUS ZenBook Pro Duo comes bundled with a stylus. Both displays support stylus input, although the ScreenPad Plus gives you a stable platform for writing, sketching, or drawing.
In conclusion, the ZenBook Pro Duo is a worthy investment for a creative and daring professional. In as much as you keep an open mind and can deal with its weight, lack of SD card reader and battery life, it's an excellent glimpse into the future of laptop-based content creation.
Source: https://techpoint.africa/2020/06/29/asus-zenbook-pro-duo-truly-the-laptop-of-tomorrow/
The Apple Watch hand washing feature is coming — dirt and filth, beware
Wow, what a WWDC that was! We had confirmation of picture-in-picture video for iPhones, a redesigned homescreen across devices, and a whole new way of interacting with the iPad.
And — who, really, could possibly forget? — an Apple Watch hand washing feature.
You heard that right: no longer will you have to sing Happy Birthday or other equally irritating songs (though that decision rests with you) to protect yourself from filth and coronavirus. Instead, your fancy Apple wearable will do the dirty work.
Well, okay, it's not going to actually wash your hands for you, but it is going to automatically give you a countdown while you do the deed.
And yes, you read that right, automatically.
Your Apple Watch will use motion sensing and sound to recognize when you're washing your hands, meaning you don't have to turn the feature on.
The company used machine learning to understand the common movements of hand washing. When this is recognized, the Apple Watch will listen out for the telltale signs of running water and the squishy squelches of soap being squeezed between your fingers.
At that point, a 20-second timer starts — something that'll look like this:
Throughout the Apple Watch hand washing process, you'll also receive haptic notifications (in other words, little taps on your wrist), as well a sound somewhere between a drip and bubble popping as each second passes.
And if you stop washing your hands before the 20 seconds are up? First off, ew. Secondly, you'll get a notification to keep on washing.
There are some other cool aspects of the Apple Watch hand washing feature. It'll sync with Apple's Health app, meaning you'll be able to track your hand washing times and frequency. Another interesting feature is that the Apple Watch will remind you to wash your hands when you've returned home.
On the privacy front, none of the sounds used to start the Apple Watch hand washing function will be recorded — which should help ease the mind of many.
Yeah, you could argue that the this feature is a little nanny-ing — and you wouldn't be wrong — but you can always take the damn thing off. And me? Anything that makes washing my hands more fun is fine and dandy.
Bring on watchOS 7.
Source: https://thenextweb.com/plugged/2020/06/23/apple-watch-hand-washing-feature-coronavirus-watchos-7-wwdc/